Rescuing Honey: the Best Homemade Mask Recipes
Care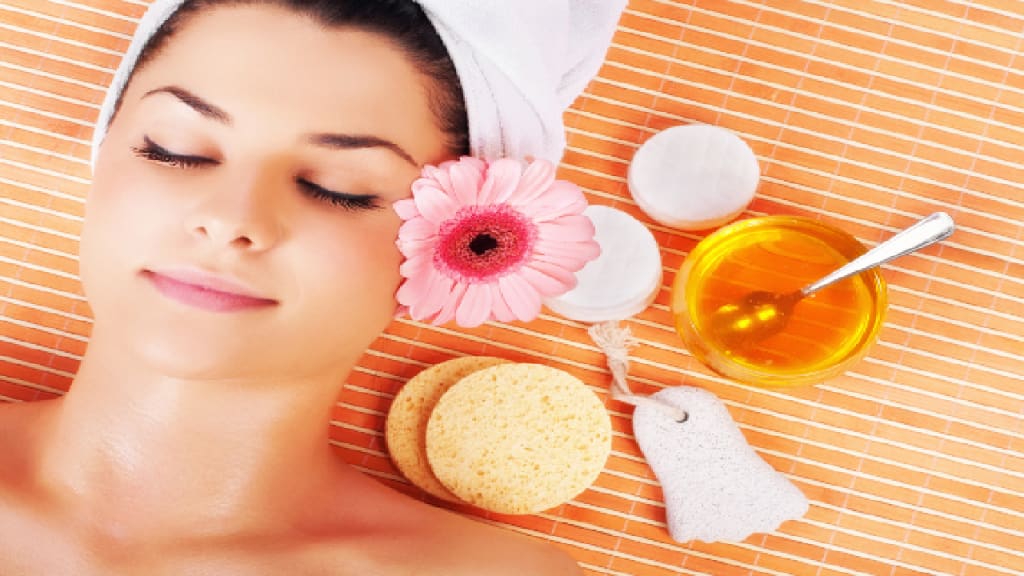 Since ancient times, honey has been used not only internally for disease prevention and treatment, but also externally as a cosmetic. Honey's healing qualities are legendary. And we'll tell you about a skin-beneficial technique called a honey face mask.
One of the most effective salon and at-home treatments is a honey face mask. At the same time, the execution is easy.
Honey face mask: the skin's fountain of life
One of the most popular is a honey face mask. It's not for nothing that honey is frequently used in creams, balms, lotions, and other cosmetics. Honey helps to retain the skin's freshness and youthfulness by regulating all metabolic processes, regulating water balance, and combating the appearance of wrinkles. Sucrose, glucose, fructose, protein, important amino acids, vitamins, potassium, salt, iron, phosphorus, calcium, and other trace elements are abundant in honey. As a result, honey is well-known as a good natural antibiotic (it is frequently used to treat colds and other inflammatory processes in the body), This includes the skin. A honey face mask allows skin cells to breathe freely, actively nourishes them, and cleans up gland discharge.
A honey face mask will not only function as an antibacterial for the skin and treat wounds and other inflammations, but it will also tone the skin and protect it from exterior damaging factors such as poor environment and weather. The honey face mask is indicated for adult and ageing skin, as well as acne-prone and problem skin.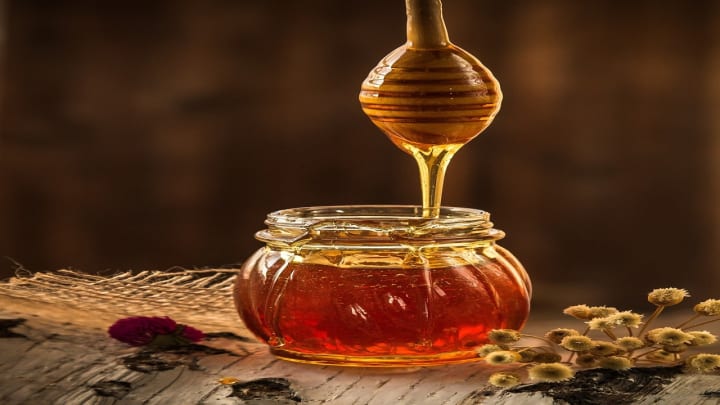 Despite all of the benefits of a honey face mask, it is best to consult a cosmetologist before using it and to only use it in professional salons. Because honey is an active allergen, it can be not only harmful to the skin, but also dangerous. A honey face mask is also not recommended if you have capillary stars or dilated blood vessels on your face, as well as if you have diabetes, asthma, or diathesis. In other circumstances, you can use honey face masks purchased from a store or pharmacy. If this is not an option, or if you are too lazy to go shopping, you can make a honey face mask at home.
Homemade honey face mask recipes
Normal skin should use a honey mask. 1 egg white, 12 tablespoon almond oil, 2 tablespoons oat flour, and 1 tablespoon honey Apply the mixture to your face and leave it on for 15-20 minutes before removing it with a cotton pad or napkin dipped in warm water. After that, apply a cold compress to your skin or rub it with an ice cube.
Dry skin can benefit from a honey mask. Mash one potato and mix in two teaspoons of butter. Milk, 1 tablespoon olive oil and honey, vitamin E ampoule Stir the mixture and apply it to your face. After 15-20 minutes, remove the mask with cool water.
For oily skin, apply a honey mask. To make the mask easier to apply, combine the whipped egg white with 1 teaspoon honey, lemon juice, milk, and bran. Apply it to your face and leave it on for 15-20 minutes before removing it with a warm compress. The skin can then be cleaned down with chamomile infusion.
Honey mask for acne-prone skin. In a 1:10 ratio, bring chamomile decoction to a boil. Dilute 2 tablespoons honey with 50 milligrammes of such a warm broth and apply it to acne-prone skin once a week for 20-25 minutes.
The honey face mask, like all other masks, must be applied with care because the skin around the eyes is fragile and hypersensitive. From the middle of the forehead to the temples, from the nose to the ears, and from the chin to the temples, apply the mask. Do not overdo it with masks; cosmetologists recommend using them just 2-3 times per week, and a month's break between courses of such masks is required.
face
About the author
Reader insights
Be the first to share your insights about this piece.
Add your insights