Makeup trends of the early 2000s...
to frost or not to frost? that is the question.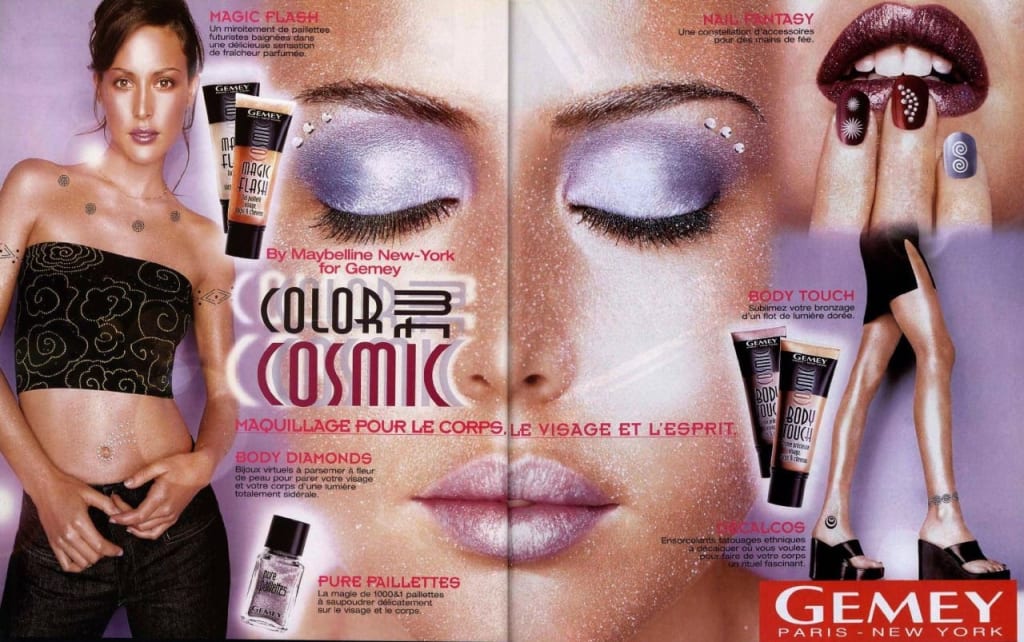 Maybelline magazine spread from 1998
Let's just get straight to the point, okay? THE LATE 90s AND EARLY 2000s ARE SUPERIOR when it comes to makeup. This was truly such an iconic time for the beauty industry, there were little to no rules! We had grunge, glitter, rhinestone tattoos, pencil thin brows, and everything in between. If you love the early 2000's and makeup, keep on reading!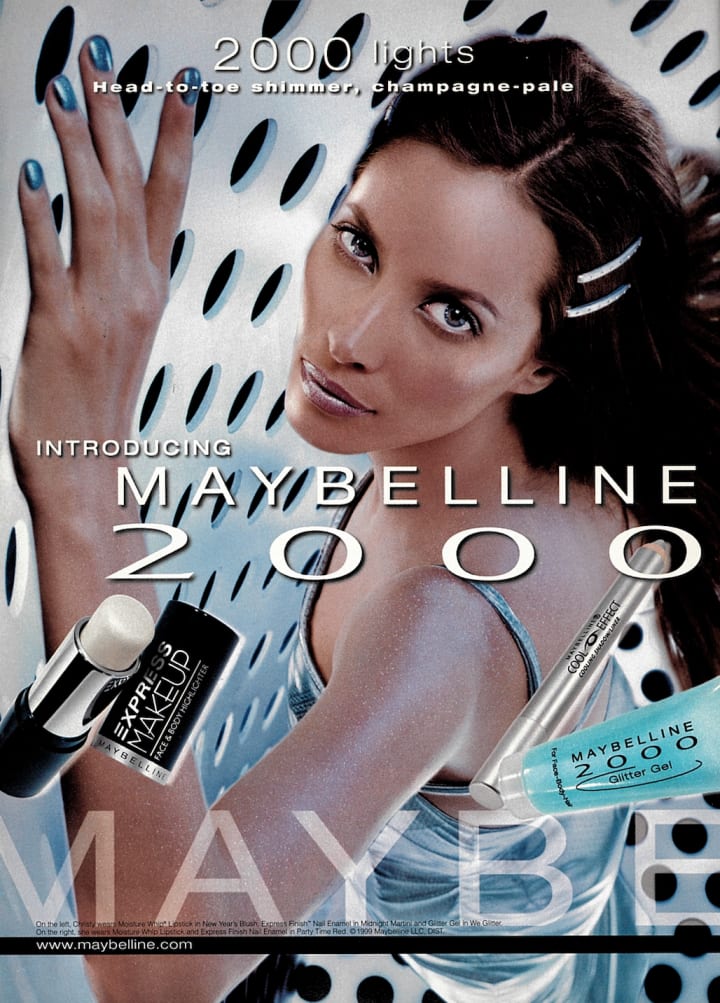 Chapter 1: All That Glitters...
Did you even grow up in the 2000s if you didn't beg your parents for Bath and Bodywork's roll-on glitter sticks or Maybelline's glitter gel? Glitter products such as eyeshadow, lipstick, gel, etc. in general were a staple in every beauty junkie's routine no matter their level of expertise. As pictured above, Christy Turlington embodied the ultimate y2k cover girl look in this campaign and we all tried to re-create it at some point. Stores like Limited Too and Icing were basically glitter headquarters for myself and every other young girl who was obsessed with the Spice Girl or Zenon look. People of all ages took part in this trend and brands made sure that there were options for everyone. There were endless variations of glitter or holographic beauty products so you could experiment and find the one that worked best for you. I've also always been fascinated by the creativity brands brought to the table when it came to advertising their latest and greatest product. Maybelline 2000, aka the limited millenium collection, had eye-catching advertisment and did a great job at making you want to douse yourself in glitter and holographic lipstick. The products in this line gave off a very Zenon: Girl of the 21st Century vibe which was on trend for this era.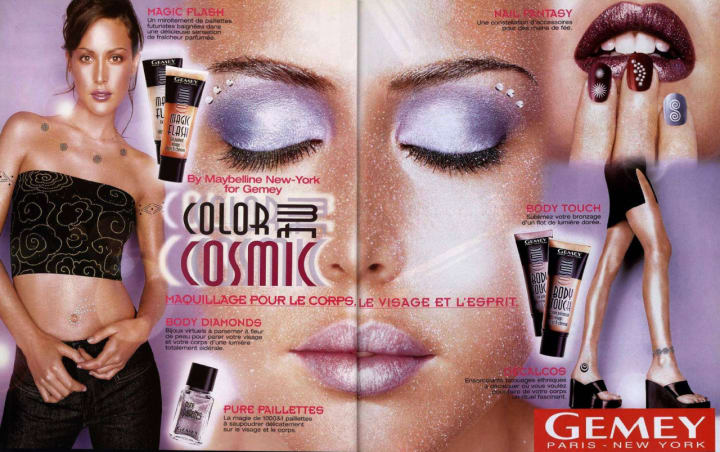 Maybe she's born with it. Maybe it's... body glitter? Color Me Cosmic is another brilliant campaign that perfectly captured the essence of a y2k galactic goddess, something we all aspired to be in the late 90s-early 2000s. This collection consisted of body glitter, cream eyeshadows, iridescent nail polish, lustre lipglosses, and so much more! Basically all the staples you needed to live your best shimmery life. What I love the most about this campaign is it acts as a moodboard. You've got makeup inspo, fashion inspo, hair inspo, etc. The visuals were so aesthetically pleasing, you couldn't help but to be inspired. Every detail, even down to the color scheme, was perfect and made for a brilliantly executed campaign. They understood the assignment, and that's on period.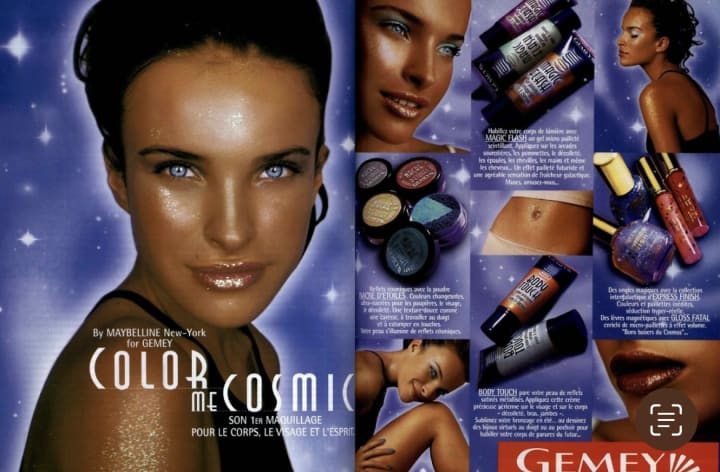 One of my favorite products featured in this collection is "Magic Flash" which was a micro glitter gel. It was meant to be used on your body, face, hair, and pretty much anywhere a young millennial thought they needed a little extra sparkle. Talk about a "bang for your buck," these multi-use products were some of the first that were produced and sold to the masses. When I see these ads I think of how the beauty industry evolves so quickly yet somehow circles back every decade or so. With the recent y2k craze, gen-z has adopted these same styles and found similar products but added their own "modern" twist if you will. I've got to hand it to them, they figured out the perfect balance and less harsh techniques than we did in the early 2000s. While this does make me feel somewhat old, I don't blame them for their fascination and I admire their appreciation for the y2k era. We were captivated 20 something years ago by this style so why wouldn't the younger generations be today? I think it's safe to say that y2k is here to stay.
Chapter 2: All About The Eyes....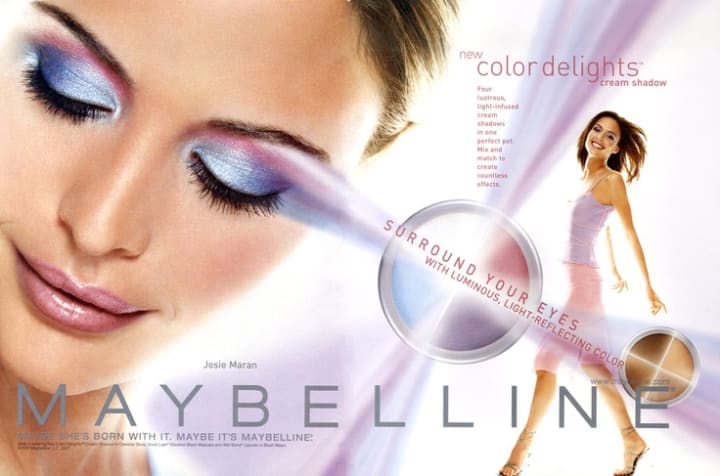 Let's get into eye makeup, specifically eyeshadow. I vividly remember my mom and aunt using cream eyeshadow quads like Maybelline's "Color Delights" on a daily basis. Looking at them now, I wouldn't think that these colors would look as if they'd pair well but they really did during that time! Blending pink, blue, and purple frosty cream shadows sounds unthinkable in 2023 to the average person but it was second nature to us in the early 2000s. Bold, shimmery, and colorful eyes weren't a risk that was afraid to be taken, it was the norm. While there were many brands that produced cream eyeshadows similar to these, in my opinion, Maybelline's ads were the ones that were the most eye catching probably due to their futuristic vibe. It was the new millennium and they really took advantage of that creativity wise. Josie Maran was a very popular model during this time and as pictured above, she looks stunning rocking colors that we would consider bold and unconventional today. She's even wearing frosty gloss which totally completes the look!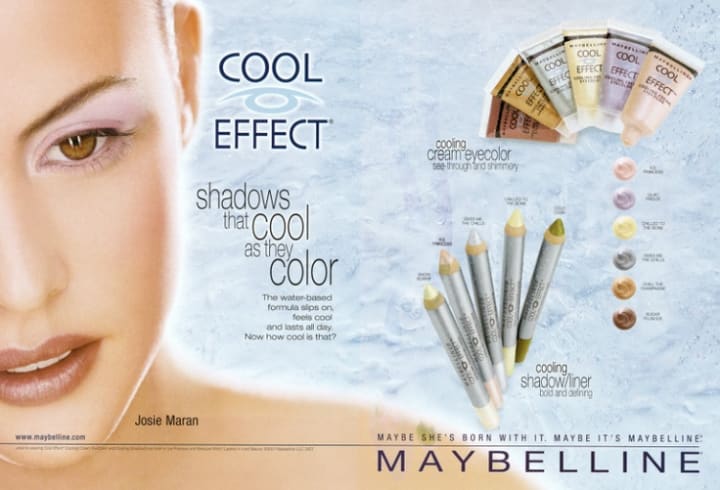 While we're on the topic of cream eyeshadows, let's talk about the different variations and ways in which they could be applied. There were quads, as seen above, and pencils, single pots, even bottled cream shadow. If it wasn't already obvious, cool tones were very much the vibe and makeup standard during this time. These snow bunny/icy looks were seen on pretty much every young celebrity and because of their influence, we all followed along. Something I love about the collection above is how compact and versatile the pencils and creams were. You could be bold, subtle, and anything in between! With the cream shadow pencils you could be more precise where as using the cream shadow tubes, you're basically committing to a fully covered and very frosty lid. All are a slay though and I'm here for it.
Chapter 3: Wetter Than Wet Lips...
No y2k look is complete without lipgloss. But not just any lipgloss... "wetter than wet" lipgloss. This has to be one of my favorite products by Maybelline in the early 2000s although I'm a bit biased because I'm a sucker for any and all types of gloss. First released in 2001, the Wet Shine Diamonds lipgloss was not only bright in color but bright in shine like the name suggests. Obviously the perfect finishing touch to any frosty and glittery makeup look. With the success of these lipglosses, Maybelline introduced a lipstick version. If you aren't a fan of sticky gloss but love the shine, these would be perfect. Truly the best of both worlds. There were a variety of shades and they all had the prettiest opalescent finish. My favorite shade has to be Pink Carats, it was a "your lips but better" kind of color yet it had a pop of shimmer and soft pink tint. It would 100% be Lizzie McGuire and Zenon approved.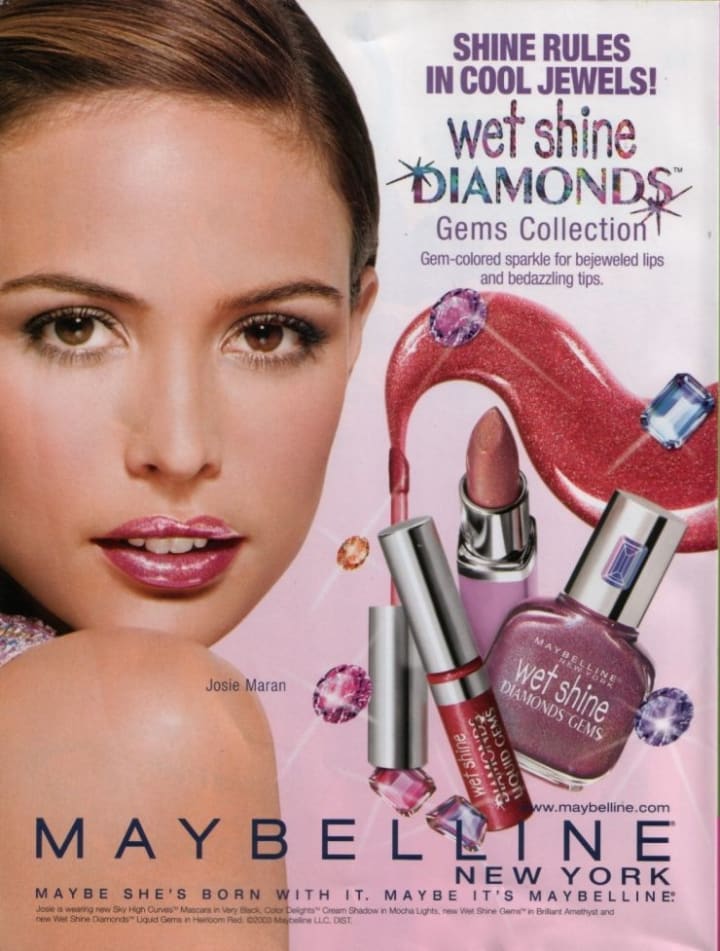 The only logical thing to follow this collection up with is nail polish, duh! As if frosty cheeks, eyes, and lips weren't enough right? Maybelline's Wet Shine Diamonds Gems nail polishes not only had adorable packaging, they had a ton of colors, bright and dark, that all had a beautiful sheen. Today we have chrome powder we can add to the top of any nail polish to give it an opalescent look but in the 90s and 2000s, there were all in one polishes that gave a wet, diamond-like effect. The ad above features all 3 products that we've discussed in this collection so you can really see just how well they compliment each other.
Makeup inspo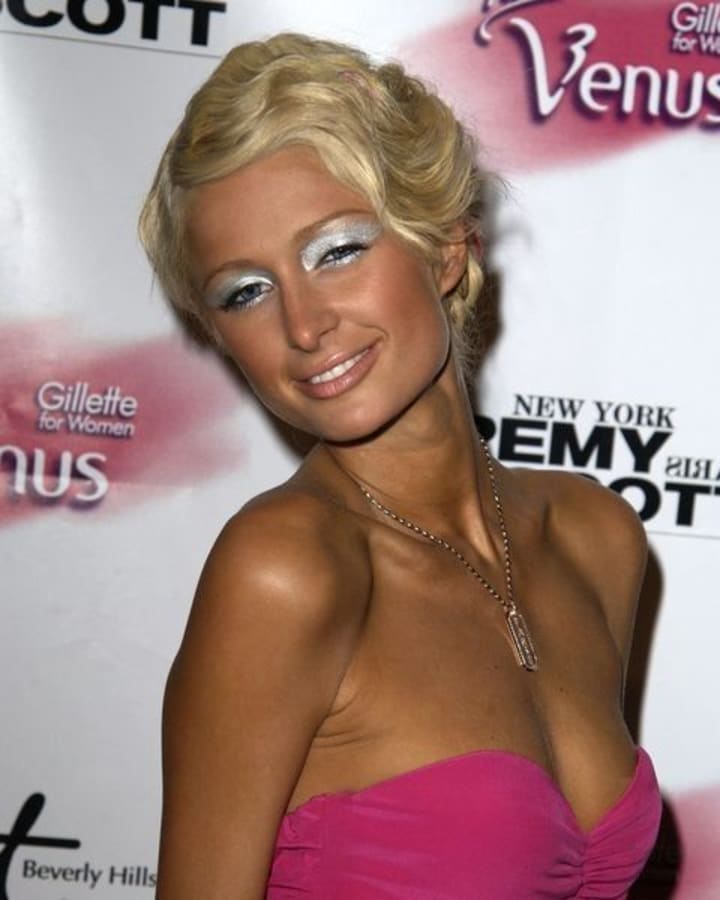 Paris Hilton can rock any look. Even bold, shimmery silver eyes. It's all about confidence and Paris definitely has it... for good reason! This look in particular has gotten a lot of criticism but I think it's fun and different which is what makeup is all about. It's one of the greatest forms of self-expression.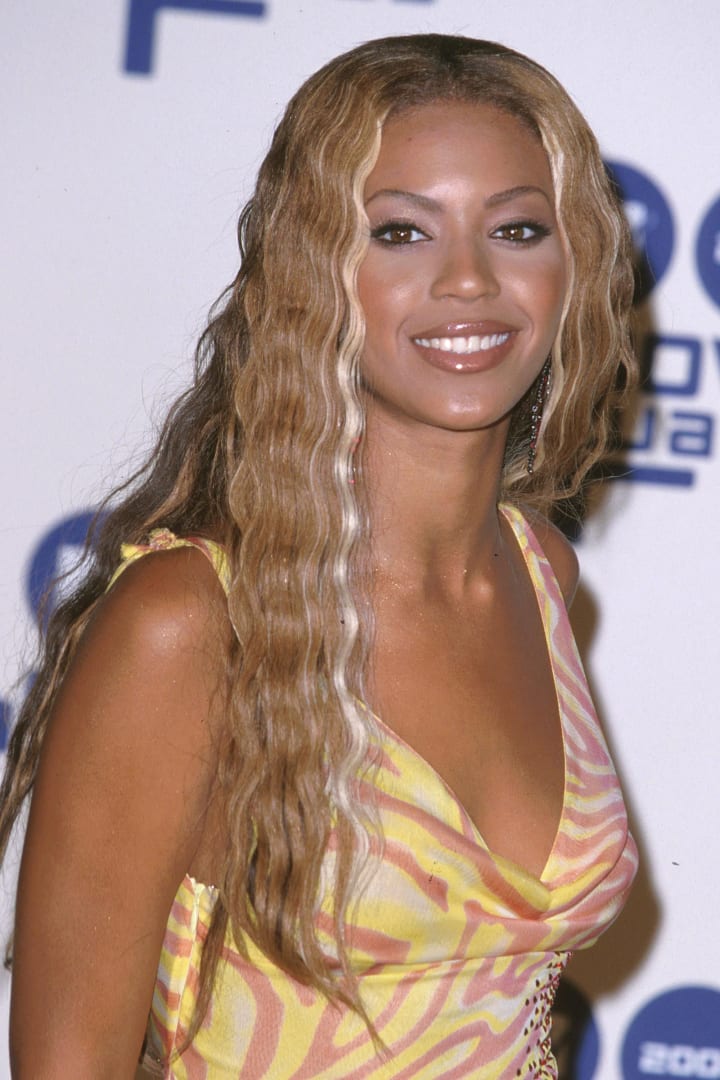 It's no surprise that Beyonce is stunning but there's just something about this look that is so youthful and fresh. She looks sunkissed and fucking ANGELIC. The gloss, the shimmery eyeshadow, and the face framing highlights all work as a team to make Queen Bey look ethereal. This is definitely a look that I'll be recreating soon!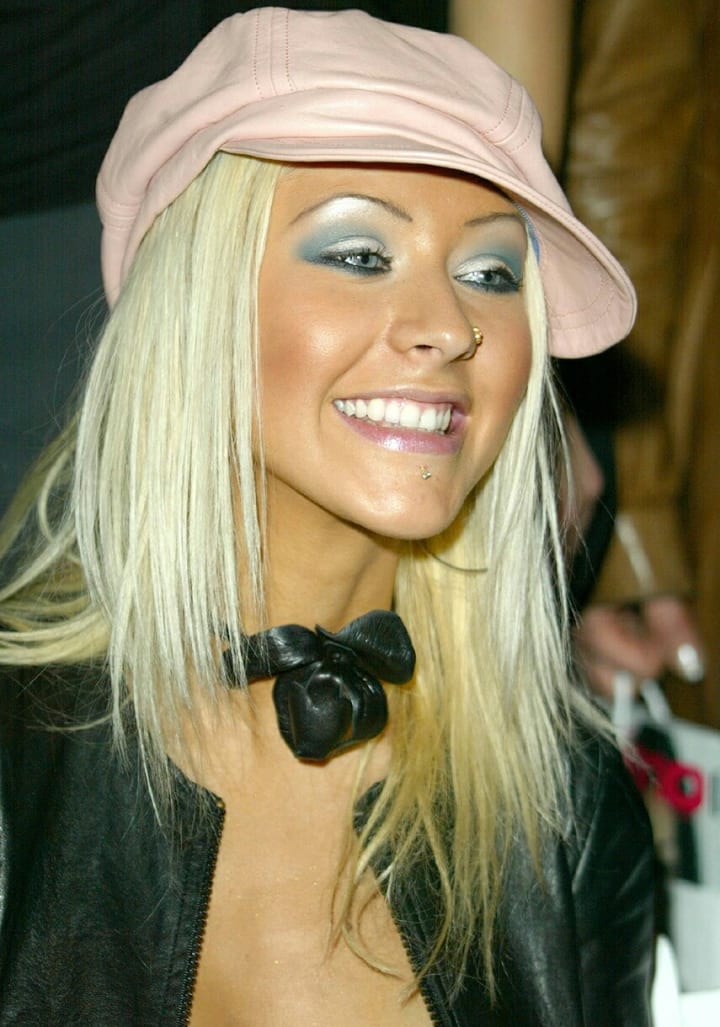 Xtina was known for her sultry makeup so believe it or not, this was on the natural side for her. Tan skin with frosty eyes, pencil thin brows, and nude lips were among the most common during the early 2000s. Christina fully pulls it off, slanted hat and all.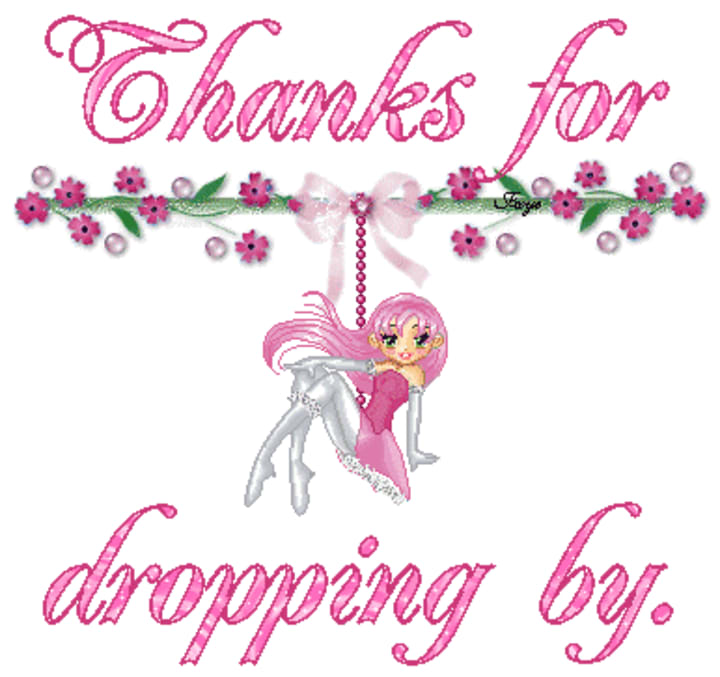 The early 2000s were iconic for so many reasons but the beauty industry was my favorite part. The advertisements, creative direction, artistry, etc. this was a time for ingenuity and it showed. There were no YouTube tutorials to follow, no influencers telling you what to buy and what not to buy, and there wasn't such a pressure to be this unattainable level of perfection. The celebrities you saw on TV and in magazines were much more original and natural with their style and were not afraid to play around with makeup either. In a way I think we've lost that in today's beauty industry. We literally follow rules and trends now on what society says is "in" and "beautiful." Social media can be so helpful yet so cruel. I only hope that in th future, we take back the strength to set our own trends for ourselves and be authentic to who we are, and not only in makeup but in general.
About the Creator
Just another twenty-something gal who is opinionated and passionate about all things beauty and fashion related with an emphasis on the 90's and early 2000's.
Reader insights
Be the first to share your insights about this piece.
Add your insights