How I Got Here and Some Tips for You, Too!
Trust me. If I can do it, so can you!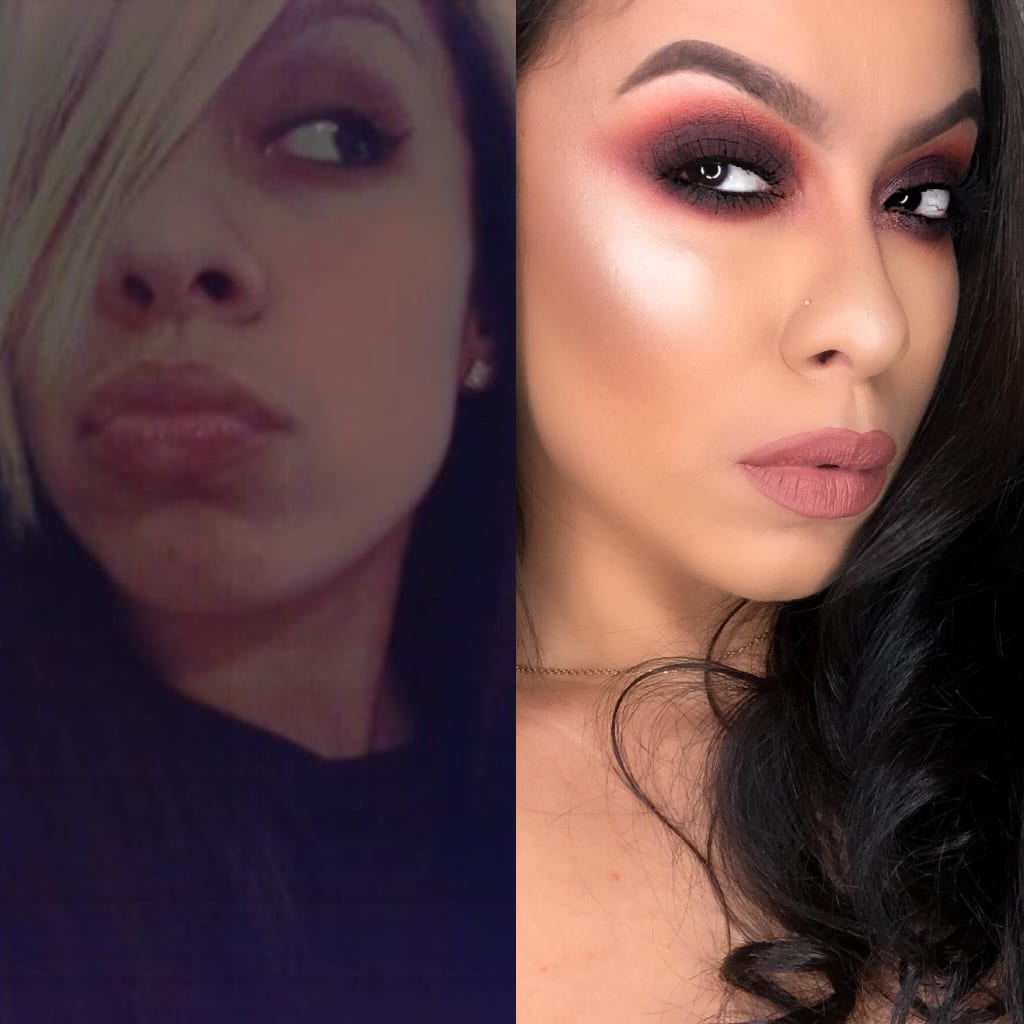 My name is Krystal and I'm 29 years old. Growing up, I had no interest in makeup. My mom used to beg me to at least wear mascara, but I had no desire, LOL. As I got older, I started clubbing and, of course, wore eyeliner or the occasional eyeshadow, which consisted of just rubbing gold eyeshadow on my eyelids. Finally, when I was 18, I believe, I remember one day asking my mom if she would come with me to Walmart. I wanted to buy some products and get into makeup. She was more excited than me I think, haha. I'll never forget. I bought everything for $85. I had no idea what I was doing, I just knew I was going to learn something; anything. I came home and sat in front of my mirror for hours trying to figure everything out, which was a total fail. I realized I would need a little bit more help so, where was the one place all the MUAs were? MAC Cosmetics, of course. I remember asking one of the employees how to contour and her exact response to me was, "You don't wanna learn how to contour. Have you ever seen Kim Kardashian in person?" I kinda need to thank her because she made me even more eager to me learn. I refuse to be told no, LOL. A couple years later, my fiancé purchased my very first eye shadow palette that wasn't from Walmart. It was the Kat Von D Butterfly Skull palette. I have learned every technique from myself. I am going to be honest—I have watched YouTube videos, but that can only do so much. I learn differently than others and I always have. I have spent days and nights almost crying because I refused to give up. Here I am now. I started posting my looks back in October of 2017. I've been featured in articles and the famous Fenty beauty website. I can't tell you how proud of myself I am. To some, it may be nothing, but to me? Every like, every comment, and every compliment is one step closer to where I want to be.
These are the ten top items I believe any beginner should have. Let's be honest! Before reading this list, you have to understand that you can get makeup from Walmart or Sephora. I always say it's not the makeup that makes the look...it's you and that brush that make the magic happen.
1. Brushes
First of all, you are going to need brushes! There are beginner kits, which I would recommend because you can get some start brushes without spending $40 bucks. I'm all about saving some money.
Morphe Brushes
Real Techniques
Sephora
2. Foundation
Why? Because everyone needs a good base.
Kat Von S - Lock It foundation
Nyx Cosmetics - Total Control drop
Fenty Beauty - Pro Filt'r matte longwear
3. Bronzer
This is going to help you begin to learn contouring as well as help achieve that bronze finish.
Benefits Cosmetics - Hoola bronzer
Pixi Beauty by Petra - Strobe & Chisel palette
Hands down? Benefit is my fav. Easy to work with and you can go a little lighter if you're worried about looking too bronze.
4. Moisturizer
So important to keep your skin hydrated. You should always go based on your skin type.
5. Mascara
You don't NEED lashes to complete a good look when you're just starting out. For years, I only wore mascara. I live by it.
L'Oréal - Extra Volume Collagen Voluminous
Benefit Cosmetics - They're Real
6. Eyeshadow Palette
Whether it's a mini palette with two to four colors or it's a palette with 35 shades, everyone needs at least one.
Morphe brushes - Start with neutral colors
Makeup Revolution - So affordable
7. Translucent Powder
This is going to help set all and any of your makeup; gives you that flawless finish.
Laura Mercier - Translucent powder
Makeup Revolution - Translucent powder (top fav because it's only $8.00 at ULTA)
8. Concealer
It helps with brightening.
L.A Girl Cosmetics
Tarte - Shape tape—I highly recommend this one!
9. Eyebrow Pencil
Pencil is easier to work with and it gives you a natural or dramatic look depending on how it's applied.
Girlactik (my personal all time fav)
Benefit Cosmetics - Precisely My Brow pencil
If, by chance, you're feeling brave, get you some Anastasia Beverly Hills dip brow pomade. It changed my life, LOL.
10. Lipstick
I've walked out the house before with just liquid lipstick and it makes such a huge difference. My personal favorite is always a matte liquid lipstick.
Anastasia Beverly Hills
Kat Von D
LA Splash Cosmetics - They're definitely the inexpensive brand here. Their formula is amazing and their range of colors? Just right for everyone!
Now, I do not necessarily consider this a necessity for beginners, but let's be real. We ALL want a nice glow! For that extra added wow? I say invest in some highlighter.
My two ALL-time favs:
Girlactik- Face Glow—I live for this highlighter.
MAC Cosmetics - Mineralized Skin Finish (soft & gentle)
Another tool I'd say you definitely will eventually learn to love is a beauty blender! I can actually create an entire look with just my beauty blender and about two eyeshadow blending brushes.
My recommendations? The original Beauty Blender or Real Technique's sponge (more affordable so it's perfect for beginners).
My advice for you all is going into Ulta or Sephora. They're always willing to help. Make sure the person you are asking for help you feel comfortable with. There's nothing worse than shopping for makeup and feeling embarrassed. It should be a fun experience.
So I hope this isn't overwhelming for you all. This is a list in which I personally feel is something to help jumpstart you all. There is one thing you need to remember...have fun. Do not ever pressure yourself to try and be someone else. Their level of skill does not determine what you are capable of. I think a lot of people have a mindset of perfection. In the world of makeup, there is no perfect. Take a deep breath and be patient with yourself. Trust the process. I myself am learning something new every single day.