Best Sea Salt Sprays for Curly Hair
Using sea salt sprays for curly hair results in a mane capable of putting any mermaid to shame.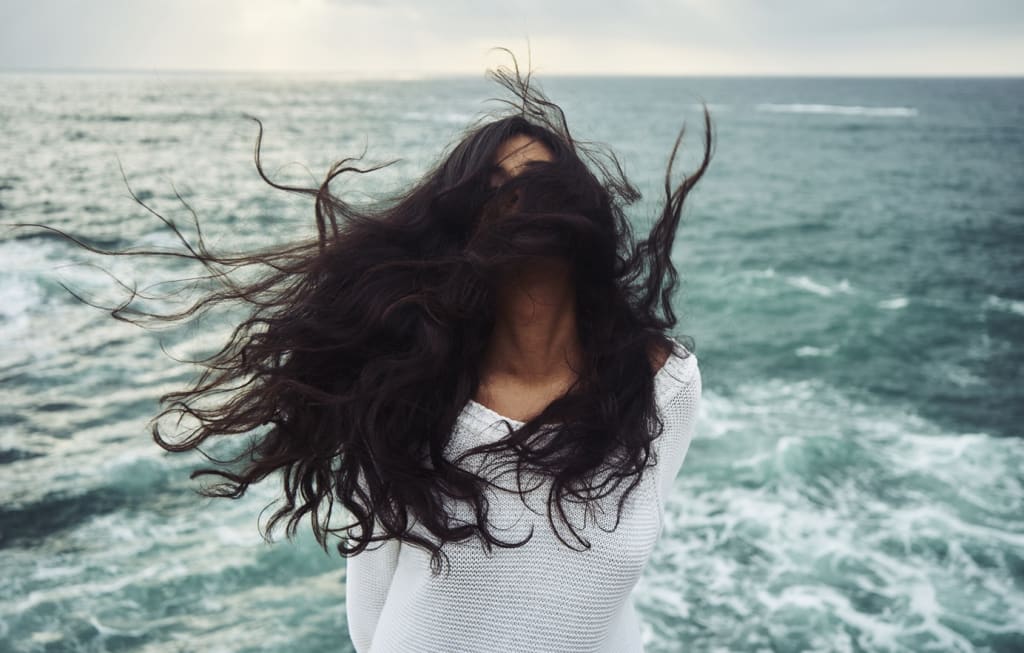 Image via Unsplash
Tousle-headed girls and women with waves need a stock of sea salt sprays for curly hair. Salty sprays add the body and texture that you usually only get after a day at the beach. Women with straight locks can use sea salt spray, as well. You won't magically achieve curly hair, of course, but sea sprays create shape and waves. Braid your damp hair first, then give it a spritz for the best results. Curly ladies only need to spray their tresses, damp or dry, or even after using hair masks for curly hair. You have to do one other thing, as well: make sure that you're using an excellent, efficient spray that will give you the beachy waves you crave.
Everybody loves Bumble and Bumble Surf Spray! It's on the higher end of the price spectrum, but worth every penny. The formula contains coconut water for hydration and fruit oils for extra moisture and shine. It gets high marks because the spray even has special agents that protect your gorgeous locks from harmful UV rays.
People are having more fun with their hair these days, specifically in terms of color. Fantasy palettes, unicorn hair, mermaid locks, dramatic hues—hair colors run the gamut, and they're gorgeous since we all know the tips for making hair color last longer. The problem is that salt can affect certain shades. Is it any surprise that Tarte's Mermaid Waves Salt Spray is the best pick for curly girls who rock mermaid hair? It's a vegan product free of parabens and phthalates, making it as safe as sprays like Rockaway Salt Spray.
IGK will set back your bank account by almost $30, but you won't be sorry for the splurge. It's one of a few sea salt sprays for curly hair without any salt. It leaves you with that piece-y texture you want, but no crispness. Your hair won't feel brittle, and it won't seem like you're trying to bring back the wet look. Let it air dry to an unbeatable matte finish.
With Captain Blankenship, splash out like you just stepped out of the Pacific Ocean, complete with a golden California glow. For less than $30, your hair will have a gilded glimmer—just a touch—and volume for days. The shimmer is fine and subtle, giving you the hint of a gold aura when the light hits you just right. It doubles as a light hold hairspray, which helps to set the glitter in place, too.
Infused with coconut and just as salty as the Pacific Ocean, Herbivore knocked it out of the park with their surf spray. The formula contains more salt than many of its competitors, but thanks to an infusion of aloe water, it moisturizes your beachy tresses throughout the day.
Want your beach hair windblown and worthy of its own magazine cover? You've got to create your own breeze. Walk like a fan is always blowing. Verb's texture spray gives your hair more than texturizing grit. It's a dry spray, and while it's not technically a combination of dry shampoo and sea spray, it kind of works that way. Always, always, always opt for double-duty hair products. Because Verb is so light, you can add volume to fine hair without weighing down your lovely locks. The daily struggle of curly hair is no more after using this.
John Frieda's sea salt spray contains a misnomer because you can use it whether you're a blonde, brunette, or a redhead. The price is right at less than $10, and in addition to working as a texture spray, it also increases shine. It's terrific value for the price—it might become your favorite spray.
OGX's line of Moroccan oil products is healthy for your hair. You can't beat the results, all thanks to the essential oils in every product. In the sea salt spray, argan oil adds moisture to your curls, while kelp extra enhances shine. Spray and go to give off a laid-back, Boho style.
You won't be able to resist the packaging of Joico's Beach Shake spray. Do you have thick, heavy hair that's stubborn about holding its shape? This is your next go-to hair product. Achieve an enviable beach wave no matter how thick your locks—and no, those waves won't fall or frizz out on you. A light hold eliminates flyaways while helping your hair to maintain its body.
An organic beauty product is always best, don't you think? When you're lucky enough to find a sea salt spray for curly hair that's both organic and affordable, think about switching up your style routine and trying a new mist. John Masters Organic Sea Mist even contains lavender, which soothes your scalp and imbues the spray with a lovely scent.
Although this is one of the more expensive sea salt sprays for curly hair or straight locks, you pay for what you get—and you get more than just a texturizing spray. It's worth mentioning again that some sea salt products can dry out your hair, at least if you use them frequently. 'This Is a Sea Salt Spray,' however, moisturizes your hair as it provides shape and volume. Even better, it makes use of three different salts—and the bottle is cute as can be.
Affordable sea salt sprays for curly hair are the best, especially when you still get all the benefits of a salon-approved formula. Beach Babe will definitely turn you into a beach babe no matter what your hair type. It relies on Dead Sea salt and finishes off your hair with a subtle matte sheen.
With so many sea salt sprays for curly hair and straight hair on the market, you won't have a problem finding a formula that gives you to-die-for beach waves. Which one is your favorite?
hair
About the author
Proud mom of three chinchillas, hard core Justin Bieber fan, watches Unsolved Murders religiously
Reader insights
Be the first to share your insights about this piece.
Add your insights