10 Awesome Eye Makeup Looks for Winter
Post-holiday hangs got you feeling blue? Awesome eye makeup looks for winter are just what you need to brighten up that hue.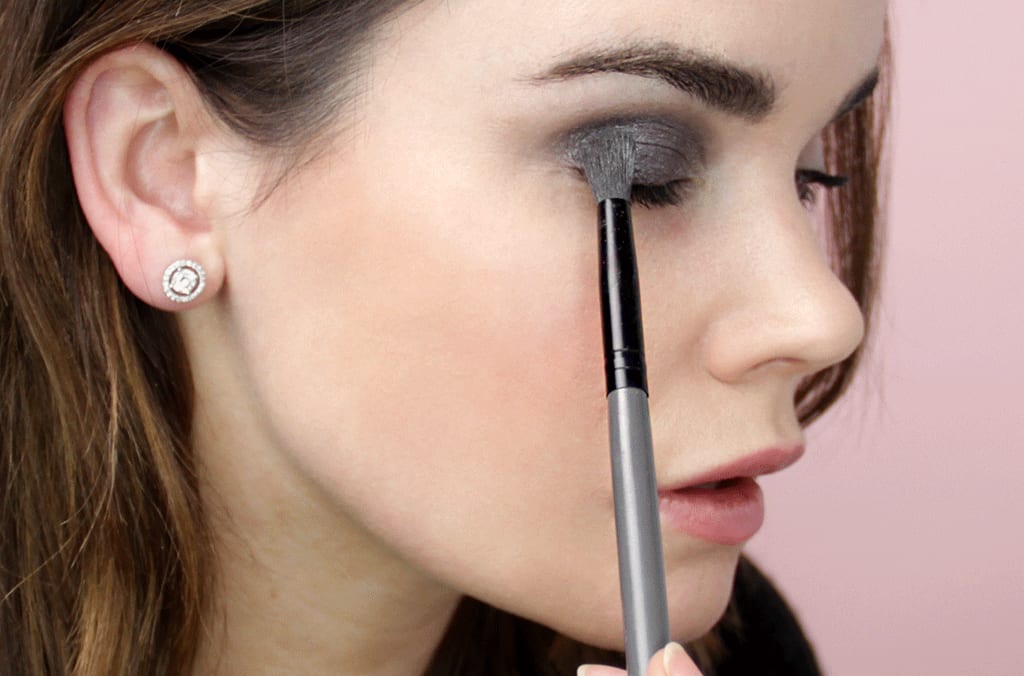 Winter means many things. We've got the holidays to look forward to and stress out about while vegging out on loads of yummy treats. For many, the post-holiday months carry an air of gloom and doom, yet we forget to consider its advantages. For starters, we are entering the crisp seasonal advantage of not sweating our faces off. I mean, come on. Makeup was made for the winter. Pair this game changer perspective with the darkness winter brings and we've got the perfect recipe to make daring statements in both our wardrobe and make up. From red berry lips to glitter nails, these awesome eye makeup looks for winter will carry you through the best of festive holiday parties to the worst of the dull wintery days.
Deep greens are a winter staple. From the evergreen Christmas trees to the leaves on the mistletoe, this shades reminds us of the life that thrives even in the most extreme environments. Rock this evergreen lid at a holiday party or a night out. Not only are you channeling the nature within you, but you'll channel every eye to this Bella Mari natural mineral eyeshadow. If the emerald in evergreen trees can thrive year-round, so can you.
The smokey eye is a classic, but for this season we're taking it another step and ditching the gray/black hue. Pops of color that glisten against the solid backdrop of winter is our main focus. You'll also want to choose the perfect eyeshadows for your eye color that'll bring out the best in all of your features. If you have green eyes, opt for deeper shades of purple like eggplant for a balanced contrast. A deep metallic blue takes a bold step while also resembling the classic smokey eye and can suit just about any eye color.
If you're anything like me, applying eye shadow can be a bit of a project. Doing any type of eye makeup on my lids is often a hit or miss. While it's important to dare and try new looks, there's nothing wrong with a classic cat eye. I personally prefer waterproof liquid eyeliner for its ease of application along the lash line as well as duration throughout the day. The cat eye is perfect for any season when tying a look together or brightening your eyes up. What makes the cat eye so special in the winter is the balance of playful sophistication it adds to any occasion. Pair this up with a red lipstick for a holiday party or keep it neutral with a glimmering blush for the day.
A lot of people reserve metallics such as gold, silver, and bronze for new year's celebrations, but why limit yourself? You're a golden goddess and these shimmery eye makeup palettes are perfect for your new year's celebration as well as the entire season. Going gold is a bold move that can be done when approached correctly. Go all out with a glittery lid or take a reserved approach and apply shimmery metallics on the inner and outer corner of each eye.
There's something about the sky in winter. Clear nights provide optimal conditions for the stargazers and the atmosphere just puts together the most perfect hues during sunset. Now that you've got some practice with the smokey eye and bold colors, give your hand a go at a winter sunset look. If that's too much, hit up your makeup artist bestie. This pick is made for the winter and goes well with any eye color bringing out those subtle tints of gold we all possess.
We're on a nature kick here. After all, this whole list is about awesome eye looks for winter. A warm cranberry look screams the best of the harvest as this fruit typically peaks mid November. My favorite part about a cranberry eye makeup look is the dewy vibe it gives off. While the winter months are known to make the skin dry, wearing colors that make you rosy and cheeky are a supreme hack.
These awesome eye makeup looks for winter have been on the bold side, but you can make just as strong of a statement with a soft look. With the harshness that comes with this colder season, a simple approach serves a sophisticated juxtaposition—just like a fresh blanket of snow that calms the angriest of the winter winds. Opt for neutral shades that match your complexion while adding a touch of glimmer underneath each brow bone.
This is a perfect day to night look. Work in the front, party in the back takes on a whole new meaning. Apply a soft shade on your lids and line the crease of your eye with a glitter pencil. You'll be set for a holiday happy hour straight from the office!
Not only does winter provides us with stellar holiday treats, but we get beautiful sunsets and meteor showers. The Fabal Starry Sky Shimmer Glitter eye shadow palettes are made for the months that come after the holiday craze mimicking nature's raw beauty. This is also the time where most of us catch those seasonal affective disorder (SAD) feels. Try this eye shadow palette and channel your starry inner soul with this awesome look. You'll be shooting stars with every blink.
Another simple, yet profound look in its subtle approach. Feeling too tired and lazy to complete your full winter beauty routine this morning? You don't have to do anything except for this pop of color eyeliner look. Take the classic cat eye I mentioned earlier, swap the black liner for an electric blue and you're done. This bright eye pencil will help you embody the winter spirit while still getting to snooze. Yeah, I got your back girl.
If this isn't your favorite season, hopefully my suggestions add a touch of color to the backdrop of these cooler months. Having a toolbox of awesome eye makeup looks for winter is just another one of those little things. Don't we all just cherish those little things?