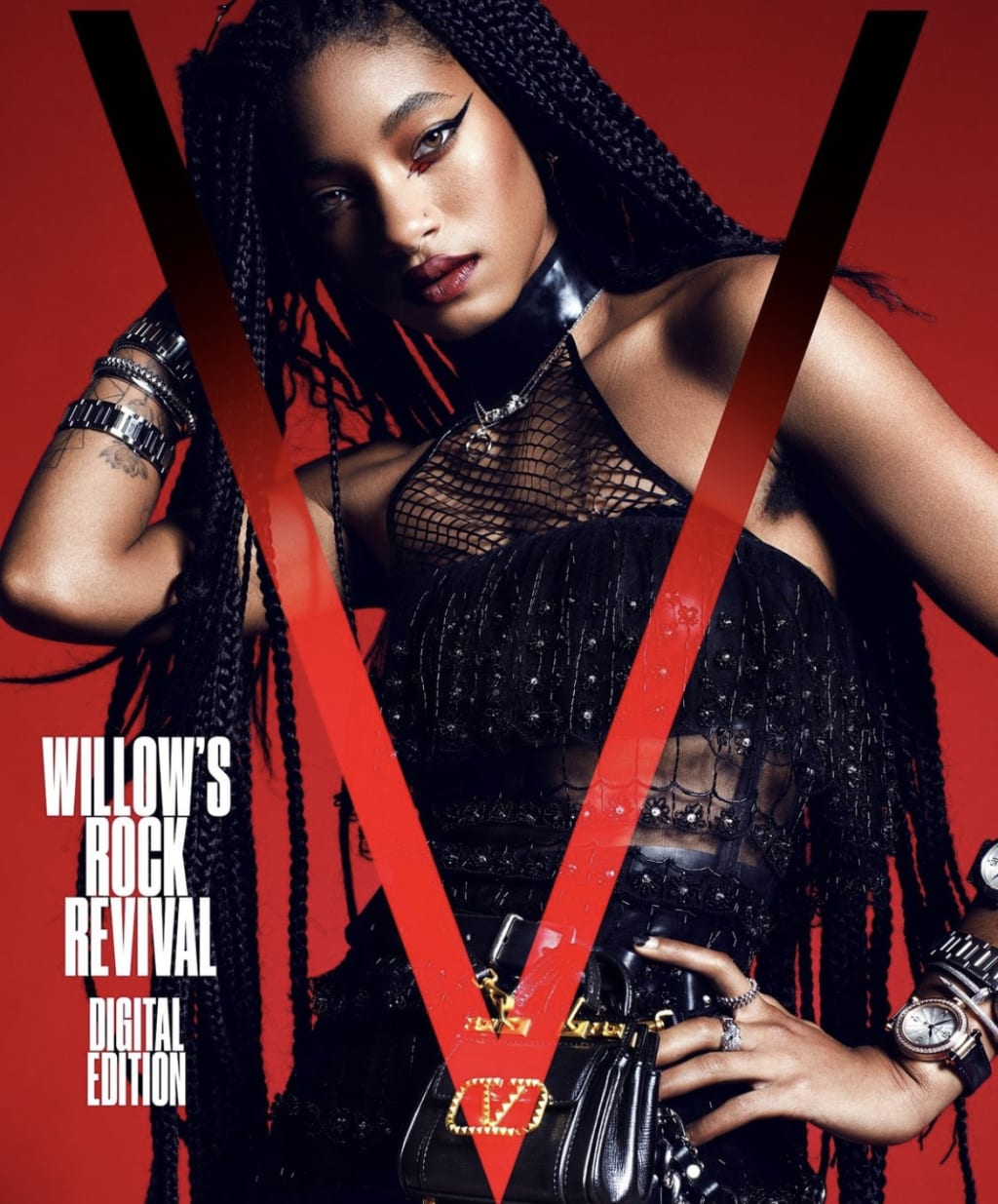 Willow Smith.
Honestly, last time I listened to a song by Willow was the 'I whip my hair back and forth' song when I was in elementery. I had no clue Willow made music, but I am glad I see the light. Willow is a great singer and story teller, but when I heard she was going to release a pop-punk album...excited is not the word to describe it.
I was more than thrilled. More than ecsastic to hear that Willow was releasing a pop-punk/pop-rock album. Firstly it is because I always have loved pop-punk, rock, and alternative music from Bikini Kill to Palaye Royale to Yungblud. So I was eager to see what Willow would do with this sound. Then the second reason why I was over the moon to learn that she was doing a pop-rock album was because she is a black girl.
I am an alternative black girl myself, and lean into the Riot Grrrl subculture the most, so whenever I see black artists making alternative music my heart skips a beat. From Nova Twins to De'Wayne to Meet Me @ The Altar, seeing black girls and boys making pop-punk songs is amazing.
It is euphoric really because for a long time, I thought I was not allowed to like alternative music or dress punk or whatever because the alternative scene is 98% white people. Whether it is the scene kidz or goths, there seemed be no black people in any of those subcultures. That's until the great internet of course, precisely around 2018.
2018 in my opinion there was a big surge with more alternative black people online, and it was amazing. There were black emo kids, black lolitas, black pastel goths, and so many more. I finally started seeing people that looked like me and dressed how I wanted to dress or liked the same music as me. It was really nice, but it wasn't until late 2019 that I found black artists doing rock or pop punk.
Most of these black bands I discover are amazing and super talented, but they all were very small bands and still was in the shadows of their white peers. There is still a lot of discrimination and racism in alternative subcultues, and so black bands are usually push to the back. But with Willow it is a bit different.
Of course she is facing racist and misogynist assholes who don't want to listen to anything she says, fuck those people by the way, but unlike many current black bands Willow already has a name for herself. She's the daughter of Will Smith, been making music since she was like 10, and has appeared on many different shows like the Red Table Talk that is hosted by her mom and grandma. She is a well known face and name, and so she reaches a farther audience. Because of this, she can open people to the idea of alt black people and black people making pop-rock music.
The media is being more exposed to alternative black artists because of her, and giving alternative black kids representation. In the comments of her performance of "Transparent Soul" on the jimmy fallon show, there were so many saying they wish they had a black girl like Willow making rock music for them when they were younger. Seeing Willow, a black girl making rock music, and being able to reach such a large audience has been incredible.
She is showing the general public that not everyone in the alternative music scene is white, and also representing alt black kids who have felt they were not welcome into the alternative scene. It is also great because rock music first came from black people, so now to see Willow showing up with an incredible rock album is a great reminder where rock originated.
As I said previously, there are many black alternative artists, but Willow is such a big step for black alternative artists because she can and is reaching thousands and thousands of people, and showing the public that black people do have a spot in the alternative scene.
Reader insights
Be the first to share your insights about this piece.
Add your insights