Why an ARMY likes BTS
A mini background on who they are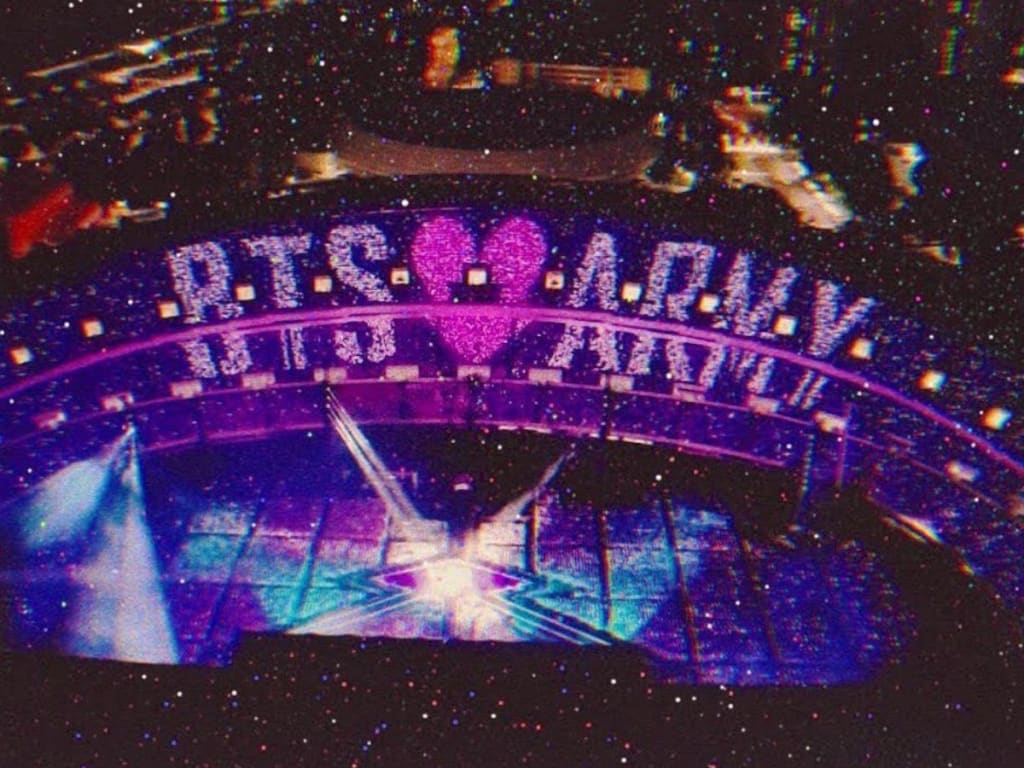 BTS, known in Korea as 방탄소년단(Bangtan Sonyeondan), has not only taken the world by storm because of the their amazing choreography, performance, vocals, rapping and sick beats but because of the message that they spread and because of who they are as people. To begin with, the name of the band itself translates to Bulletproof Boy Scouts. While the name itself may seem a little funny it actually means, as explained by member J-Hope, "to block out stereotypes, criticisms, and expectations that aim on adolescents like bullets". I think that alone is a great introduction to the kind of message that they spread.
From their debut on June 12, 2021 they have always spread the message to follow your dreams and to break out of the stereotypes and expectations that society has built for you to follow. The lyrics in their first ever song released, No More Dream, tell you to remember your dream, remember what you want to become and not what society has told you to become. "What were you dreaming to become?
Who do you see now in your mirror, I gotta say
Go your own way
Even if you live one day
Do something
Put your weakness away"
Continuing throughout their careers they have always stuck to similar themes. Introducing authentic relatable content about mental health, self love, social justice, depression, and genuine feel good songs. They have donated to multiple charities and unlike many celebrities people generally don't find out about their donations unless media outlets uncover details because they don't use it for publicity. In addition to that they have partnered with UNICEF to create the Love Myself campaign which aims to protect children throughout the world and support them with music. They have multiple fundraising initiatives for the campaign including their Love Myself merchandise of which 100% of the proceeds go to the campaign. They also got the chance to speak at the UN about their message giving them even more of a reach when spreading positivity and self love.
Everything I have spoken about so far is exactly the reason that I am an ARMY, what fans of BTS are called, and why millions of other people are as well. Their music spreads hope and makes people feel like they are understood and not alone despite all the struggles they are facing. Their use of other social media platforms such as twitter, weverse, Vlive and others aids in this as well as their reality show content like Run BTS and BTS in the Soop. All of which provide hilarious content for their fans but give them a genuine look into their personalities and create an even deeper connection between themselves and their fans.
I will admit it gets on my nerves when people are quick to judge this group. They have such a positive attitude and realness to them that so many other public figures do not have. It connects people of all ages, genders, sexualities, races, ethnicities and religions because they do not discriminate against people. They support all of their fans as much as the fans support them and they have an immense amount of respect for other cultures. For example when they performed in Saudi Arabia, which was the first foregin act to do so, they made sure that they did not wear gold, were respectful of all of the fans and their cultures and even paused rehearsals for prayers during their time there. If you want another example of unification take into account the fact that their age demographic for fans reaches from people as young as 3 to people who are in their 80's.
I suppose I will cut off some of my fangirling now. Overall, I just wanted to share how amazing this group is and how much they have helped so many people. Their music is not for everybody and that is just fine. But, if you are looking for new music, I would highly recommend checking them out. Who knows it might be just what you need. Like an ARMY said, "It's okay if you didn't discover BTS in 2013, because you find them when you need them most".