What The F*ck Is Wrong With Country Music?
No More Banjo, We Are Going Trap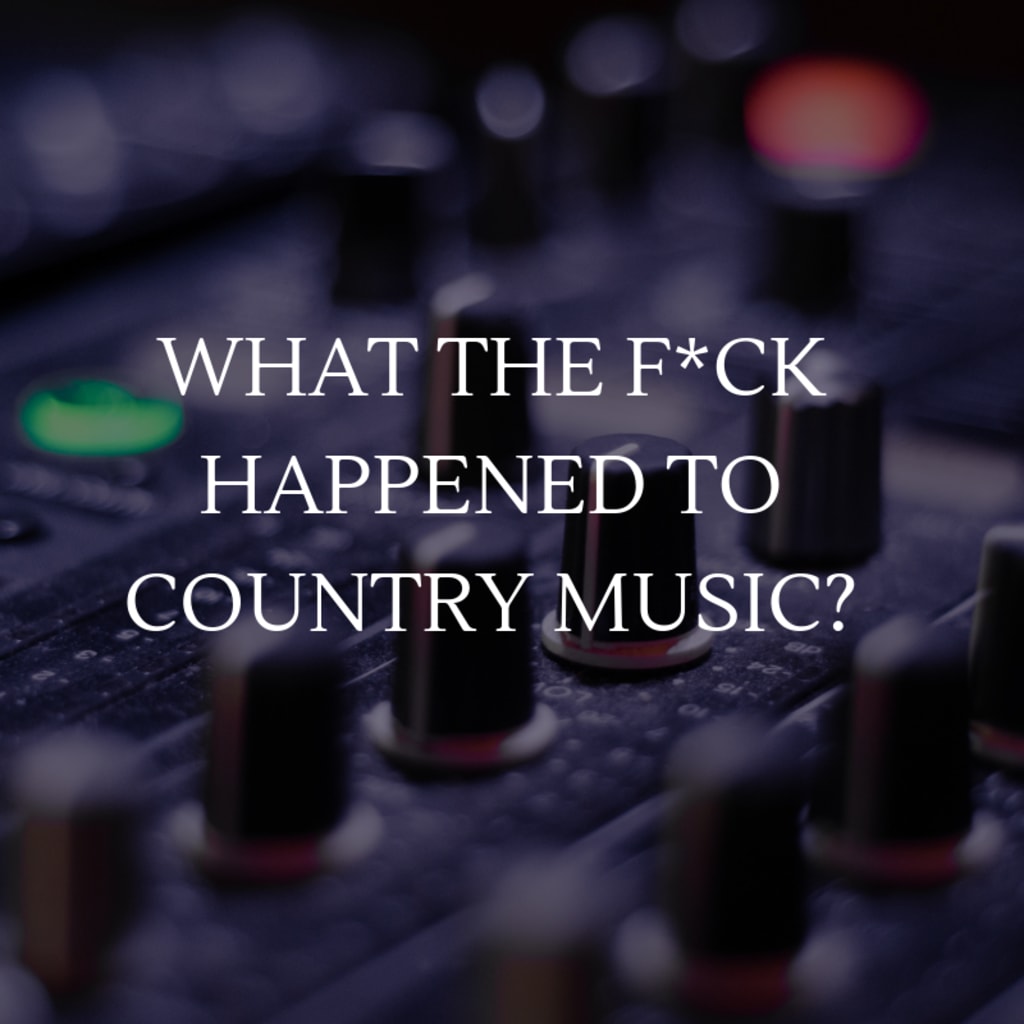 Guitar, pedal steel guitar, banjo, bass, drums, and piano. All these instruments are associated with one genre–Country. Now, what's country music nowadays? As far as I'm concerned, it's nowhere near "country," it is rather pop–pop with bro-kinda lyrics to be precise, which is quite challenging to consider "country." The issue of country music not sounding country enough has been around for nearly a decade now. While there are pretty cool genre cross-over records such as Golden Hours by Kacey Musgraves, Hero by Maren Morris, and Folk Hop N' Roll by Judah and the Lion, there's a fine line between being respectfully creative, and carelessly bending the genre.
The act of bending genre became a huge conversation topic when Taylor Swift released her fourth studio album Red, which was a subject of criticism for not calling the album a pop album, rather than a country album. Nonetheless, she soon claimed herself to be a pop singer with 1989, one of the best-selling albums in this century. What she did by re-establishing her title from "country star" to "pop star," wasn't only risky, but it was a very courageous move, when considering the number of fans that could boycott Taylor.
Now, going back to the issue of contemporary country music, I strongly argue that production is the primary factor in country not sounding country. For instance, "Body Like a Back Road" by Sam Hunt, sounds like a pop hit, but its sound is far from what we know about Country. There's no proper country sound left. In fact, the outrageous looped drum nods to Hip-Hop make this song unbelievably mediocre. Shockingly, this song was nominated for two Grammy Awards: Best Country Solo Performance, and Best Country Song. Fortunately, he didn't bring the awards back home thanks to Chris Stapleton, PHEW…
The controversy around Sam Hunt's nominations was obviously inevitable. I embedded the video here, so you can make a judgement for yourself.
The real issue is with the concept of country music that is drastically being reconfigured, not only by new artists, but also by fans. The next generation (also my generation) is in charge of what we listen to, and how we perceive country music as "country" music. Most country songs on the Billboard chart lately cannot be considered as traditional country music. It is scary enough that some fans might think that the sound of the contemporary country is actually "country." Ironically, those traditional country artists are there trying to at least make something more traditional like George Strait, Reba McEntire, Chris Stapleton, Midland, and Luke Combs just to name a few. It was just recently, "Old Town Road" by Lil Nas X was removed from Billboard's Hot Country Song Chart for not being 'enough country.' This triggered another issue of how, and who, gets to decide categories. Arguably, there's a little element of country in "Old Town Road," and unsurprisingly, the decision by Billboard seems to be fair.
Nevertheless, at the end of the day, it's all about sales and popularity over the tradition. We need to be able to distinguish what's commercial, and what's not. The current pop culture is almost forcing those artists to be more appealing for the mainstream audience. At this point, we can only hope for the artists to make more conscious decisions, and of course, I'm not saying that all these country-pop singers must create something like Chris Stapleton or Johnny Cash, that would be less diverse and unexciting. All I'm saying is that, like Taylor did in the past, those artists who make rather untraditional country music need to be bold enough to declare that 'my song is not country,' and to move on.
Again, country-pop has undeniably opened up a new door for country music. It enabled us to enjoy the genre even more, regardless of its controversy. A little bit of spice is tasty, but too much of it can kill the flavour–it's like cooking, right?
industry
About the author
Hiya! I am a music composer, singer-songwriter. Just like anybody who is in love music, I listen to tons of music. I love travelling too! So I will be sharing my stories of music and reviews!
Instagram: luigi.kdc
Reader insights
Be the first to share your insights about this piece.
Add your insights