URLTV SUPERFIGHT
THE KLASIK RECAP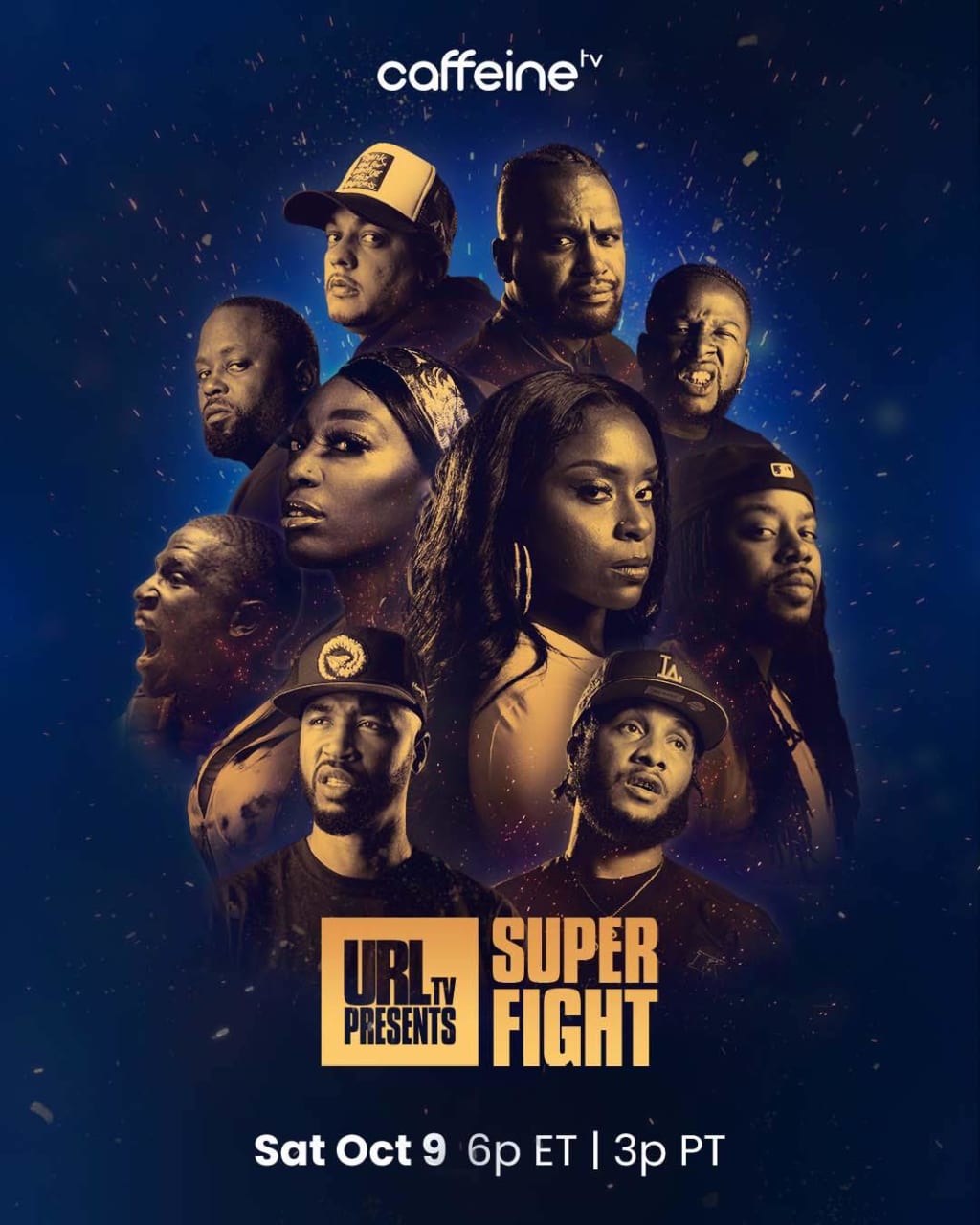 URLTV SUPER FIGHT FLYER COURTESY OF FACEBOOK
You see the flyer for yourself! It went down October 9th on Caffeine TV. The Card was eagerly anticipated by battle rappers and battle rap fans. Coming off of the Summer Madness XI card, URL looked to keep their momentum going, with this action packed card. As good as the card looked on paper it didn't quite live up to the expectations of what we thought. Two of the the battles that were scheduled to be on the card were cancelled. Ryda vs Emerson Kennedy and Danny Myers vs Fonz were the two battles that didn't get a chance to happen. Hopefully URL can make those battles happen in the future as they are competitive matchups.
However the four other battles did happen. I thought the event was decent. I give it a 5 out of 10. One thing that I realized is that every event won't be a success. There are a lot of factors. In my opinion I think the first factor that affected the battle event was that, a lot of these battles were random. They had no story lines or history. When battles have history or a story line, it allows the fans to get involved, and it increases the energy behind the battle.
Another factor that I thought affected the event was the amount of fans at the battle event. I understand that the staff at Caffeine TV is still practicing safety as Covid 19 is still affecting our daily lives. I just didn't get why there couldn't be more fans there. As long as people are Covid tested and are wearing their masks, it shouldn't be a issue. Although the less amount fans the less gas, fans also add to the energy to the battle which is similar to my first point.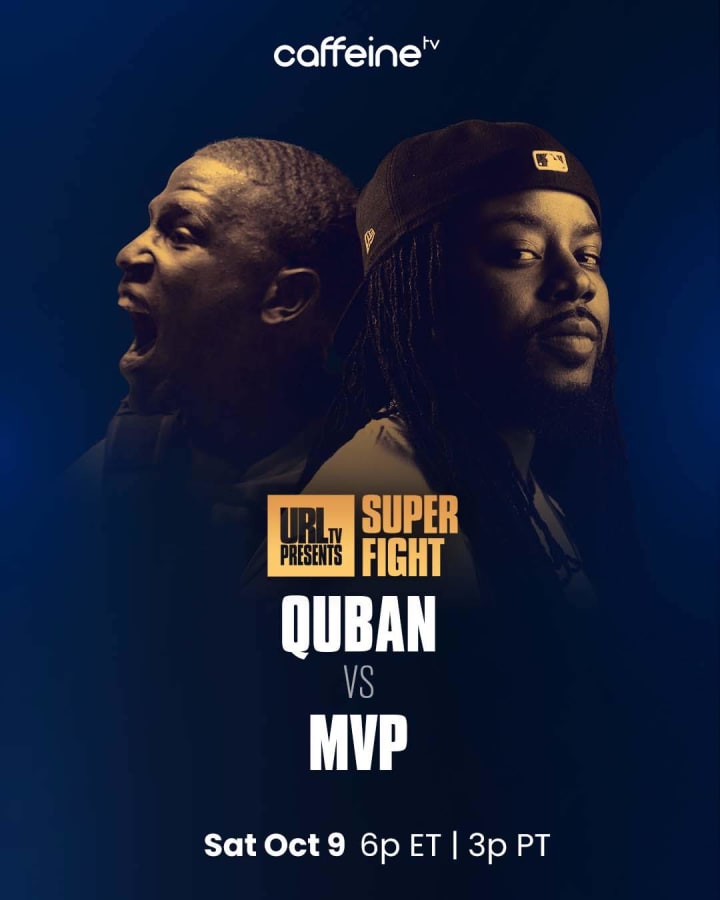 The first battle of the night was MVP vs Quban. I felt this was a important battle for both Emcee's. Quban has been fighting through the ranks for a while to secure a spot on the URL TV roster. He hasn't been seen in a while, so it was a opportunity to show why he belongs there. MVP who has experienced A Summer Madness stage, while suffering a loss to Real Name Brandon was trying to seek redemption. Both having something to prove, but I thought only one did. Quban really proved that there is another level to this. He was more witty, composed, and he looked more experienced.
Below: Quban recaps the battle
MVP did good, but he kind of looked off. Although his bars were there, it felt like something was missing with his delivery and energy. I gave the battle to Quban 3-0. I hope to see MVP again though. He did very well in the tournament, I think after this battle he will go back to the drawing board and put things into proper prospective.
Below: MVP recaps the battle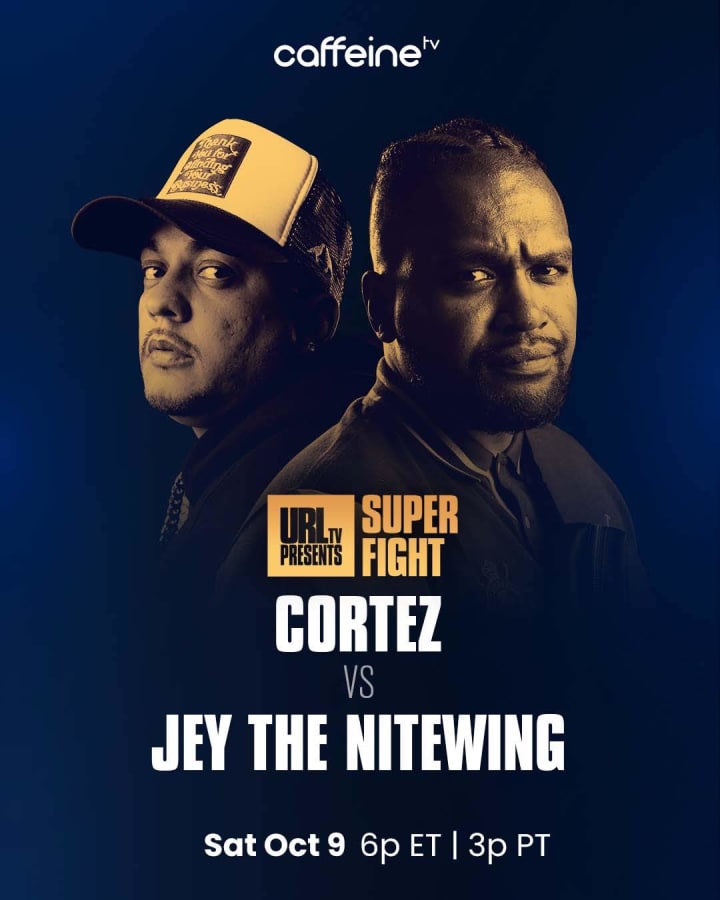 The next battle was Cortez vs Jey The Nitewing. I thought this battle had classic written all over it. Both of them have very conversational type styles within their bars. I'll actually go on record and say Jey The Nitewing has one of the most powerful deliveries in all of battle rap. If there were a class on delivery and vocal projection, Jey The Nitewing could teach it because his voice is just that good. With that being said I think that Cortez also showed that there were levels to this. I gave him the battle 3-0. He had nice "Wing" flips and just crazy bars to go with it. Jey just seemed to barely get through his material, and when he did, it just didn't land.
Below: Cortez recaps the battle
Jey's third round he had a great angle, but I thought Cortez was the wrong opponent to use that angle with. I feel like if your going to use a angle like that, you can't use it against a vet who's track record is proven. Jey has a mass amount of potential and I know that who ever is next he will continue to show his hunger.
Below Jey The Nitewing recaps the battle.
Below: Serius Jones vs Swamp face off
The next battle was Serius Jones vs Swamp. This was a great entertaining battle! It gave you drama, excitement, bars, stair downs, diamond testing, and even smack talking before and after every verse. For me this was battle of the night. I had Serius Jones wining the battle 2-1 taking the second and third rounds, but I wont get mad if someone said Swamp won! It was very close! The highlight of the battle is when Serius pulled out the diamond tester, and tried to get it to work for almost the first minute of his round! It was probably the funniest thing I've seen in a battle to date.
Below: Serius Jone's diamond tester segment and his recap of the battle.
Serius Jones then went on to spit some of the craziest bars I probably have heard sice the Rum Nitty battle. Swamp also had crazy bars, but the angles he had against Jones were over used and they didn't hit as hard as they probably should of. The Math angle, the pimp angle, and the serious/serius were all angles used before. I think that had Swamp used a different method of attack he might of made this more of a debatable battle. Although this battle was more entertaining then classic, I still want to see both emcees again in future battles!
Below: Swamp recaps the battle.
Below: Coffee Brown discusses Ms. Hustle situation
The last battle on the card was Coffee Brown vs Ms. Hustle, and this battle was highly anticipated. It was the first time a female battle was the main event on an all male card. I couldn't wait to see the clash of styles that both ladies were going to bring to the table. Going into the battle I didn't know that there was as much tension between them as there was. They were able to get most of their rounds off, but it was just to much going on. Ms Hustle was late, Coffee was annoyed, neither of them wanted to call the coin flip, and the energy was off. To add to that they almost fought on camera.
It was very weird to see, so weird in fact that the stream cut off during Coffee's third round. I don't think it would be fair to call a winner because neither of them rapped their third rounds due to the power outage. I hope Ms. Hustle and Coffee can resolve their issues and reschedule that battle. It's still competitive and I believe fans still want to see it.
Below: Debo part owner of the "Queen of The Ring" Battle league explains what happened at the event.
Although I felt this event could have been better I still have to salute the emcee's who showed up and showed out. This isn't the end for URL as they are looking ahead to the Drake Card that is happening on October 29th. Things happen, and as I said every event isn't as success. Im sure Smack will move on and learn from these mistakes, and prevent them from happening at the next event. Salute to the URL and Caffeine Staff.
Thank you for reading my article! All opinions and comments are welcomed! Enjoy the rest of your day and happy writing!
rap
The world is a blank book, what you choose to fill in that blank is the purest form of creation.
Aspire to create and Create to inspire!
Check out my Instagram! @writingisthriving
Receive stories by Sakoli Norman in

your feed