Two Memorable Bands
The British Freddie and the Dreamers and the American Gary Lewis and the Playboys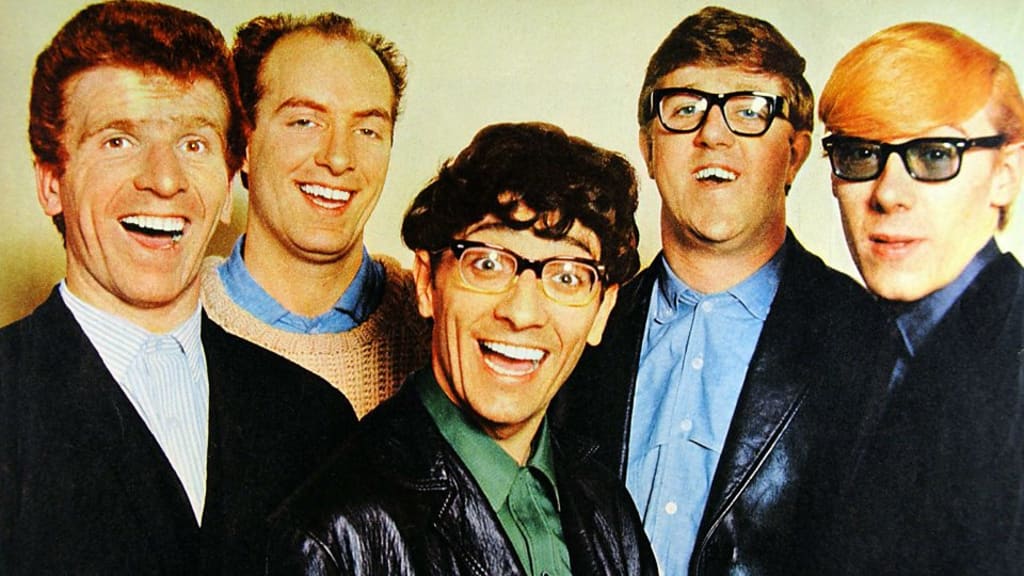 Freddie and the Dreamers
This is a really dreamy kind of name for a rock band. These guys were British and they had a number of hit records back in the 1960s. Onstage they also put on an act with comic antics for everyone's delight. They continued to play for their fans until December of 2000 playing for the last time at Margate Winter Gardens in the UK.
Freddie and the Dreamers were Freddie Garrity vocals, Roy Crewdson on guitar, Derek Quinn on guitar and harmonica, Peter Birrell on bass and Bernie Dwyer on drums. These guys hail from Manchester, England and as with other British bands, they got caught up in all the craziness of Beatlemania. The time prior to becoming a singer Garrity was delivering milk in Manchester. In the UK they have four Top 10 hits – "If You Gotta Make a Fool of Somebody", "I'm Telling You Now", "You Were Made for Me", and "I Understand".
In the UK Freddie and the Dreamers did some cover songs that brought them some fame, their Top UK hits were "If You Gotta Make a Fool of Somebody" a cover of a song by James Ray and "I Understand" a cover of a song by The G-Clefs.
Once on stage this band was well rehearsed with wild antics ready to go. They would perform synchronized, crazy dance routines. Following along with other bands they appeared in four British films – "What a Crazy World", "Just for You", "The Cuckoo Patrol", and "Every Day's a Holiday" (this movie's US title was "Seaside Swingers". )When the craziness of singing and performing started to wind down, Garrity and Birell made appearances on a UK ITV show for children between 1971 and 1973. The band also made a guest appearance on the BBC sitcom "Dear John".
As other English bands had done before them Freddy and the Dreamers seeing their popularity decline in the UK looked toward the U.S. Catching onto the great wave of the British Invasion. Unfortunately, they couldn't find any U.S. record label to sign them on so their releases appeared on assorted labels. Finally in the spring of 1965 their song "I'm Telling You Now" hit number 1 on the U.S. Billboard Hot 100.
Their next hit wound up at number 18 and was titled "Do the Freddie" which was meant to inspire a dance craze. Along with their album "Do the Freddie" which was released at the end of 1965, you got diagrams made up by dance instructor Arthur Murray on how to perform the dance routines.
Some other songs by them include "I Love You Baby", "In My Baby's Arms" and "Feel So Blue".
Freddie and the Dreamers had recorded a total of four albums and had one film soundtrack released. As this band continued to perform they changed their line-up many different times. They also appeared with other artists from the same era like Gerry and the Pacemakers, Peter Noone of Herman's Hermits fame, and The Troggs.
Freddie Garrity finally retired in 2001 forced to do so because of pulmonary hypertension and died in 2006. As for the fate of the other boys in the band – Dwyer succumbed to lung cancer in 2002, Birrell left the stage lights and became a taxicab driver and Crewdson runs a bar called Dreamers in Tenerife. Nick Foti and Alan Edmondson who toured with 1960s bands including Freddie and the Dreamers sing a lot of Freddie's hits as well as the hits of other 1960s bands and they perform under the title The 2 Most a solid sixties music tribute duo. Simon Clarke also an ex-band member of Freddie and the Dreamers performs solo acts singing music from the 1960s. Even though he immigrated to Canada in 2003 he keeps alive the music of the British Invasion era.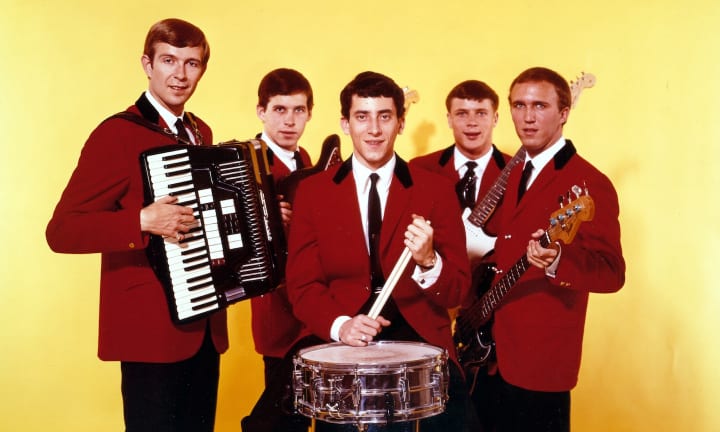 Gary Lewis and the Playboys
This American rock group from the 1960s was formed by Gary Lewis who is the son of well-known comedian Jerry Lewis. Their hottest-selling number-one single was "This Diamond Ring" in 1965. The original members of the rock group were Gary Lewis vocals and drums, David Walker on guitar, Alan Ramsay on bass, David Costell on guitar, and John West on electronic accordion. Their first performances were playing at Disneyland as simply Gary and the Playboys and they brought in a full house every night. When they finally recorded "This Diamond Ring" the name of the band was changed to Gary Lewis and the Playboys with the thought that Gary's famous name might sell more records. This song not only brought them fame but it went on to sell more than a million copies and became a gold disc.
By 1965 Gary Lewis had become Cash Box magazine's "Male Vocalist of the Year". The group's first seven Hot 100 recordings made it to the Top 10 charts. Songs like "Count Me In", "Save Your Heart for Me", "Everybody Loves a Clown", "She's Just My Style", "Sure Gonna Miss Her", and "Green Grass".
Then in 1967, Gary Lewis was drafted into the U.S. Army. While he was out of the country his record company released "Sealed With a Kiss". He was discharged a year later and went right back to recording. However, the band wasn't able to regain their previous popularity so Lewis made his band into a nostalgic act and they went on tour. He has also performed on his father Jerry Lewis' well-known Labor Day telethons for the Muscular Dystrophy Association.
Gary Lewis also came out with party songs that did quite well in the mid-1960s. Some of the songs were "My Heart's Symphony", "Where Will the Words Come From" and "Rhythm of the Rain".
Later on in the mid-1970s Gary had two of his hits, "My Heart's Symphony" and "Count Me In" rose up on the U.K. Top 10 charts. An arrangement of the hit "She's Just My Style" was used in an Oldsmobile TV ad. Gary has also endorsed such products by Kelloggs and Coca-Cola.
Altogether Gary Lewis and the Playboys had eight gold singles, seventeen Top 40 hits, and four gold albums. They appeared on various TV shows including The Ed Sullivan Show and American Bandstand.
Gary released a new single "You Can't Go Back" in 2012. In the summer of 2013, he went on tour with a group of musicians popular in the 1960s.
About the Creator
My passions are writing and creating poetry. I write for several sites online and have four themed blogs on Wordpress. Please follow me on Twitter.
Reader insights
Be the first to share your insights about this piece.
Add your insights