Top Industrial Bands
Listening to top industrial bands will make you rage out.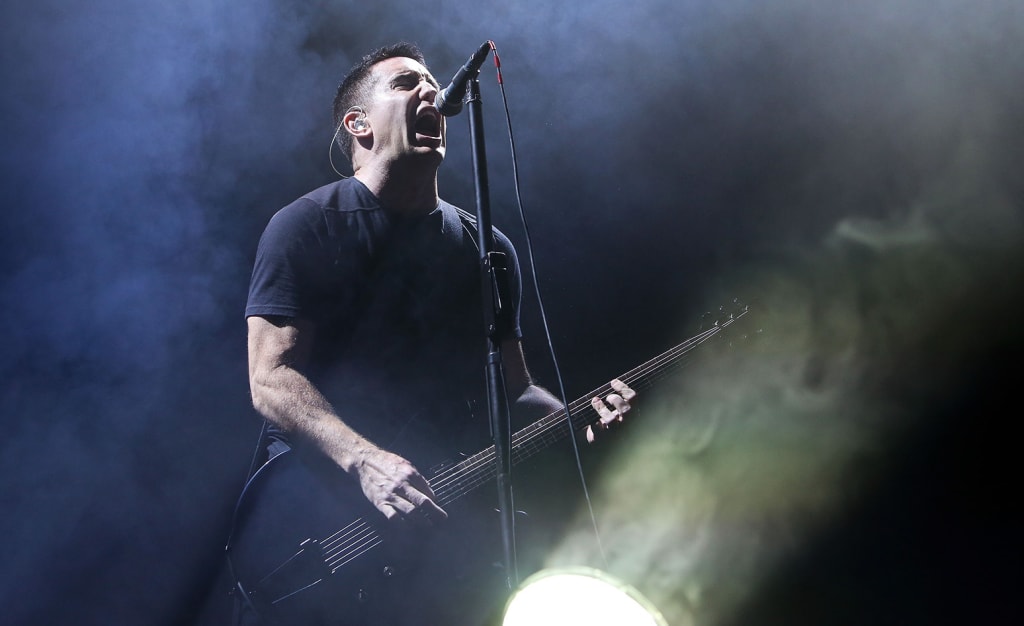 Industrial, also known as industrial metal, is a subgenre that blends the dark side of metal with the synth-heavy sounds of techno. It's the genre that has given many teenagers and young adults an outlet for their rage, grief, and raw energy. It's also one of the few music genres that tends to be inextricably linked to goth culture.
As a rivethead, I can say that industrial music really played a crucial part of my life as a teenager and young adult.
Industrial metal has been around for well over 30 years, and through its lifespan, it's birthed hundreds of amazing artists. Even though industrial is a somewhat underground genre of music, the top industrial bands are often household names—or just really, really worth listening to. Recognize any of these big names?
Casually just called NIN, Nine Inch Nails might be the most famous industrial band to ever make it to mainstream audiences—and for good reason. Nine Inch Nails, along with frontman Trent Reznor, are regularly regarded as the the top of the top industrial bands still performing today.
NIN has been playing concerts since 1988, which means that they have a band career spanning almost three decades. For many older goths and metalheads, it was Nine Inch Nails that first introduced them to the genre.
It was Reznor's heartbreakingly sad voice echoing out the words to "Hurt" that struck a chord with so many people. It was the prickly twangs of the string instruments at the beginning of "The Perfect Drug" that got us hooked.
Simply put, Nine Inch Nails was the band that brought industrial to many angry teenagers' hearts. We have to call them one of the top industrial bands of all time, if only for that awesome service.
Favorite Songs: "Hurt," "The Perfect Drug," "Closer"
Sascha Konietzko, the frontman of KMFDM, started the Germany-based band as a performance art project. Since 1984, KMFDM has been performing loud industrial metal blended with awesome electronic samples, male and female vocals, and visually stunning performances.
In many ways, KMFDM played itself as a tongue-in-cheek performance art group with a serious message. The band was known for having lyrics that strongly railed against violence, religious discrimination, and oppression. Despite KMFDM being anti-war, many of the band's aesthetics tend to be pretty militaristic—adding to their edgy factor.
That being said, we'd be lying if we didn't say that KMFDM helped shape industrial metal, EBM, and industrial techno thanks to their heavy metal guitar riffs, synth-rich moments, and killer vocals. Any industrial fan can tell you that KMFDM remains one of the top industrial bands of all time— and still rocks out to this day.
Favorite Songs: "Megalomaniac," "Juke Joint Jezebel," "Anarchy"
Skinny Puppy isn't a band that most people would know—especially if they're not really into industrial metal. However, there's a good reason why Skinny Puppy needs to be on any list of top industrial bands. It was Skinny Puppy, with their melancholic yet aggressive beats, that inspired Trent Reznor to launch Nine Inch Nails as a band.
In terms of music, Skinny Puppy isn't really everyone's cup of tea. They tend to really draw out the aggressive side of industrial metal, and they also tend to channel that unique sadness that comes from living in a dystopia in every single song. Unlike KMFDM or NIN, it's often a struggle to dance to a good portion of the songs produced by them.
Even though the music they make is not for everyone, it's difficult if not impossible to deny their talent. Their soundscapes are the kind of thing that really draws you into their dark world. Their music is haunting, edgy, and pointedly electronic. As one of the founders of the music genre, it's hard to deny them their rightful place as one of the top industrial bands of all time.
Favorite Songs: "Pro-Test," "Worlock," "New World Order"
Ministry had some mainstream success, unlike others on this list—and part of that is due to the fact that the band's been known to shift from metal to EBM to electro-synth depending on who was playing in the band. To fully understand Ministry, you'll have to listen to a lot of their music from both earlier phases and later years.
In a word, Ministry is a band that really can "chameleon" to a slew of different vibes, all while staying underneath the industrial music genre umbrella. They can be thrash metal-infused industrial, or they can be synth-wave with a little industrial sprinkled in. It all depends on the song.
What makes Ministry one of the top industrial bands of all time is the way they bring out rage. While most industrial bands will keep the anger in their songs to a simmer right beneath the surface, Ministry brings it out in full force when they add guitars to their music. You'll hear shouting, you'll hear screams, and it'll all be set to some seriously shredded riffs.
At the same time, their electro-synth-oriented work brings out the cleaner, dance-ready side of industrial metal. Because there's such a huge difference between so many of their songs, it's really hard to categorize them as a band.
Angry as much of their music sounds, the truth is that the songs actually have surprisingly positive (albeit political) lyrics. That means you'll end up loving at least one of their songs—no matter what kind of music you're into.
Favorite Songs: "Jesus Built My Hotrod," "Every Day Is Halloween," "Thieves"
Technically, VNV Nation tends to be more EBM than industrial. However, they tend to be viewed as both an EBM group and an industrial metal group by many music fans. Fans of industrial are often quick to point out that VNV tends to use tons of industrial metal beats in their mixes, which in turn makes them one of the top industrial bands to really sit between two different genres of electronic music.
For many people, VNV Nation is the first band to really bring outwardly uplifting and inspirational music to the industrial scene. Even their name, which is shortened for "Victory, Not Vengeance" tells you volumes about the band's dedication to end bitterness and sadness through their musical talent.
VNV Nation sparked a number of major industrial bands to form, and also happens to be one of the most danceable industrial bands to hit goth clubs. When you listen to VNV Nation, you can expect easy to dance to beats, fascinating lyrics, and emotional vocals every single time. As a result, they are definitely one of the top industrial bands of all time.
Favorite Songs: "Chrome," "Epicentre," "Joy"
Few industrial groups have managed to master the art of creating a spartan, militaristic ambiance in the way that Front 242 has. Their beats are undeniably industrial, but at the same time, they keep true to the genre's metal and goth roots using killer guitar samples and forceful vocals.
Front 242 is one of the top industrial bands in Belgium—and really, throughout Europe. Their music is heavily electronic, often focused on a "hunter versus prey" ambiance, and pointedly dystopian in aesthetic. Their music is danceable and energetic, yet pointedly dark.
In other words, listening to Front 242 is addictive in its own right, and that's why they're one of the best industrial bands to hit the scene.
Favorite Songs: "Headhunter," "Never Stop," "Tragedy For You"
Even in the already melancholy world of industrial metal, it's hard to find a band that seems to be so eerily, beautifully, gloomy as Wumpscut. Influences from techno are pretty clear with them, as are influences from both metal and goth music.
Unlike other bands on this list, most of Wumpscut's music isn't necessarily what you'd expect to hear in a goth club night. Wumpscut's music tends to be a lot slower tempo than most other industrial bands out there, making their music incredibly emotional and haunting at the same time. It's one of the very few industrial metal bands that is often best appreciated as a "soundscape" band.
Wumpscut is about ambiance; not beats or riffs.
They aren't usually easy to dance to, and you can't really thrash to them. (There are exceptions to this, though.) However, they are brilliant for contemplating life to—a rarer feat, if you ask us. If only for the way that they are able to create surreal moments using raw musical talent, Wumpscut deserves a place on every list of the top industrial bands out there.
Favorite Songs: "Wreath Of Barbs," "Angel," "Christfuck"
For most people in the mainstream, Rammstein tends to be the be-all and end-all of industrial bands. They are, in fact, regularly cited as one of the top industrial bands in both mainstream and fringe groups—and for very good reasons.
Strong metal riffs, almost symphonic synth sampling, and the guttural vocals in every single song makes this band both addicting and rage-ready. Despite the extremely heavy metal influences, Rammstein still has quite a few songs that can be "stomped to" in a club setting as well as a few "anthems" that can tear the house down.
Truthfully, though, we don't really have to say much about Rammstein. Everyone already knows who they are, and have listened to their music at least once. That's why they're one of the best industrial metal bands out there.
Favorite Songs: "Reise, Reise," "Du Hast," "AMERIKA"
Often cheekily called "the boy band of industrial," Orgy is just as well-known for their incredibly stylish band members as they are for their music. As one of the few underground industrial bands to really get attention from MTV, this group definitely is under-appreciated on the whole.
Orgy is most commonly known as the one industrial band that managed to cover an incredibly chilling version of New Order's "Blue Monday." However, their contribution to industrial metal goes way beyond that.
In many ways, Orgy actually helped bring forth the cybergoth fad that really took over the scene in the early 2000s. Between their excellent fashion sense and their surprisingly powerful electronic-rock blend, it's hard not to see why some people might call them one of the top industrial bands of all time.
Favorite Songs: "Blue Monday," "Stitches," "Fiction (Dreams In Digital)"
Assemblage 23 is one of the few bands that can really say that it reps industrial metal while also being a garage band. A one-man band founded by Tom Shear, every single track was recorded, written, and mastered by him for the first 10 years of its existence.
Today, Shear still writes and records his own music—albeit under a record label. Even so, you can still feel the raw grit in the catchy choruses, the slick industrial beats, and the striking lyrics in every song he makes.
To a point, it's pretty inspiring to hear about how Assemblage 23 remained independent for a decade before the band got signed to a label. It's a tale that shows that you can make it, as long as you stick to your work.
Indeed, Assemblage 23 is just as much a tale about a man's devotion to the music as it is a great band that has dance-ready tracks. As a result, we have to admit that Assemblage 23 is worthy of any list involving the top industrial bands of all time.
Favorite Songs: "Greed," "Damaged," "Binary"
Combichrist is industrial's response to the accusation that metal can't be "danceable." In a word, the band has become famous as being the most danceable, pulse-pounding act in industrial metal. Why? Well, it's a mix of reasons.
To start off, Combichrist takes standard industrial metal's aggressive, high-energy sound, and mixes it with hard percussion samples. This gives it the kind of vibe that makes the music appropriate for both mosh pits and dance halls.
Then, there's the lyrics and the catchy choruses. Combichrist, more than any other band on this list, is known for having high-repeat choruses that transform a standard industrial metal track into a club anthem.
Overall, Combichrist is one of the top industrial bands of all time, simply because they blow most other dark electronic groups out of the water when it's time to dance.
Favorite Songs: "This Shit Will Fuck You Up," "Happy Fucking Birthday," "Sent To Destroy"
About the Creator
Ossiana Tepfenhart is a writer based out of New Jersey. This is her work account. She loves gifts and tips, so if you like something, tip her!
Reader insights
Be the first to share your insights about this piece.
Add your insights