To the Beat: February 2021
A playlist curated by creators, for creators.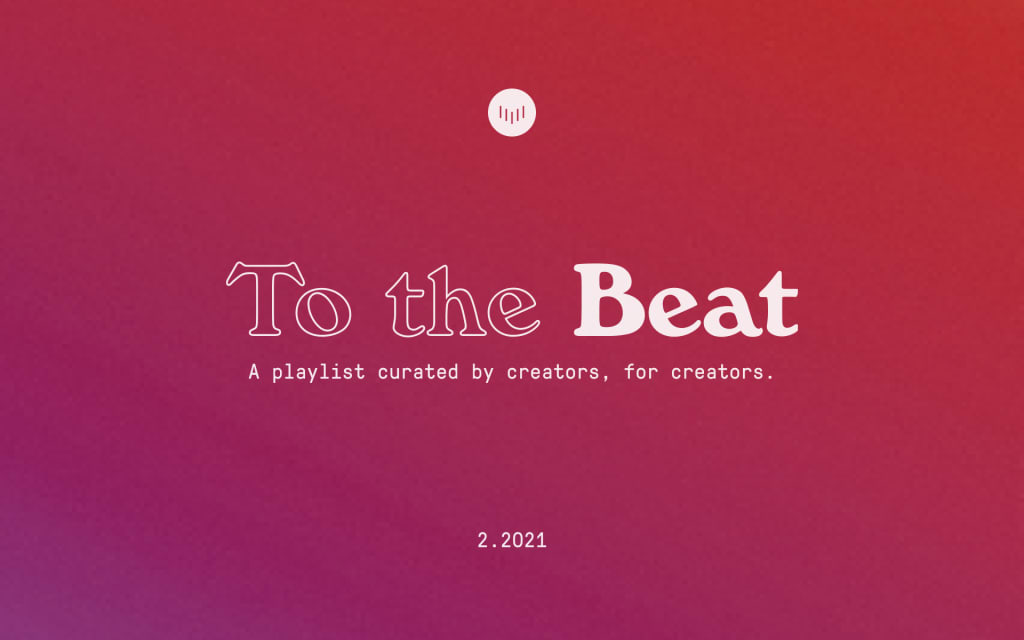 Being the Queen is not all about singing, and being a diva is not all about singing. It has much to do with your service to people. And your social contributions to your community and your civic contributions as well.

- Aretha Franklin
We're back with a special edition of this month's To the Beat, honoring solely Black artists and their music. You'll find this month's playlist is jam-packed as it spans multiple genres, including classic throwbacks, smooth jazz and blues, and hip-hop and pop hits from today.
There's no deliberation that Black music has historically influenced other cultures and genres while creating new styles along the way. Through this carefully curated catalog, we pay tribute to the influential Black musicians who changed music forever.
Over the last few weeks, you shared songs about love and heartbreak and shed some insight into what all the singles were listening to over Valentine's Day weekend. Between our Anti-Valentine's Day Playlist and Black Women in Music Challenges, the Beat received some timeless tunes for another epic playlist for your listening pleasure.
This round one was the most challenging in selecting only five stories that stood out to us the most. As you read through each story, please continue to like your favorite stories, share tips with your favorite creators, and join the Vocal community here if you're looking to start sharing your stories.
Check out the following stories below that moved and inspired us this month:
Black lesbians have always been and still are a core part of the LGBTQ+ movement but our history is one too often silenced. These artists were out loudly and proudly. Their sacrifices allowed so many of us to live authentically and safely today and for them I am grateful.
Suppose you don't know these three women already. In that case, after reading Gabriella's story, you'll know Bessie Smith, Ma Rainey, and Lucille Bogan as the supreme powerhouse trio that paved the way for LGBTQ+ folks today.
Bessie Smith is most known for helping make the blues mainstream and her numerous relationships with several women, including Ma Rainey. Gertrude "Ma" Rainey is noted as the genuine mother of the blues. (If you haven't checked out "Ma Rainey's Black Bottom" on Netflix, you have something new to queue up.) Her relentless nature to live and be who she was sometimes got her into trouble, like when she was arrested for holding a lesbian party in Harlem. Lastly, Lucille Bogan was well-known for her most explicit lyrics, even singing about the term "bulldyke" in her song, "B.D. Woman's Blues."
The term "dyke," comes from the word "bulldyke," (short for "bulldagger") dating back to the Harlem Renaissance. It's since become a reclaimed slur that many lesbians self-identify with today, but we can thank these three for being the first and the most authentically proud. And as Gabrielle mentions, "It's important to highlight the lesser known history behind common terminology to not only preserve history but rewrite all that is incorrect." Well said, Gabriella.
Black women have undoubtedly had a substantial and often overlooked impact on music for centuries. Many genres can be traced back to Black roots beginnings only later to gain widespread popularity by white men with money. And even when Black women receive the notoriety they deserve, it often comes with whitewashing by corporate executives to make their music and appearance more 'palatable' to the general population.
The past 100 years are barely touching the surface of Black women's everlasting impression on music and the industry. Daniela shares a long loving list of Black female artists who have directly impacted her life and history for the better.
Through this celebratory flashback of the last ten decades, hopefully, you uncover something new about these outstanding women, their music, and the mark they've left behind. Lyrics and music styles have evolved and changed over time, but there's one common thread that's the strongest of all, and that's the talented Black women that create and share their music with the world. The lessons they and their music have to teach us are an eternal gift we could never repay.
From Bessie, Memphis, Mary Lou, Billie, Dionne, Minnie, Grace, Tionne 'T-Boz,' Rozonda 'Chilli,' Lisa 'Left Eye,' all the way to Erykah, Solange, and Christelle – thank you.
Although the fight for equality is far from over, the sheer impact and importance of Nina Simone as a musician, political activist and as a human being can never be understated.
Ciarán shares his journey as he discovers Nina Simone for the first time and how her voice became like an old friend – comforting, like they'd always been there all along. A Hozier and Jeff Buckley fan finds his way through their music, leading back to Nina.
Ciarán goes on to breakdown Nina's mix of gospel and classical music as the perfect stage for the subject matter of her songs and lyrics, demonstrating Black and female empowerment, civil and social justice, femininity. Aging gracefully like 'Lilac Wine,' Nina's sound and influence can be heard through many modern artists today.
A constant victim of systemic racism but never defeated by it, Nina's courage and spirit astounded me from the first stories I read to the very last. Although her professional career was drenched in drama, from abrupt concert endings to earning a reputation as an unpredictable and sometimes difficult performer, Nina was nothing if not a woman of principles.
While throughout the year I'm perfectly fine being alone and happy about my long running me time. Valentine's Day comes around and has me question my whole mindset on the subject of relationships.
Since its release in 2008, Valentine's Day has had one anthem for the uncoupled: "Single Ladies" (Put a Ring on It) by Beyoncé. If you never really had a Valentine growing up, you may think it gets better in time when you grow up and you're an adult. But, most of us understand that it's really about the same, if not worse now, than when we were passing out our sticky, homemade cartoon Valentines with our classmates.
This story created the perfect soundtrack as we reminded ourselves, "Maybe next year?" Beyoncé inspired an anthem for "all the single ladies," but there are also at LEAST nine other hits that will snap you out of any distance-romance-trance. The playlist is arranged so that if you listen to these songs in order from top to bottom, you're guaranteed to feel flawless by the end. There's an excellent progression from an all-about-me mentality in the beginning to a "don't hurt yourself" kind of attitude as a finale.
Me, myself and I

That's all I got in the end

That's what I found out

And it ain't no need to cry

I took a vow that from now on

I'm gon' be my own best friend
So, come on, turn these songs on at full blast, curse your ex or don't, and be your own Valentine. B would approve.
They taught me about heartbreak and sexism. They sang to me about being a woman and carving my path in the world. They showed me how to dress and pushed the limits of expression in every sense. They gave me and other little black girls an example of someone seeing success who looked like us.
RJ's story is a personal account. Her story reminds us of the deep roots Black women have planted in history that are still seen and felt today. The artists and songs chosen to highlight here are symbolic of how she was raised. It presents an uplifting soundtrack encouraging one to grow up to be strong, confident, and bold – like the trailblazers before her. This story provides the overwhelming sense and understanding that the power Black women hold in music, culture, and society is more than inspirational - it's generational.
Within the Black community, no one shows up like Black women. Every step of the way, they've revolutionized music, fashion, and society at large. Black women are always on the cusp of the new wave of culture. Leading us forward and encouraging us to step outside the box.
R - E - S - P - E - C - T
We received close to 600 submissions to the Beat community this month. It isn't the sheer number of stories that continues to surprise us but the quality and thoughtfulness of your writing that allows your passion for music to shine through. We hope you find this wrap-up delightful to read and listen along to, insightful, and inspiring as another enlightening Black History Month ends. As always, thanks for sharing your stories and impeccable music taste with us.
Listen along to this month's full playlist below, and check out our other monthly playlists here.