'This Is America:' A Quick Analysis
A Song Analysis, Just the Song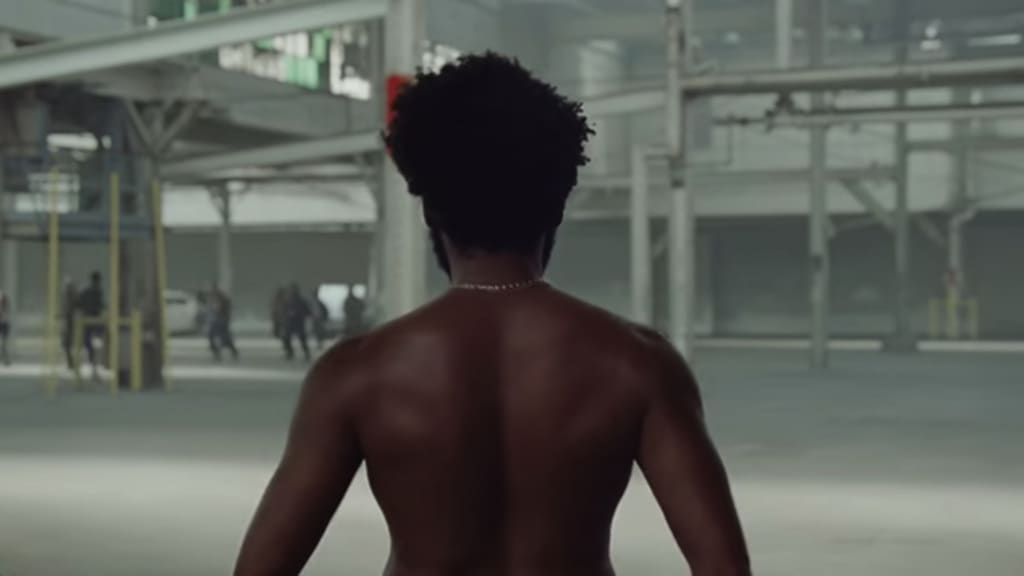 Childish Gambino has broken the internet with his new single "This is America." Not only am I here to jump on the bandwagon and to stan for him, but I wanted to talk about the song, specifically. The music video is packed with figurative imagery that people just can't stop analyzing. However, the song has a lot of substance as well.
First, I want to establish some rules of analysis. When I analyze something, there are three things that I always take into consideration.
The performer/artist is not necessarily synonymous with the speaker of the song. Just because an artist writes a song, it does not mean that they are speaking from personal experience or even as themselves. It is the reason that we have songs that act as extended metaphors like Joey Bada$$'s "Y U DON'T LOVE ME (MISS AMERIKKKA)" and Joyner Lucas's "Keep it 100." Sometimes artists use their art in order to speak on behalf of others or to tell stories through a lens that is not their own.
You have to go with the realized intention. Genius has this amazing series in which artists tell you the meaning of their songs. While it is nice to hear from the source what a song is supposed to mean, we have to ask whether the meaning it is "supposed" to have matters if we did not notice it. Usually, it doesn't; not from a consumer's perspective anyway. It may add a different meaning for you, but it will not do away with the meaning that you first attributed to the song. Additionally, an artist cannot possibly know all of the nuances and concepts that they placed in a song subconsciously.
There is an infinite number of correct interpretations for a single piece of art. There is also an infinite number of incorrect interpretations for a single piece of art. So I'll try not to write in absolutes.
Now, the analysis.
There are a few different voices on this song. The first that we hear is Childish Gambino singing along with a choir. They repeat:
Yeah, yeah, yeah, yeah, yeahYeah, yeah, yeah, go, go away
The chorus is heard behind what many people have identified as music that is reminiscent of (or even alluding to/referencing) African music. Alluding to the origins of Black people in America in the title of the song, while simultaneously speaking to previous and current states that Black people have found themselves in. The "yeah" repetition seems to serve as a reference to the way that Black people were forced to agree with their White counterparts for hundreds of years in order to attain something like peace (represented by the "go away"). It could also be interpreted as White higher class acknowledging prejudice and assuming that their acknowledgment is enough. The unity of the voices at this part of the song seems to define prejudice as a communal experience, something that no minority is immune to, no matter their occupation or tax bracket.
Next Gambino sings while the chorus continues in the background.
We just wanna partyParty just for youWe just want the moneyMoney just for you
Within this part of the song, "we" seems to symbolize the oppressive, White part of the population, while "you" seems to be aimed at Black people (no matter the class, since we've established that class doesn't matter). Here, we have the oppressive class speaking over Black voices and traditional Black music. These voices are attempting to convince Black people that they "wanna party" and "want the money," for the benefit of all, but by the end of the bridge, they have abandoned this in favor of telling the Black people to dance instead.
Next, there is a beat drop and what can be identified as contemporary Black American music begins to take over. This seems to symbolize that these have been issues for years and have not changed. For years, Black people have been told that the actions of the oppressive population are for the benefit of all, but actually aided in the downfall of minorities. The bass may also indicate that there is trouble afoot. Think about it this way, if the bass was played without the voices of Childish Gambino and the other artists on the song, it would provide a feeling of unrest in listeners.
As the beat changes, Childish Gambino says:
This is AmericaDon't catch you slippin' noDon't catch you slippin' noLook what I'm whippin'
The speaker seems to be simultaneously begging the Black listener to be careful and pay careful attention to their actions and to watch and admire what he is doing.
In the first verse of the song, we get the voices of Childish Gambino, Blocboy JB, Slim Jxmmi, Young Thug, and 21 Savage. However, instead of working in unison like the choir mentioned previously, they speak at different times in ways that seem to affirm Childish Gambino's words, but they do not repeat them. Their voices directly juxtapose the choir since they're are speaking in a fragmented manner, but they seem to also stand for the black community like the choir does. Their voices say:
Look at how I'm livin' nowPolice be trippin' now (woo)Yeah, this is America (woo, ayy)Guns in my area (word, my area)I got the strap (ayy, ayy)I gotta carry 'emYeah, yeah, I'ma go into this (ugh)Yeah, yeah, this is guerilla (woo)Yeah, yeah, I'ma go get the bagYeah, yeah, or I'ma get the padYeah, yeah, I'm so cold like yeah (yeah)I'm so dope like yeah (woo)We gon' blow like yeah (straight up, uh)
The speaker alludes to police brutality, without actually saying what it is and nonchalantly mentions the fact that he carries a gun because he doesn't feel safe without it. He identifies his words as "guerrilla" or rebellious, but then reaffirms his interest in money and himself. He seems to take one step forward and two steps back.
The next part of the song involves the choir and Childish Gambino. They say:
Ooh-ooh-ooh-ooh-ooh, tell somebodyYou go tell somebodyGrandma told meGet your money, Black man (get your money)Get your money, Black man (get your money)Get your money, Black man (get your, Black man)Get your money, Black man (get your, Black man)Black man
The "grandma told me" section seems to act as an allusion to "Mama Said Knock You Out" by LL Cool J. The "tell somebody" could symbolize the need for the Black community to continue to speak out, or in this case, to spread a certain testimony (since it's said by a choir). However, similar to the last verse, imploring the Black man to "get [his] money" seems to erase the need to be vocal in favor of being silent as long as the check clears. It could also represent the rise of the Black man; as in, the Black man could be getting the money as opposed to the oppressive population.
Again, the second verse is full of fragmented black voices. They say:
Look how I'm geekin' out (hey)I'm so fitted (I'm so fitted, woo)I'm on Gucci (I'm on Gucci)I'm so pretty (yeah, yeah)I'm gon' get it (ayy, I'm gon' get it)Watch me move (blaow)This a celly (ha)That's a tool (yeah)On my Kodak (woo, Black)Ooh, know that (yeah, know that, hold on)Get it (get it, get it)Ooh, work it (21)Hunnid bands, hunnid bands, hunnid bands (hunnid bands)Contraband, contraband, contraband (contraband)I got the plug in Oaxaca (woah)They gonna find you like blocka (blaow)
This seems to solidify the speaker's materialistic desires as those that are dominant as opposed to the desire for things like justice and civil liberties. In the previous verse, material possessions could have just been distractions. However, material possessions, drugs and status are the sole focus of this verse (and "hunnid bands" and "contraband" are repeated, for emphasis, I would assume). Now it seems like the only thing that the speaker cares about.
While all of these things are happening within the lyrics, the beat is going back and forth between the what seems inspired by African music and what is typical of Black American music. I'm honestly not sure what this back and forth might symbolize, but I didn't want to neglect mentioning it.
Within the repeat of the refrain, we hear:
America, I just checked my following list andYou mothafuckas owe me
This seems like the speaker is talking about reparations but in terms of social media followers. Reparations seem to be discussed very often, especially since South Africa has taken action to enact a sort of Reparations Program and has actually made the idea of reparations feasible. Not only are people discussing whether Black Americans are owed reparations, they are also discussing what that would look like. These lines seem to indicate that people may not know what to do if they received monetary reparations. Would issuing reparations in terms of social media engagement be more valuable today than money or land? It's an interesting question to consider.
There is a short line that Gambino yells in the refrain that I think is interesting:
One, two, three, get down
This section incorporates a reference to James Brown's "The Boss," but it could also have a slew of other meanings. Its necessary to point out that "one, two, three" is chanted, but "get down" sounds slightly different, as if Gambino is screaming at someone. This could be pointing to the beat drop and causing the listener to dance, the kind of dance that Gambino's demands at the beginning of the song when he says "dance and shake the frame." Similarly, it could be an allusion to what has been asked of the several unarmed black people that were killed at the hands of police officers. Either way, it seems like the people the speaker is talking to are not in control of their own bodies, which goes right into the outro.
You just a Black man in this worldYou just a barcode, ayyYou just a Black man in this worldDrivin' expensive foreigns, ayyYou just a big dawg, yeahI kenneled him in the backyardNo probably ain't life to a dogFor a big dog
Though Black people are free, it seems that we are still commodities ("bar codes"), used for things like prison labor at higher rates than our White counterparts; in these cases, we literally are not in control of our own bodies. The Black dollar is incredibly important in America because of the support that it provides large companies like McDonalds and Wal-Mart. Part of this is because there is a correlation between minorities and low socioeconomic status. However, Black people also invest in materialistic things that serves to support people and corporations that do not support us. Of course, the song also acts on a commentary about the way that Black people use material possessions as an attempt to validate ourselves. There are many of us that are actually in prison and "kenneled" while there are others of us that are trapped beneath the thumb of America and the things that we think matter.
My analysis of this song is puddle deep. There is so much more to be analyzed, especially within the context of the video. I hope you take some time to write down your thoughts as you listen to this track (inevitably) on repeat.
About the Creator
25. I'm a writer and illustrator. I like films, television, books, music, politics and being black.
Reader insights
Be the first to share your insights about this piece.
Add your insights