Do Joyner Lucas and Chris Brown Have Plans?
What I DON'T need is a pointless collab.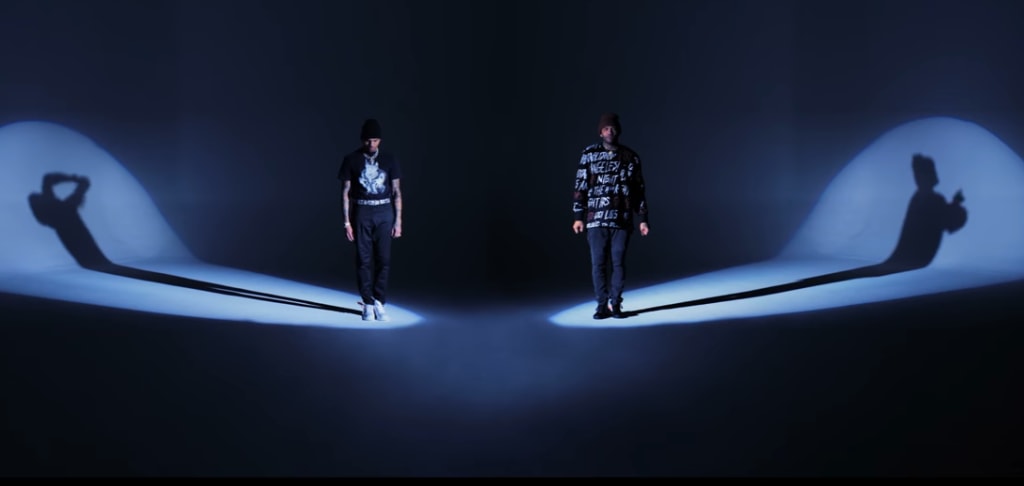 When I saw that Joyner Lucas and Chris Brown put out a song called "Stranger Things" together, I began playing the video and sending the link to my friend simultaneously.
Though I have not watched Stranger Things and honestly, have no desire to, I knew that I would love the song. Given, I was a bit late to the Joyner Lucas party as I only found out about him after watching a review of his song "I'm Not Racist." However, after listening to that song, his mixtape 508-507-2209 (2017)easily became one of my favorites. Like most people my age, I have been a fan of Chris Brown since 2005 and his first rap mixtape, Boy in Detention (2011), easily won my support, though that was mostly because it was released on my birthday.
As expected, the song and video did not disappoint. First, the concept for the video is interesting and definitely denotes something "strange." Lucas and Brown are having a party in the back of a truck labelled Joyner & Chris's Pest Control. Of course, this kind of gathering isn't necessarily normal. But the strangeness lies in the fact that pest control seems to refer to the people that Joyner and Chris gather into the back of the truck as the drive around town. Additionally, a disgruntled neighbor is slapped in the forehead by a police officer and later, Joyner Lucas himself. Similarly, Lucas and Brown later stand in a blue room, each with their own spotlight. As they stand still, their shadows are cast on the wall and move. This, in particular seems to be a nod to the Stranger Things television show, with their shadows being in the upside down. They continue to party, eventually winning over the police officers and their neighbor.
The song itself samples the Stranger Things theme song, makes a few jabs at other artists, and sends a few customary middle fingers to the opposition. Aside from the wittiness of the lyrics, there is nothing extremely special about the song itself. The song is not conceptually doing anything revolutionary, nor is it trying to. The song is dope, but average, which is not a bad thing at all. Personally, I feel as if many modern songs fall below the bar or try to soar above it. It's nice to have a song that is extremely appealing to listen to, but is also littered with wordplay and allusions.
HOWEVER...
I hope that the entire Angels & Demons project comes with something more conceptually interesting than this. When looking at the title of the project and the "Stranger Things" track alone, I would infer that we can expect for Lucas and Brown to speak from the perspectives of both angels and demons on separate tracks. I would assume that "Stranger Things" comes from the demon perspective as they talk about violence, cars and lots of other materialistic concerns.
I may be taking the name of the project too literally, but that seems like what would come out of this kind of collaboration. If they do go down this path, I hope that Lucas and Brown use the collaboration as an opportunity to examine and challenge what society considers to be inherently good and bad or angelic and demonic. They have the capacity to do so, I just hope that they actually do it.
More escapist tracks like "Stranger Things" are definitely welcome since we are all constantly thinking of tragedy and fearing the consequences of the next political decision. However, on one cohesive project, songs that allow the listener to shut their brain off can be appreciated much better if the project truly makes the listener turn their brain on in the first place. The existence of this binary is what makes a project like this truly valuable, in my eyes.
Clearly, both Lucas and Brown are talented. But putting their talent together on a project that acts as a catalyst for something larger, is something else.
About the Creator
25. I'm a writer and illustrator. I like films, television, books, music, politics and being black.
Reader insights
Be the first to share your insights about this piece.
Add your insights