The Top 10 Albums of 2017
A countdown of the best records of last year.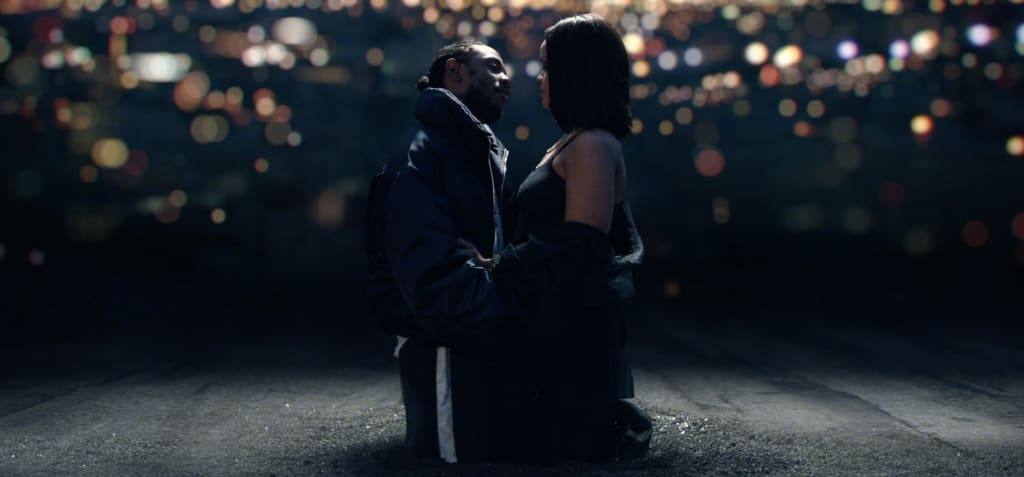 Kendrick Lamar feat. Rihanna - Loyalty [Credit: Aftermath/Interscope]
If you know me, you know how much I love music. There aren't many times I won't have something playing in the background of whatever I'm doing. Despite being a weird year, 2017 ended up producing some truly great records. This article is going to break down my Top 10 for the past year.
Please bear in mind this is purely my opinion, I listen to an incredibly wide variety of artists so this list has incorporated that. If you enjoy please feel free to share it around as it helps me out massively. Let's get started:
10. The Hype - Hoodie Allen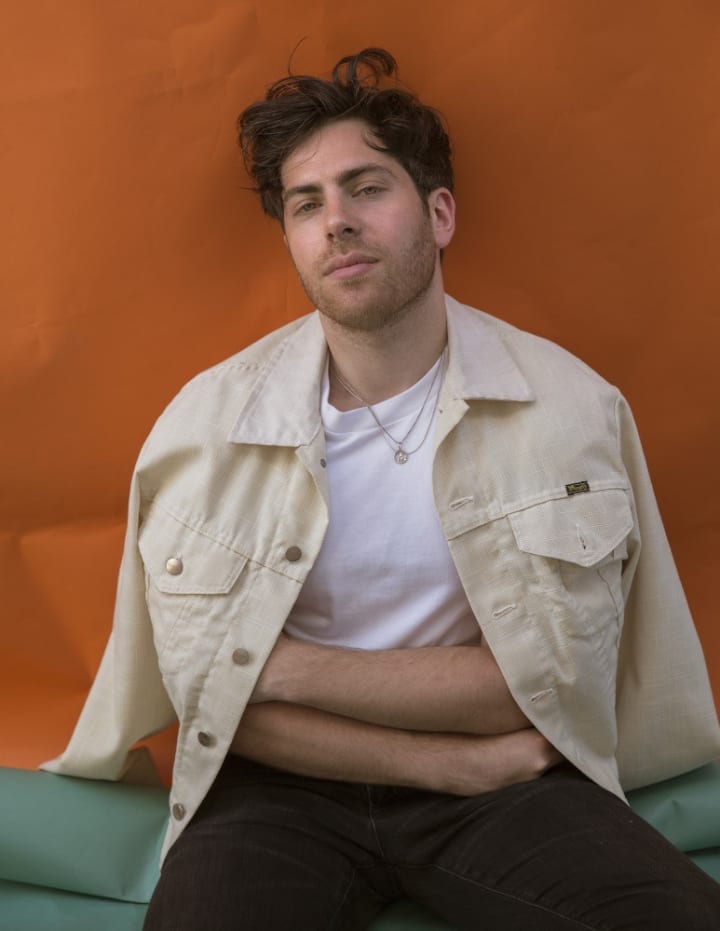 Hoodie Allen is a rapper I've followed for many years, right back from when his hit "No Interruption" was on every. Single. YouTube gaming compilation ever.
From then on, he's gone from strength to strength, and The Hype may just be his best work yet. Combining his cheeky-chappy persona with light-hearted lyrics and some great features.
The self-proclaimed Prince of Manhattan is a man who just loves to have fun, and it shows throughout, no matter which song you play from The Hype, you'd be hard-pressed not to start singing along or at least be tapping your feet.
It may not dig into any real serious issues like a lot of the other albums on this list, but it doesn't have to. Hoodie knows what he's good at and delivers a sweet summer record .
Best Song: All for Me (feat. Scott Hoying) - While it's a fairly solid album, All for Me personifies what he's really all about, it's a classic Hoodie beat that anyone can jam in their car or room to with an unashamed smile on their face. Check out All for Me, and the full album, for free here on his YouTube channel.
9. American Teen - Khalid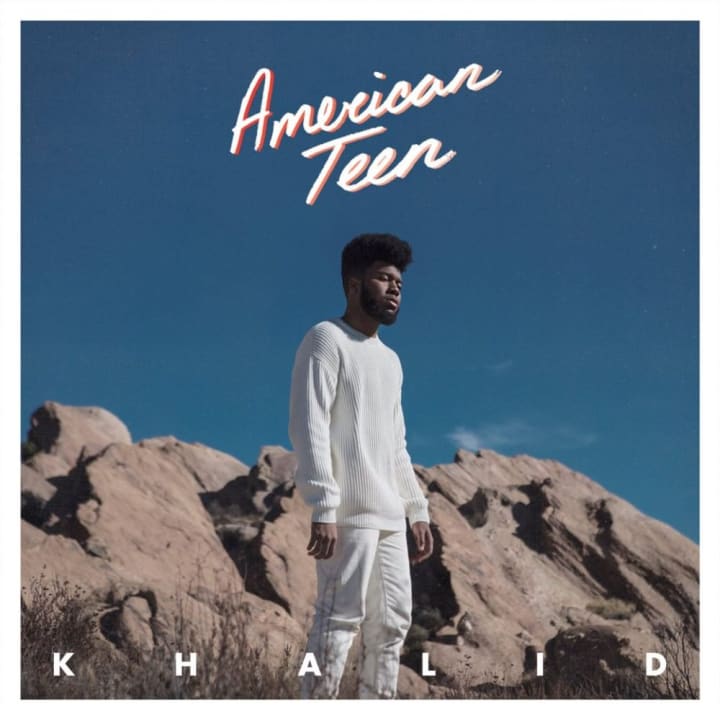 2017 was a huge year for the young American. Not only did he release a stellar, certified platinum debut album, he featured on some of the biggest hits of the year in Silencewith Marshmello and also on the pro-mental health anthem, 1-800with Logic and Alessia Cara.
It is easy to forget that he's still only 19 years old, and the pure singing and songwriting talent already on display in American Teen is staggering.
He's drawn some comparisons to Lorde, whom he's already stated was one of his biggest inspirations in music, albeit the sound of American Teen is much more urban, R&B based. Lyrically it's very much about the good and bad of relationships, and growing up. It's relatable and expertly executed. I'm anticipating great things in his future.
Best Song: Cold Blooded- My personal favourite is actually one of the saddest songs. About a severely unhealthy relationship where a boy is blinded by his love for a toxic girl who treats him poorly and acts like she does nothing wrong. It's an all too common trap in today's world we would fight to overlook someones poor treatment of us out of a sickly, almost Stockholm Syndrome-esque love. Bring tissues.
8. I See You - The xx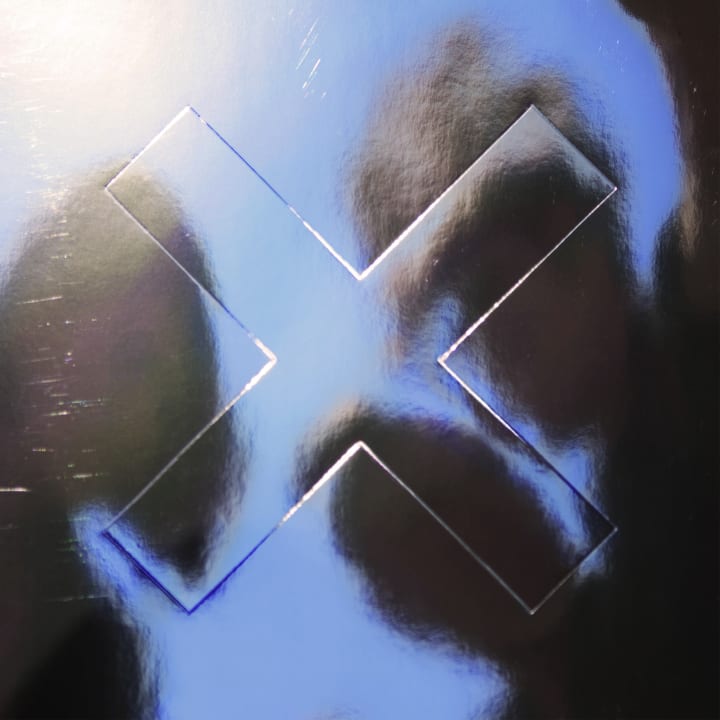 After an incredibly lengthy hiatus, The xx returned with the amazing I See You. It remains as hard as ever to truly describe what The xx is. To label them as dream pop or dance feels like an insult, as there isn't any sound out there like theirs.
At times it is mellow and relaxed, and occasionally groovy, one thing that remains constant throughout ISY is the solid music production of Jamie xx and contrasting raspy and soothing vocals of Oliver Sim and Romy Croft respectively.
I also had the pleasure of seeing them live as they headlined Bestival in September. It seemed like an odd choice to have such a famously contained and chilled band headline a festival, but it was truly brilliant to watch. Visually striking while also feeling intimate despite the massive crowd that came to see them. Turns out you can turn up to The xx after all.
Best Song: A Violent Noise - A reflective look at how Oliver's drinking affected the closest people around him, A Violent Noise looks at both sides of the story. It's honest and asks the question as to whether he was drinking to celebrate the life he'd made or whether he was trying to escape it. A bit haunting, but oh so beautiful.
7. Broken Machine - Nothing But Thieves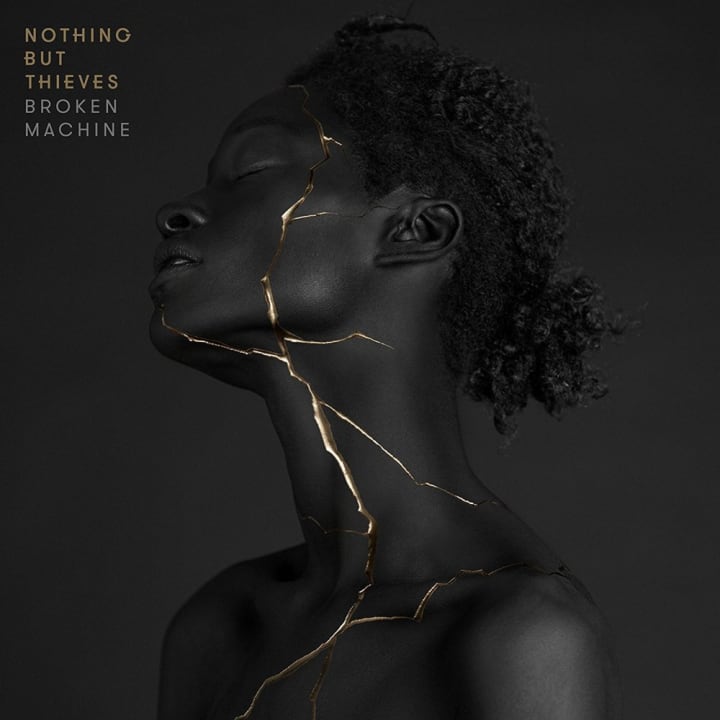 I only started listening to this album the week before Christmas, I had it saved in Spotify for at least two months because I loved the cover art. In all seriousness, if we were ranking the covers of these albums, this would win by a country mile.
But anyway, back to the music, I'd not really listened to Nothing But Thieves before, but I'm glad I've rectified that now. Broken Machine is an album full of great variety both in terms of lyrics/themes and the music itself.
This is a band pushing their creativity and building on what I now know was a stellar debut album. They manage to blend themes of politics, relationships, self-image and addiction very well, and that's only a small taste of what Broken Machine has to offer as an overall album.
Nothing But Thieves are without a doubt one of the best alternative rock bands Britain currently has on offer, and will surely continue to go from strength to strength from here.
Best Song: Live Like Animals - In keeping with the diversity of the album, gone is the various rock sounds of the majority of BM, replaced with punkish vocals and a pulsating EDM heart. Needs to be heard to be believed. I defy anyone who wouldn't want to get up and dance/overthrow their government. Just me? Oh.
6. Sacred Hearts Club - Foster The People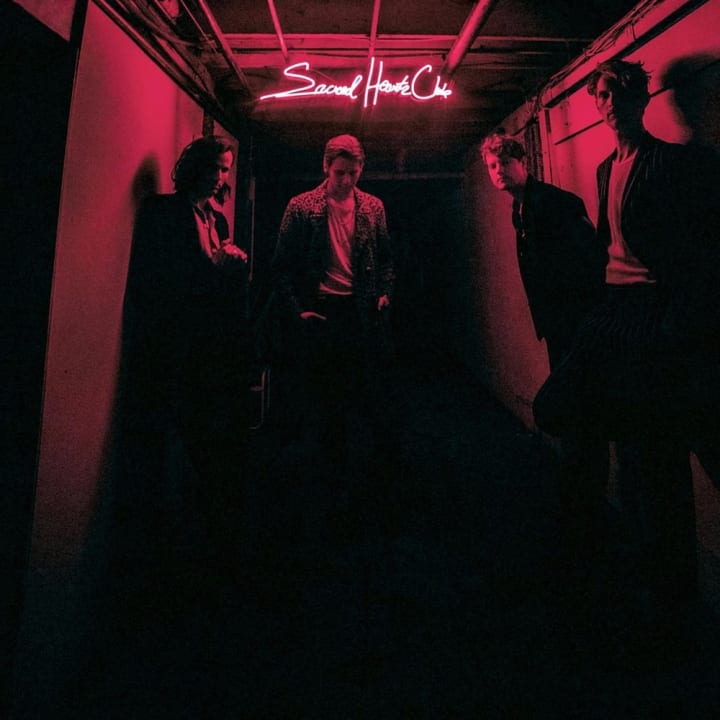 Fun fact: Foster The People follow me on Twitter! (You should too, @peter_e96 #plug). They've been one of my favourite bands for a number of years now, and I was eagerly awaiting to hear their latest album after wetting the appetite of their fans with the III EP.
Sacred Hearts Club manages to retain the band's signature indie-pop style but departing from the organic sounds of Torches and Supermodel, shifting into dance, soul and sometimes electronic genres.
It's also a slight change lyrical change too, as Mark Foster set about producing an album filled with joy and happiness amongst the chaotic events of the world around us. It's a bit of a mishmash of genres, but there's nothing to dislike about it either. The dark lyrical undertones are all but gone. While some may miss that, I feel that it's exactly what the band, and the world, needed; something to just be happy about.
A change of direction (and personnel in some parts) has done Foster The People the world of good. Sacred Hearts Club is an indie delight filled with optimism and will leave you smiling from beginning to end. The perfect summer record.
Best Song: Static Space Lover - While the title track offers classic FTP at their indie-rock best, it's Static Space Lover that stands above the rest of the album. It truly embraces the 60s sounds the band were inspired by for the record. Featuring supporting vocals from actress Jena Malone, it's a pure psychedelic joy that you will be singing for weeks on end.
5. Wonderful Wonderful - The Killers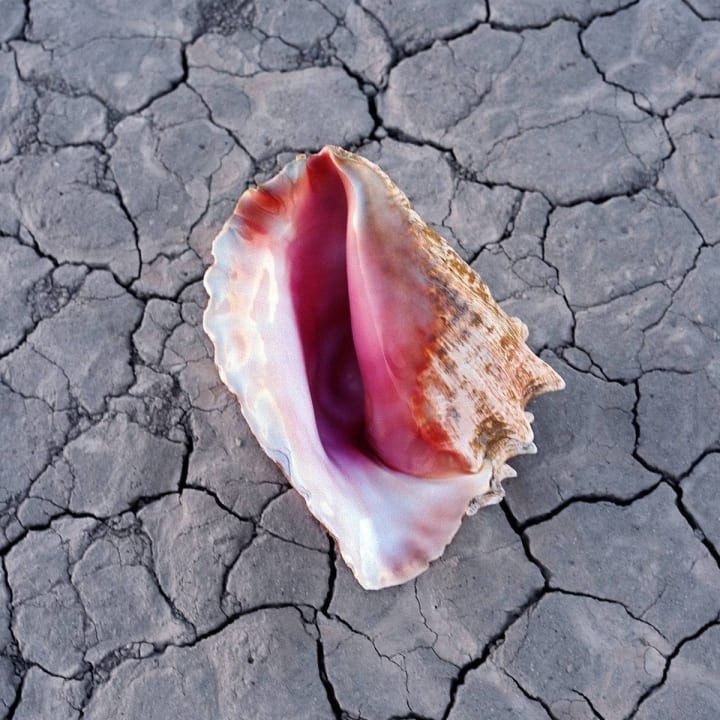 Yet another band returning from a lengthy hiatus. This is The Killers' first new material since 2012's Battle Born, and boy, was it worth the wait.
By now we are more than familiar with The Killers', and more specifically Brandon Flowers, taste for the ridiculous is as apparent as it always is. The album is full of big songs meant to be played loud and in big stadiums.
However Wonderful Wonderful is a lot more personal. Lyrically there is a large emphasis on what it takes to "be a man" in today's world. In the words of Flowers: "In your head, it's about being tough and bringing home the bacon, but what I've come to find is it's really more about empathy and compassion."
It's a great sentiment that rings true throughout the record and it shows that The Killers' are still at the top of their game. It is as audacious and big-balled as it is reflective. Their eye for the ludicrous coupled with a more sincere lyrical approach has produced not only one of their finest albums but one of the very best of the year.
Best Song: Run For Cover- One of the less personal songs on the album, but one that really does sum up The Killers' sound. Run for Cover is a thunderbolt of a song that cleverly uses references to the John Ensign scandal and Donald Trump's famous "Fake News" phrase as metaphors for a toxic and abusive relationship. Pop banger rhythm with post-punk propulsion, Run for Cover is the perfect song to blare out on a late-night drive.
4. Gang Signs & Prayer - Stormzy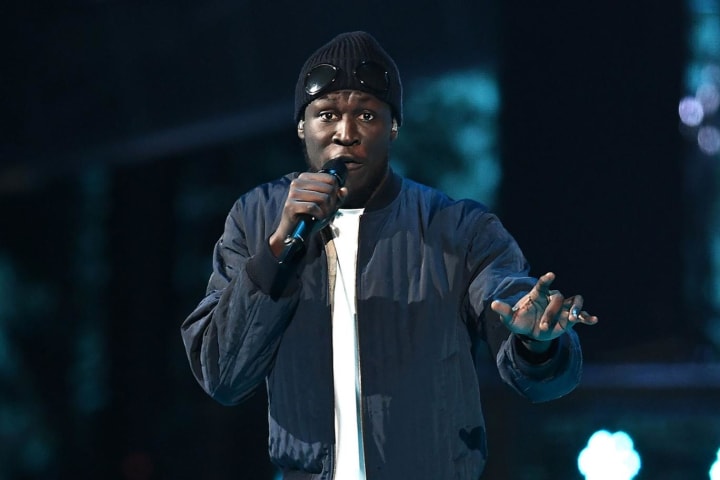 I've got to start this section with an apology. To be honest, when Stormzy first popped up on social media, I thought he was a bit of a meme artist. I didn't take him seriously, though I thought he was pretty funny on Twitter.
After listening to more of his music and watching him in interviews I realised I was so very wrong. This is a man of undeniable wit, intelligence and, most importantly, talent.
His lyricism is top notch, and the album shows it in spades. At times, GSAP is brash and in your face, yet at others, it's surprisingly moving. The album glides across several different genres in tracks like Blinded By Your Grace, Pt. 1 and while it could've come across as a man over-doing his debut, it's ended up being sensational. Thankfully, he's got the confidence and ability to pull it off incredibly well.
He's managed almost single-handedly to elevate Grime from an underground, London-based genre, to the forefront of the entire music industry. You simply cannot do that without at least some credible talent. He's not going anywhere soon. Hopefully, my apology can be accepted.
Best Song: Don't Cry for Me (feat. Raleigh Ritchie)- I know the general public opinion would probably prefer either part of Blinded by Your Grace, but there's something that just clicks with me about Don't Cry for Me.
It's an honest song, as Stormzy looks back on stepping out of the gang life he was a part of while growing up in Croydon, and how he still misses some of his friends who remain a part of that life now. The music matches the lyrics brilliantly and Ritchie's smooth-talking feature is the icing on an already pretty sweet cake.
3. ÷ (Deluxe) - Ed Sheeran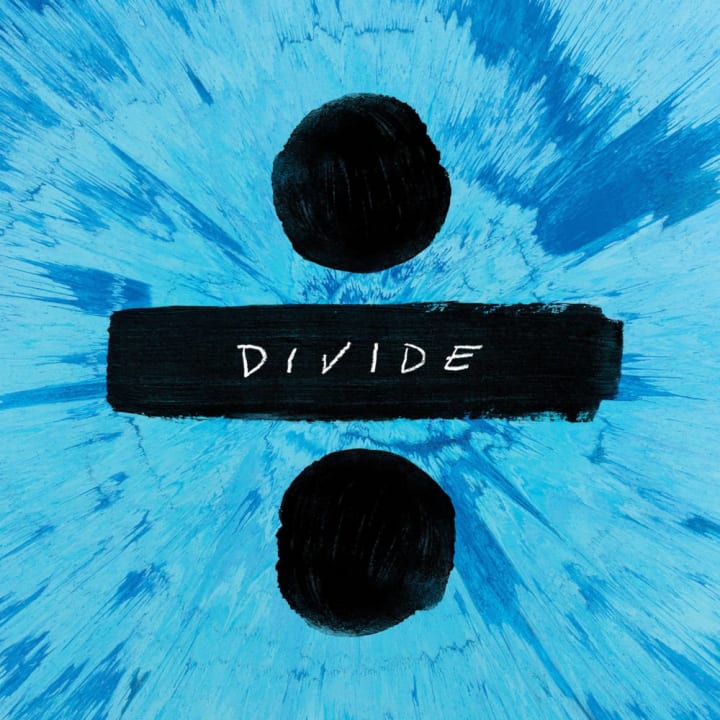 There was simply no escaping Ed Sheeran in 2017. He was everywhere. Just after Divide was released in the UK, Ed managed to completely dominate the singles chart by claiming nine out of the top 10 and having all 16 tracks from Divide in the top 20. All three of his albums were in the Top 5.
It truly was an insane time. It got so out of hand that the Official Charts Company had to change the rules of how the charts were compiled to prevent this sort of domination happening again.
Understandably, some people have gotten a bit sick of it, since he's on the radio every day. These people could just not listen to a station that plays the same songs every two hours, but what do I know? Anyway, the point is, despite it being in everyone's faces, Divide is simply a phenomenal album.
It's meticulously crafted to appeal across the board, and it succeeds. There's something to enjoy for everyone; from the island-inspired sounds of Shape of You to the more comical, f*ckboy anthem New Man. Divide manages to make you laugh, get you dancing and cry your eyes out all within its sub-hour runtime (including deluxe edition tracks). Not bad from the ginger fella from Framlingham.
The album once again proves that Ed is still one of the most talented singer-songwriters in the world. It's a true testament to his ability to create pop masterpieces in a variety of different styles and sounds while also feeling like it's very much his own thing.
Best Song: Eraser- Despite the collection of great songs beginning to end, the best song on the album is actually the very first track. It goes into intimated detail about the trials he's faced in his life and his rise through the music industry.
It's a critical self-examination of a man who's achieved so much seemingly so quickly, and he's admitting his faults in getting caught up in some of his vices on that meteoric rise. Coupled with a hip-hop rhythm and sharp guitar work, it's one of Ed Sheeran's best songs of his career.
2. MELODRAMA - Lorde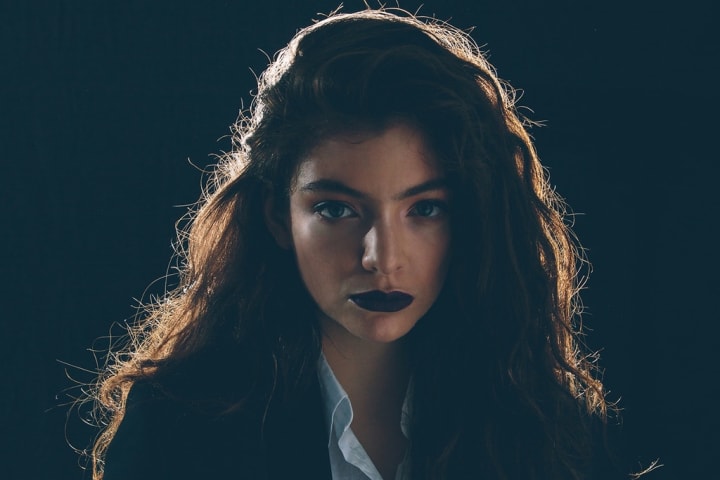 Back in 2013 when Pure Heroine was released, Lorde was a mere 16 years old and already had a worldwide number 1 single in Royals. By the following year, two Grammy's. No small feat but no doubt a testament to what was to come from the New-Zealand born singer. Fast forward to 2017, and the release of Melodrama, Lorde has managed to craft something of a masterpiece, already up for multiple Album of the Year accolades.
Pure Heroine was unusual as it painted this young girl as already world-weary and disillusioned while also discussing youth in modern days. Melodrama is a different animal, she's contained it within the framework of a night at a party and how the events and moods of it create a plethora of chaotic emotions that the album displays brilliantly.
Her writing is genius, using a sumptuous blend of metaphors contrasting with more straightforward wordplay to create vivid and luscious imagery to compliment the songs and the stories they tell.
The music itself is a bit more expressive this time around, but it still remains within seemingly self-imposed limits, keeping to her unusual style. Coupling it with her distinctive vocals, it makes Melodrama essential listening material. The album beautifully dances around the inelegancies of young-adulthood and the mess of emotions that comes with it.
Lorde has become one of my favourite artists in recent years, and Melodrama only solidifies her talents as a singer and a songwriter. There's something beautifully hypnotic about how she paints this beautiful imagery in your mind with her words and music that I honestly just cannot get enough of. She's also only two days younger than me and has Grammy's to her name. Meanwhile, I'm writing about her like a fangirl and eating ice-cream. Two different people.
Best Song: Homemade Dynamite - As soon as I first heard Homemade Dynamite for the first time, I was convinced it would be my favourite on the album, and I'm still right. Go me. It's a song at a lit party and Lorde and her pals are feeling pretty good.
It's weird synth-pop sounds are addictive, they're a collection of drumbeats and glitchy keyboard hits. Her mimicking whisper of an explosion in the middle of the sound is as electrifying as it is adorable. I could carry on writing about what I love about this song and the album as a whole, but we've still got to crown a winner on this list. Without a doubt one of my favourite individual songs of the year, I can't get enough of it.
1. DAMN. Collectors Edition. - Kendrick Lamar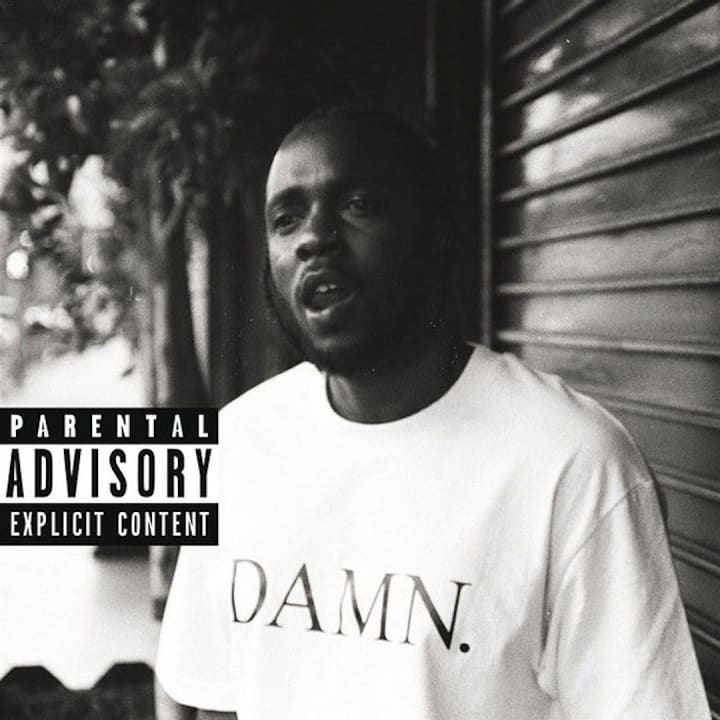 It was obvious straight away that Kung-Fu Kenny had yet another hip-hop classic on his hands with the release of DAMN. back in April of 2017. However, there was this feeling that something was off about it. It didn't seem to flow properly for some reason.
Then there were some mutterings around Twitter to listen to it backwards, apparently it "sounded better". This was later confirmed by Lamar himself, stating it was intended to be listened to backwards, which is what brought about this Collectors Edition with the "correct order". Then the album made sense.
Regardless of what order you listen to DAMN. in it's almost jarring and lurches between genres on a dime, sometimes in the same song. It's more concise than To Pimp A Butterfly, but the themes and ideas Kendrick expresses are huge and carry considerable weight, dealing with deep depression, sexual tension, gun violence and the destiny of America somehow all within 14 tracks.
When it comes to storytelling, Kendrick Lamar is unparalleled in his field. The way he's used different vocal tones and styles to represent different characters and different emotions excellently. It compliments the various sounds and textures of the album greatly.
There are a few great cameos on the album, U2 being the most unusual on the utterly bizarre-sounding track XXX. In one part it's loud and abrasive, and full of sirens, in another it is slow, stripped back and more acoustic. Zacari's soft vocals go hand in hand with Lamar's more mellowed character in LOVE. Rihanna's contribution on LOYALTY. is a bit more typical of what you'd expect from her but stands toe to toe with Lamar as two artists at the top of their game, the video is interesting too.
There is constant ongoing debate on social media as to whether DAMN. is his best work, a lot of people love good kid, m.A.A.d city, TPAB was a firm favourite of mine, and there's still a lot of love for Section.80. All of these are critically-acclaimed, best-selling albums. I think it just goes to show that regardless of what your favourite is, Kendrick Lamar is one of, if not the best rapper out there right now. He's found his place among hip-hops' finest, and looks like he's staying there.
Best Song: Humble- This was the first song to be released as a single from DAMN. and it may just be the best. It's a complete departure from the funky jazz sounds of To Pimp A Butterfly, and is much more trap-based. He talks about his humble, poor beginnings while simultaneously challenging all of those who dare challenge him in the rap industry.
The chorus may only be two lines, but you'd be hard pressed not to be singing along. The verses are where the meat and drink of the song is at. Top-notch rhythm and manages to juxtapose this idea of humility while also believing one is untouchable in the present moment. There's no one out there on Kendrick's level, and he's looking real comfy on his throne.
About the Creator
26// Published author and blogger.
Currently editing my debut novel⚡ Looking for a rep.
View my work via the link below! ⬇
https://linktr.ee/pm_ellis
He/Him 。◕‿◕。
Reader insights
Be the first to share your insights about this piece.
Add your insights