#PIMAs2019—Best Music Video Award
Who's got the visuals to go with the bangers? (NSFW)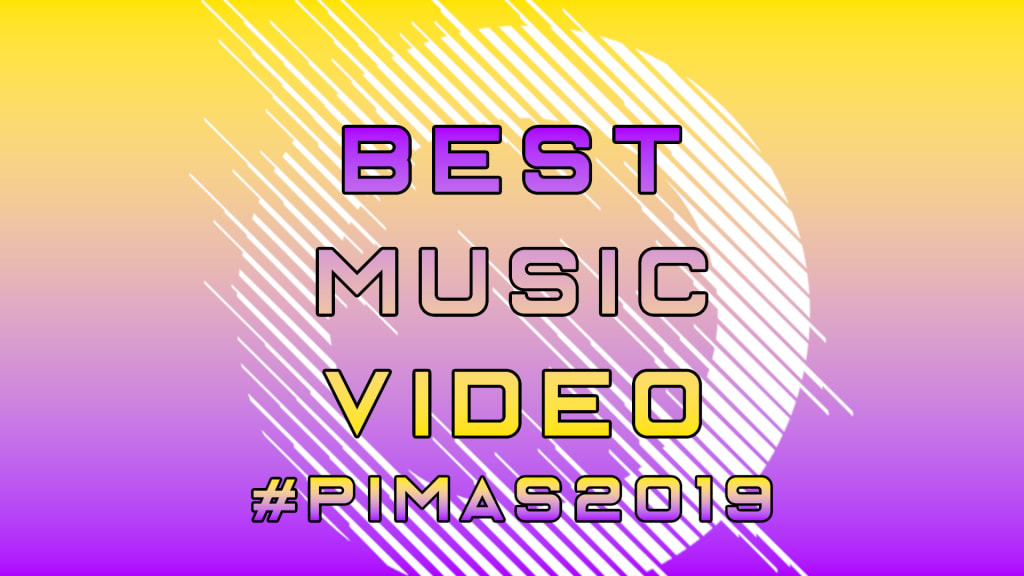 *Crowd goes wild as I return to the room*
Hello and welcome back to the first annual PIMAs!
Thank you for tuning in, if you missed our glorious opening ceremony it's available on catch-up here.
Join me, your host, Peter Ellis, as we countdown the very best music videos from 2018. Up for this prestigious award are the likes of Twenty One Pilots, Childish Gambino, as well as Don Broco and Muse. As we stated previously, we're counting down from 10th to first, so sit back and enjoy the show!
A quick disclaimer for the work procrastinators, a lot of these videos are NSFW, be it due to lyrical content or what goes on in the video. You've been warned, please don't cry and click off. Otherwise then I'll be sad, you don't want that, do you?
*Crowd boos and begins throwing tomatoes*
Oi, put your pitchforks down.
I knew even putting this video in 10th would cause some controversy, but if you can keep the knives and other sharp objects to yourself, I'll explain.
The song is absolutely shit. Let me get that out of the way first. The song is terrible. The video, well to be fair, it could go on the "Worst Music Video" list depending on how you look at it.
Lil Pump remains the forefront of the new wave of shite SoundCloud mumble rappers but in this collaboration with Yeezy, he's struck gold. Kanye wanted to make a meme and he ended up creating a damn good one. One of 2018's finest, no less.
The bizarre clothing, the questionable lyrics, Kanye being ... um, Kanye. The result is not only a music video which is utterly baffling but so incredibly meme-able (Is that a word? Is now.) that it's spawned content from itself. It just goes to show that while Kanye West is a divisive man who is very much a bit of an asshole, he is also a genius.
Say what you want about his music, his political stance or his antics, the man knows his stuff like few others and managed to create one of the most absurd musical moments of the year and it will, for better or worst, be remembered for a long time to come.
Down to just lead singer Brendon Urie, Panic! At The Disco came back with one almighty album in Pray for the Wicked. Say Amen was released alongside Silver Lining to announce the bands' hotly anticipated sixth studio album.
The music video accompanying Say Amen serves as a sort of opener to the videos for This is Gospel and Emperor's New Clothes. Amazingly, it manages to end up being the most absurd of the three, and ENC had him turn into a demon in purgatory for goodness sake.
A whole host of robbers break into Urie's house to steal some ancient relic, which he's obviously wearing as a necklace. What happens next is something of a lovechild between Kill Bill and Kingsman. It's unexpectedly and outrageously violent and took me completely unawares the first time I watched it, still does if I'm honest.
It brings the trilogy of videos already mentioned together nicely and manages to be the best movie action scene that isn't a movie action scene. The Say Amen video plays on the excessiveness of the album and cranks it up to 12. A deliriously mad and inventive slice of pop-y fun.
Speaking of deliriously mad. In at number eight we've got Greatness by the Bedford-born alt-rock band, Don Broco.
Greatness follows on from the story-line set in the video for Come Out To LA, where lead singer is viciously killed in an on-set accident and is turned into a cyborg, for some reason. This picks up some time in the future where we seem to have entered some kind of Mad Max-esque wasteland.
I've only really discovered them in the last year or so, but learned pretty quickly that Don Broco walk the fine line between clever and daft in their recent videos since Everybody gave us that cowboy (who also appears here). That sentiment is seen in all its glory here, where the fate of an apocalyptic throne is settled with a dance-off that Peter Quill could only dream of.
It's utterly daft but I'll be damned if you don't want to get up and learn the dance moves in the video. Yes you do, stop lying to yourself. I could've swapped this video out for any of the ones from their album, Technology, as they're all hilarious in their own weird and sometimes gross ways. However, I felt for those who didn't know what Don Broco were about and were interested to find out, first of all:
1. You're brave.
2. They weren't all released in 2018 and felt this one would be a better introduction piece to one of the most ridiculous alternative-rock bands out there.
Another great music video from my personal favourite band. After the entire Eighties appeared to throw up over the Back to the Future ballroom scene in the music video for Pressure, Muse scaled back on the ridiculousness for Algorithm.
It follows Terry Crews' character from Pressure, as he learns he is living in a simulation and decides to build a machine to help him escape.
It's a deft blend of Tron, The Matrix with a splash of Stranger Things in the music to build this epic and aesthetically beautiful video. The animation rivals some top Netflix content, especially the metallic skeletons that plague the videos of Simulation Theory.
If there was an award for "Most Consistently Good Music Videos for an Album," Muse would absolutely smash it this year, every single video intertwines and adds to the world(s) they explore.
Adding an actor like Crews, who can do the funny and the serious incredibly well, makes his characters' journey more interesting to follow and you really want him to escape this virtual world he's found himself in. But the ending here begs the question: Just how far down does this rabbit hole go?
Watch all of the videos and try and come up with an answer, I attempted it and nearly had an aneurysm.
My brain hurts just thinking about it.
After the runaway success of DAMN., Kendrick Lamar returned in 2018 to curate the soundtrack to the landmark Black Panther movie.
He was one of the only artists I'd have considered up to the task beforehand. Not only did he create a perfect companion piece to one of 2018's biggest movies, it managed to stand alone as a fantastic album on its own.
"All The Stars"with SZA has another stunning video, which relishes in the roots of Black culture and celebrates it with a slickly made video that incorporates beautiful dancing, exotic and elaborate clothing and a sense of community.
If there was one thing that Marvel did right with Black Panther, it choosing to dive head first into African and African-American culture, show the best parts but also show some of the darker elements to it. The video to "All The Stars"is a condensed version of that message, minus all the superheroes (but suspiciously, considerably more panthers).
It's shot incredibly well and the higher budget to coincide with BP has paid its dividends with one of 2018s most visually stunning music videos.
I happened across this band by coincidence, as my brother was learning this song on his bass guitar (he's annoyingly very good).
half•alive are a little-known indie-pop band who are onto a winner with "still feel.," a song about feeling detached from yourself during hard times.
The accompanying video is a mix of classic indie unusualness, tightly choreographed dance moves and joyful singing. Apparently, each shot was filmed in one take, but you'd think it'd taken more. There's so much and so little going on. It's all in the intricacies.
It reminds me of the video for "Houdini" by Foster The People in parts. Their slightly darker lyrics are contrasted by the vibrant visuals and the sweet indie-pop sound. It's proven that half•alive are definitely a band to keep an eye out for in 2019 and beyond.
Anderson .Paak and Kendrick Lamar rap about the need for some privacy once in a while on "Tints."
The video dives deeply (and I mean deeply) into this idea that no matter what people are like, or what they look like they're doing, they could be doing something far more unusual, or something you just wouldn't expect from them.
I know I've already given a NSFW warning for the article already, but "Tints" pushes the boundaries in every aspect. While not as ridiculously violent as Say Amen or Greatness, in the five and a half minutes of Tints, we manage to see explicit drug use, implied child pornography, gun violence, robbery, alcohol abuse, sex and pretty much everything else Karen the soccer mom would hate.
Tints is another one of those light-sounding songs, thanks to .Paak's soft vocals, that has many dark layers beneath the surface. There's a lot to dissect here in a song that is essentially about wanting to be away from the preying eyes of the relentless paparazzi of today.
"Paparazzi wanna shoot ya."
If you're going to use one famous movie director to influence your music video, they don't come much better than Stanley Kubrick.
His influence oozes from every pour in the video to "Four Out of Five," mostly through 2001: A Space Odyssey and The Shining. We see shots of Turner and the rest of the Monkeys in a lavish mansion, seemingly preparing for a movie shoot or creating an advert for the titular Tranquility Base Hotel & Casino.
Alex Turner's performance in this video has drawn a lot of comparisons to Jack Nicholson here, and rightly so. If he ever decides music isn't for him, he's got a shot in movies, he's basically a method actor by this point.
The actual song delves into a taqueria on the roof of the hotel, called the Information-Action Ratio. While we don't see the Hotel nor the IAR in the video, there is so much happening, so many different shots and clips throughout the video it's hard to make sense of it all, playing on the name of the restaurant on top of this weird and wonderful moon base.
I'm a bit of a sucker for retro-futurism, so the album and the video, both divisive in their own rights, were right up my street. Every frame, every idea expressed was clearly well-thought out and has its own meaning behind it. If you want to learn how to shoot a good music video, use this as your (tranquility) base and start from there.
Trench is an incredible album, let us just make that clear. I was undecided whether to put the video for this or "Jumpsuit" for the Best Music Video nomination. They're interchangeable to me, but since I only wanted to limit it to one video per album/artist (excluding features), I decided to give it to "My Blood."
The video to "My Blood" seems to be separate from the world that Twenty One Pilots had built in "Jumpsuit," "Nico & the Niners and Levitate,"instead focusing on the story of two brothers and how they deal with grief after losing their mother at a young age.
I could put a NSFW on this one too, the video and the song deal with some seriously heavy topics, if you're not moved by this video then, you simply have to be soulless. It made several of my family members sob a great deal.
The relationship between the brothers is sweet throughout, even if one of them seems more susceptible to get into trouble than the other. They play with dead birds, harass cheerleaders and sneak into house parties. Regardless of their differences, they're there for one another until the end.
Bring tissues, you'll need them.
And now, for a quick ad break.
Just kidding, did you think I'd use that joke again?
You're right, I absolutely would use it 10 times.
But what could possibly be number one?
I tell you what, trying to compile a top 10 for 2018 was hard, there were just so many incredible videos I wasn't entirely sure how to order them, except that is, for the winner.
I mean, it had to be obvious, didn't it? There were no other videos last year that made as much of a cultural impact, or rather attack, than what "This Is America"managed to achieve.
If you like breaking down videos to find hidden easter eggs and meanings, you won't find a better one than this. "This Is America"is loaded with subtle imagery, and some less so, but it is certainly a powerful experience.
The release of this video was a watershed moment, the new standard on which all music videos can and should be judged. It was also all shot in one take, which is damn-near miraculous for just how much is going on. It's so easy to miss references as Donald Glover takes centre stage throughout, but it's the subtlety of these references that give them such a profound impact when you understand their meaning.
His trousers are those that were worn by soldiers in the Confederate Army, the Horseman of the Apocalypse prancing through virtually unnoticed, the suicidal man that no one saw, this is merely scratching the surface of what the video has crammed into it.
The layout of the video is a strong metaphor in itself for not just America, but the majority of the western world. We may all individually care about the issues going on in our neighbourhoods, but as a society if there's some cool, culturally appropriated dancing happening on a screen, you bet we'll be so distracted by that, that we'll forget about all the manic destruction going on around us.
Here's your certificate, Donald!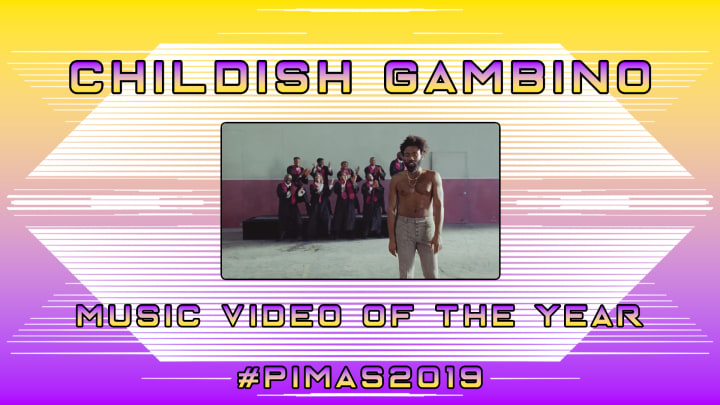 Donald? Hello?
*Taps mic*
Helloooo?
Right we're going to have a break while we see if someone can track down Gambino for us.
Obviously he's not contracted to come and accept this award nor care about it, but we'll see.
For now, I've been your host, Peter Ellis, and this is the PIMAs.
Tune in next time as we award the Best Collaboration of 2018!
Thank you for being here, if you made it to the end of the article, mad props to you. It was a long one!
Show some love and share this about on Twitter with the hashtag #PIMAs2019 !
Want to fund the next award? Send us a tip below and get in touch. See you soon!
About the Creator
27// Published author and blogger.
Currently editing my debut novel⚡ Looking for a rep.
View my work via the link below! ⬇
https://linktr.ee/pm_ellis
He/Him 。◕‿◕。
Reader insights
Be the first to share your insights about this piece.
Add your insights