The Sensational Alex Harvey Band - The Covers Playlist
Part One Of Two Sensational Alex Harvey Band Playlists - These May Be Songs You Know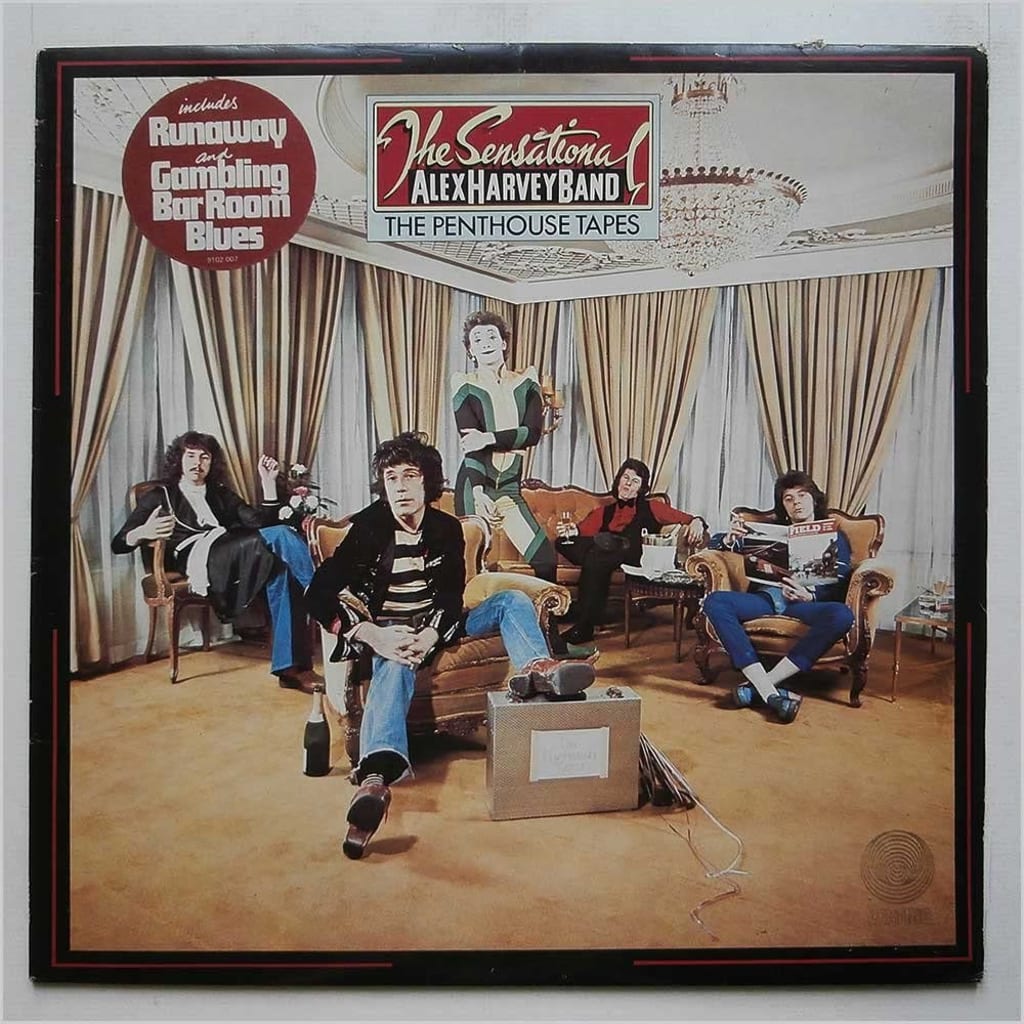 The Sensational Alex Harvey Band - The Penthaouse Tapes
Introduction
This playlist is cover versions of songs by The Sensational Alex Harvey Band. I saw them live many times and unfortunately, we lost Alex to a heart attack the day before his 48th birthday in 1982. He had still been performing for three decades as he began performing in Skiffle groups in 1954.
In the seventies, some friends went to a metal festival at Donington and came back with tales of this band who opened their set in front of a metal head audience with an Osmond's song!! Now the song was "Crazy Horses" which is proto-metal by a teeny bop group, but it was an Osmond's song!!
Then they appeared on Top of the Pops performing their biggest hit, a cover of Tom Jones's "Delilah" causing Tony Blackburn to go mad shouting "How dare they call themselves 'Sensational'". That was a huge plus as far as I was concerned.
These playlists will be mostly Sensational Alex Harvey Band songs but there will be the so solo performances as well.
"Framed" from "Framed"
This take on the Lieber/Stoller classic has to be seen live, and could often last up to fifteen minutes. This was the only copy I could find on Youtube but takes up eleven minutes of the album "Live" in which he channels Marlon Brando's Godfather, (it happens abound five minutes into this video).
"Runaway" from "The Penthouse Tapes"
Possibly one of the most excruciating vocal performances you will ever hear but it is very funny, and this live performance came on after the "Framed" video and the dance routine is brilliant, so it had to be included.
"There's No Lights On The Christmas Tree, Mother They're Burning Big Louie Tonight" from "Framed"
A Jim Condron song which I had to include just because of the title and it is a great song too. The sound on the live version is a bit ropey so here is the studio version.
"Crazy Horses" from "The Penthouse Tapes"
This is them covering The Osmonds, and it is metal, and still can't believe that they opened at Donnington with this and it did take a few years for them to lay this down on vinyl.
"Next" from "Next"
Alex taking on Jacques Brel, absolutely vicious. This showed the breadth of influence that the band infused into their music.
"Delilah" from "Live"
This is the one that annoyed Tony Blackburn. I couldn't find that version but this is an excellent performance from The Old Grey Whistle Test and you get to see Zal Cleminson in his clown regalia. I'm not sure what Tom Jones's opinion was on this cover, but it takes no prisoners.
"Gamblin' Bar Room Blues" from "The Penthouse Tapes"
The band go full music hall/circus for this one, even though Zal Cleminson just wore his normal outfit. Originally written by Jimmy Rodgers and Shelley Lee Alley and released by Rodgers in 1933. This is an archetypal song about drinking similar in mood to "Alabama Song"(also known as "Moon of Alabama", "Moon over Alabama", and "Whisky Bar" which is an English version of a song written by Bertolt Brecht and translated from German by his close collaborator Elisabeth Hauptmann)
"Tomorrow Belongs To Me" the eponymous title track
This was written and composed by two Jewish musicians – John Kander and Fred Ebb – as part of an avowedly anti-fascist work; the nationalist character of the song serves as a warning to the musical's characters of the rise of Nazism.

Nonetheless, "Tomorrow Belongs to Me" has been adopted by right-wing, neo-Nazi, and alt-right groups as an anthem.
This is absolutely beautiful but the fact that it was adopted by Nazis makes it a difficult listen.
"Amos Moses" from "Stories"
This Jerry Reed is just so threatening, so many great lines delivered by Alex, brilliantly backed by the band, and Cleminson's is awesome once again.
Now everybody blamed his old man

For making him mean as a snake

When Amos Moses was a boy

His daddy would use him for alligator bait

Tie a rope around his waist

And throw him in the swamp

Alligator man in the Louisiana bayou.
"King Kong" from "Rock Drill"
The finale of the "Rock Drill Suite" taken from Max Steiner's soundtrack to the original "King Kong" film is a fitting closer to this playlist of songs covered by The Sensational Alex Harvey Band.
The companion playlist to this is here.