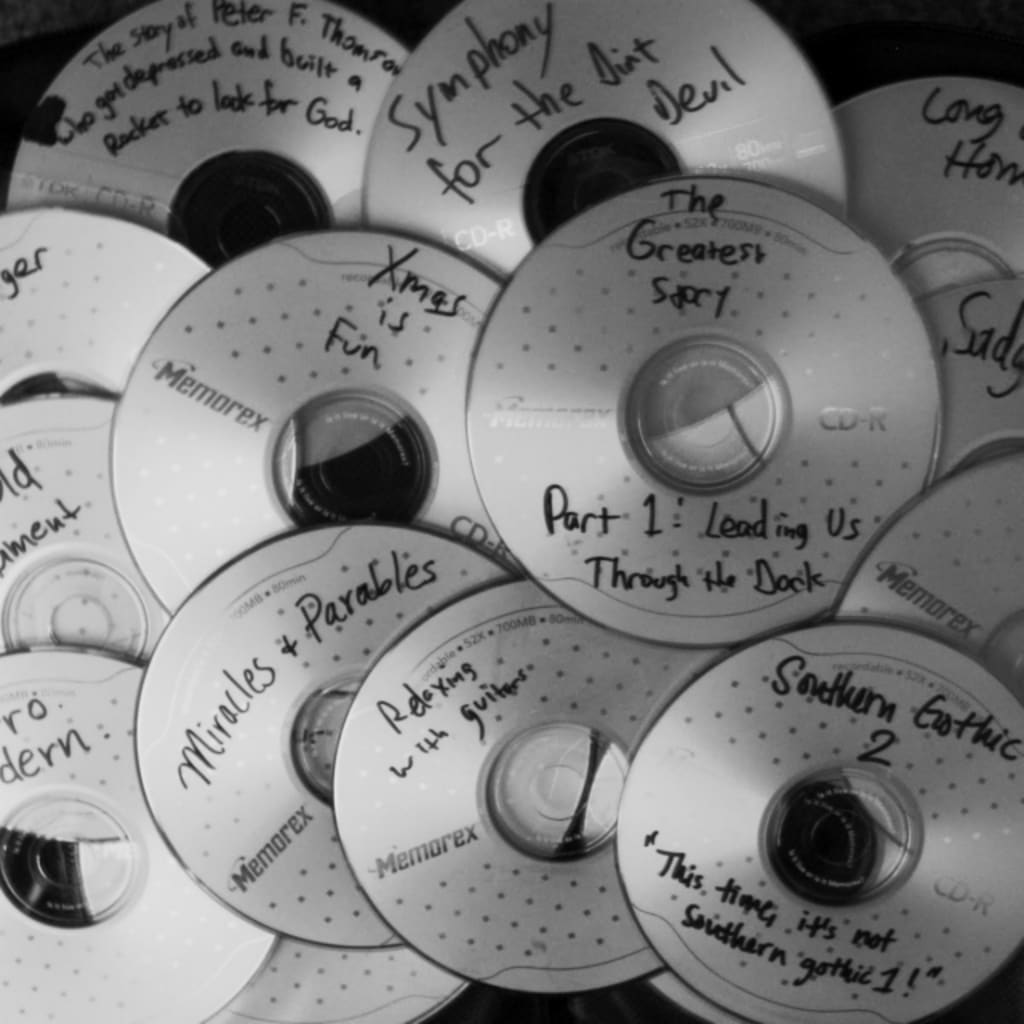 At the start of middle school, my brother would make me mix CDs. I'd get to school early, go to the gym and sit with my CD player and digest the entire CD in one morning. As my friends would trickle in, I'd show them my favorites from what I had just listened to. I have a vivid memory of playing Black Eyed Peas "Don't Lie" on repeat 3 or 4 times before I went to the next song.
As I got older, and CDs fazed out, I took on the role of "playlist maker". I would make playlist gifts for friend's birthdays, spend hours making a playlist for the feeling you want when you drive next to the ocean or the dance party playlist that brings back the wave of nostalgia we all look for to make leaving the house worth it. Making playlists became my stress reliever, and when I went to school for music, my passion only grew.
Here's a trip through the playlists that encapsulate it all - memories attached. We're gonna start at the beginning:
Middle School
We start with the anthems...of a middle school dance. Now, when I was in college, right before I graduated my roommate Caitlin and I got our speaker, made sure our other two roommates were out for the night and made a playlist that we liked to call "Bitches and Bangers". The name pretty much speaks for itself, however if you need some more context think of the artistic stylings of Missy Elliot, Flo Rida or everyone's guilty pleasure, Mr. 305, Pitbull. The middle school dance in one playlist, that now as I look back, not sure how some of the songs were allowed, nevertheless. The memories I have in the crowded gym at the Local Boys and Girls Club on a Friday trying to literally "Drop it Low" is something that I love to remember and also wish I could forget.
When I was in college, right before I graduated my roommate Caitlin and I got our speaker, made sure our other two roommates were out for the night and made a playlist that we liked to call "Bitches and Bangers". The name pretty much speaks for itself, however if you need some more context think of the artistic stylings of Missy Elliot, Flo Rida or everyone's guilty pleasure, Mr. 305, Pitbull. If you need one of those Throwback Thursday kind of nights to help you remember middle school, are in the car on the way to the gym, concert, or with some of your best friends, here you go:
High School
I've always had a plethora of genres that I listen to, and high school was the epitome of not being able to answer, "So, what's your favorite kind of music?" I genuinely couldn't do it. I'd go on a rant about all the different genres, artists, and specific songs. To make sure this isn't 10,000 words - I'm gonna give you a top 5... and we'll see if I can narrow it down to just 5.
1. Whitney Houston
One of my best friends, Rilee, has a very "specific" taste in music. Every month or so of high school, she'd have the same 5 songs that she would listen to on repeat. The next month, she'd find a new 5 to focus on. However, there was an exception to this pattern and that exception was Whitney Houston. If "I Will Always Love You" or "I Have Nothing" came on, you better not even think of touching the radio. To this day, you still cannot touch the radio when The Prom Queen of Soul comes on. Whitney will always be our lady. She has already asked me to sing a Whitney song at her wedding... however, I told her "I Will Always Love You" isn't really a suitable option. Open to suggestions.
2. Country
When I was a sophomore, my brother has transferred to Texas Tech for his sophomore year of college. I had always loved country music, but just like those mix CDs that he used to make me in middle school, I would get a weekly update with the next new country songs that he would be bumping in his truck that week. Brad Paisley was a big one for me. The song "Letter To Me" really changed my brother and I's relationship in a lot of ways. It's sometimes not until a family member is far away that you realize how much you took the relationship for granted. We started having monthly calls and they became his monthly advice, catch-ups, and little letters to me. When my senior year rolled around, Brad Paisley swooped in again with "Southern Comfort Zone" and helped me make the choice to move out of Oregon. It still is one of the best decisions I've made to this day.
3. The Classics
I'm a sucker for the classics and September by Earth, Wind, and Fire might be as classic as it gets. My best friend Marc and I would drive around belting September at least four times in a row. In College, he found a remix of it and I was immediately repulsed, until I got in my car and gave it a chance. You know how some songs just don't sound as good until you're in your car, blasting it loud? Take a listen and tell me you don't *secretly* like it:
Another distinct memory attached to the classics is "Wake Me Up Before You Go-Go" by WHAM. Rilee and I were obsessed with completing every single song on Just Dance 2, and boy, did she like to cheat. It wasn't until "Wake Me Up" came on that I realized she wasn't using her legs, just doing the arm movements while I was in a pool of my own sweat. So, the week after we graduated we started at 8pm and completed all 48 songs by 3am, and Rilee used both her arms and legs. Except for Rasputin. Look it up, you'll see why.
4. Bruno Mars
One of the first "mix" CDs that my big brother made me with only one artist was Bruno Mars. The Doo-Wops & Hooligans Album was one of the first albums I loved every single song on. The Jungle Tour for Unorthodox Jukebox was one of my first arena concerts in Portland, and Uptown Funk will always hold a special place in my heart. My senior year of High School, we had a 6-month event called Mr. Spartan. You were paired up with another person and given your own "event" to raise money for 3 local charities. At the end, there was a pageant and our final dance number was a Soul Train Dance Line to Uptown Funk. Cringy and memorable all at once.
5. Sweet Disposition (Temper Trap)
This was the only song that I knew could stand alone for this time period. It's been my favorite song for as long as I can remember and has always been my feel-good song. It's my driving by the ocean, need to feel, need to belt, need to cry song. The lyrics are something that have a different meaning to everyone.
A moment, a love . A dream, aloud . A kiss, a cry . Our rights, our wrongs

So stay there . 'Cause I'll be coming over , And while our blood's still young

It's so young, it runs . And won't stop 'til it's over . Won't stop to surrender.
For me, this song helped me through breakups, helped me feel better about life going too fast and just living completely in the moment. It's the song that IS high school... and beyond.
College
Going to school for Music, moving states, and finding new people in my life gave me a whole new appreciation and knowledge of music. I truly fell in love with music, and making playlists, all over again. I 100% couldn't narrow down the music that was brought in during these years, so I'm going to link 3 playlists that were made and do my absolute best to describe them.
1. Talented Friends
I couldn't give you a more "college" playlist than this one. Growing up in the small town that I did, I was around talent, but moving to Los Angeles, as you can imagine, opened up a whole new pool of talent. Between my college roommate, my classmates, and some of my friends who got the opportunity to produce other artists, I couldn't be more proud and lucky to call them my "talented friends":
2. Windows Down and KJ
I spent a good portion of my time in college doing one thing - driving. If a new album came out, we would grab a coffee and take a drive, not allowed to stop until we finished the whole album. It was one of my favorite parts of college. Since this was a daily occurrence for Kriste and I, we had some of our favorites put into one playlist. With summer coming, Windows Down and KJ will be frequently in rotation:
3. Sunday
In College, I was always looking forward. Forward to life after college, a husband, kids, etc. Did you ever, as a little kid, picture what your future would look like on a Sunday morning, dancing around the kitchen to the songs that make you wanna smile and sing the loudest? This is that playlist. The dance around the kitchen, singing with your kids, flipping pancakes playlist and it's one of my favorites:
If you've made it to the end of this, thank you for following along on the journey. From the beginning of my life, music has always been my compass. I hope these playlists give you as much joy as they brought me.
_____________________________________
Hi there!
This story has been several weeks in the making since I always do six to 30 rereads and edits, so any likes are greatly appreciated! If you have any questions, comments, or you'd like me to make YOU a playlist, DM me @kcor34 on Instagram or comment down below. I'll try to respond as soon as I can.
Thanks for reading, and until next time. :)
Reader insights
Be the first to share your insights about this piece.
Add your insights