The Leaders of Rock's Next Generation
The Stars of Today, the Legends of Tomorrow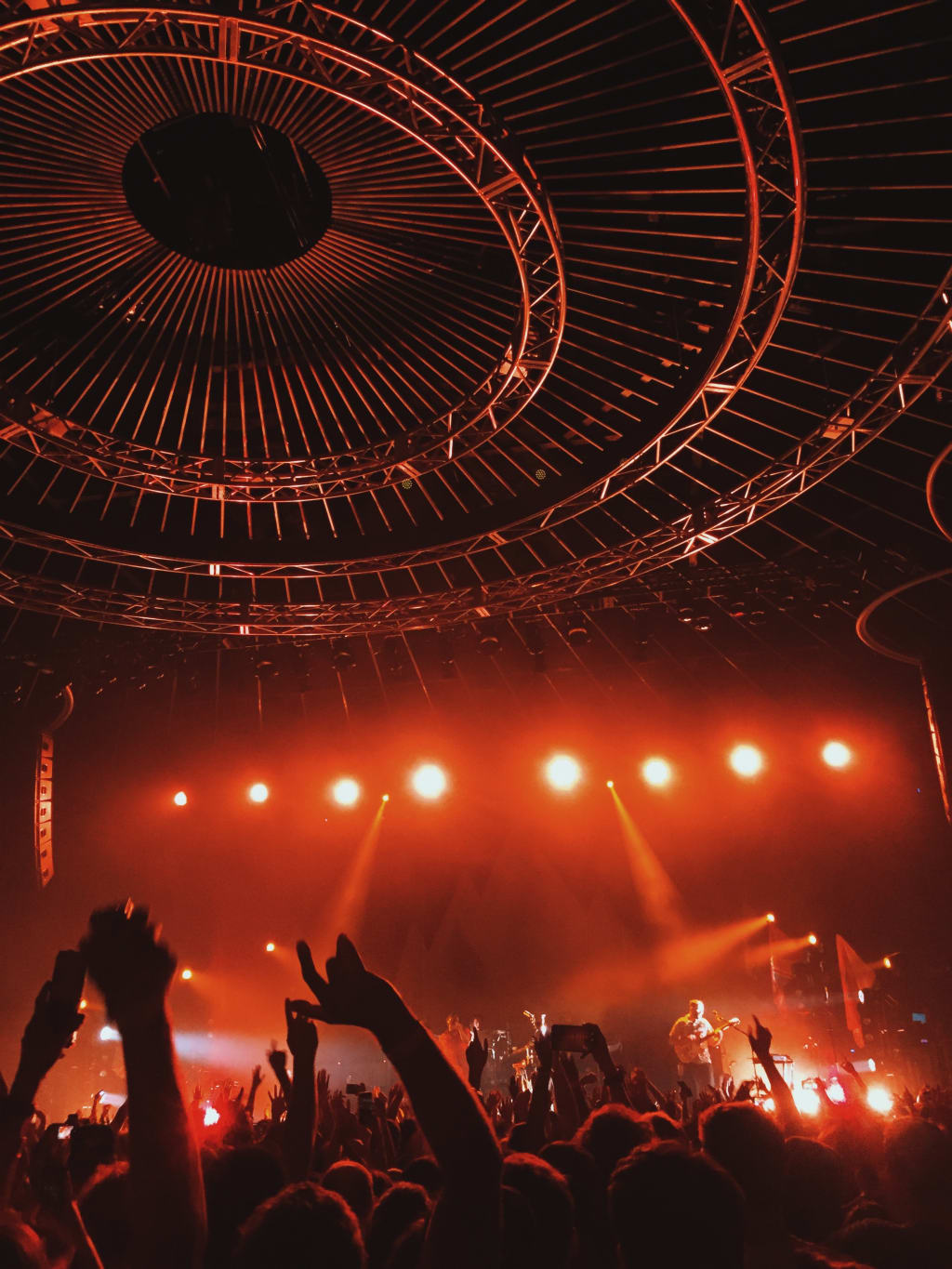 Every era of rock music breeds legends. There's always a certain few who carry the torch for their genres, whose music stands the test of time and inspires the next generation of musicians to come. Ten years ago, it was Paramore, Fall Out Boy and My Chemical Romance leading the charge. Five years ago, it was Black Veil Brides, Pierce The Veil and Sleeping With Sirens who had just blown up, bringing post-hardcore to a new generation of fans. But who is set to follow them?
Plenty is being said about the state of the scene at the moment. To some, the current saturation of rock bands is tantamount to the scene's health—you can't have too much of a good thing, right? Others watch the bands they once idolised water themselves down with synths, or even abandon their scene altogether, and they grimace. They say rock has lost something. They might even throw the cliched 'rock is dead' thing again. That's not what it looks like to me. Sure, things in our black-clad corner of the world are changing, but the way I see it, legends will always be made. There will be great music to soundtrack each and every generation. And today, I want to show you who our generation's musical greats will be. These are the Hayley Williamses and Gerard Ways of the moment. Give them a listen. You might find your new favourite band.
Patty Walters has come a long way from his days of posting Fall Out Boy mash-ups and screamo Disney covers on YouTube. Today, he fronts one of the UK's most important young rock bands. As It Is is one of the most relevant bands around at the moment, with something to say that means so much more than likes, retweets and swipes right. And it's never been a better time to discover them, with their latest album The Great Depression fresh off the mixing deck. Tackling issues as diverse and important as toxic masculinity, mental illness and sexual misconduct in the music industry, all wrapped up in an enthralling yet dark narrative, it must just be the most stunning record you hear this side of Christmas.
FROM: Brighton, UK
FOR FANS OF: Paramore, Real Friends, Sleeping With Sirens
Like your music heavy with a shot of arena-sized melody? Beartooth might just be your kind of band. They're the kind of band who can do a bit of anything—singing, screaming, mosh calls and moments that deliver a sheer gut punch of emotion—in equal measure, with equal awesomeness. Most importantly though, they bring a whole new meaning to the word 'catharsis'. This is a band to lift you up and give you release from whatever life has just thrown at you, because Caleb Shomo has had plenty thrown at him too. And if you like what you hear, good news: the release of their next album Disease is just around the corner.
FROM: Ohio, USA
FOR FANS OF: A Day To Remember, Parkway Drive, Of Mice & Men
Do you like Halloween as much as feeling all of the feels? Do you miss the days when rock was in touch with its spooky side? Enter Creeper, with their own brand of mysterious, yet addictive horror punk. They have the aesthetic, they have the stories, but most importantly they have (a callous) heart, making for one of the best, most original bands to come from the British rock scene. And if you find yourself around London in November time, watch out for their first live date in some time—I've seen them live, and they put on a hell of a show.
FROM: Southampton, UK
FOR FANS OF: Alkaline Trio, Andy Black, My Chemical Romance
If, like me, you weren't alive to see the 90s, Milk Teeth have brought a little piece of it into the 2010's with an added dash of pop melody and the frustrations of living as a British twenty-something from a tiny Cotswold town. These guys are raucous, catchy and just plain fun, in a time where we need it more than ever. And despite only having one album to their name thus far, they still have tons of music knocking around the Internet, right from their 2013 debut EP 'Smiling Politely' to their more recent pair of EPs 'Be Nice' and 'Go Away', so there's plenty to trawl through before their next album drops.
FROM: Stroud, UK
FOR FANS OF: Nirvana, The Smashing Pumpkins, Basement
Sometimes, the best music doesn't need electronic, artsy flares or deep, metaphorical lyrics. It's what Neck Deep do best—no-nonsense, straight up pop punk with just the right amount of sugary sweetness. If bands were friends, these guys would be the one who always sticks by you no matter what. They have songs to celebrate to, songs to cry to, and songs that just make you love being alive. Oh yeah, and in true British style, they don't mind making fun of themselves (see their 'Neck Deep—Generic Pop Punk merch for proof of that) if necessary.
FROM: Wrexham, UK
FOR FANS OF: Sum 41, New Found Glory, Blink-182
If you miss the days of the larger-than-life rock bands—you know, the days when Guns N' Roses were the most dangerous band in the world—these self-described 'fashion art rockers' could be your new favourite band. Palaye Royale is a band that takes everything that made rock so edgy and exciting in the days gone by and drags it kicking and screaming into the present with their own modern visual twist and cocksure attitudes. Brothers Remington, Emerson and Sebastian are some of the most fascinating guys you will find anywhere in the music world at the minute—find an article about them online and you'll find a taste of a band who has sacrificed everything in the name of art and have reaped the rewards since. What's more, they've also cultivated one of the most devoted and creative fanbases going, and with the release of their second album Boom Boom Room: Side B less than a fortnight away, it's the perfect time to become a Soldier of the Royal Council.
FROM: Las Vegas, USA
FOR FANS OF: Black Veil Brides, My Chemical Romance, The Rolling Stones
PVRIS is a band that walks on the darker side of life in practically every way, from their moody monochrome aesthetic to frontwoman Lynn Gunn's raw, cathartic lyrics. If you had to pin them down to just one word, 'haunting' would be a damn good choice. They're not just a band for you and your rock-loving friends either: in a world where genres are starting to blur and blend with each other, PVRIS are true originals, with enough guitar and drums to satisfy your appetite for rock music, but with a sprinkling of electronica which will appeal to those who prefer their music a bit more radio-friendly. The places PVRIS could go from Top 10 albums and festival main stages are limitless.
FROM: Massachusetts, USA
FOR FANS OF: Bring Me The Horizon, Against The Current, The 1975
How many more pop-punk bands does the world need? Well, if you're going to squeeze just one more into your music library, State Champs would be an excellent choice. They're one of those bands who just get it: been in love? They feel you. (Seriously—nobody understands what having a crush is like more than Derek DiScanio). Been betrayed? They know how that feels too. All this, plus the catchiest choruses that'll never leave your brain, and a giant dose of pure fun—what's not to love?
FROM: New York, USA
FOR FANS OF: All Time Low, Neck Deep, Real Friends
Waterparks is a band that could go anywhere. Their brand of quirky, exuberant pop rock fits just as well on the big stages of Slam Dunk Festival and Warped Tour (R.I.P...) as on the radio, and if you were starting to think all rock music was getting a little samey, these guys will easily change your mind. It's not just the music that sounds fresh, mind—Awsten Knight is a whole new breed of frontman all on his own, with a personality that could fill entire rooms and lyrics you could only eloquently describe as 'absolute corkers.' Also, if you happen to be bored on the Internet or are just feeling a bit meh, his Twitter feed is a genius source of (no pun intended) entertainment.
FROM: Texas, USA
FOR FANS OF: Um... Waterparks?
Did you enjoy this article? Like my Facebook page (@E.W. Hemmings) for the latest updates on what I'm writing and when, and leave a tip for extra awesome points. :)