The Enigma Variations, by Edward Elgar
Some intriguing suggestions have been made to solve the "enigma"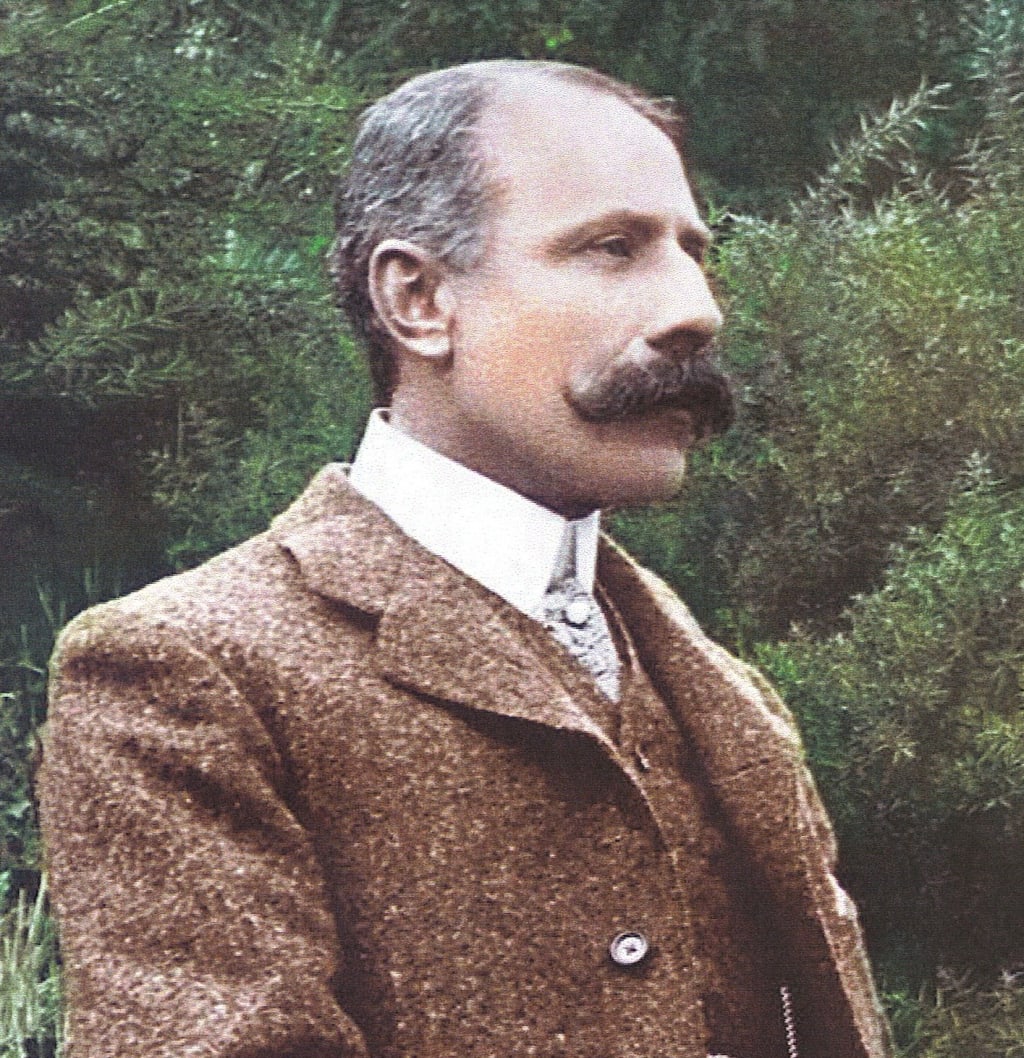 The Enigma Variations is one of the most popular orchestral works written by the English composer Sir Edward Elgar (1857-1934). It comprises a theme and 14 variations, the last one also doubling as the work's finale. It was composed in 1898-9 and was first performed in London on 19th June 1899 when it was an immediate success.
Elgar was something of a late developer, and, at the age of 42, had produced plenty of chamber and choral music, but nothing that had really grabbed the public's attention, and certainly no major works for full orchestra. By contrast, Mozart had clocked up 41 symphonies by the age of 32. After "Enigma", Elgar was to go on to compose his Pomp and Circumstance Marches, two completed symphonies, his famous concertos for violin and for cello, and much more besides, all within a 20-year period that took him into his 60s.
The genesis of the work
The story of how the Enigma Variations came about is an interesting one. Elgar had had a tiring day giving violin lessons and he sat down after dinner in the evening at his piano, lit a cigar, and began doodling on the keys. His wife Alice remarked that she liked the tune he had played and Edward began to play around with it. He turned to Alice and asked her who it reminded her of. She replied that it sounded just like how their friend Billy Baker left the room, slamming the door behind him.
Elgar then had the idea of writing a whole series of musical portraits of people they knew, and the end result, entitled "Variations on an Original Theme", was dedicated "To my friends pictured within". The variations vary in length from under a minute (Variation IV is usually played in less than 30 seconds) to over four minutes (the majestic "Nimrod"). The finale, which is also Elgar's self-portrait, runs to about five and a half minutes. Performances of the whole work normally stretch to about 33 minutes.
Portraits in music
Each variation was inscribed with the name, nickname or initials of the friend in question, and it has been possible to identify who each person was, with the exception of Variation XIII which was inscribed "Romanza: *** ". It was long thought that this was Lady Mary Lygon, who was sailing to Australia at the time of composition, but another theory is that the subject was Helen Jessie Weaver, who was Elgar's first love as a young man, but who had broken their engagement and emigrated to New Zealand. As it is, this wistful piece, coming just before the finale, quotes Mendelssohn's Calm Sea and Prosperous Voyage on a solo clarinet above a repeated drum beat that represents the throb of a ship's engines. Elgar would have kept the name hidden out of respect for his wife.
The variations provide a wide range of moods and orchestral colours, from the light and airy "Dorabella" to the swelling and solemn "big tune" of "Nimrod". The subject of the latter was Elgar's publisher and loyal supporter August Jaeger, to whom Elgar felt he owed a huge debt of gratitude for helping him through the hard times. The name is a pun on Jaeger's name, which means "hunter" in German, with Nimrod being a character from Genesis who is described as "a mighty hunter".
Elgar explained to Jaeger that he liked to imagine what each subject of the variation would have written "if they were asses enough to compose". He therefore tried to get inside the person in question, so that the variation is not so much his view of them as their view of themselves. He also incorporated musical references to certain personal characteristics such as a laugh (in Variation VIII) or a stutter (in Variation X). In Variation XI the subject's dog falls into the river and scrambles out with a bark. In Variation VI, representing a viola player, Elgar makes the viola players in the orchestra cross straight from the fourth to the second string, which is difficult to do without catching the third, which is presumably what the unfortunate "Ysobel" tended to do!
In the case of the Nimrod variation, one wonders how true it might be that these are largely imagined self-portraits, because if this is how August Jaeger regarded August Jaeger, he must have been a very conceited man! Variation IX stands out as the "star" of the Enigma Variations, often being played out of context, such as at the annual Remembrance Day ceremony at the Cenotaph in London's Whitehall and many places besides. It is an adagio that brings to mind a Beethoven slow movement, which is a deliberate reference to Jaeger's supposed encouragement of Elgar to the effect that the latter could do what Beethoven did and triumph above adversity.
What is the theme?
One feature of the Enigma Variations that has intrigued people ever since is what the theme actually is, hence the name "Enigma" which the piece soon acquired. Elgar called it "an original theme" and never divulged if there was more to it than that. In the program notes for the first performance he wrote:
"The Enigma I will not explain, its 'dark saying' must be left unguessed. Furthermore, through and over the whole set another larger theme goes, but is not played".
As far as the heard theme was concerned, Elgar implied that it was obvious, uttering statements such that it was "so well-known that it is extraordinary that no-one has spotted it". This has led people into all sorts of directions, including everything from "Rule Britannia" to "Pop goes the weasel" as suggestions for the origin of the theme, not quoted directly but written upside-down, or as a counterpoint to the actual theme.
In more recent times the musicologist Joseph Cooper suggested that the theme came from Mozart's Prague Symphony, which was a particular favourite of Elgar's and was included on the bill at the concert when the Enigma Variations were premiered.
Another theory is that the first four notes of the theme can be represented by the numbers 3, 1, 4, 2, which are the first four numbers of "Pi". Could it be that the "dark saying" was "four and twenty blackbirds baked in a pi(e)"?
However, an even more intriguing suggestion was made in 1985 by Marshall Portnoy, who referred back to Elgar's contention that the "larger theme" is never actually played, and that what should be sought is not an actual musical theme but a motif.
Portnoy's theory is based on Elgar's love of puzzles and numbers and his veneration of J. S. Bach. It is well known that Bach himself used the letters of his name as a musical theme, given that, in German notation, BACH can be represented as the notes B flat, A, C and B natural. Portnoy claimed that the Enigma theme used these same notes in that order.
However, Portnoy went further by suggesting that, if numbers are assigned to letters (A=1, B=2, etc), the values of ELGAR and JSBACH both come to 43, and there are exactly 43 notes in the initial violin statement of the Enigma theme. Added to that, the Nimrod variation dedicated to Elgar's greatest friend contains exactly 43 bars. The letters BACH "add up" to 14, and there are 14 variations. Read as numerals, BCH is 238, and there are 238 bars in the final variation, in which Elgar portrayed himself.
Elgar wrote a quotation from the 16th-century Italian poet Tasso at the end of the score of the Enigma Variations. This was "Bramo Assai, Poco Spero, Nulla Chiego". This translates as "I long for much, I hope for little, I ask for nothing", which are sentiments that were very appropriate for Elgar at this point in his life. The initial letters of the first two words, plus the first two letters of the final word, spell Bach! A coincidence? Maybe!
Whatever the solution to the enigma may be, the Enigma Variations still comprise a highly enjoyable and evocative musical work by England's greatest composer, just coming to the height of his powers. It is a standard work played by many orchestras across the world, and will doubtless continue to be so. Attempting to solve the riddle only adds another dimension of interest!

John Welford
I am a retired librarian, having spent most of my career in academic and industrial libraries.
I write on a number of subjects and also write stories as a member of the "Hinckley Scribblers".
See all posts by John Welford →