Playlists
The Cross-Influence of Hip-Hop and Indie Music: A Playlist
Ten tracks that have helped mold the Hip-Hop and Indie scenes we know today.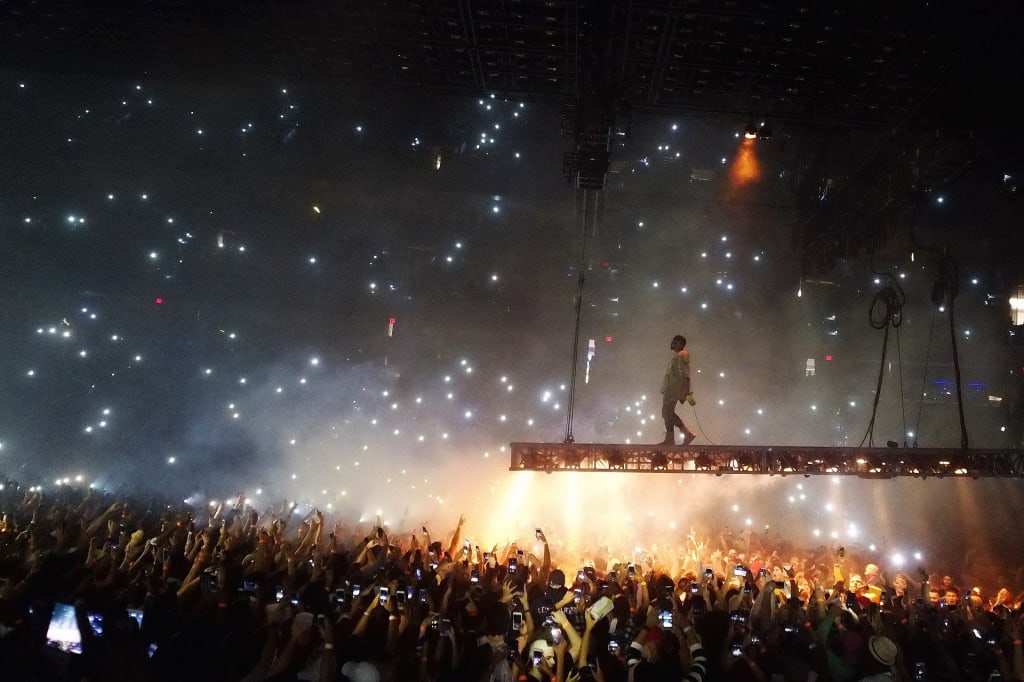 A scenic view of Kanye West during his 'Saint Pablo' Tour during 2016. West has been one of Hip-Hop's biggest proponents of sampling Indie music during his career. 
I've always had an affinity for songs that were different, futuristic if you will. Songs that would create eras and ways to usher in new aspects of music. Hip-Hop and Indie music have always produced that, but have existed as largely separate genres, complete with their own unique sound and cultures. However, despite the genres' differences on the surface, they possess a commonality: they began as forward thinking, underground styles that have adapted and grown to encompass a spectrum of sounds and mainstream success.
Growing up in a predominantly mixed-race neighborhood in South Philadelphia, a song like "Time To Pretend" by MGMT was played just as commonly as a track like "Duffle Bag Boy" by Playaz Circle. As I began to blend these two genres into my everyday life, it not only helped mold my career path as a Music Journalist, but it gave me means to connect with individuals that otherwise, I'd never have much in common with. While this is very personal to my upbringing, it can be translated to so many other lives across the world, especially to those that now affect the music business we consume today. Perhaps this similarity has allowed for Hip-Hop and Indie music to blend more thoroughly during the current decade than they have before in the past. Artists such as Lil Uzi Vert, Travis $cott, Kanye West, and most importantly, Kid Cudi, have helped usher an indie influence on hip-hop through the age old feature of sampling (among other cultural facets). Many contemporary artists who fall under the indie umbrella like Blood Orange, Lana Del Rey, Wet, Lorde, and Purity Ring have created production styles and lyrics that are notably influenced by Hip-Hop.
And this is all thanks to the Internet.
Through mediums such as Soundcloud, songs, artists, and sounds that before have never been accessible, are now so. Indie and Hip-Hop artists seem to have exchanged successful means of their culture, adapted it to theirs, creating new and fun ways to ingest music. For instance, many Indie songs that gain popularity on Soundcloud or Spotify regularly release remixes, a practice that has been common in hip-hop decades. Bands such as Bastille and The Neighbourhood have also released mixtapes when debuting a handful of new music, another characteristically hip-hop practice. Some Hip-Hop artists, such as A$AP Rocky, take influence from indie music in their self-presentation rather than in their music. In fact, A$AP Rocky first found fame through Tumblr, due to his late business partner (and leader of the A$AP MOB) A$AP Yams' fluency with the Internet. But when A$AP Rocky's "Peso" track blew up, Tumblr was (and still is) generally more associated with Indie music acts than with Hip-Hop, but somehow created the means for he and the A$AP MOB to become household names.
Below I analyze 10 tracks that show the influence of the opposing genre on the artist's song or the artist as a whole.
"Swagga Like Us"
Artists: T.I. ft. Lil' Wayne, Jay-Z, Kanye West
Album: Paper Trail (2009)
Sample: "Paper Planes" - M.I.A.
In what I regard as one of the best hip-hop collaborations of all-time, "Swagga Like Us" grabbed the ears of nation by not only having four of the best rappers on the Hip-Hop scene bringing their best bars, but by sampling the the chart-topping "Paper Planes" by M.I.A., an indie artist known for creating hip-hop-like beats, but staying true to her electronic sound. The song repeats the lyrics "No one on the the corner have swagga like us" for it chorus, backed by militant-like 808s for rappers' self-indulging lyrics, winning T.I. a grammy for their efforts in 2009.
"Pursuit of Happiness" ft. MGMT
Artist: Kid Cudi
Album: Man on the Moon: The End of Day (2009)
Taking off from where his acclaimed mixtape (A Kid Named Cudi / Dat Kid From Cleveland) left off, Kid Cudi took his indie influence to the top of the charts with "Pursuit of Happiness." Reaching the number three song in the country, the song was produced by Indie legends Ratatat and was provided vocals from the now-legendary Indie group MGMT, but at the time were just beginning to be taken notice of by listeners of the indie music world after the release of Oracular Spectacular, an influential album that is regarded by Rolling Stone as one of a Top 20 album of the 2000s. As for Man on the Moon, it introduced a Hip-Hop world that would look into the mental state of the artist, specifically, battles with depression, with "Pursuit of Happiness" becoming the most popular song off of it. Kid Cudi is a key influence on how Travis $cott creates his music, along with many other of today's popular hip-hop artist as you see more vulnerability in their lyrics compared to those of the early to mid-2000s.
"Opposite of Adults"
Artist: Chiddy Bang
Album: The Swelly Express (2009)
Sample: MGMT - "Kids" (2007)
Before their hiatus in 2012 and breakup in 2013, Chiddy Bang was on the the rise to being Hip-Hop's newest stars. Much of Chiddy Bang's producing half, Xaphoon Jones' (now known as Noah Breakfast) influence stemmed from the indie music scene, as it does in his current work. Their takeoff on the rise to stardom came with their debut track, "Opposite of Adults," which is a play on the name and samples the melody of popular MGMT song, "Kids," which also happens to be on the aforementioned Oracular Spectacular album. The song is taken from a 4/4 time signature to a 2/4 (at around 95 beats per minute), giving the song that signature bounce Chiddy Bang is known for. Additionally, sharp cuts to some of the melody from "Kids" to give it a unique, hip-hop sound.
"The Thrill"
Artists: Wiz Khalifa
Mixtape: Burn After Rolling (2009)
Sample: Empire of the Sun - "Walking on a Dream" (2008)
B.A.R. (Burn After Rolling) was Wiz Khalifa's first nationally notable mixtape and the one that showed his top influencers at the time, as most of his songs one the mixtape are of Khalifa rapping over the beat of other popular music. The number one song off of the mixtape, "The Thrill," is simply Khalifa rapping over indie icons Empire of the Sun's "Walking on a Dream." It was much different than any other song on the album and provided a melodic sound that Khalifa has become known for rapping over in his work following Burn After Rolling.
"Lost In a World"
Artist: Kanye West
Album: My Beautiful Dark Twisted Fantasy (2010)
Sample: Bon Iver - "Woods" (2008)
Indie superstar Justin Vernon and group Bon Iver provide their song "Woods" to Kanye for what many regard as his best album to date. The song exist much as it does in its original form, though Mr. West remixes the song at the end of the chorus (:57 seconds), putting his Hip-Hop imprint on it. Hailed by Kanye as his "favorite artist," this is just one of many Justin Vernon/Bon Iver aided hip-hop projects; they've also worked with Travis $cott, Vince Staples and Jay-Z, among others. With those hip-hop stars in tow, the influence that Bon Iver and frontman Justin Vernon have created in hip-hop is apparent.
"The Show Goes On"
Artist: Lupe Fiasco
Album: Lasers (2011)
Sample: Modest Mouse - "Float On" (2004)
On his most acclaimed body of work, Lasers, Lupe Fiasco's Grammy nominated "The Show Goes On" references several musical influences outside the world of hip-hop, none bigger than Modest Mouse's "Float On," one of Indie music's most recognized songs. The melody of "Float On" was ingrained into the melody and guitar line of the Lupe Fiasco track.
"Affection"
Artists: Crystal Castles
Album: (III) (2012)
Crystal Castles is a Indie electronic music duo that consists of members Ethan Kath (producer/songwriter) and Edith Frances (singer). But before Frances came aboard, Alice Glass was the frontwoman and face of Crystal Castles where in 2012, they released the single "Affection" from their album titled (III) (pronounced "three"). The album became the most listened to album on Tumblr and HypeMachine in 2012 (Internet publication that focuses on music news, song premieres, where music was released and criticized before Soundcloud). From the opening second of the song, you can feel the hip-hop influence on the song, as the beat builds into a drop where the chorus starts, which can be seen in the work of of hip-hop producers such as Pharrell and Timbaland. Speaking of Timbaland, the melody of the song is eerily similar to "My Love" by R&B singer Justin Timberlake, which he produced.
"Fineshrine"
Artists: Purity Ring
Album: Shrines (2012)
In 2012, Purity Ring took the indie scene with their single "Fineshrine," equipped with a jarring, head-bobbing hip-hop beat that smooths into bubbly sounds underneath the angelic voice of singer Megan James. The song caught the ear of hip-hop artists such as Danny Brown and Ab-Soul, who then selected the producing half of Purity Ring, Corin Roddick, to begin creating beats for their respective albums. A majority of Purity Ring's songs can be found to have Hip-Hop/Lo-Fi electronic type beat which James sings over. This one of two production styles that can be found among many newer indie collectives.
"Sugar"
Artists: Terror Jr.
Album: Bop City (2016)
Though they burst onto the scene in 2016 after listeners believed Kylie Jenner was the lead singer of the group, Terror Jr. has been able to keep the ears of indie scene due to their dreamy pop sounds with a hip-hop undertone, but keeping the dark lyrics many indie acts are known for. This is the other production style that you'll hear among newer indie acts. In fact, the producers for Terror Jr. (which members are kept very secretive) worked with fellow indie pop member Kiiara on her debut hit single 'Gold'. If you listen to these two songs, they are very similar in how they are constructed. Though some of their influence stems from the "Future House" genre, that alone extends itself to having a foundation that is constructed from elements of hip-hop.
"Landslide"
Artists: Oh Wonder
Album: Oh Wonder (2015)
If you listen to any other song from Oh Wonder, you'll be asking yourself why they're being compiled with the other artists in this article. They are original indie music, through and through. The melancholy tones, the male and female voice of Anthony West and Josephine Vander Gucht in harmony, just octaves apart from one another. But as many artists do, they experimented with sound that will bend their genre, but will stay true to who and what they are. This is what we find in Oh Wonder's "Landslide." The beginnings of the song are instinctively hip-hop: the signature repeating sound effect to open a song, which are then backed by snaps to set a rhythm and addition of bass to make the melody sound complete. But it then moves away from these sounds and becomes a classic Oh Wonder song again. BTW, If you feel like you've heard this melody somewhere before, you have. Lil Uzi Vert samples "Landslide" almost in its entirety on his song "The Way Life Goes."
Collaboration, the exchange of musical elements, even fashion are just a few examples of the blending of these cultures within the last several years. This is due to the fact both genres share the same fans. In recognizance of their common goal of the genres to challenge the status quo, people feel free today to create and listen to music that challenges the framework to which indie music and hip-hop live within, and mold them into something that stands alone.