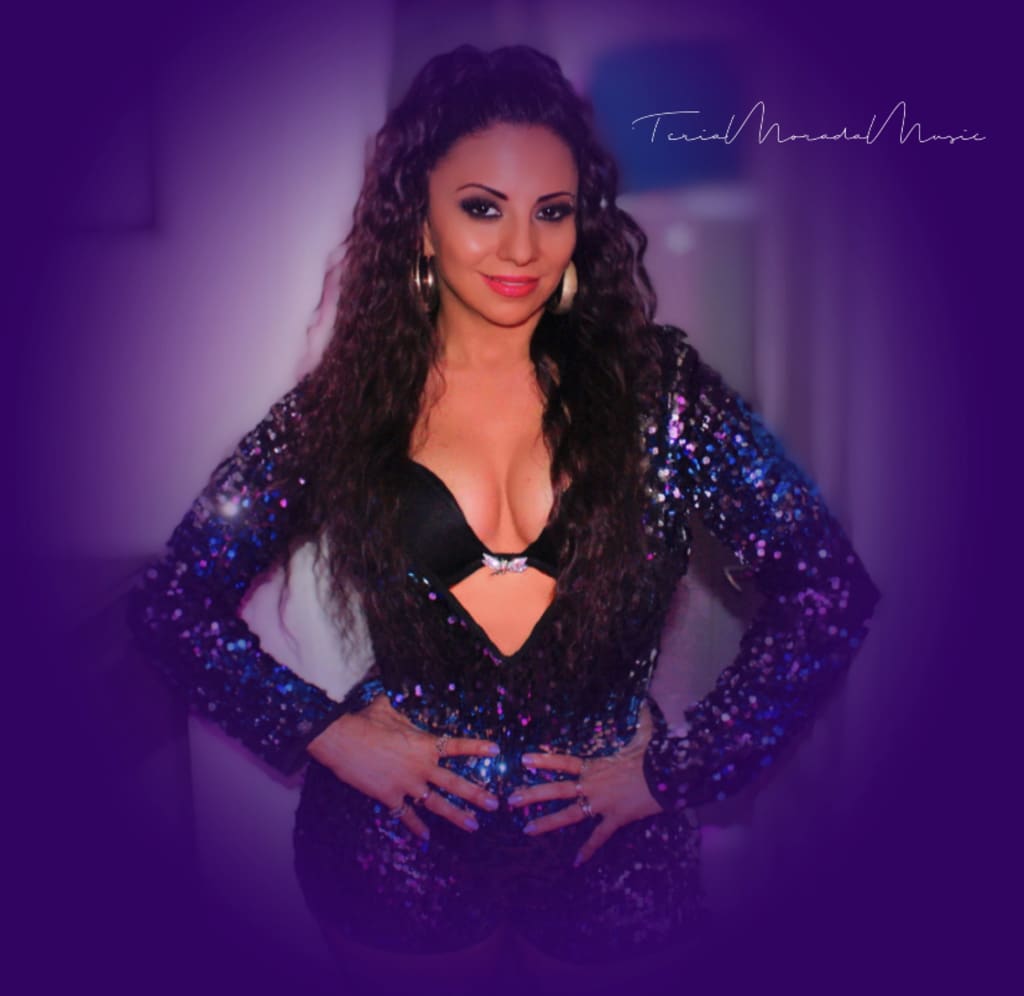 Teria Morada is a musical artist and songwriter from Toronto, Canada.
What makes you different as a person and as an artist?
My ability to see the good  in everyone  and my ability to connect with people of all ages. Personally and through my art. Most people, especially kids but adults alike, find it easy to connect with my young spirit and high energy. These are traits that are absolutely genetic and I really don't feel much in control over. It is what it is. I am who I am. An Aries ball or energy.  I can usually ignite people around me with low energy into a high energy makeover;) However, this can also be overwhelming for some. In general, I do not believe that things will land in my lap as a person or as an artist. I've always been an advocate of hard work. I thrive on it.  I thrive under pressure too.  I am also extremely passionate about almost everything I do and I can dream up something and make it come to life thru music and/or dance immediately and vividly;) Its a lot of fun!  I'm very lucky.
What do you want to accomplish in life?
I really just want to be able to continue living from my art and as I get older, more comfortably. I know my lifestyle in the arts can sometimes be bumpy because that's the nature of the entertainment business but a little more stability would be awesome. I would like to keep knocking big goals off my list and with a smile on my face. Encouraging and connecting with those around me. Up comers and veterans. To lead and to learn.  I want to create unforgettable music and art.  I aspire to inspire people. I want to be the best I can be. Always.  
Where do you see yourself in 5 years?
I see myself touring the world, performing my music and dancing my steps.  I see my ideas come to life on stage and on video even more than now. I hope to be financially supporting and to continue emotionally supporting members of my family. I look forward to investing more and producing more upcoming artists and on a grander scale. I would like to continue to grow my team and evolve my brand resulting in broader global recognition. I'm already an ambassador of healthy living but upping my game is one of my goals. Pushing my body, mind and soul to be better and stronger is also in that list. Billboard recognition would be icing on the cake!
What do you bring to the music world?
The music world is always going to get something different from me. I'll keep my fans on their toes as I am unpredictable when it comes to releases. One day it's pop, next day it's latin. Maybe dance and then reggaeton. I'll try and keep them guessing, peers and fans alike. I think that because I'm a  singer and dancer, I bring a different type of vibe to the industry.  I'm more of an entertainer. I put on a spectacle. My music paints the picture. Also, I'm super honest and loyal so my image will definitely surround the music industry with a little more "goodness" as it has a bad wrap of being a shady industry.   Most that know me, know I don't do shady.
What legacy do you want to leave behind?
I want to leave a legacy of excellence! I want my family to remember me as a big hearted person who was loyal to a fault but was the most passionate and hardworking person/artist that they know. I would want the world to feel this way about me as well but I'm sure my family and friends who know me best would be the proudest of me and my accomplishments. I want people for years to come to be inspired by my hard work and perseverance and of course, mostly by my creations.
About the Creator
Jason James is an American journalist Andrew writer from Miami, Florida that specializes in covering the entertainment industry.
Reader insights
Be the first to share your insights about this piece.
Add your insights