Sounds of Christmas 2020
Sing we now of Christmas, Noel, sing we here!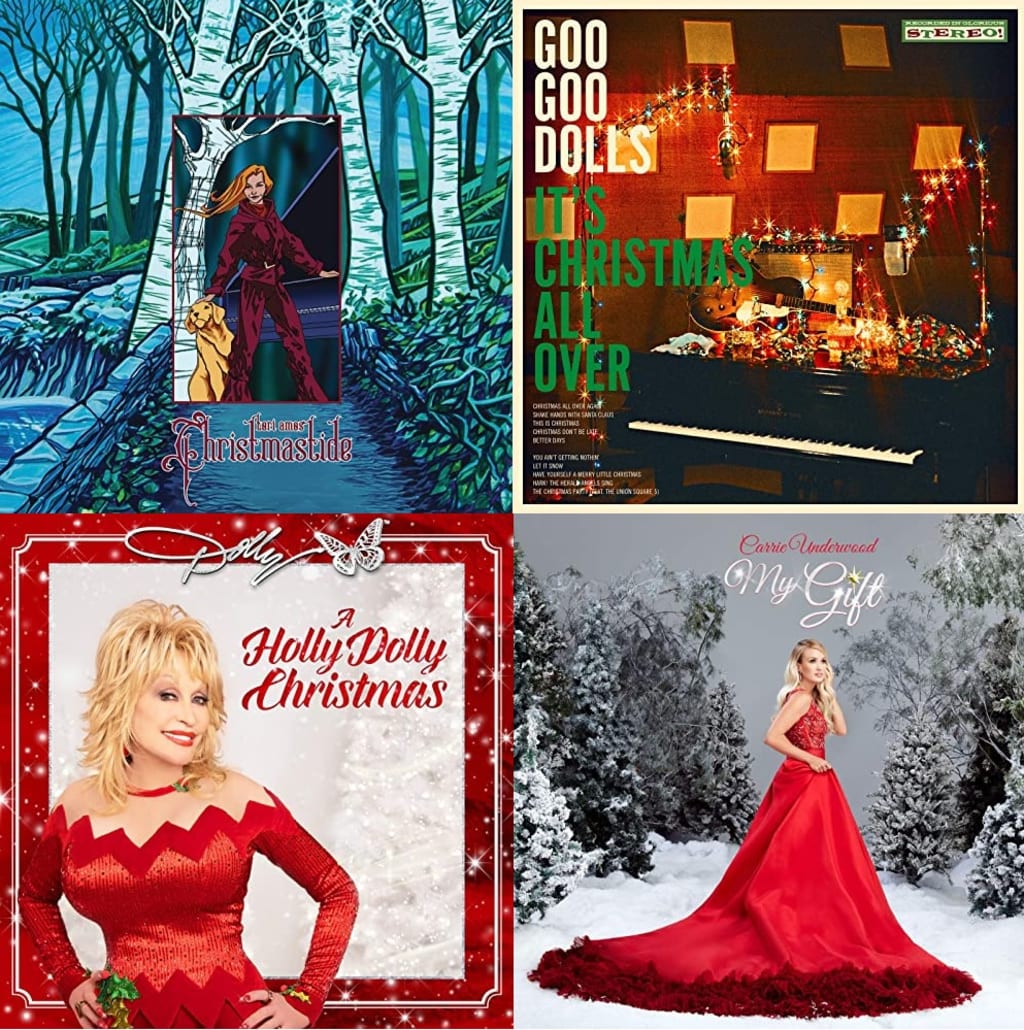 I'm always amazed every year how unexpected seasonal albums suddenly pop up from seemingly nowhere as each turn of the calendar gets closer to December, but even as dismal and unsettling as 2020 has been, a short list of new Christmas albums somehow managed to appear and command my seasonal attention.
Tori Amos: Christmastide – The ever-eclectic Tori Amos delivers Christmastide, a delightfully unexpected seasonal EP consisting of four original Amos holiday tunes. While all of the selections offered in this all too short masterpiece are superb, the exceptional "Better Angels" is not only this set's shinning jewel, but it's one of the best compositions Amos has released in recent years.
Amos fans familiar with her full-length holiday album, Midwinter Graces will already have an idea of Amos' unique flavor of yuletide fare, but Christmastide not only sits exceptionally well next to Amos' previous holiday collection, it also echoes back to her Scarlet's Walk era of masterworks.
Goo Goo Dolls: It's Christmas All Over - As unlikely as it seems at this stage in the game, Goo Goo Dolls make a last-minute entry into the yuletide ether with It's Christmas All Over. The Dolls' holiday platter offers up such tasty morsels as a superb cover of Tom Petty's "Christmas All Over Again" and an updated version of the novelty hit "The Chipmunk Song (Christmas Don't Be Late)." However, the real magic here is John Rzeznik's original "This Is Christmas."
While It's Christmas All Over has it's shining moments, but they are few and far between, ultimately giving the feeling that the album was a quickly thrown-together afterthought. Not to mention the gratuitous and monotonous cover sung by someone's tone-deaf child. I've often wondered why it is so often accepted at the holidays that we should be forced to suffer through youngsters singing off key? I don't find it precious in the least. Ultimately, the good moments are great, but there are too few of them to justify an entire album.
Dolly Parton: A Holly Dolly Christmas – Dolly Parton serves up her third holiday platter of comfort and joy with A Holly Dolly Christmas, which manages to make this year's holiday season fun and bright. Parton's latest is a nice mix of originals, covers, and festive duets including the flirtatious "Cuddle Up, Cozy Down Christmas" with Michael Bublé and a surprisingly delightful cover of Mariah Carey's global smash "All I Want for Christmas Is You" with Jimmy Fallon (which quite frankly, only Dolly Parton could successfully manage to pull off).
Unfortunately, Parton falls into the all too familiar holiday trap of insufferable guest appearances, such as Billy Ray Cyrus ("Christmas Where We Are") and his infamous daughter Miley. Fortunately of the latter, Parton's beautiful original ballad "Christmas Is" is such a great song, even her goddaughter's superfluous guest vocal isn't enough to ruin it, although it will likely leave listeners asking why her contribution was necessary. However, overlooking those few missteps will be worthwhile, as Dolly's third holiday home run is a rewarding experience, worthy of finding a place within your country Christmas collection.
Carrie Underwood: My Gift – American Idol champion and Grammy-winning country artist Carrie Underwood delivers her first full-length collection of Christmas songs on My Gift, which is quite ballad heavy, but a perfect holiday soundtrack for opening gifts or enjoying stolen moments by the fireplace.
The majority of the album is typical holiday fare, but delivered impeccably with subtle arrangements. Although only containing three new originals; the jubilant "Let There Be Peace," the touching "Sweet Baby Jesus" and the inspired duet with John Legend "Hallelujah," each are sure to become holiday favorites for years to come. Greg Wells' understated production makes My Gift shimmer with an elegant abundance of Christmas spirit.
It's also worth mentioning Underwood's cheery Amazon Original bonus track "Favorite Time of Year" should most definitely have been included on all versions of this enchanting Christmas gift of music.
About the Creator
I'm a music journalist, blogger and crate digger. I began writing about music during college and again as a freelancer. Links to my published pieces can be found on my music blog at: popmartzoo.com and/or follow me on Twitter:@popmartzoo
Reader insights
Be the first to share your insights about this piece.
Add your insights