Review: Jackson Browne in Atlanta
Acoustic show brings timeless classics and smooth sounds.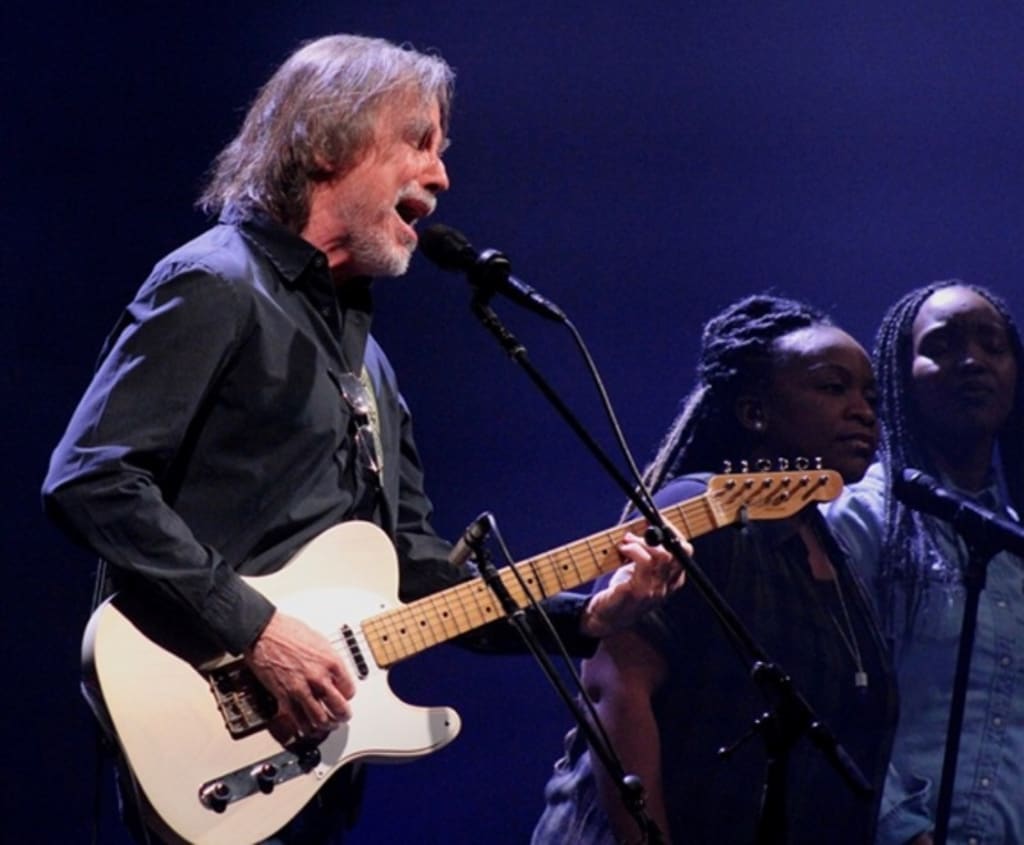 Last night, Jackson Browne's small, yet sold-out tour made its way from Chattanooga to Cobb Energy Arena, just outside Atlanta for his intimate acoustic show.
Browne's first stop in Atlanta since 2015, was a stripped down and soulful, offering of his extensive catalog, before he embarks on a larger tour later this year. Anticipation for this event was at a fever pitch, as the crowd could barely contain their excitement for most of the show, eagerly shouting out song requests, as if this were Hugo Frog's Piano Bar, and not a cozy performance with one of the legends of music. A hiccup in the show Browne took with stride, being the consummate professional he is suggesting, "...maybe one for you and one for me."
Mom... dad... REALLY? I have to take a sidebar here and laugh for a minute, because I'm nearly 40, and the median age at this concert was older and knew better. This is what you get when your parents tie one on after dark, I guess. 'AARP Rumspringa' in full effect. Read your tickets... it's an acoustic show. Not a cover band at The Thirsty Whale during chicken wing night. Jackson Browne is not a DJ taking $1 for your requests and dedications. Don't make me pull this car over...
At least no one yelled, "Freebird!" so there's that.
ANYWAY, now that we've stopped cringing over our parents embarrassing us, let's continue, shall we?
Flanked onstage, by the beautiful, rich harmonies of vocal talents Alethea Mills and Chavonne Stewart, who matched the mood and the timbre spectacularly and complimented every note, Browne took the audience on the familiar musical and lyrical journey that has made the 70 year old the legend he is today. An especially poignant newer song, "The Dreamer," written and inspired by the struggle of DACA recipients, reminded us that while Browne's music does invoke a sense of nostalgia within us, that makes some want to shout the titles of their favorites at the stage, the new stuff is good; meatier, wiser, and more poignant. The set was simple, and made you feel like you were over at Browne's house on a quiet Monday night, telling stories and having a jam session.
While a slew of guitars were on the stage, Browne also found himself behind the baby grand piano, providing achingly beautiful harmonies with Mills and Stewart, while famed guitarist Greg Leisz added textures to the music that gave it a whole remastered feeling in its simplicity. The musicianship and voice haven't lost anything over the years, in fact, one could even argue that it has aged like fine wine and has only become richer with experience. The quartet hit every high and low seamlessly.
Of course we heard the hits, "Running On Empty" and "The Pretender." There were moments Browne acknowledged his tenure on the music scene, and how one of the caveats of becoming the elder statesman, is that you start to lose your friends along the way. The heart of the show was on display when Browne shared a tribute to his dearly departed friend, Gregg Allman, with the gorgeous, "These Days."
As with Allman, Browne continues the legacy of the musicians of his generation, by proving that these legends will never die. The music will go on with a piece of ourselves forever woven into it. A body of work should have its quiet notes and moments for you to absorb and take with you.
If you have the opportunity to see this show as it rounds out the tour, it comes highly recommended. Just gently remind mom and dad that this is an acoustic show, and he'll get to the hits. No need to yell.