Review: Ariana Grande at the O2 Arena, London
Ariana Grande's 'Sweetener' World Tour at the O2, August 19, 2019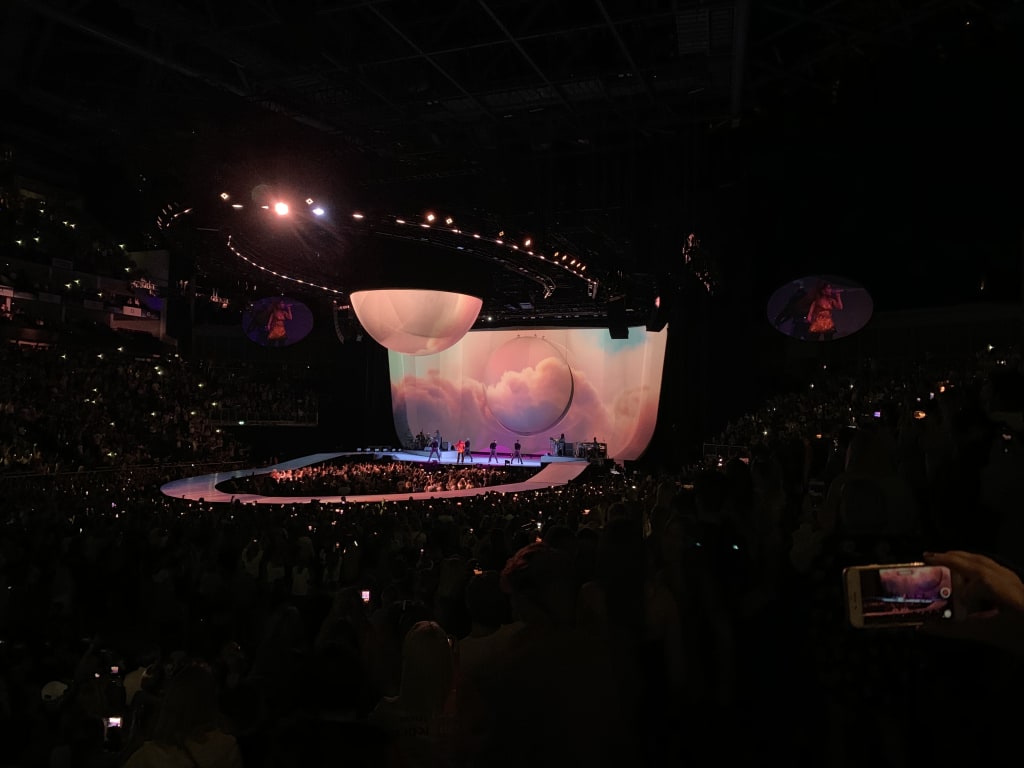 the light is coming... or is it?
I'm a massive Ariana Grande latecomer. For a while I was quite a pop culture snob, slating most of the top 40, reality TV, and the crappier talent shows. For context, I just started watching Keeping Up with the Kardashians two weeks ago (from the very beginning, and yes I love it), and when watching Gemma Collins: Diva Forever I have to ask my housemates for context about every 30 seconds.
I thought when I started working at a major record label, I would become more discerning, get heavy into bands no one had heard of, and go to lots of tiny gigs. While I definitely did discover a lot of new music, it's not really surprising that the environment made me appreciate pop a lot more. The unashamed and genuine enthusiasm everyone around me had for music and artists that I would generally consider manufactured and shite was pretty refreshing. And, honestly, kind of a relief.
Enter Ari. I remember waking up the day after the Manchester Arena bombing and seeing the BBC News notification. It was unimaginably tragic, and a very strange moment to have to think about how it affected work when digital media and promo should be the furthest thing from your mind. We were due to release our weekly internal mailer the next day, which we cancelled, and my colleagues paused all advertising for any pop acts. I sat on the same floor as Ariana's UK label (Island Records), and the admiration with which people spoke about her benefit concert was really heartwarming. She did what she could in an unspeakably traumatic and painful time, and it was 10 times more than many would have the strength to.
So then when Sweetener came out, I was invested in Ariana, and wanted her to succeed. The album contained multiple bangers and incredible vocals, as well as thoughtful lyrics about anxiety and grief, and everything she had been through. Then, after what Ariana had already contended with, I have no idea how she coped with Mac Miller's death. I think it's reasonable to say that really, she didn't, as no one could. What she did do was (accompanied, apparently, by a lot of champagne) channel it in her music. Having split from Pete Davidson, the single and then album thank u, next changed everything, and her fame in the UK skyrocketed. I made sure to secure myself a ticket to the O2.
I was insanely excited by the time the gig came around. I bought the Sweetener World Tour-branded clear bag for the gig (my friends just used freezer bags from Waitrose, but hey, I've got my merch now). She opened with "when raindrops fell" followed by "God is a woman", and I was immediately so happy and relieved by her simply incredible vocal performance. The only problem was: I couldn't really see her.
The set design was based around an eclipse, with a big orb in the middle of the stage, and very soft red and pink light at the beginning. Crucially, there was no real spotlight on Ariana. When she and her dancers rose from beneath the stage, I didn't even realise she was there for a good few bars.
I assumed that the idea was that the sun would come out eventually, but as the gig wore on, it seemed this wasn't the case. "the light is coming" was the perfect opportunity for the sun to come out from behind the eclipse, and for the stage to light up, but it never happened.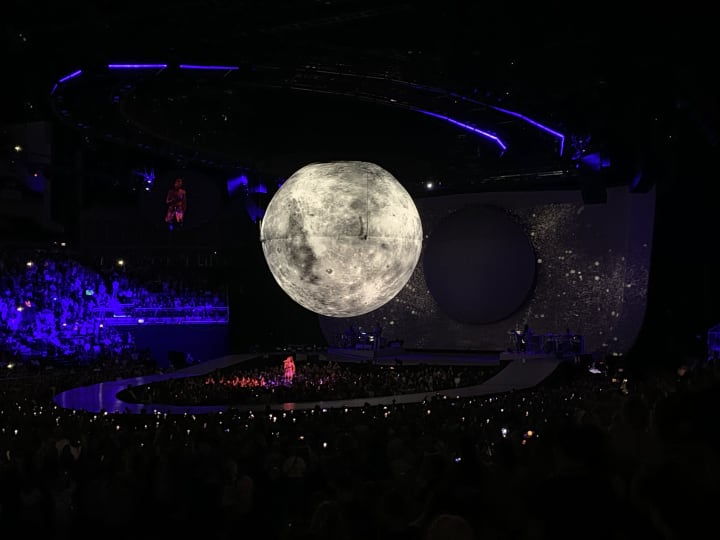 There were several really cute moments. The home movie of the Niagara Falls scene from Bruce Almighty was a brilliantly random addition, and I laughed every time she ran off stage for a costume change in her trademark ankle-breakingly high heels. I welled up in "thank u, next". The highlight of the night was "Break Free". Partly because, obviously, it's such a banger, but the energy from the crowd and the huge rainbow flag production made it a real moment. I felt the most connection during this song.
Generally, however, although I can't fault Ariana's vocals and I respect trying something unusual with lighting and production, I felt quite disconnected. The very minimal crowd interaction felt pretty forced, and I couldn't help feeling like she was pretty keen to just do the performance, get off stage and have it done. I almost could have been at an Ariana-themed club night as it didn't really feel like she was there. And maybe she's not. Maybe with everything that's happened these last few years, there's a protection and a shutdown necessary to keep going. And I can't really blame her for that.