Recapping 2017: Standout Debuts, Pt. IV
With the year coming to an end, here are all the standout debuts of 2017 from new artists — or newish, at least.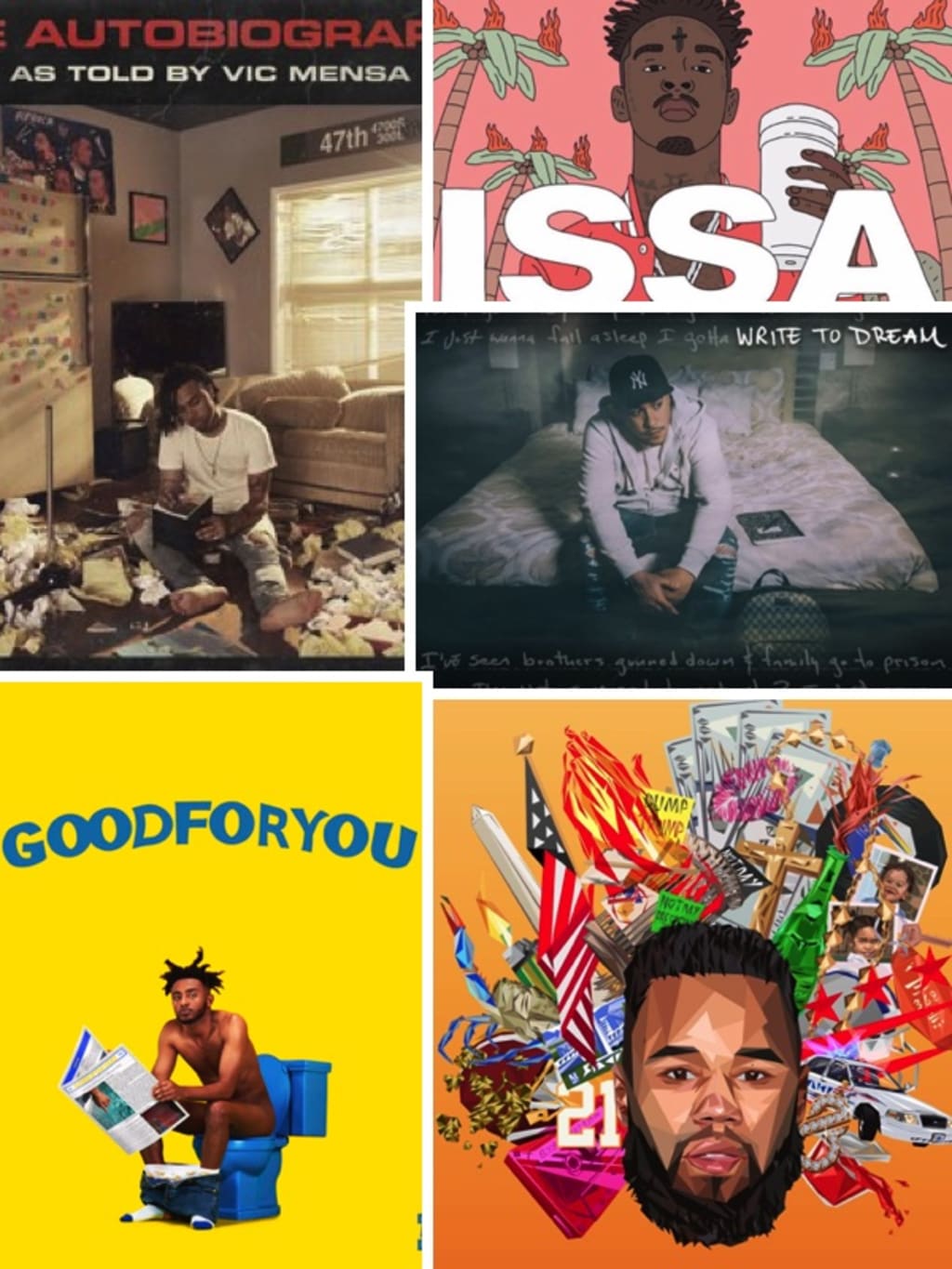 Vic Mensa, Chaz French, Rob Markman and more — here are all the standout debuts of this year... part four, that is. Don't forget to check out part three.
Release date: July 7th
Drenched in explicit tales of the trap life, 21 Savage makes his debut with Issa Album. Based-off interviews, 21 Savage used to live that life and nothing about this 14-track effort is fake. Some of the lyrics do illustrate a pretty gory picture but don't let the sinister vibes scare you. That's just his style. 21 Savage talks about what he knows, his experiences in the street, but also his triumphs and how much his life has changed. The ATL-native reaches his fans the only way he knows how, by speaking his truths on Issa Album.
Release date: July 14th
And it's another one for the lyrical babies of the New Era.
Back in March, Chaz French landed a major joint label deal with Raheem Devaughn's 368 (ThreeSixEight) Music Group and Motown/Capitol Records. About four months later, he perfectly executed his big debut — True Colors. He most definitely shows his True Colors on the 17-track album. It's a well-rounded project that has the good vibes, the socially-conscious bars, the motivational bars, real life experiences, and even the raunchy shit that he attests, "my momma or daughter can't hear this song." There's something for everybody; he even throws a couple jabs. When shifting in topic, there's a shift in the tone of his voice. I love it in an era where, well, everybody sounds the damn same! But, I digress.
In an interview with XXL's Georgette Cline, Chaz gives insight on the album, his life experiences that motivated him, and even his two musically-inclined kids. As Chaz talks about the album, he reveals that it served as a reset button. He was able to start over in his life, and there is nothing wrong with needing to restart your life emotionally and mentally.
"What do you want people to get from this project? like, your mission statement for it all.

My true colors. This is who I am, this is what I stand for, this is what I've seen, this is how I put it into my music, this how I live my life. I can be a shy guy sometimes, I can be withdrawn, I can be held back—but it's no reason for that.This is a start over for me, so this is what I want to be from here on out. I don't care what nobody has to say.
Why is it a start over for you?

I mean, you go through a lot of things in life to where I think people think starting over is a bad thing. It's not. It's just like turning the PlayStation off, and then turning it back on and having a memory card. Starting over is not bad at all—that was actually a great analogy; I saw it in your face [laughs]. It's just me starting over, and me accepting me for who I really am. Not everybody else, it's just more so for me. Chaz, this is who you are and accept it. Fuck it. Fuck it all. Risk it all."
Chaz French's lyrical wit is up there, but as far as a new-ish artist, he has some work to do honing in on his craft. He definitely has the potential to go far as long as he puts out more projects like this. He'll be successful as long as he never lets go of that mentality he had entering the making of this album. Even the mentality of witnessing his kids admire and mimic him. A talented artist, let's hope he keeps his momentum up.
Release date: July 28th
Vic Mensa steps out from under a Roc (ha, see what I did there) with The Autobiography. The 15-track album follows his life, covering his upbringing in Chicago, lost love, and to his come up now. The 24-year-old covers his inability to be sober, confronting that inner conflict alone: "I have a problem nobody knows." Of course, Mensa carries over his punk-rock style that actually plays out pretty nice. Let's not forget those hard-hitting beats laced with versatile and truthful bars. To take a moment: the lyrics were truthful but fell short in some areas. The title may have been bit overzealous, but let's give it to that kid for aiming high. Under the wing of his Roc Nation boss, Vic Mensa has come a long way. I'm sure with Jay-Z's knowledge, Mensa will only get better.
Release date: July 28th
From covering rappers as editor and writer for platforms like Complex, VIBE, The Source, MTV, XXL, to currently holding down the position of Head of Artist Relations at Genius—Rob Markman has now embarked on a new venture. This past summer he released his official debut album, Write To Dream, and it was a surprise to everyone. A pleasant surprise, that is.
The 8-track effort is a well put together conceptual album. An inspirational tale that tells a story of struggle but having that persistence to keep going until you've reached your dreams. This is Rob Markman's story. It's a collection of true stories that resonates with many, from wanting to get off the block, being betrayed by family, near-death experience, to seeking more in life. Write To Dream is both relatable and inspiring.
Check out the rest of my review of Rob Markman's Write to Dream.
Release date: July 28th
Lighthearted and yet pensive, Aminé delivers the well balanced Good For You. The album initially comes off as overly playful with its upbeat melodies, but Aminé combats that with mellow beats and comments on some serious matter. The Portland rapper provides balance with sweet lines for the ladies like in his multi-platinum "Caroline:"
'Cause great scenes might be greatBut I love your bloopers
Next thing you know, Aminé is revealing his introspective side on "Sundays."
I bench press my problems, like add another weightAnd act like it's alright when it's not
It seems one of the problems may be fans' expectation of him as told in "STFU."
Fans want the music, but they want a politicianPressure, pressure, pressure, pressure, pressureShut the fuck up, I don't need the extras
In "Money," Aminé confronts the industry with, "Labels wanna sign but the money so eh, and the contract iffy," while commenting on our material-obsessed culture:
Success ain't 'bout the fame and how much jewels you rockSuccess is when I can tell my mama to quit her job
It seems like Aminé jumps around a lot, but the structure of flow and sound of the album is near damn flawless. Kudos.
Wait! There's more!
Stick around for part five to find out more of 2017's standout debuts.
album reviews
I'm a 20-something year old who's obsessed with music, and sometimes I write about it. I hope you enjoy my ramblings.
IG: @writtenbysade
@thelyricalfixpod
@checkit.openmic