Recapping 2017: Standout Debuts, Pt. III
With the year coming to an end, here are all the standout debuts of 2017 from new artists—or newish at least.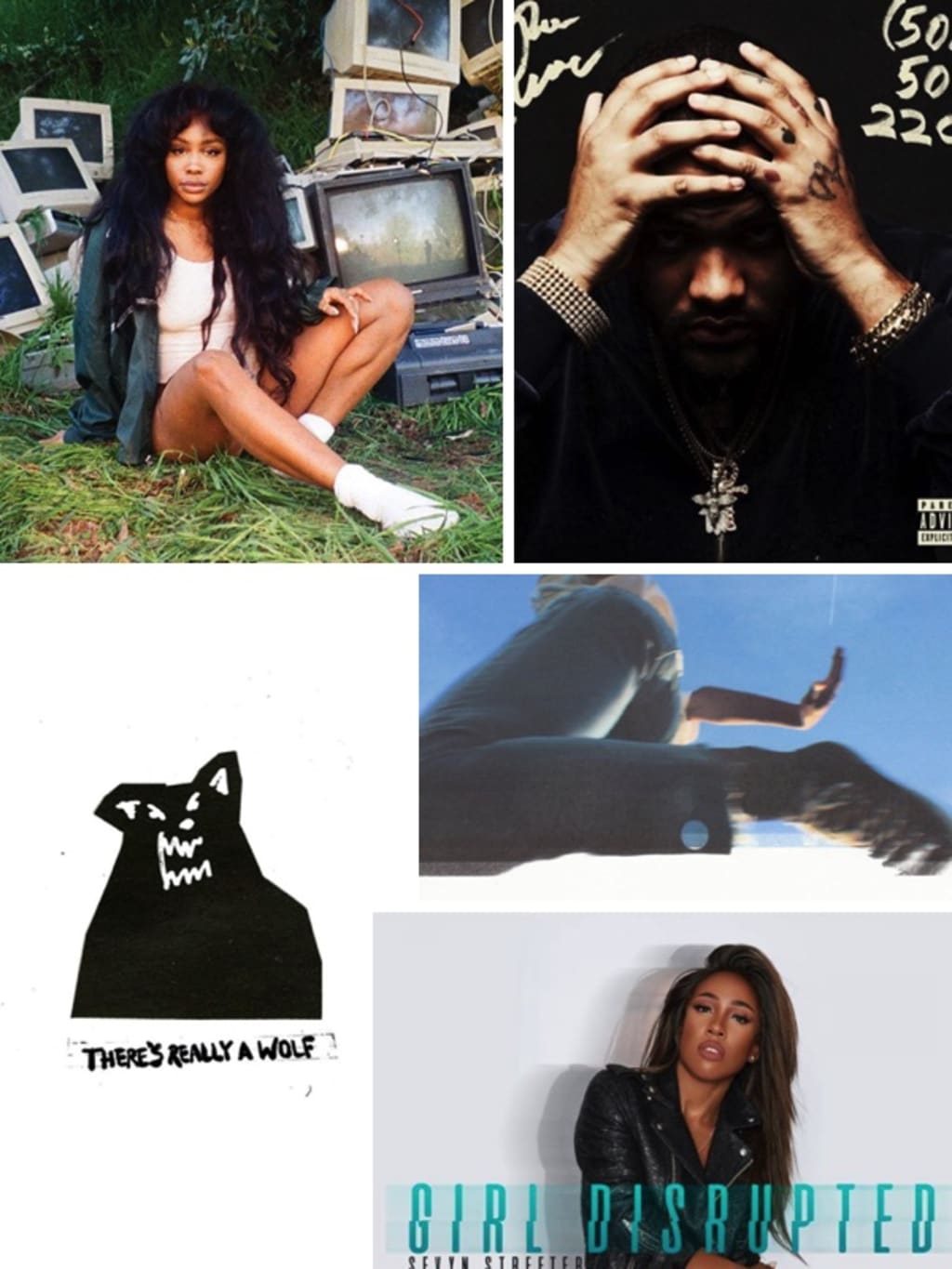 Russ, SZA, Joyner Lucas and more—here are all the standout debuts of this year... part three that is. Check out parts one and two here.
Release date: May 5th
I think the best way I can describe There's Really A Wolf is authentic. Anybody who knows me knows that that's my favorite word and I don't use it loosely. The 20-track project is authentic, raw, and just very true to him. Russ offers a range of sounds on this project. There are some emotional highs, from soft croons over girls to spitting some hard bars about his successes. There are hard-hitting beats to mellow tunes. There's Really A Wolf is nothing but good vibes, dope beats... and just some real shit. Simple as that.
Check out the rest of my review of There's Really A Wolf.
Release date: May 12th
Here's another jack-of-all-trades, and a master of all of them, Choker comes out on the scene with his debut release, Peak. From trippy psychedelic vibes, melodic soulful crooning to sharp beats and lyrics…man, there's nothing this kid can't do. All at the age of 21, damn. Peak jumps around from sound to sound, yet it's pleasant to the ears. A beautiful cluster fuck, I call it. The 10-track effort is like a playlist you made for your favorite artist, different sounds, and styles but all from one artist. Usually, it speaks to their growth over time, but not in this case. This is Choker's current work, just mixed and mastered as if he's been in the game for years. Polished and refined—seriously, this guy is 21.
I was put on to Detroit-native from an interview Pigeons and Planes he had shortly after the album's release. The article sheds light on the artist himself and how being exposed to different genres heavily influenced at an early age influences his music now. An insightful interview with a mysterious kid, you should definitely check it out.
"What do you want people to take from your music?I don't think I can properly capture the scope of my intentions in words as of now, but they're wholly positive. In short, whatever is needed. Use it as an escape, relate to it, attach memories to it. Listen and react however you see fit. I want to be the nail in a wall you hang a picture from."
Release date: June 9th
I've had about enough of Solána—HA! Jokes. All lies, CTRL has remained in rotation since its release. I can't wait to see what the TDE leading woman has next to offer. Okay, let's get to my review.
CTRL is a well-rounded album with a variety of sounds that all emphasize this story of the ups and downs of being a 20-something. From adulterous exes to running away from love, to being the side-chick. It's a story that touches on finding yourself and owning the power of being a woman.
SZA writes her truths and knows no other way to write music. This is what she's been through in life, and now she's on the other side looking back. Her truths resonate with many 20-something-year-olds out there. In your twenties, you're just becoming an adult. For many of us, it's a time of finding yourself. You're struggling to find your path in life all the while dealing with harsh realities of love and of just growing up.
Shit, the struggle is real.
Check out the rest of my review of SZA debut album CTRL.
Release date: June 16th
Joyner Lucas released major label debut, 508-507-2209. Whether this is his fourth mixtape or first album—call it what you want, 508 is genius. 508 is full of humor, rage, love, ambition, angst—it's an emotional rollercoaster. Boi-1da laces Joyner with both smooth hypnotic and harsh gritty beats thats work perfectly with his wicked pen game.
The 13-track project is rugged and brash, yet pensive and vulnerable. Joyner sounds hungry and ready, presenting a versatile range of sounds and topics. For me, his sound and storytelling on some tracks is reminiscent of Eminem, Kanye West, Jay-Z, and a few more. He even quotes Jay-Z's classic line "Triple entendre, don't even ask me how." His influences show through, but he's still able to remain himself. In an era where most of this new era in Hip Hop sound alike, Joyner is among the few that are standing out because of their lyricism and artistry. He's able to lyrically paint vivd pictures of real life experiences about pain and love. Joyner is part of a rare breed, that thankfully isn't going extinct.
Somebody told me money rules the worldI know you heard that shit.
The highlighted video is a testament to Joyner's artistry, who told Billboard "I actually write the video treatment before I write the record. I do the editing and directing. I'm 100 percent involved with the direction of the videos in the record." Usually I do a complete run through of the album before going back, but this track—well, stopped me in my tracks. Everything about "Keep It 100" caught my ear. From the beat, to the tone of his voice, to the intricate lyricism. First thing that came to mind was Eminem's "Murder, Murder," as far as the structure of the lyricism and storytelling. "Keep It 100" goes the extra mile, taking the listener through about 10 characters. We follow a 100 dollar bill through the hands of stripper, a store clerk, priest, hooker, her pimp, and plenty more. The characters change, but their reactions to the 100 dollar bill don't. The same sentiments echo through the stories. What doesn't change is how they compromise themselves for the money, and how they try to justify their actions and the consequences. The premise of the song is "let's keep it 100," let's be honest with ourselves because this is how the world is.
Check out his YouTube channel for more videos off the 508. While you're at it, check out his most recent visual treatment to "I'm Not Racist." Not on the album but still worth a listen. The visual sparked up some controversy and a well deserved conversation. It's a real and dark conversation that most of us are having behind closed doors or internally at times. I won't get into it, I'll let the video speak for itself.
508-507-2209 proves that Joyner Lucas is a talented artist and, as his music demands, he deserves a place in Hip Hop. Salute to a true lyricist.
Release date: July 7th
Released on her 31st birthday, Sevyn Streeter finally drops her debut album Girl Disrupted. If you didn't know, Sevyn has been grinding for years in the industry as a songwriter and performer. Now she's stepped up to the plate—have I said finally yet? Sevyn puts her heart on her sleeve with this album. Coming in at 13 tracks, the album is her story. She opens up with a monologue in "Livin" about her confessing she had a bout of depression while working on the album. "It's more than just music," she says, it's "love, loyalty, and liberation." Girl Disrupted is Sevyn Street. "Sweet and street," Sevyn makes an authentic debut with an album that marks her rebirth in this industry.
Wait! There's more!
Stick around for part four to find out more of 2017's standout debuts.