Recapping 2017: Standout Debuts, Pt. II
With the year coming to an end, here are all the standout debuts of 2017 from new artists — or newish at least.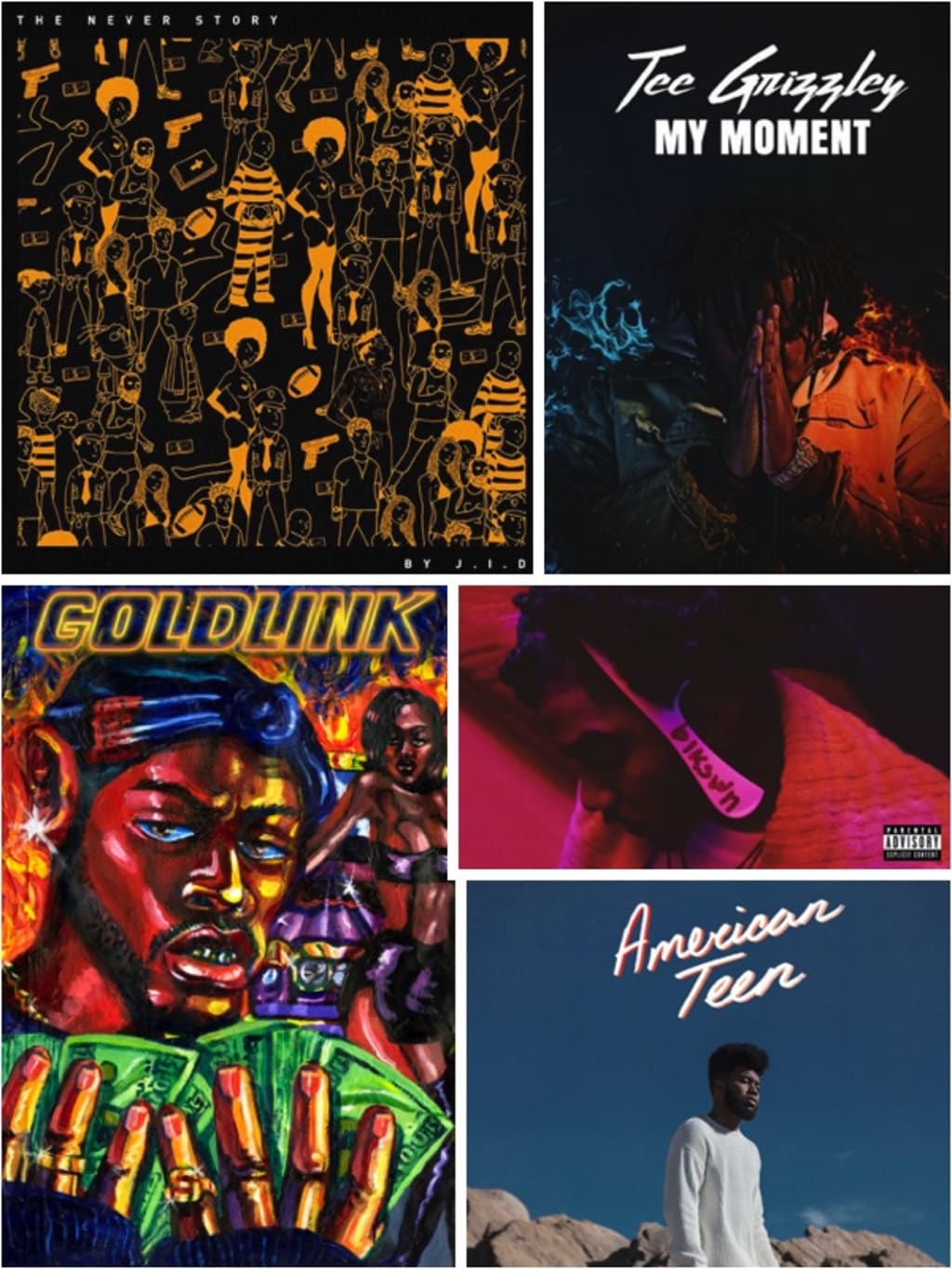 Khalid, J.I.D., GoldLink and more — here are all the standout debuts of this year...part two that is.
Release date: March 3rd
For the 19-year-old artist, this album title is perfect. The album explores the life of a typical teenager. Teenagers are consumed with love, lust, pain, and well themselves. Musically, the album is amazing. It's fresh collection of sounds that mimic the intense emotions of any teenager. From an abashed and euphoric sense of being young and free, Khalid adds balance with a disheartening sense of sorrow and angst over failed relationships with friends and lovers. Oh, to be young again. Whether you're young or used to be, this is album is a must. American Teen marks the beginning of a promising career for Khalid and I am excited for what that soulful young man will come up with next.
Release date: March 10th
After signing to J.Cole, J.I.D dropped his debut album under Dreamville, The Never Story. Far from new, J.I.D has released projects in the past under Spillage Village, but this is different. He's ready to take on the world. J.I.D is ready to conquer the world. The ATL-native is, simply put, nasty. So for those who don't know: when a rapper, rather lyricist (it's important to specify) is described as "nasty," that's a good thing. Scrolling through one of my favorite Hip Hop blogs, I came across this:
"J.I.D has the hunger of a man who hasn't seen an edible meal in decades and the prowess of a gonzo wordsmith who would rather write raps than fill libraries with literature." - Yoh, DJ Booth.
Well damn, that is one hell of a way to describe a J.I.D, but Yoh is right. The Never Story is fresh, raw, and something our ears haven't heard in quite some time. His intricacy and execution warrants goosebumps and a steady head nod. His presence on the tracks demands respect and respect given. He's not exactly new, but as part of this new era, he is a clear standout artist. Salute to a real lyricist.
Release date: March 14th
Smino delivers blkswn, his debut album that's drenched in funk and soul influences. At 18 tracks, the St. Louis native put his all into this project. His sound is reminiscent of Andre 3000, especially in "Glass Flows" with Ravyn Lenae giving off Erykah Badu vibes. I'm loving it. With his last mixtape released back in 2015, there's plenty of music on this album. With I'm sure two years worth of music, it explains why the vibes change throughout the album. He's just showcasing his skills. He's taking his time, "because I'm a blkswn." Hopefully, he doesn't take too much for the next body of work.
Release date: March 24th
The hybrid lyricist/singer makes his major label debut this year with At What Cost. The sound he refers to as "future bounce," is captivating, to say the least. Meticulous lyrics laid over elastic rhythms heavy indebted to go-go music just as much as Hip Hop—GoldLink is here to stay. Hopefully. In an era where the artists who all seem to be clones of each other, the 23-year-old stands firmly in his sub-genre with confidence. Hailing from DC, GoldLink pays tributes to his hometown while also spitting lyrics about chasing women. It's unfortunate he's been in the shadows, but not for long with the lead single, "Crew," already in rotation on the radio. GoldLink is here to stay, and he better.
Release date: April 7th
After gaining some hype off of his 2016 breakout joint "First Day Out," Tee Grizzley signed to 300 Entertainment and this year he released his debut project, My Moment. The 13-track project starts off with the title track, making me nostalgic for the old school days making beats off the lunch table. The leading track sets the tone for the whole album, while people "prayed for his downfall," this is his moment to shine. Tee Grizzley is not another trill rapper. With Detroit on his shoulders, he tells stories of his past and the hardships he's had to face: "I say once I make it outta prison, I'ma be winning' / I'ma make millions." In Jay-Z's interview with Rap Radar's Elliott Wilson and B.Dot Miller, he had this to say about Tee Grizzley:
"I believe him, I hear his music and I believe his story. I think that's the element of creating that people don't realize how difficult that is. You put words together, that's fine...You can make up any story, but when someone resonates with you. It sounds like they're sharing—that's hard to do. … But for me, what resonates with me is that song or a couple songs he got… It's a good vibe." - Rap Radar, Pt 2
Praise from a legend, it means something. For just his debut mixtape, Tee Grizzley shows he has the potential to go far and I'm excited to see what he has to present us in 2018.
Wait! There's more!
Stick around for part three to find out more of 2017's standout debuts.
album reviews