Rate-O-Rama: Come Together
Songmania #5 Beatles, Ike & Tina Turner, Aerosmith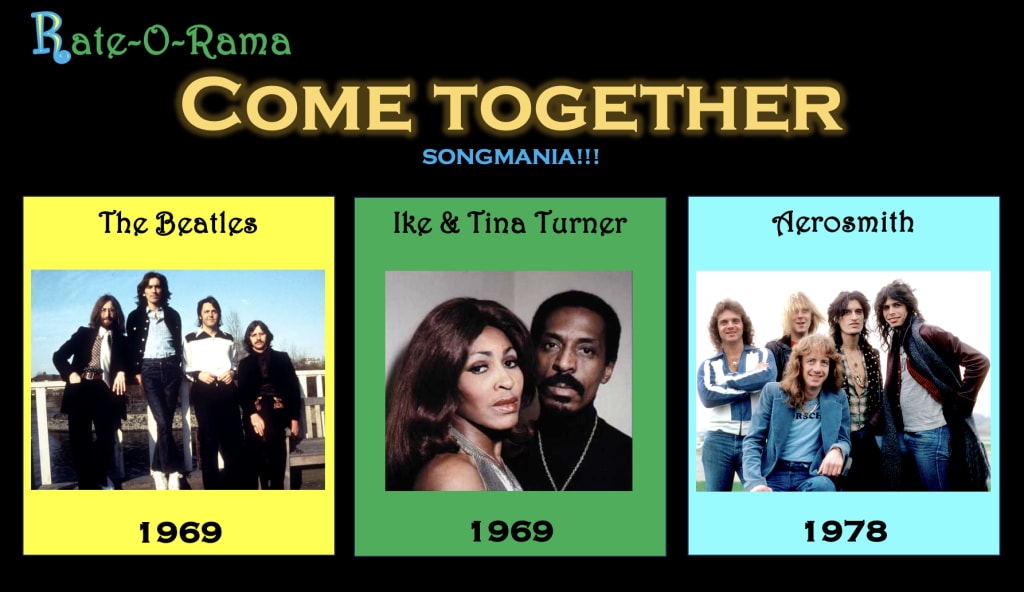 New Information on Rate-O-Rama please keep scrolling down to see New on Rate-O-Rama. 💕💕💞
Rate-O-Rama : Songmania is a reader participation game.
About once a week I will publish a Rate-O-Rama article which will feature three versions of a popular song.
The object is to listen to each of the music videos provided within the post.
After listening to each video you can rate each song in the comments section below.
(You must be a member to comment. If you are not a member you can join Vocal Media for FREE. You don't ever have to pay for membership unless you choose to upgrade your membership)
The rating method is easy. Simply give each song a rating of 1 to 100.

(The more you like the song the higher the rating).

If possible, please provide a brief comment explaining the reasoning behind your ratings for each song.
After a week or so I will tally the ratings and in the next Rate-O-Rama post I will announce the winner from the previous post.
The winners will be determined on a scale of averages.
If you wish to receive a notice when the next Rate-O-Rama post is published please mention that you would like a notification in the comments section.
≈≈≈≈≈
💕💕💞 NEW on RATE-O-RAMA:
I am taking my Rate-O-Rama series to the next level. At the end of each month I will do a raffle in which the winner will win a $5.00 tip.

To enter all you have to do is participate in playing the Rate-O-Rama game. Since R-O-R is updated every Sunday night in order to qualify you must play the game during it's initial seven day period with Sunday evening being the cutoff period.

For each game you play you will receive a ticket for the raffle. Therefore if you play all four games in the month you will have four chances to win.

The winner will not only win the $5 prize but I will feature you Vocal Profile on Vocal + Assist on both Facebook and Discord and you will be featured in the first R-O-R game of the month after your win.

Note: if you have already participated in September your name will be added retroactively.

≈ ≈ ≈ ≈ ≈
Last week we featured the classic jazz cut "This Masquerade" as recorded by Leon Russell (1972), Carpenters (1973), and George Benson (1976).
The following are the average ratings for each song as resulted from the votes:
Leon Russell = 87.4
Carpenters = 92.8
George Benson = 89.5
≈ ≈ ≈ ≈ ≈
The Fifth Edition of Rate-O-Rama features three renditions of the Beatles' rock classic: "Come Together."
≈ ≈ ≈ ≈ ≈
The Beatles (1969)
From their last album Abbey Road. In October 1969 the song was released as a double A-Side single coupled with "Something" which zoomed to #1 in the US and #4 in the UK.
Based on the 1956 single "You Can't Catch Me" by American guitarist Chuck Berry, slightly altering Berry's original lyric of "Here come a flattop / He was movin' up with me" to "Here come ol' flattop / He come groovin' up slowly". The decidedly hard rock tune with a slower tempo was written by John Lennon but credited as John Lennon and Paul McCartney. The recording features blended backing vocals by John Lennon and Paul McCartney and dubbed guitar parts by John Lennon and George Harrison giving it a "big sound."
≈ ≈ ≈ ≈ ≈
Ike and Tina Turner (1969) took this rocker and turned it into a scorching R&B rocker as only Tina Turner can sing them. Ike and Tina recorded the song due to the public response to their live performances. The song made it to #57 on Billboard's Hot 100 Singles in the US and #21 on the US R&B chart.
≈ ≈ ≈ ≈ ≈
Aerosmith (1978)
This hard rocking rendition of the song was recorded for the 1978 film Sgt Pepper's Lonely Hearts Club Band which starred Peter Frampton and the Bee Gees. The song was an instant hit receiving heavy rotation on FM radio stations and peaked at #23 on the US Billboard Hot 100 Singles chart. A fair amount of people have claimed they prefer Aerosmith's recording over The Beatles.
≈ ≈ ≈ ≈ ≈
My Thoughts
The Beatles: The Beatles are among my most favorite bands of all-time and "Come Together" is one of my favorite Beatles songs. John Lennon's lead vocal is great (it's no secret John is my fave Beatle). John and Paul's blended backing vocals are electrifying. The handclaps add a nice touch. George Harrison's lead guitar and his solos make the song pop and hit you where it counts. This one is a solid 100.
≈ ≈ ≈ ≈ ≈
Ike and Tina Turner: This one is all about Tina Turner's fantastic raw rocking vocal. She had so much energy and verve in her delivery. Ike's arrangement was almost a carbon copy of The Beatles executed with a degree of finesse but really nowhere close to the quality of musicianship as The Beatles. This one gets an 88 with a big push from Tina's performance.
≈ ≈ ≈ ≈ ≈
Aerosmith: A lot of people I know have said they prefer this rendition. Steven Tyler's lead vocal and Joe Perry's chunky guitar solo are worthy highlights of the song. But John Lennon and Paul McCartney's blended backing vocals on the original are hard to top. Plus Aerosmith's arrangement is almost identical to the Beatles. That aside, Aerosmith's rendition is more than competent. I give it 92.
≈ ≈ ≈ ≈ ≈
I will be back next week with the results of this Rate-O-Rama Edition.
Last Week's Rate-O-Rama:
With Love, RHC ❤️
About the Creator
Writing is a distraction for me. It takes me to places unknown that fulfill my need for intellectual stimulus, emotional release, and a soothing of the breaks and bruises of the day.
https://www.facebook.com/groups/vocalplusassist
Reader insights
Be the first to share your insights about this piece.
Add your insights