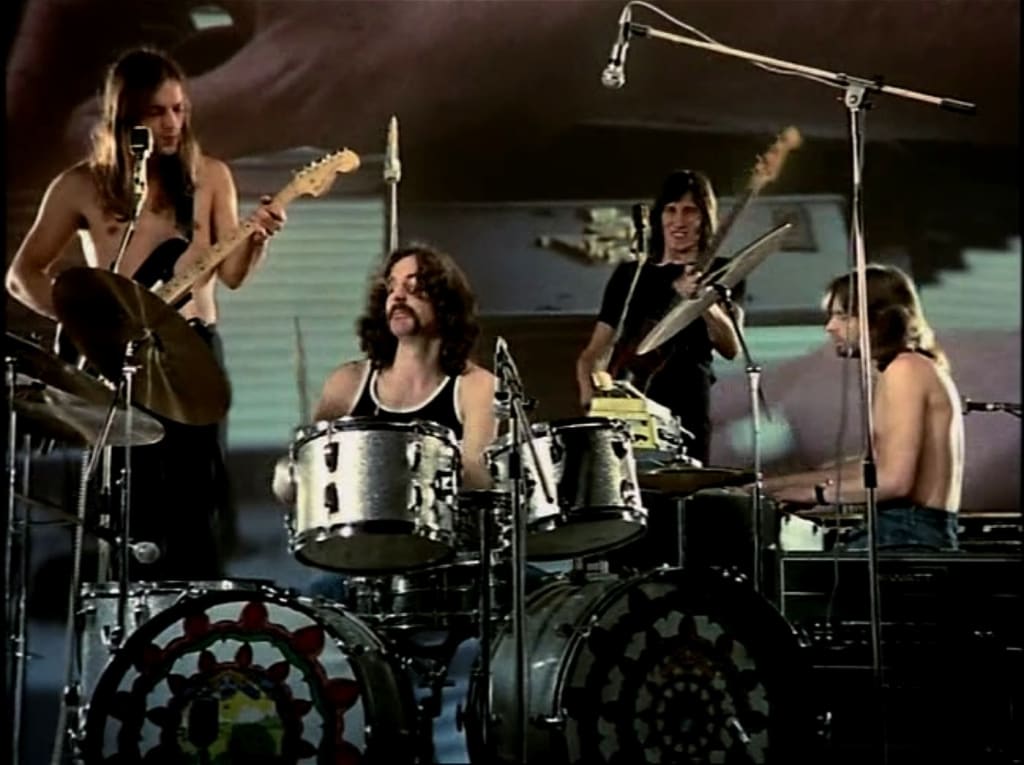 (L to R) David Gilmour, Nick Mason, Roger Waters, Richard Wright: Pink Floyd (1972)
Pink Floyd gathered in the amphitheater in the ruins of Pompeii in 1972 to film one of the greatest concert films and documentaries of a rock group of the psychedelic era. Set amid the ruins of the devastated ancient city, the camera slides up and down, panning left and right over the painted frescoes and grim mosaics that document the lives and loves of ancient people, providing a sort of glimpse into the fate of beings cut short through the sheer absurdity of catastrophic misfortune. Out of the mercurial swamp of the lave flow of Vesuvius, we have the stuff from which is born, from the burbling earth, a new and more magnificent ruin for which time will still have no pity, no mercy, or no remorse.
It is here, that Pink Floyd, in their own transitional development, a year before the release of their groundbreaking mega-selling classic album Darkside of the Moon (1973), hold forth on melancholy songs such as "Echoes", a soft reflection on the ambiguity of erotic love and the irresistible grasp (to borrow a term from their song "Learning to Fly") of eros even thrown against the barricade of age and death. "A million bright ambassadors of morning..." are said to emerge through the window in the wall, and come "streaming in on sunlight wings." Is he singing the word "morning" with the intention for it to be a play on the word "mourning?"
Pink Floyd is seen in the studio, eating breakfast, shellfish, Nick Mason wanting "pie without the crust...no crust," and Roger Waters opining that he hoped oysters "transcend national boundaries." On a more serious note, David Gilmour is troubled that some fans might see them as "their childhood of 1967." That the Floyd might fade away, like a haze of marijuana smoke, into a yesteryear of "free concerts in Hyde Park." He needn't have worried. Floyd would go on from their avant-garde and psychedelic roots to forge a career as a super stadium, arena rock behemoth, classic radio deities that might have been worshipped at one time, in the temples and groves of Pompeii, before the deep earth erupted upon it. Their meteoric trajectory was not so apparent here, although the director's cut of the film presents us with shots of the Abbey Road studio and the crosswalk made iconic by The Beatles. Roger opines, "When the great economic collapse happens, it's going to happen, right across the board [...] no I don't think rock will be the first thing to go." Roger Waters, of course, has found a second fame (some would say infamy) in his elderly years, as a supporter of the BDS movement and an outspoken critic of Israel and its occupation of the West Bank and Gaza; a position that has led to his absurd persecution in Germany, where he was accused, because of a concert performance, of having "fascist sympathies."
(This is, of course, a patently absurd accusation, since it is well documented by nothing less than a bestselling record album and major motion picture that Pink Floyd used fascist imagery as a part of the story of their album The Wall, employing it as a theatrical device to make a statement AGAINST fascism, not in favor of it.)
Of course, with the current war, the situation in Israel has moved heatedly into the forefront of world affairs.
Other songs, such as "Careful With That Axe Eugene," and "One of These Days I'm Going to Cut You Into Little Pieces" would further expose their flirtation with the dark, pessimistic themes that would mark their later, commercially accessible work. Here, they come off as psychedelic horror vignettes. "Set the Controls for the Heart of the Sun" could point to illumination or self-destruction. Perhaps the catharsis of one is implicit in the realization of the other? It is a dark, cryptic, and beautiful song, full of an exoticism that is hypnotic.
Keyboardist the late Richard Wright worries that Pink Floyd was in danger of "becoming slaves to our equipment," and, indeed, the studio scenes (edited out of some versions which feature simply the music), detail their extensive use of the first primitive synthesizers, the sort of analog synths used by Delia Derbyshire and Wendy Carlos in the early days of electronic music.
David Gilmour assures us that "You have to have it in your head, for it to come out..." In other words, the technology is, as he put it, "an extension of ourselves," but the nucleus is still the band. Roger comes off as a little coy, a little stoned; sometimes a little arrogant or condescending. But they are all likable enough. At least here.
"Saucerful of Secrets" is a central musical number that relies on noise, musical chaos, pushing things to the outside of the envelope, the soaring guitars, random piano bursts, and punctuating gong only being held together by the manic, staccato rhythm of Nick Mason's drums, which are like a continual replay of an avalanche. Waters, filmed against the burning Pompeiian sun, banging a gong, is an indelible image.
The eerie winds of the ancient ruin whine, like the voices of so many hundreds or even thousands of wandering ghosts, wanting their lives back. Mount Vesuvius erupted in 79 A.D., burying the town, as well as nearby Herculaneum, under a thick layer of lava and pumice, freezing them in a moment of time in which their bodies (or at least the dying forms of them) were preserved in macabre relief. That is a snapshot of one dying moment, thousands of years ago. Decades ago, a rock band, one poised on the cusp of worldwide fame and fortune, came to Pompeii, to resurrect those spirits. In the haunting melodies and psychic explorations of their deeply mournful and heavy music, they succeded in calling up the spirits of the dead.
This film recalls a time period as obscure to us now, as that of Pompeii. Regardless, it is an excellent documentation of the transition of a rock band from psychedelic explorers to megapop music icons. It is never for a moment dull.
In the churning lava, the clay slop of creation is the seed of a New Birth, always.
And the whining wind howls on.
(By the way, we do hope Mr. Mason finally got his pie without crust. Although, personally, we like the crust. Bloody carbs.)
Pink Floyd - Live at Pompeii (1972) Note: Music performances only.
About the Creator
Author of Haunted Indianapolis, Indiana Ghost Folklore, Midwest Maniacs, Midwest UFOs and Beyond, Scary Urban Legends, 50 Famous Fables and Folk Tales, and Notorious Crimes of the Upper Midwest.: http://tombakerbooks.weebly.com
Reader insights
Be the first to share your insights about this piece.
Add your insights