Omer B blends electronic elements with live instrumentation to create a truly unique sound.
"Healing Strings" will transport you to a realm where melodies heal and rhythms resonate with your spirit.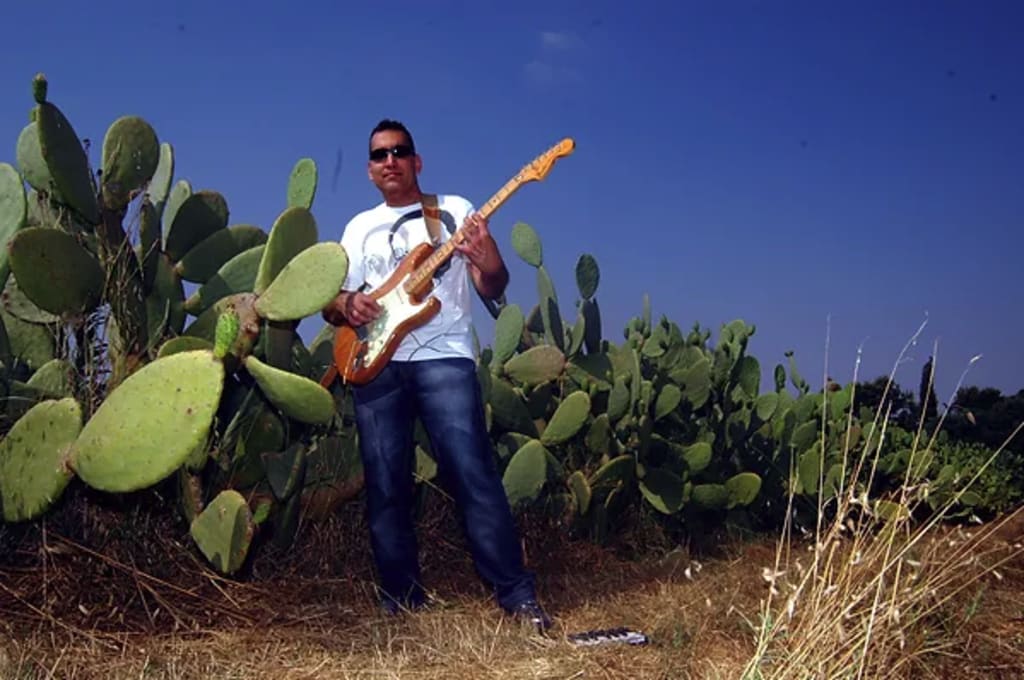 Experience the transformative power of music with Healing Strings.
This unique collaboration combines Clara Sophia's enchanting healing voice, Omer B's soulful guitar melodies, and the masterful fretless bass of the legendary Dr. Yossi Fine. Together they create a mesmerizing symphony that transcends genres and takes you on a musical journey like no other.
Polina Faustova's passionate cello adds depth and emotion to every note, while Glenn Welman's precise and powerful drums provide the perfect rhythmic foundation. The result is a harmonious blend of acoustic instruments that breathe life into the composition.
No artificial intelligence or synthetic sounds here - it's all about the raw talent and musicality of these incredible artists. Let "Healing Strings" transport you to a place of serenity, where music becomes a powerful healer.
Guitarist , music composer recording engineer and a producer, Omer B (Baasha), took the time to answer our questions about his career, his music, and his new single "Healing Strings"....
What 1st drew you to music?
Music became my constant companion, accompanying me through both joyful and challenging times. I started playing the guitar at 10 and am still looking for a way back from then.
Tell us a little bit about yourself. Your (music) background?
I started classical guitar, moved to electric, and then spent many years as a recording engineer, but I always go back to the guitar,
Do you write your own music, or do you collaborate?
I compose my music. During the Covid, a video session with the amazing musician 'Cory Wong' triggered me to record a lot of new stuff.
For now, I do a lot of collaborations with musicians all over the world, and of course, they add their colors and ideas, which is great!
Your latest release is 'Healing Strings", is there a special meaning behind the title?
It started as a collab with amazing healing 'Clara Sophia', who is into healing sounds and vocals, then came additional tracks from bass player Yossi Fine, who grabbed the bass guitar he used on tour with 'Lou Reed'. What a blast! (Yossi also played and produced with Gil Evans Orchestra, David Bowie, and more...).
A cello from 'Polina Faustova' and my guitar line and little solo, it felt like the song was full of healing strings! Last but not least is Glenn Welman on the drums, I love his drumming, and he is on many of my instrumentals.
Were there any challenging aspects to writing and/or recording the song?
It took around 6 months. It took time until I felt it was ready.
You have an impressive discography. Where did the ideas come from? What is your creative process like?
As mentioned, during the COVID had some sessions with 'Cory Wong' , such an amazing musician and a big motivator. So, recently I got tons of ideas, but it takes a lot of time to record.
Do you produce/create music for yourself or your fans?
The idea for me is first to enjoy it! But of course, I always hope the fans will enjoy it, too!
What is the best song you ever released and why?
I love 'Groovy Stairs' & 'Silent Thunder' & 'Healing Strings' When you record a song, it does not always become exactly what you meant to, and these two become even better than I expected.
What song do fans seem to favor?
Mm, that's not expected. ' StratoFaster' had a lot of streams (Spotify) and, for a while, was running on a few radio stations.
It is a simple instrumental, with only me and the Bass player 'Ana Pshokina'. She is from Ukraine. The song was recorded just a few days before the War started, so I used it to promote awareness for kids and the people of Ukraine. Maybe that's why it became popular.
Do you, or would you like to, perform live?
Sure, I do it once in a while, but I recently focused mostly on Studio recordings.
Which of your songs is, or do you think would be, fun to perform live?
Stick Shift Riff
Has your musical journey had a deliberate direction, or did it simply evolve in whatever direction it found?
Wow, but the years, taste changes, but it was always around, rock and funk.
What would you be doing right now if it wasn't for your music career?
Art or maybe healing with sounds ;-)
What would be your ideal press headline, either now or in the future?
Music that makes a good mood
Are there any musicians who inspire you? What qualities do you admire in them?
Consistency and focus.
If one artist were to perform at your party, who would get the call?
Cory Wong, Mark Knopfler, or David Gilmore.
Other than fame & fortune, is there something you hope to achieve through music?
Fun for me and others.
What is your favorite/best outlet to connect with your followers Instagram, Spotify, FB, Twitter, iTunes? How would you want them to follow?
I was mostly on FB, but now working on my Instagram page, so both are good! I also had my Youtube page and both Spotify and Apple Music Confused? Here it is:
Are you currently working on any projects we should look out for?
Basically always working on new instrumentals and songs, But also collab on writing some music for very, very famous international artist...
Is there something you would like to say that I didn't cover?
Just listen to my music, Enjoy & add it to your Spotify playlist!
Thanks, and peace!
Omer B
Reader insights
Nice work
Very well written. Keep up the good work!
Top insights
Eye opening

Niche topic & fresh perspectives

On-point and relevant

Writing reflected the title & theme
Add your insights