Nights In White Satin
The Music of English rock band The Moody Blues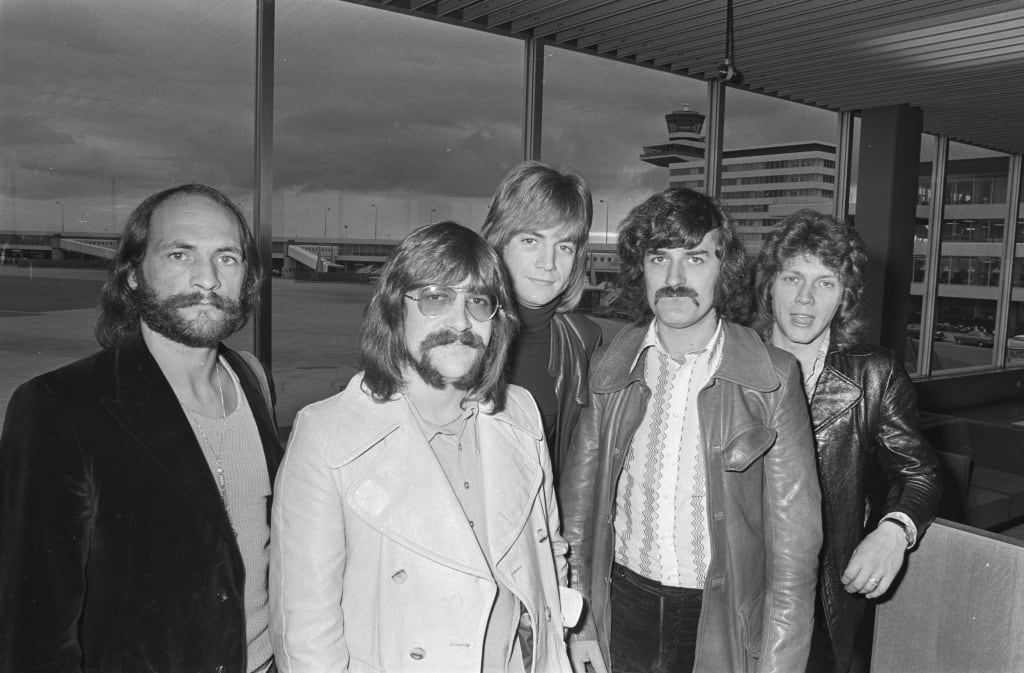 This is music I like and the songs this band played always made me want to sit back and listen and turn the music way up loud. The Moody Blues is an English rock band, and their music was unique in that it was combined with classical music. First heard in their 1967 album Days of Future Passed. This band has sold over 70 million albums worldwide and has been awarded 14 platinum and gold discs.
The Moody Blues came together in May of 1964, in England, and for the very first time they performed, the line-up was Michael Pinder, Ray Thomas, Denny Laine guitarist/vocalist, Graeme Edge drummer, and Clint Warwick bass. They signed up with Decca Records, but their very first single "Steal Your Heart Away" didn't manage to climb the charts. They appeared in a TV cult program, "Ready, Steady Go!"
Finally, they came up with a song that launched their career "Go Now," which charted both in the U.K. and in the U.S. Their debut album was titled The Magnificent Moodies. The songs that they released in the U.K in 1965 included "I Don't Want to Go On Without You" and "From the Bottom of My Heart". In 1966 the band released "This Is My House (But Nobody Calls)" and "Boulevard de la Madeleine."
The Moody Blues album Nights in White Satin came out with two singles "Nights in White Satin" and 'Tuesday Afternoon." After the release of their On the Threshold of a Dream album in 1969, the band created Threshold Records. In 1974 they went on a world tour which ended with a tour of Asia. They also released a compilation album This Is The Moody Blues.
They recorded two great singles. One was released in 1971 "The Story In Your Eyes," written by guitarist Justin Hayward. It is on their album Every Good Boy Deserves Favour and an incredible song "Isn't Life Strange" that came out as a single in 1972 and based on Pachelbel's Canon in D written by bassist John Lodge and included on their 1972 album Seventh Sojourn.
The Moody Blues attempted to make it all work again with their album Long Distance Voyager in 1981. However, the album did not make too much of an impact. Three songs were released as singles "Gemini Dream," "The Voice," and "Talking Out Of Turn."
In 1986 they came out with a popular album The Other Side of Life which included the single "Your Wildest Dreams" which climbed the charts to number 10 in the U.S. Some of their other songs are "Here Comes the Weekend," "Rock and Roll Over You," and "Love Is On the Run (From Me)."
In 1986 the Moody Blues performed at the Birmingham Heart Beat Charity Concert to raise money for the Birmingham Children's Hospital. Their success continued with Sur La Mer in 1988 and its video and single "I Know You're Out There Somewhere," which was a sequel to "Your Wildest Dreams."
In 1991 they released the album Keys of the Kingdom from which came new singles "Say it With Love' and "Bless the Wings (That Bring You Back)." In 1992 the Moody Blues released a series of video and audio versions of their concert Night at Red Rocks.
Then in 1999, The Moody Blues came out with another studio album Strange times. The album featured a combination of instruments, including flute and string arrangements. The album included the fast-paced opening track "English Sunset." It was also the last time flutist, and vocalist Ray Thomas recorded with the band.
An IMAX film was released in 2001 titled Journey into Amazing Caves and included two new songs written and performed by the band. In 2003 they released their album December which included originals and four covers John Lennon's "Happy Xmas (War is Over)," Mike Batt's "A Winter's Tale," "When a Child is Born," and Irving Berlin's "White Christmas."
The last time The Moody Blues toured was in 2015 and included both the U.S. and the U.K. They appeared at the Glastonbury Festival on June 27, 2015.
The original vocalist and flutist Ray Thomas passed away on January 4, 2018, just a few months before The Moody Blues were inducted into the Rock and Roll Hall of Fame.