My Top Tracks of 2017
In No Particular Order....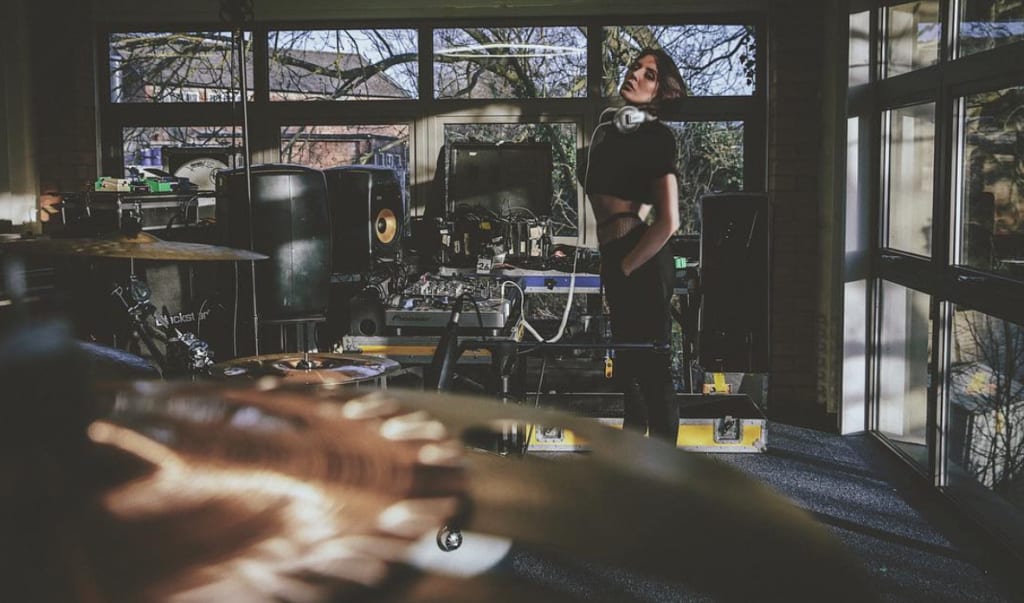 My favourites of the past year, in no particular order... and yes I included myself in there too....
Mysterious singer, songwriter, and producer that names herself after 'God' and hides her face? Yes please. Elohim was my special find of 2017, an eclectic sound so unique to her alone. She recently finished touring with Alison Wonderland, this is her latest offering. Enjoy.
The "cool kid" in me really didn't want to put Selena Gomez in my top tracks of the year, but this is undeniable. Marshmellos' bubblegum, lullaby production mixed with Selenas haunting vocals make for a hell of a track.
The drop. That is all I have to say. I have spent hours re-listening to this trying to work out what is going on and how I could possibly create something similar. I love it when a remix takes a song to a whole other level and makes it the remixers own. Maeson's vocals are reminiscent of Hozier—"Take Me To Church" (which I also loved FYI) and the screaming Future Bass drop sends shivers straight through me.
The latest offering from the brainchild of former Modestep masked man, Tony Friend. After parting ways with Modestep after 9 long years, the DJ and producer set to work on two new projects. The first alongside longtime producer and DJ Ben Nelson (aka N Dread). A future sounds act featuring the likes of Camden Cox and ex Clean Bandit vocalist Florence Rawlings. Clean and quirky production with catchy hooky vocals, "In Control" is the first release from the duo.
Well, I said I had to put myself in there didn't I? "Again" is my first ever release. The first piece of production I actually ever finished. I tend to decide I hate a song half way through and abandon it for good. But, with the support of my partner, I finished this one. After completing the music and adding my own vocals, I decided to reach out to a rapper on twitter that I had recently become a fan of, I sent him the beat and was overwhelmed when he agreed to be part of it. The track was released 3 days before my birthday and that was the first time I ever actually met Banditsu face to face. I plan on following "Again" with an EP in early 2018.... Hopefully.
This entire album could have gone on the list to be honest, "Love$ick" and "What If I Go?" are true favourites but I thought I would go with a lesser known track. Mura Masa is a genius, and that is an understatement. A sound that is completely his own, a flawlessly cool style that seems effortless. A multi instrumentalist with production skills to envy, at only 21 he has already amassed a handful of awards and nominations including pending nominations for the 2018 Grammy Awards "Best/Dance Electronica Album" which last year went to the incredibly deserving Flume for Skin.
One of the fathers of the "Future Bass" movement. Louis The Child started the saw wave style drops that are now so widely replicated. In this track however, a simple stripped back Steel band over subs makes for a perfect change. I love everything Louis The Child do, to me they can really do no wrong, I would happily do an entire top 15 of just their music.
I LOVE Mija; quirky, cool, and just a little bit weird. When I first heard this track I instantly loved it, from the sounds reminiscent of a video game to the DnB tempo. The vocal samples from Tegan and Sara's "Boyfriend" and fits perfectly with Mija's vibe. However, I have to admit that I probably wouldn't love this song as much as I do without the visual element. Mia dropped the track alongside the video, and THAT is why it worked for me. I just love a video with a collage of the artists life, shows, friends, fashion etc. It made the song so much more.
One of the best albums of the year, undeniably. Lorde is the queen of misery, heart breaking and mature beyond her years lyrics, they make me flash back to being depressed and heartbroken but in the most nostalgic way. "Hard Feelings" is hands down my favourite track on Melodrama largely due to the lyrical content. I will take the liberty to post them here for your enjoyment:
Please could you be tender and I will sit close to you
Let's give it a minute before we admit that we're through
Guess this is the winter
Our bodies are young and blue
I'm at Jungle City, it's late and this song is for you
'Cause I remember the rush, when forever was us
Before all of the winds of regret and mistrust
Now we sit in your car and our love is a ghost
Well I guess I should go
Yeah I guess I should go
Hard feelings
These are what they call hard feelings of love
When the sweet words and fevers all leave us right here in the cold, oh oh
Alone with the hard feelings of love
God, I wish I believed you when you told me this was my ho-o-ome
I light all the candles
Got flowers for all my rooms
I care for myself the way I used to care about you
These days, we kiss and we keep busy
The waves come after midnight
I call from underwater
Why even try to get right?
When you've outgrown a lover
The whole world knows but you
It's time to let go of this endless summer afternoon
Hard feelings
These are what they call hard feelings of love
When the sweet words and fevers all leave us right here in the cold, oh oh
Alone with the hard feelings of love
God, I wish I believed you when you told me this was my ho-o-ome
Three years, loved you every single day, made me weak
It was real for me, yup, real for me
Now I'll fake it every single day 'til I don't need fantasy, 'til I feel you leave
But I still remember everything, how we'd drift buying groceries
How you'd dance for me
I'll start letting go of little things 'til I'm so far away from you, far away from you, yeah
I met Camden in the summer when she came for a vocal session with Why Me? at our studio. First things first, this girl has style, and secondly, of course, a voice. She played us "Gold" and I was blown away. I bought it the second it came out and had it on repeat for the first week. She is the UK pop princess to watch in 2018. Catchy, hooky pop songs about heart break and love, along with her super cool look and melt in your mouth, sugary vocals. Camden, we watching you.
Had to put a Stormzy track in, initially I wanted "Return Of The Rucksack" but it does not exist on YouTube. "Big For Your Boots" was my second choice though. GSAP is arguably one of the greatest albums of the years, a show stopping mix of grime and gospel, Stormzy has earned every inch of respect from his millions of followers with this masterpiece.
I love every thing Mark Johns does and this is no exception. Her lazy, honey coated vocals about being "hot boxed in a Toyota" make me want to smoke and make out. This song reminds me of hot summer nights. The line "Stains on my body, they fall in love with my birthmarks" is pure wonder. I wait impatiently for an album from this one.
One of the biggest songs of the year remixed by one of my favourite artists, what better ? Alison Wonderland has really come into her own in the past year and I think this remix marks a mile stone in her style and transition from DJ/producer to superstar.
Speaking of Alison Wonderland! I discovered Naderi earlier this year when he collaborated on a "Shape Of U" cover with Miss Wonderland. I instantly had to seek out anything and everything he had laid his hand to. Who was this mysterious green/blue haired person, who at first I wasn't sure if they were a boy or a girl! Production that made my heart sing and mix downs to die for, this was my favourite of his remixes. I LOVE the original by Big Gigantic but this remix takes it to a whole other level.
Arguably one of the most popular tracks of the year, I couldn't very well finish the list without adding Tour Llif3. Bootlegged by pretty much every single DJ out there, almost all large festivals or club nights this past year will have heard the entire crowd screaming "All my friends are dead, push me to the edge" at some point through out the event.
So there you have it, my favourite 15 tracks of 2017.
playlist
About the author
Born and Bred Londoner, Mother to baby Roman and my two pooches, Plant Eater, Yoga and Aerial Teacher + Learner, Music Maker... was once in Game Of Thrones, was once a Penthouse Pet, used to win awards for getting naked.
Reader insights
Be the first to share your insights about this piece.
Add your insights