Meet Rising Music Artist and Producer e!ena
e!ena's "cognitive dissonance" is out now!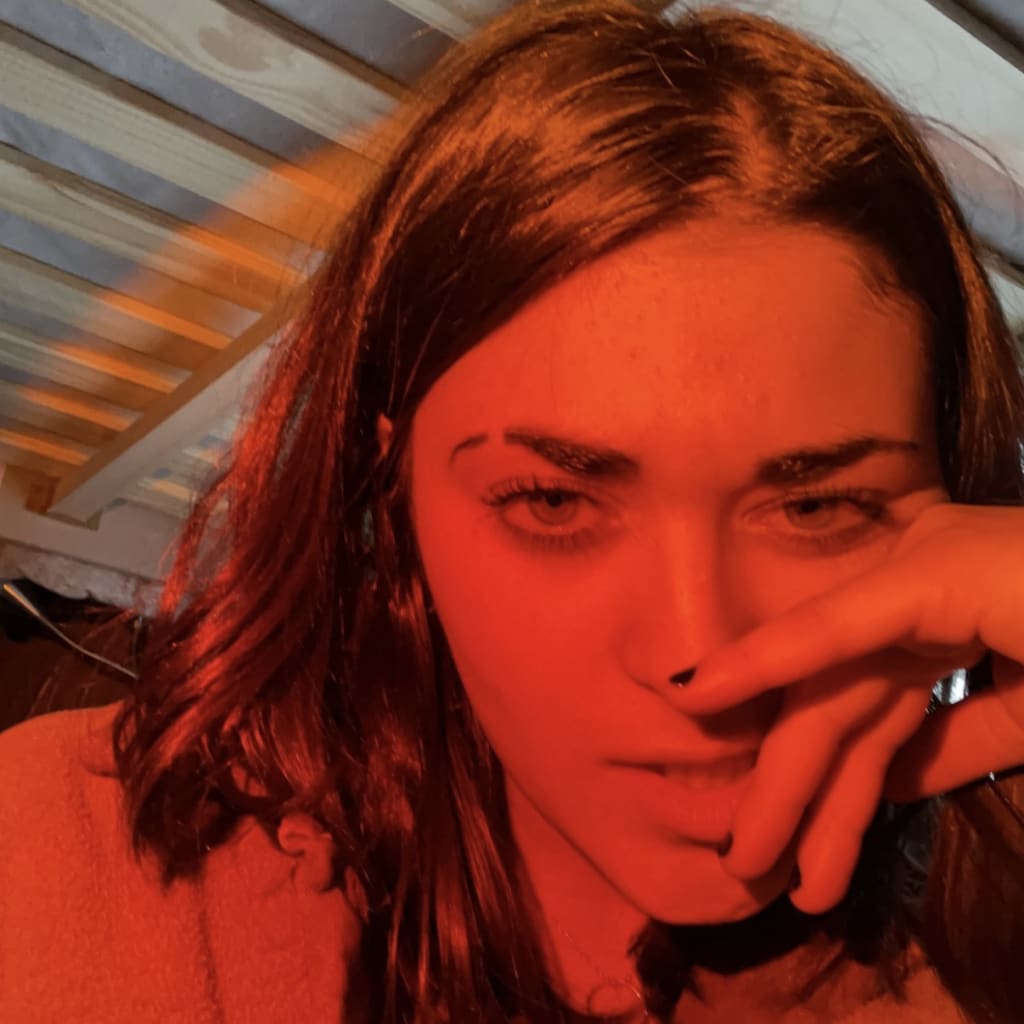 Elena (or e!ena) is an independent artist from a small town near Boston, MA, but currently resides and creates her music in Burlington, VT. After a long hiatus during which she graduated college, ended her collegiate hockey career, and began working as a medical assistant, she has started creating music again. Composing songs has become her way of coping with ADHD, anxiety, and depression disorders. While she's still learning how to produce (it's MUCH harder than she thought), she has found solace in expressing herself through heartfelt lyrics and captivating melodies which are complimented by her own vocals.
With her single, "cognitive dissonance," out now, we took some time to hear more from e!ena. Read below to learn more about e!ena, the story behind her single, and what's to come.
Hi e!ena! Let's start with how did you get your artist name?
Honestly, I just thought it would look cool to replace the 'L' with an explanation point. It also sets me apart from other artists named 'Elena.'
What city are you from and where are you based now?
I'm from a small town near Boston, MA, but am currently based in Burlington, VT.
At what point in your life did you decide to pursue a career in music? How did you get started?
I've dreamed of pursuing careers in both medicine and music since I was a little girl. With regard to music, I really only started getting more involved within the past two years. While I did start making music when I was around 8, I took a break in high school and college to focus on my schoolwork as well as an ice hockey career. I had not yet been diagnosed or treated for ADHD at the time, so I had to work twice as hard to keep up. That made it really difficult for me to pursue music.
Has your upbringing played a role in shaping who you are and defining your sound today? If so, how?
Yes and no. My mom always loved ABBA and Adele (ABBA, I wasn't as into, but I do love Adele), and I feel like I have been a bit influenced by Adele's music considering I have heard "Chasing Pavements" about a billion times. My mom also loves to sing, and I definitely got that from her.
How would you describe your sound to readers who may not be familiar with you?
My first song is pretty Pop/Folk, but the rest of my upcoming music is much more Jazz/R&B. With regard to my vocals, I've been told that I sound like a combination of Amy Winehouse and Sia. Not sure how true that is, but I was very flattered.
Do you have any hobbies outside of music? What do you do to stay creative?
Yes! I played hockey in college, so I still hit the rink when I get the chance. I also studied Neuroscience and studio art, so I love reading up on neuroscience news as well as painting. I'm also currently working as a medical assistant in Dermatology and hope to pursue a career in medicine, in addition to music.
Who are some of your main musical influences?
Amy Winehouse, Billie Eilish, and Adele are a few of my main influences. I absolutely love their sound and lyricism. Billie Eilish is currently my favorite, though. Besides her incredible talent, she also seems like a very admirable person, and I just love what she is all about, specifically with regard to positive body image.
What are some of your future music career goals?
I honestly just really hope that there are people out there that feel heard and understood when they listen to my music. That's my main goal. In terms of the industry, I really hope to begin to stand out at some point. My dream would be to collaborate with Billie Eilish.
Now onto your release, "cognitive dissonance." What inspired this song?
This song was inspired by my experience of the COVID-19 pandemic. I was going through a lot at the time (like everyone else in the world). Everything sort of just culminated, and I felt like I was spiraling mentally. That was when music truly became my way of coping with difficult experiences that I had been through, as well as anxiety and depression disorders.
What is "cognitive dissonance" about in your own words?
It's about my experience of anxiety and depression, and simply feeling like you're going mad. The turnaround in the melody represents the ever present glimmer of hope (I know it's cliché, but it's so true).
What is your favorite lyric in "cognitive dissonance" and why?
"She's an alocasia, and she's wilting, until the rain falls, and the sun starts shining"
This line is representative of that presence of hope that I just mentioned. Everyone goes through difficult experiences, some of which we feel like we can never escape. While we may be eternally influenced by these events, they are what help us grow and develop into better and stronger people. While life can be absolutely terrible, at times, there's always something to be learned from it. Again, cliché, but it's true.
What message do you hope fans take away from your music and from "cognitive dissonance?"
That even in times of what feels like utter madness, there's always a silver lining, and you are never alone.
What's one of your proudest moments of your music career so far?
Probably when I first performed live at a local event with a friend of mine. We got an encore which felt pretty cool even though we were not totally prepared.
What would you say are the greatest lessons you've learned so far?
Definitely the fact that there's always hope which I mentioned about twelve times already. With regard to music though, I've learned that making and producing music is EXTREMELY difficult, but even more rewarding.
What's next for you? Are you working on any upcoming projects, or do you have any upcoming shows that we should be on the lookout for?
I have yet to look into booking some shows because I'm still very new to the music world and kind of unsure about how to go about it. As for upcoming projects, I'm planning on releasing a third single in January of 2023, and hopefully will have my first EP out by the end of 2023.
Where can we follow you on social media?
Instagram: www.instagram.com/e.avradop
Spotify: https://open.spotify.com/artist/1X9LHRBnvfclp8URf3cFHW
SoundCloud: https://soundcloud.com/eavradop
TikTok: https://www.tiktok.com/@e.avradop
Facebook: https://www.facebook.com/people/Elena/100084773057247/
Twitter: www.twitter.com/elenaavradop
Reader insights
Be the first to share your insights about this piece.
Add your insights