London's AJ Tracey - 'Secure the Bag!' EP Review
A Track-By-Track Review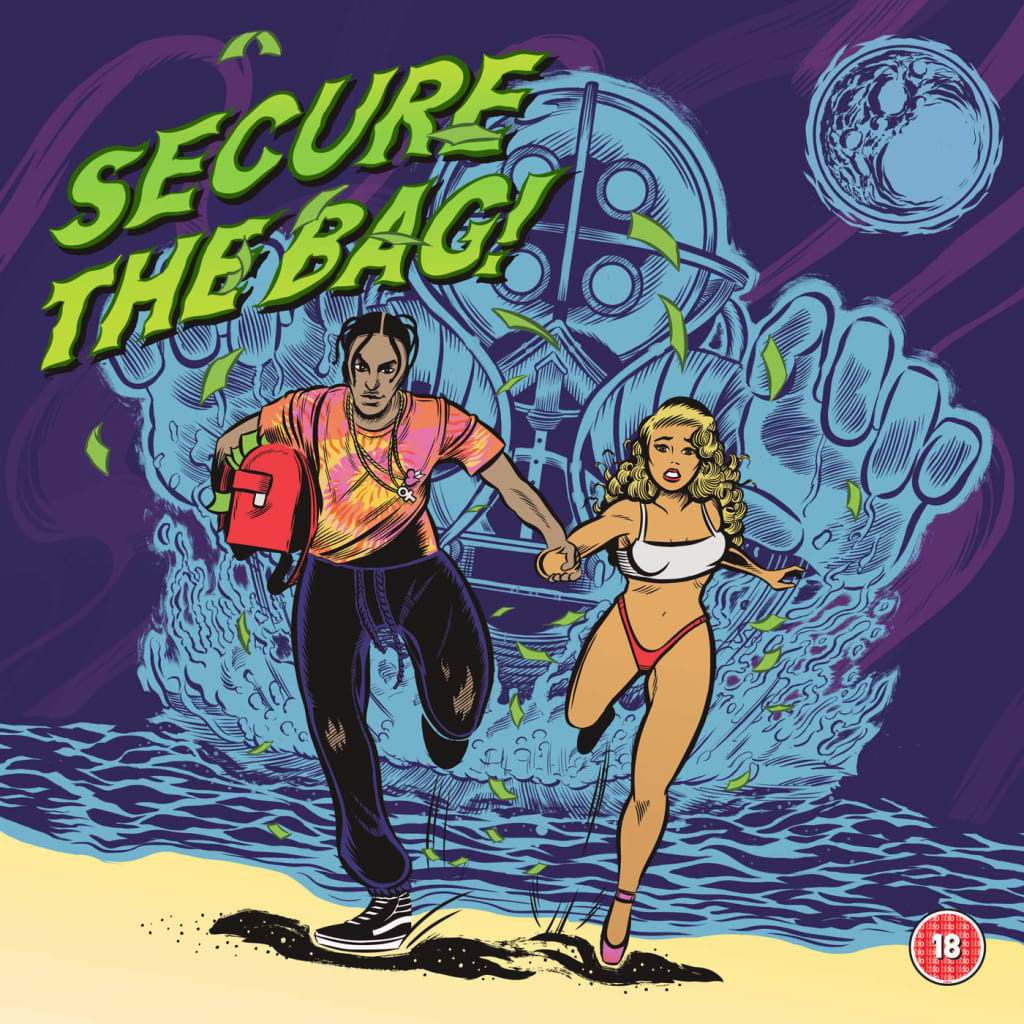 The cover art to Tracey's latest EP. 
Get familiar with London Grime star, AJ Tracey. He's only a few years in the making and already he's devouring his competition. Whether it's overseas or on his home turf in the U.K., his music will continue to transcend boundaries. Many of these U.K. artists such as Skepta and Dave already have the Drake co-sign; it's just a matter of time before American audiences start gravitating towards their sound.
Globalization has made it incredibly easy for people around the world to pay attention to, and emulate Hip-Hop culture and American entertainment. That's why if you listen to Grime, you'll find that it's very similar to trap music.
But American culture resides in its own vacuum. That's why there's a huge bubble expanding over our heads. When it bursts, a tremendous amount of content will come raining down on us. Big Shaq—the British comedian who went viral for insisting that "Mans Not Hot"—is just one of the few entertainers that has managed to crossover from that bubble to the other side.
AJ Tracey could be next. His latest EP, Secure the Bag, is eight tracks of pure heat. He's accompanied by fellow British artists Craig David, 67, JME, and American rapper Denzel Curry. Tracey has been doing what I've already foreseen will be the blueprint for the newest American rappers like Trippie Redd: dropping incredible EPs, saturating the market with singles, and releasing mixtapes/albums when anticipation is at an all time high.
But enough with my fortune-telling. It's time for a track-by-track review of his latest effort.
1.) "Blacked Out" - "I am not second, but I am top two." He wastes no time getting into the bars. Attention American rappers: step your bars and flow up. Tracey rides the beat perfectly over this dark instrumental.
2.) "Luvd U" - Tracey has words for his ex on this one. She wanted him "to be weak," but what's better revenge than being a rap star for all the world—including her—to see? This that joint you put on when you're flexing on those who did you wrong in the past. Can't complain.
3.) "Quarterback" - I love the piano instrumental over these deep trap backdrops. The ad-libs on the chorus echo as he boasts about "getting to the bag." The flow switch up that commences when he says "AJ T, be like me/London's best star and QB" is golden. Plus hearing someone say "bourgeoise" with a British accent is reason enough to listen to this track.
4.) "Tour Team" - This production is melting my speakers… hold on be right back. Alright, I got some new speakers. Tracey spits bars over this one about tour life and all of the money he has made. 67's energy starts off low, and then he turns up to give you imagery of "trap house and cats." This is one of the best tracks on this EP.
5.) "Bird Call" - This instrumental sounds like something Metro Boomin would cook up. Tracy makes allusions to trapping and warns other rappers that they don't want this smoke. He uses about two different flows for the second verse and kills it. The track winds down, and transitions into the next one.
6.) "Alakazam" - "Alright, Alakazam use your psychic attack!" The Pokémon sample is hilarious. Where in the world did they get this sample? Tracey gets right into it with bars like, "easter egg make the mac go crack" and "Old like Denzel, been to Washington." JME steps it up by telling his haters he'll be at their door "like Amazon Prime." But Denzel Curry steals the show. Which is hard to do considering how good the verses were before his. Maybe it's my American bias seeping through?
7.) "Shisha" - The instrumental sounds like a dancehall or Afropop jam that someone like Wizkid would thrive on. Actually, maybe that's this song's one downfall: it's missing the presence of someone who can get melodic on it. But make no mistake; this song is incredibly engaging. I've never heard someone sound so hard on an instrumental like this. Geez.
8.) "You Don't Know Me" ft. Craig David - This is a great way to close this EP. "I'm so onto man it's like Taken." Somewhere, Liam Neeson is nodding his head in approval. Craig David's silky smooth delivery makes this hook an ear-worm. And just like he has done throughout this project, Tracey delivers. It's a finale that makes you want to revisit the rest of the project.
The Verdict
Be the first one to put your friends onto this. Because it's only a matter of time before artists like AJ Tracey cultivate a huge following in the U.S. This project is impressive, and a great first impression for newcomers to Tracey's work. There's tons of replay value here. The culmination of all of these things makes Secure the Bag! an A-.
Reader insights
Be the first to share your insights about this piece.
Add your insights