Kodak Black- 'Heart Break Kodak' Review
Kodak Cupid?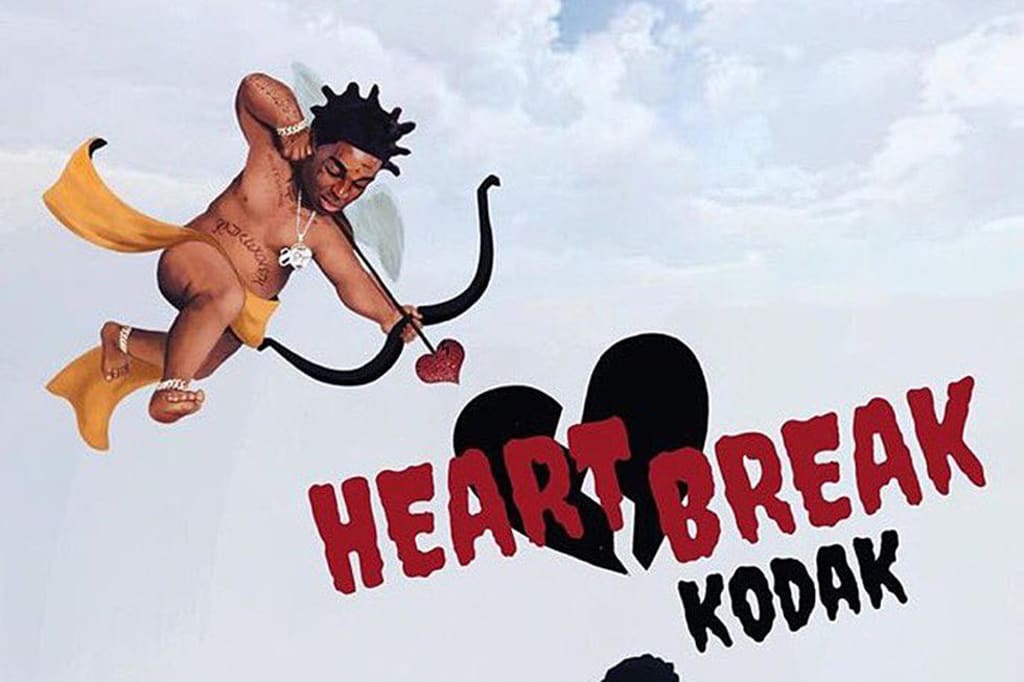 Kodak Black had a wild 2017. The project baby found himself battling legal troubles, warding off critics, and moving the pulse of Hip-Hop with captivating singles and cohesive albums. Seeing his progression thus far, it's hard to believe that this was once the kid who wrote "Skrt" in 2016.
In today's climate, Kodak has transcended his underground presence, and has shown that he can dominate Pop with hits like "Roll in Peace" and "Transportin". The following he has amassed from the bottom continues to carry him ever so higher.
Now, he's shedding the tough exterior cultivated by the streets in favor of something more heartfelt… something more… Valentine's Day-esque.
Yup, Heart Break Kodak is Kodak's Valentine's Day album. It's seventeen tracks revolving around his black heart and musings about love and relationships. Seventeen tracks of raspy crooning over plush beats.
Coming into this album, I had high hopes. His artistic progression from "Skrt" to 2017's Project Baby 2 has been remarkable. I thought he would follow this up by continuing to deliver in this fashion.
Instead, he did the unexpected and tried to reinvent himself.
I applaud Kodak for trying something different. Yet evidently, he doesn't have the pen or the voice to craft an album of this caliber. This album is a painful listening experience.
Although he's not a singer, Kodak has struck gold in the past by not being overbearing with his melodic tendencies. He's effective when he finds his pocket and couples it with some good rapping. It's why "Codeine Dreaming" is so intoxicating.
Rarely do this album's tracks strike a chord. He struggles to produce catchy hooks, or compelling verses. I wish his producers had just slapped some auto-tune on his voice, or told him to not record this album at all.
"Running Out Of Love" epitomizes this album's worst moments. Just like this song, there are numerous times where he overstays his welcome on a track; and maybe should've kept it sweet and simple. Because in addition to his bad vocals, his "musings on love" lack effort and any introspection. Bad songwriting makes many of these songs skippable.
I can't imagine why anyone with pending court cases would brag about identity theft as a "hobby". This is exactly what he does on "Feb.14". Self-incriminating much?
This album needs more handicaps. He could've used more singers like Tory Lanez (who swoops in to save the day on ""Fuck With You") for his hooks. This way, he could stick to rapping. Condensing the tracklist would've made this project more cohesive as well.
Kodak should try to reinvent himself again. Artists should always push themselves to the limit. But next time, he needs to take his time. I didn't listen to this album on Valentine's Day, and I probably will not listen to it next Valentine's Day.
I can't imagine anyone playing this for their significant other either. Only Kodak's ultra-Stans will truly enjoy this album. The rest of us should fall back to the tunes of Painting Pictures or Project Baby 2.
Essential Tracks
"Bill and Jill"
"Why You Always Gotta Go"
"Loyal"
"No Feelings"
The Verdict
If Kodak didn't have you cringing at the opening and conclusion of this album, then you'll grimace at everything in between. I was intrigued by Kodak's change of pace (or change of heart); it's always compelling to hear an artist get out of their comfort zone. Unfortunately for Kodak, he sprints into cringe-land. This album's sonic-gems are few and far between. When he's catchy, the track is golden. Otherwise, it's forgettable. And after the prolific year he just enjoyed, this is a mediocre start to 2018.
Heart Break Kodak is a D+.