It's SZA SZN
Third Place in Black Women in Music Challenge
SZA glows on the outside AND inside, therefore she makes music strictly for pretty people only.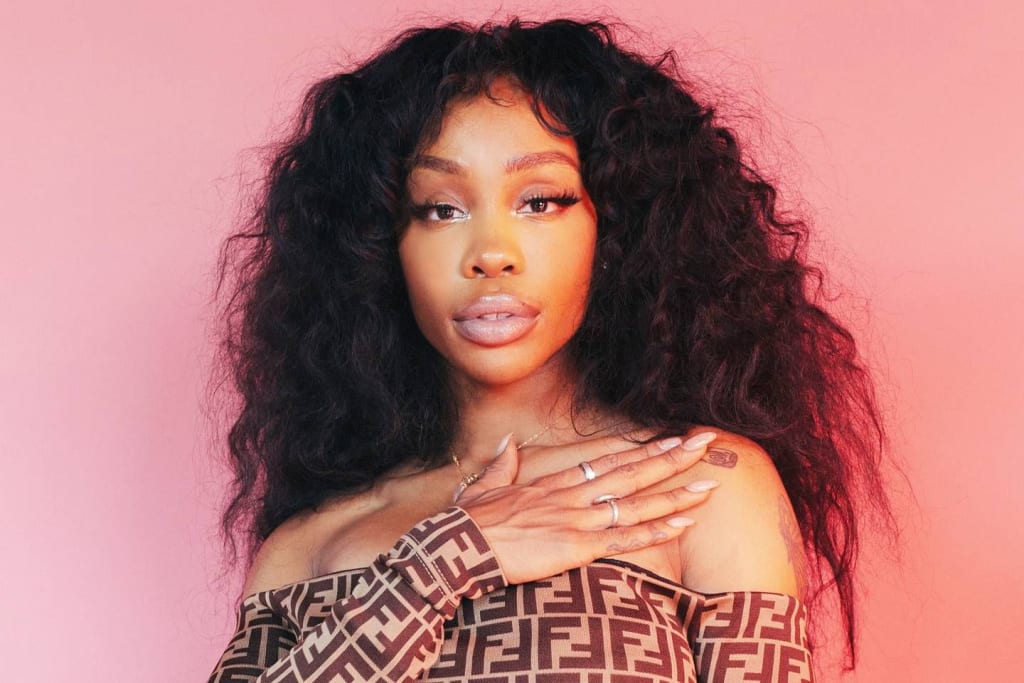 Photography by Elizabeth Wirija for British Vogue
She's been releasing music since 2012, but SZA really blew up in 2017 when she released Ctrl, the album that earned her five Grammy nominations and was named best album of of the year by Time.
So, Who is SZA?
SZA (pronounced Sizz-ah, real name Solana Imani Rowe) is a black female artist whose music has been described as alternative R&B, and according to Wikipedia, has "elements of soul, hip-hop, indie rock, cloud rap, witch house, and chillwave."
Making waves through sharing her perspective on life, fans of SZA particularly love her silver-lining outlook on life. She's a spiritual babe, a glowy, goddess-y badass. Her songs revolve around themes of hook-up culture, living authentically, fear of abandonment, lonliness, finding onesself, and what it's like to often be the only black girl in the room.
Rowe discussed what it was like growing up in New Jersey in an interview with Complex: "I went to school with all white kids and my Girl Scout troop everyone was white. I was being the token black everyday."
She's a practicing Muslim, which is also how she got her stage name, taking the letters from the Supreme Alphabet. In the same interview, she continues, "Somewhere around the 7th grade, when 9/11 happened, shit got weird and awkward. I was attacked at school and taunted. It got really uncomfortable and I started to get embarrassed. My dad's mosque came under fire, it was a bad time. I just wanted to be regular. At school, I wanted to fit in so I would take my hijab off."
Understanding that she couldn't simply fit in forever, she paved her own path. Rowe says she doesn't even have time to figure out what audience she's making music for, because she can only make music based on what she does and music that reflects her imagination. In other words, she's doing this for herself and hoping we like it, rather the other way around like a lot of artists today.
Lucky for her, she doesn't need a niche audience because her lyrics are so relatable and everyone can understand what she's singing so beautifully about. "I don't see myself / Why I can't stay alone just by myself / Wish I was comfortable with just myself" she sings on the track Supermodel. She lets us know that she doesn't feel perfect by not shaving her legs or wearing the perfect mom jeans in her song Drew Barrymore: "I get so lonely that I forget what I'm worth." In Garden, SZA sings, "You know I'm sensitive about having no booty / Having no body."
She might be sensitive, but she's not sorry for breaking the rules on the impossible societal standards that are set for women, especially women of colour, today. She just says what's on her mind, and she's not in it for the fame. In fact, she's been really honest about her insecurities about being famous.
"The moment I start worrying about what party I'm going to or what outfit I'm wearing on Instagram, those kinds of things, I'll fail. I know I will. I don't do well when I allow general population in my brain. I feel like my music might not be honest if I allow other things to cloud me. Isolation seems like utopia; it's the best thing I could ever ask for. It's messing up my social skills," she says in the same interview with Complex.
"I might build a studio in Norway and disappear for a year but I'll make the craziest album ever. I want to stay isolated so I don't kill my imagination. I love being by myself. I have social anxiety; the quitting comes from the fear which comes from the anxiety. So as long as I'm well isolated, which I am now, I'm fine. I can flourish if you leave me alone."
So quaratine has been a good thing for Rowe's creativity. She's alone and making music as she pleases. Her latest single, Good Days, hit Billboard's Top 10 on the Hot R&B/Hip-Hop chart, and is a dreamy melody about the thoughts running in her mind. (Hint: They're good thoughts.)
SZA is trying to navigate her way through life and make sense of it all... the messy side of relationships, the lack of self-respect, and also the growth, the healing, and having a strong self-care game. Her songs show the vulnerable side that exists within black women, a side that people either don't get to see often or don't believe exists, as many black women are still perceived to be only strong, powerful women.
When you have artists like Cardi B, Meg Thee Stallion, or Nicki Minaj, these incredibly powerful women express themselves explicitly through sexuality. You don't see them singing about shaving their legs or how they're scared to be alone, and although they may be labelled under the same genre of music as SZA, they empower women in a completely different way. SZA's balant truthfulness is appreciated because in today's world, there seems to be this sentiment that we should keep our private matters to ourselves, yet all these women are breaking the glass ceiling and sharing the most intimate parts of themselves, paving the path for women to do the same themselves.
Her ability to heal others as she heals parts of herself is a great reason of why she's adored. She gets down sometimes by the state of the world and the hatred on the news everyday, but she always seems to bounce back and has an admirable ability to let go of things quickly that don't benefit her.
"Some days I feel militant and vengeful," she explains in another Complex interview. "Some days I feel defeated and I actually cry because I just don't understand. Then you start getting biblical, like, 'Why is this happening to my people?' Then you go through, 'It's never going to change, so might as well just go with the flow.' And then you go through, 'No. I'm not asking anymore. I'm going to make it change.'"
In the song Love Galore, featuring Travis Scott, one of the biggest names of today's hip-hop, she sings, "Promise I won't cry over spilled milk / Gimme a paper towel / Gimme another Valium / Gimme another hour or two."
Instead of crying over spilled milk, she's going live with Lizzo and having big discussions about the inner self, gratitude, and life's challenges. She talks about the universe throwing her obstacles, but in the end, she knows they're simply lessons. The two talk about making the best out of crappy situations and listening to them have a conversation is a major mood booster.
When asked what makes her feel the most powerful in an interview with Cosmopolitan, Rowe replied that practicing self-love makes her feel empowered.
"It could be setting a goal for myself. Like, "I'm going to drink 3 liters of water today," and then just doing it. After that, I'm just like, "Wow, I am Serena Williams, so I don't know what y'all gon' do." I feel very accomplished. As human beings, we don't even do that. We don't do the small shit because it all seems like so much and there's so many compounds of small shit that it all adds up to something bigger than us. I just started doing small shit, the things that I would think about in my brain. Like, I want to meditate. I don't know how to meditate every day because I have a short attention span. It's so hard for me to focus on things for a long time that I'm not incredibly passionate about.
So this was more so tricking my brain into adopting different processes of self-care, self-love. It'll be small things. I think prayer, faith, being like, "You said you want to go to church, so get up." Actually getting up and doing that, it sounds really petty and really simple, but that was really changing my life. I think I got really far in my life doing nothing because God holds it down but I didn't realize that I wasn't taking an active role in my life."
A new album is coming, she just doesn't know when.
On Spotify, she explains to Genius where she's at right now and what's next for her.
"I just don't know what represents me at this time... I don't know if I want to do aggressive me, or trap me, or Joni Mitchell me, or falsetto me, or acoustic me, or some shit that sounds like "The Weekend," but it's all there. It's just a matter of what picture I want to paint. What world do I want to Build? That's what makes it scary,"
In an interview with British Vogue, she says "the black experience, the American experience, the human experience, is multifaceted and there are many avenues to be explored."
In the meantime, stream Ctrl or Good Days to hold yourself over, and find yourself loving yourself a lil' more.