Is Emily Eavis right about a music pipeline issue?
The furore over the entitled hippy's comments on why there are no women headliners at Glastonbury raises several issues about how new bands can break through. It also highlights how out of touch she is grassroots music.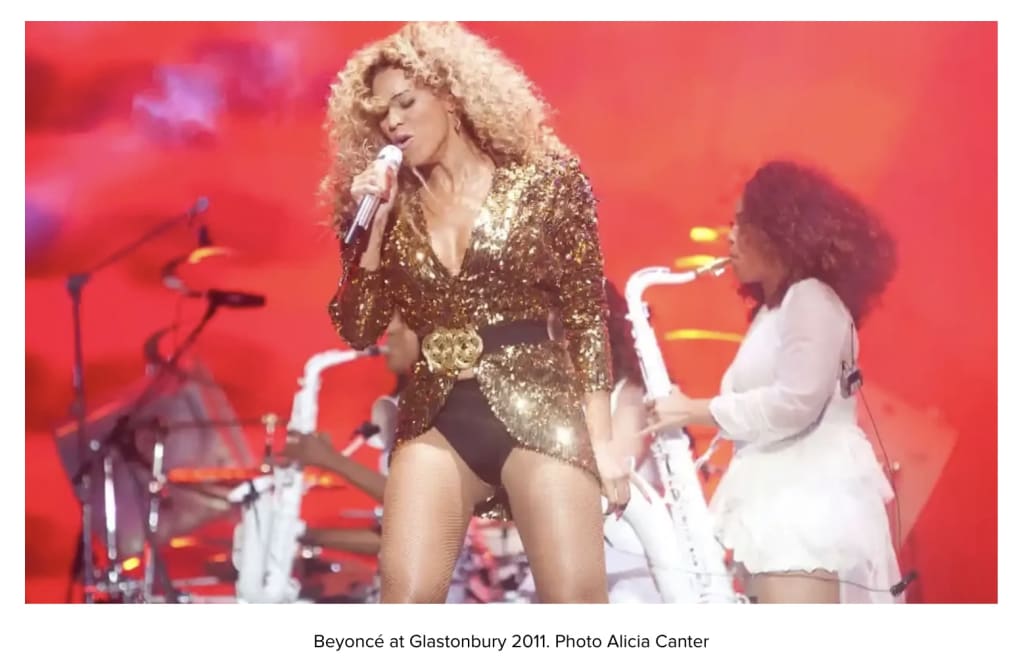 Emily Eavis' comments that 'festivals are struggling with a dearth of viable female headliners owing to an industry "pipeline" problem' left us perplexed. Any women artists from the second or third tier could easily step up and headline so this is not a shortage issue (Glastonbury festival might be one of the few organisations not adversely affected by Brexit).
It's telling that she uses the word pipeline - it's such a corporate term and that's the world in which the festival she co-organises now firmly sits. This is a branding issue - all she is saying is that they don't have a woman whose music (they feel) fits and can fill what is essentially now a advertising slot. Guns N' Roses sell better than Lizzo apparently.
This is bizarre on so many levels. The Glastonbury headliner could be me playing a recorder and it would still sell out. Does Emily not empathise with women who face daily struggles against the pale patriarchy of the music business? Is headlining the festival such a validation anyway?
But it does raise a point worth looking at. Is there a problem with the music pipeline? I'm ignoring her plea that specifically the industry should look to produce headliners as it makes me feel ill.
Coincidentally (I think) in the same week, Chris Moyles, the Radio X presenter and erstwhile BBC broadcaster, caused a self-serving stir with his assertion that most unsigned bands are rubbish. He could have qualified his statement by pointing out that many are not. And also that there are great unsigned bands who just go about promoting themselves in the wrong way. And maybe that unsigned means nothing in these days of DIY music promotion but he was never one for nuances.
He had a point - most bands are not destined for greatness (or even competency) but implicit in his statement is a recognition that there are a lot of bands out there. Maybe it's not a pipeline problem but a recognition issue i.e. in this hyper speed world of endless single releases, how does a band or artist stand out?
The sage Neil March points out in his latest blog "One problem, even with artists who have great potential, is not knowing when the right time is to take a particular path. For example, if you have barely played a gig and have less than 100 social media followers for your artist account, you should not be engaging a plugger because it is money down the drain. Get out and build a local following if you can."
Now I'm not saying we have all the answers at Blowtorch - we are a tiny label perched on the edge of Europe. However the trajectory of a band called Adore, with whom we recently started working, does illustrate Neil's point. They have no music on Spotify or videos on YouTube yet there is already a buzz about them in Ireland as they sell out small capacity gigs.
They are building recognition through social media. They network with like-minded bands. And they have a brilliant band logo which suits all kinds of merch.
We work with an excellent company called Sticker Mule who produce tees, custom stickers, labels and badges (note to all DIY bands - online ordering & proofs, quick turnaround and free shipping). After a recent sticker campaign, someone in Galway told me they went into their bathroom the day after an Adore gig and one of their stickers was on the mirror. Priceless.
They recorded two tracks in January which are still being mixed as the band want them to be as good as they can be. We will release them when they're ready and promote them imaginatively to the appropriate people.
Adore happen to be fronted by a woman. Lara is charismatic, dynamic and a great songwriter - as are Lachlann and Naoise who complete the trio. So Emily and any other festival bookers out there - get in touch.
Reader insights
Be the first to share your insights about this piece.
Add your insights