Introducing a Q&A with America's International Music Unicorn
Kamari Deni is a cross between Willow Smith, not to mention, also has an uncanny resemblance to her and your favorite Afrobeats artist.
A cross between the musical likeness of WILLOW SMITH, not to mention an uncanny resemblance, and your favorite Afrobeats artist, she's on the precipice of superstardom and gushes over being told she resembles both WILLOW and Chloe (Chloe x Hailey). Kamari Deni is a veteran musician and model at the tender age of 21. She's no stranger to music, though, her newest single, Put In Work may have you thinking she's a newbie — she's not. However, she is the 'first to ever do it' like she's doing it. Born in Florida, raised in Atlanta, Georgia, and lived in Puerto Rico for a year, she's International!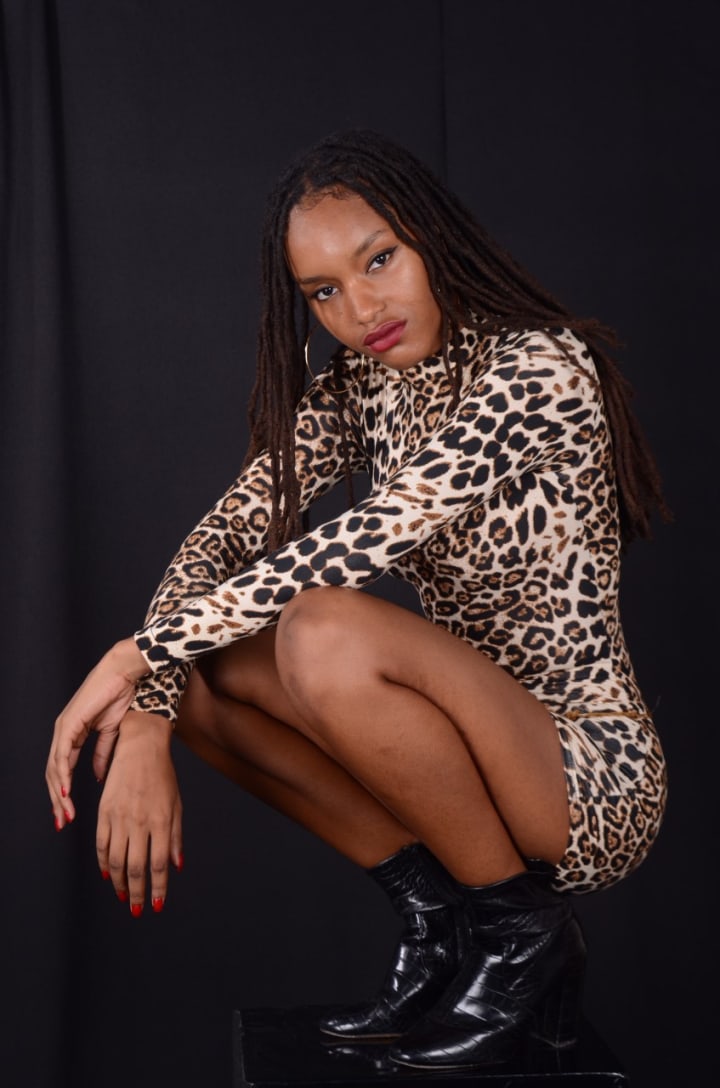 She's a musical unicorn, having moved to Africa in early 2021 visiting Morocco, she lived a few months in Burkina Faso, but now calls Abidjan, Cote d'Ivoire her home. She's the fusion of soul, alternative, and Afrobeats from an American perspective. Don't get it twisted, she's definitely well-traveled, cultured, and ready to take the global stage. Check out our Q&A with this Superstar.
Q. Kamari, tell us a little about you.
My name is Kamari Deni. I am a veteran model from Atlanta, musician, producer, and dancer. My music journey started at the age of 8. I play 7 Instruments. My mom is the CEO of the Bo Foundation headquartered in Burkina Faso and here in Abidjan, Cote d'Ivoire and she is also my number one support. We moved together with my little sister to West Africa earlier this year.
Kamari Deni chilling at the beach in Cote d'Ivoire
Q. Where do you draw your musical inspiration from?
As little as I can remember music has always been a part of my life. My family is very musically oriented, so my very first memories are being in the Studio at age 3 while my mom records her album. My grandpa was an important factor in my career, getting me my first guitar at 8. He sent it without me know, and he didn't know I had a dream about wanting to play the guitar 2 days before it arrived.
I wrote to myself to help me stay motivated and determined to follow and achieve my dreams.
Q. How did you come up with the title for your first single?
I wrote Put In Work in February, right after we moved to West Africa. The inspiration behind the song was actually a letter sort of poem I wrote to myself to help me stay motivated and determined to follow and achieve my dreams. The title came to me with the Hook, like a mantra to always remember. It can be a bit intimidating to move to somewhere new and succeed. The title of the song represents doing the work it requires to get to your dreams.
I was also inspired as well by seeing the level of entrepreneurship that Africans have. Seeing kids, pregnant women out working to make means for their families. Some of them only make 500 CFA (1$) a day and being satisfied. It further motivated me.
Q. What's your hope for the music you put out into the ethos?
I hope that my music can not only be relatable, but impactful and motivating to those who listen. I hope that all can get the message that is being portrayed as well as enjoy the beautiful keys that are in harmony.
Q. How can the people stay connected to you?
You can follow me on Instagram @Kvmvri_ and subscribe to my Youtube @Kamari Deni.
My song is out on all platforms under Kamari Deni — Put In Work.
Click below to listen.
interview
Writing with a passion for innovation, imagination and wanderlust focused on optimal lifestyle topics: self-help/relationships, health, and wellness, yoga, food + wine. Follow @1stLadyofPR on Insta & Twitter.
Receive stories by Tamika Morrison Okeleke in

your feed