Interview With Alt Indie Rock Band Plastic Barricades
Romantic, radiant, harmonic and passionate; the North London-based band Plastic Barricades is making music that mends open wounds and conquers lonely hearts.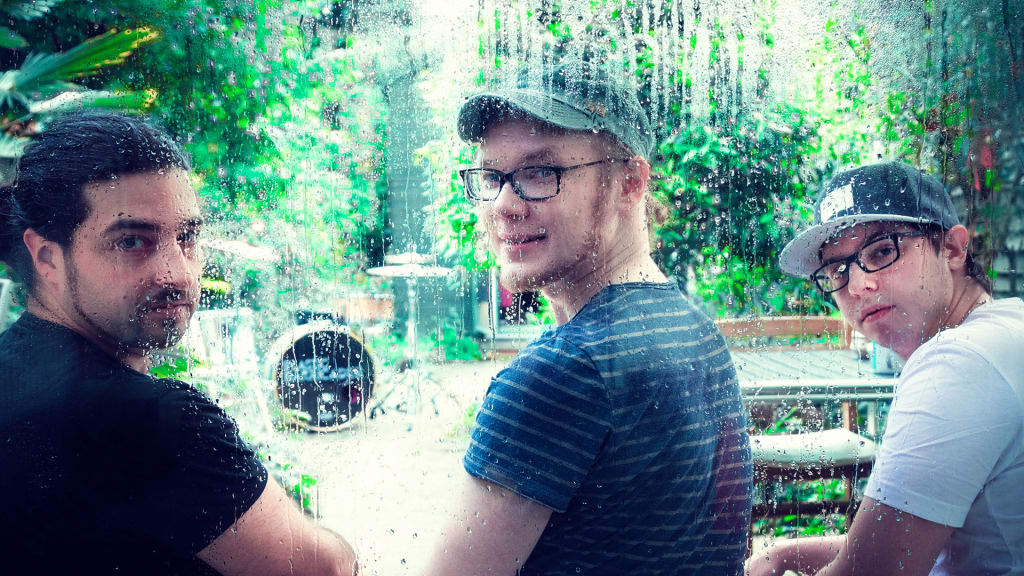 What is this music about?As Plastic Barricades frontman Dan Kert explains it, so is the existential question that underlies each and every song the band creates. Based in North London, the alternative indie rock band comprises Kert on the guitar, keyboards, and vocals, Daniele Borgato on the bass guitar and Frazer James Webster on the drums.
Plastic Barricades' sound derives from a mélange of genres, including alternative, rock, indie, and brit rock. Yet, their uncanny ability to add their own flavor has made their music undeniably unique and appealing to their loyal fans. During past years, the band has been nominated for "Oxjam Band of the Year 2014" and "MTV Brand New 2014" and was voted number one out of 222 bands participating in the Hard Rock Cafe London Global Battle of the Bands competition.
Inspired and influenced by Radiohead, Oasis, Coldplay, Muse, Keane, Razorlight, Nirvana and many others, the trio loves to experiment with style, sound and approach. This results in an ever-evolving style that speaks volumes about the band and the men behind the instruments. In pursuit of an answer to that same question–what is this music about?–we interviewed the members of Plastic Barricades to discuss their album "Mechanics of Life" and get a better understanding of their evolution, musical influences and creative process.
Learn more about Plastic Barricades at www.plasticbarricades.eu
Follow the band on Twitter at @PlasticB, on Facebook, and on Instagram at @plasticbarricades.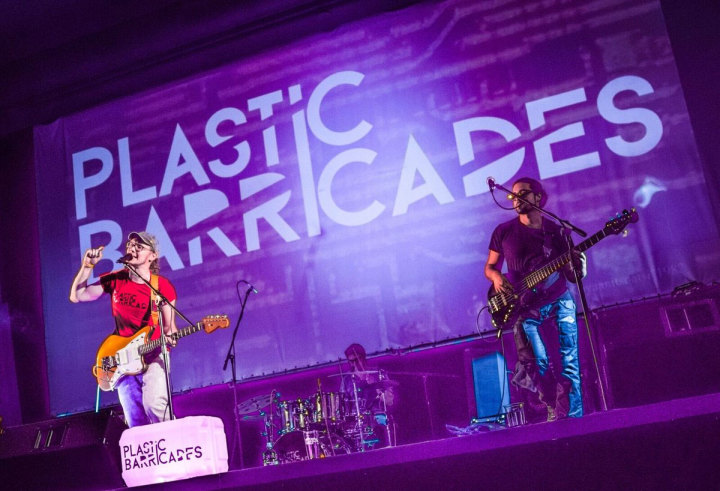 BEAT: What's the origin story of your band's name, Plastic Barricades?
Plastic Barricades: We've always been keen on barricading ourselves in the studio, while having a drink out of plastic cups.
For somebody who hasn't heard your music, describe your sound in five words.
Romantic, honest, curious, melodic, and melancholic.
How long have you all been playing together?
Plastic Barricades have been around for the better part of the decade. The current line-up with Daniele Borgato on bass and Frazer James Webster on drums is active for 4 years.
Who are some of your artistic inspirations from the indie rock world?
I'd been a big fan of Coldplay before they turned to EDM and of Musebefore they turned to opera. Lately, I've been listening to a lot of The Shins, Biffy Clyro, and Death Cab for Cutie. These guys strike me with their honesty and fearless experiments. I'm also very glad that Air Traffic is back together; their "Fractured Life" album is a true masterpiece.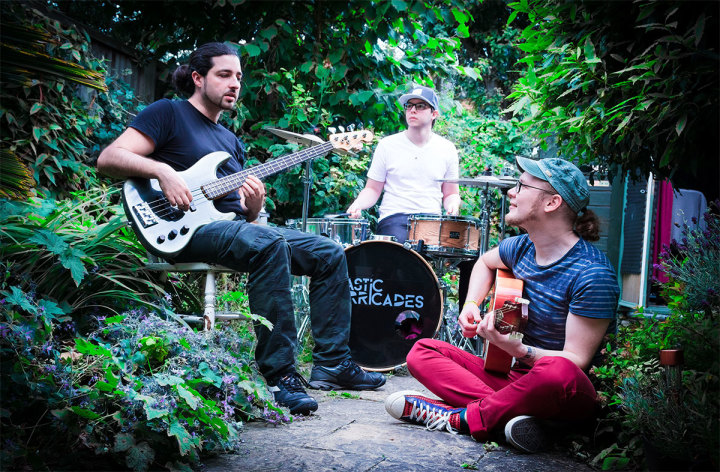 What comes first, the music or the lyrics?
Most of the time there is a lyrical idea, a song title, or just a story to tell. These just exist in my head, and in my notebooks. Then there is a random piece of music written. And then there is a question—what is this music about?
What's the strangest gift you've ever received from a fan?
I was asked to play our song "Shine!" at a wedding. This wasn't the strangest, but definitely the most beautiful gift I've ever gotten.
Aside from music, which other artistic endeavors are you each involved with?
Dani is into teaching and playing musicals, Frazer enjoys streaming video games, and I am 100 pages into my first novel.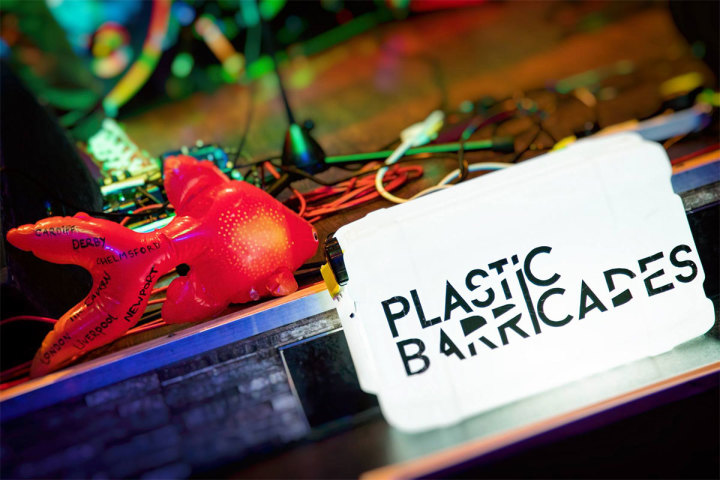 What was the most challenging aspect of putting together the "Mechanics of Life" album?
There was a lot of second-guessing and poking in the dark. We did most of the tracking in our own studio, so that was both a blessing and a curse. Perfectionism kicked in too many times. But I guess the most difficult bit was mixing, because changing one tiny EQ (equalizer) detail on one instrument can affect the whole track, so there is an incredible amount of variation involved. But, we've made it through in the end and are quite proud of the result.
Most memorable moment on the road?
Visiting a Safari Park near Liverpool after the last gig of our first UK tour was fun...but the monkeys did keep our antenna and wipers as souvenirs from the trip.
Describe the best show you've ever played.
This is a hard one, because most of the shows have something special about them. But I guess for me personally, it has to be our gig at Hard Rock Cafe London a couple of years ago. I'd visited that place when I was 13. That was my first trip to London. It took 13 more years for me to get on that stage.
Your music videos introduce some interesting characters, like the people with clock faces drinking coffee in "Insomnia Seed" and the cactus costume in "Giant Leap Back." Who comes up with these wild ideas?
We are lucky to have a very talented photographer and art-director on our team, Elina Pasok. She is responsible for all the imagery and artwork. "Insomnia Seeds" took 6 full days to shoot, while "Giant Leap Back" was done on a Sunday at our old flat in Estonia. We had a nice party with all our friends. That video will turn 5 years old in December.
Is there any hidden backstory behind the song and music video, "How Goldfish Grow?"
"How Goldfish Grow" is the first song on our new album, and usually the last song in our live sets. It is based on a simple bit of trivia—if you take a goldfish and put it into a big tank, it will eventually grow big. The environment affects the size of the goldfish, the same way as our environment can affect our own growth. The video was made by our friend Tiziano Pilustri—and it does have a goldfish that is conquering the world.
How would you say Plastic Barricades' sound, music and lyrics have evolved in the years since its inception?
Well, it is hard to be objective here. It feels like a natural evolution and exploration. But see for yourself: our official website is the only place where you can hear everything Plastic Barricades has ever released since 2008, there is some fun stuff there.
What can your fans expect next from you?
We are currently touring the UK—there will definitely be more tours in 2018, we're aiming for Europe and USA. Touring around the world would be a dream-come-true. Our brand new music video for "Our Favourite Delusions" should be out sometime in November. I am also very much looking forward to getting some new songs together for LP number two. Exciting times!
interview