In Memory of Hal Blaine
The World's Greatest Drummer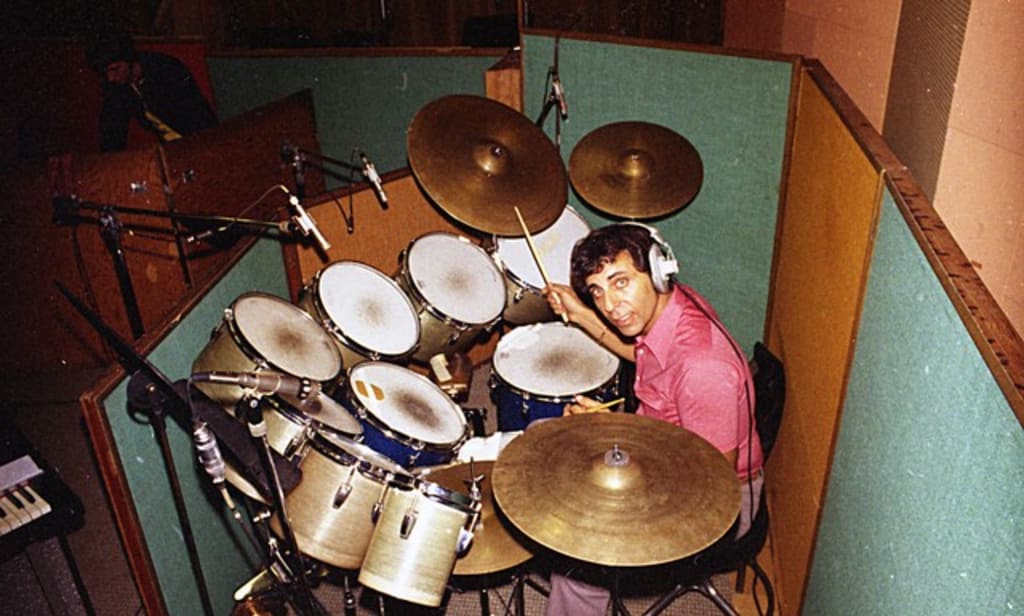 "Another Saturday Night" by Sam Cooke., "Mr. Tambourine Man" by the Byrds, "Good Vibrations" by the Beach Boys, "The Boxer" by Simon & Garfunkel
What do these songs have in common?
Well they are old songs my father taught me, and they are reinforced nearly every day by the various oldies stations of Sirius XM. But the most surprising and pertinent commonality is that all of these songs featured Hal Blaine on the drums.
And these songs are just the tip of the iceberg for Blaine—four of an estimated 20,000 records on which he played—some of them hits as big (or almost as big as the ones mentioned above). The extent of the Blaine "hit list" was something even my music-obsessed father didn't know before I started studying drummers and drumming (and the history of the Beach Boys).
When Hal Blaine died in early March 2019 at age 90, he left behind a legacy of musical accomplishment that will probably never be equaled.
To many drummers, myself included, Hal Blaine was a legend, and a true drum hero. The Blaine legend began in earnest in the early 60s when he got session work with the spectacularly eccentric producer Phil Spector, representing a key element of Spector's renowned "Wall of Sound." The highlight of Blaine's Spector years was undoubtedly the opening drum riff of the Ronettes' "Be My Baby," which Blaine said was originally done by accident. It's a mistake he learned to repeat whenever anyone asked for a re-creation of the riff. I frequently play the riff during practice or recording sessions to loosen up. And if I say that this is probably my favorite drum riff of all time, I'd have a lot of company. In fact, Bruce Springsteen's E Street Band drummer, Max Weinberg says that if the iconic drum beat was the only thing Blaine had ever done, his name would still "be uttered with reverence and respect for the power of his big beat." And Beach Boys leader Brian Wilson, later a key part of Blaine's legacy, has always called "Be My Baby" his favorite song of all time.
Hal was born Harold Belsky in Holyoke, Massachussetts in 1929. From a very young age he aspired to be a drummer, receiving his first drum kit at the age of 12. Essential to the story is that the family moved to California when he was 14; this put Blaine at the epicenter of the "Top 40" music business that was about to explode, a force that made the record business a mammoth moneymaker from the 1950s to the 1980s. His early experiences, which he characterizes as essential training, were decidedly unglamorous. In fact he played his early gigs in strip clubs while attending school, noting that he learned there to switch styles on a dime and got to play a wide variety of styles, all while developing his ability to sight read music.
A more traditional learning base was to follow, with Blaine playing in Count Basie's Big Band and in the backing bands for singers Patti Page and Tommy Sands. But it was in the recording studios of LA that Blaine found his calling, and he did very little work in a traveling band thereafter. Part of his credentials for session work was that unlike other drummers raised in the jazz scene, he enjoyed playing rock and roll. His jazz chops helped him find work with such rock-parallel acts as Frank Sinatra and Herb Alpert's Tijuana Brass, but the bulk of Blaine's work, particularly in the 60s, were considered rock hits albeit of the softer variety.
The first of 40 number ones on which Blaine played was probably "Johnny Angel" by television star Shelley Fabares, which hit the Billboard top spot in April 1962, with his first Spector chart-topper, the Crystals' "He's a Rebel" following later the same year. With Spector, Blaine would go on to amass quite a number of recordings and huge hits—not the least of which was the omnipresent December classic "A Christmas Gift for You from Phil Spector."
With the wild success of the Wall of Sound, record producers and executives fell all over themselves trying to duplicate the Spector formula. Not only Blaine but a number of his LA session player counterparts could count on regular calls, not only to back solo stars (including Elvis Presley) but also bands that played for themselves in public but doctored their records with session players that included not only future solo stars like Glen Campbell and Leon Russell, but also skilled players who like Blaine were almost exclusively contracted to play with an array of artists.
Other players included Carol Kaye, Tommy Tedesco, Bill Pitman, Louie Shelton, Don Randi and others. Two key session men went on to become members of well-known bands in the 70s, with Larry Knechtel (best known for the keyboard intro to "Bridge Over Troubled Water") joining Bread in 1973, and Jim Gordon (one of the few other drummers to get significant LA session gigs in Blaine's heyday, joining Eric Clapton and Duane Allman in Derek & the Dominos, a move that may have affected Gordon's coming decisive fall from grace, best not detailed here.
Fans knew little or nothing about the session players, whom Blaine himself dubbed the Wrecking Crew, although many others in the fraternity claim the monicker was not used until well after the prime of that group of players. Likely this was in the best interest of the bands the crew was backing, most of whom willingly ceded recorded instrumental work to these pros.
That was at least until the emergence of the Beatles, a self-contained unit that pretty much played their own music and did their own recordings throughout their career. Many British bands, like the Who, the Stones and the Kinks also played live and controlled the performance studio. One California band that chafed against the idea of session players was the Byrds, who wanted to emulate the Beatles' self-reliance, were appalled when producer Terry Melcher used only session veteran and vocalist Roger McGuinn on their breakthrough Dylan-penned hit "Mr. Tambourine Man," a number one hit that some see as the first "folk-rock" record. Not fully trusting the Byrds' instrumental prowess, Melcher hired Blaine, Leon Russell and others to create the recording and its flip side "I Knew I'd Want You," ironically written by Gene Clark, one of the Byrds deemed not fit to play on the record.
Interestingly, this paralleled the Beatles first experience in the studio, when George Martin, not trusting new member Ringo Starr to recut ousted drummer Pete Best's inferior parts, used American drummer Andy White to complete the single "Love Me Do." Both the Beatles and Byrds were never subject to label-dictated session players for the rest of their careers. But Blaine and White can count their lone performances with those bands as Number One records.
Even with the Beatles monstrous success, the other true bands of the British Invasion, and the coming of more and more studio-ready US bands, the Top 40 charts in the 60s and 70s were ravenous beasts hungry for more and more music. The music industry was in its heyday and pop music was decidedly eclectic, with buyers making room for all sorts of genres, whether rock, soul, pop and easy listening. Everybody knew every hit song and record buyers devoured it all. For Hal Blaine, there was no shortage of work and he anonymously let it loose on hit after hit.
Being in California, of course, one client of Blaine's was the "pre-Fab 4," the Monkees, a band created to be America's answer to the Beatles by Hollywood (they recorded in both LA and, because some songs were written by latter day Tin Pan Alley writers like Neil Diamond and Carole King, New York). Because of their popularity and some performers' jealousy of it, it became well known that they were not playing on their records and the members, especially future country rock pioneer Mike Nesmith (who used Blaine on many of his own compositions even in the Monkee days), were highly embarrassed by the outcry. The Monkees eventually did demand some degree of creative control, actually completing one album with no sidemen of note.
Why the Monkees received so much flak for their use of sidemen was a bit curious when one considers how much other work the "Wrecking Crew" were getting. Records by such artists as The Association, the Mamas and Papas, Johnny Rivers, Paul Revere and the Raiders, and the Beach Boys regularly featured numerous Crew members, with fans either not knowing or not caring.
By far, the most important influential contact Blaine and his session cohorts made post-Spector was Beach Boys leader Brian Wilson. Wilson started using Blaine and other members of the Wrecking Crew first to augment the Beach Boys sound, and eventually, when Brian stopped touring with the band and stayed in studio to create "pocket symphonies," he committed to using the Crew to completely replace the Beach Boys as instrumentalists on the Beach Boys albums. He did what came to be known as modular recording, where he produced complex instrumental soundscapes to which he and the other Beach Boys would add vocals and their trademark harmonies.
The first offshoot of this approach was the album Pet Sounds, widely considered among the greatest albums of all time, even topping quite a few polls and lists. Paul McCartney for one, considers it a masterpiece. The next great accomplishment from this arrangement was the innovative single "Good Vibrations," a clear masterpiece that again many feel was the greatest single ever released, a number one hit that seemed other worldly.
Sadly, Brian Wilson was facing demons at the time and the album meant to house "Good Vibrations" SMiLE was never finished. Other excellent songs emerged and eventually cuts planned for the album were compiled into an approximation of the final product, but the production was essentially abandoned. The experimentation with the Crew as an entity to create Beach Boy music would never be the same, though Blaine would be involved in a few additional records and a Dennis Wilson solo project, "Pacific Ocean Blue."
The hit records did keep coming for Blaine, even as his Beach Boy gig changed so drastically. As the Wrecking Crew's main drummer, he was working constantly, with Sonny and Cher, Neil Diamond, Laura Nyro, the Partridge Family, Steely Dan, and others. But perhaps the most impressive part of this era of Blaine was his presence on six consecutive Grammy Record of the Year winners from 1966 to 1971, something we're very unlikely to see again.
The winning Blaine records were Herb Alpert's "Taste of Honey;" Sinatra's "Strangers in the Night" and two records apiece by the Fifth Dimension ("Up, Up and Away" (68) and "Aquarius/Let the Sunshine In" (70)) and Simon and Garfunkel ["Mrs. Robinson"(69) and "Bridge Over Troubled Water" (71)].
For the album Bridge Over Troubled Water, Simon & Garfunkel and producer Roy Halee used the Wrecking Crew as a creative force in a way that hadn't happened since Brian Wilson's heyday. For the song "The Boxer" Blaine created the huge snare drum sound by setting up his kit in front of an open elevator shaft in the Columbia Records offices. According to Blaine "in that hallway, it sounded like a cannon shot! Which was just the kind of sound we were after.
Blaine and other Crew members did a brief tour with Simon and Garfunkel leading into the recording of "Bridge," a relatively rare event for Blaine. With the turn of the decade, the growth in self-performing studio artist and the widespread adoption of drum machine technology, made sessions a little harder to come by for Blaine. And the hit records slowed but didn't stop. At this point he was mostly relegated to number ones featuring easy listening acts, continuing with Neil Diamond and Cher, working with Barbra Streisand and the Carpenters, and playing on his last number ones with Diana Ross, Captain and Tenille, and John Denver.
Blaine evidently struck up a great friendship with Denver, and toured with him extensively. Friends report that Blaine was greatly affected by Denver's death in a the crash of a plane he was piloting in 1997.
It was through odd circumstances, though, that in Blaine's relatively low activity 1990s, his notoriety among the public at large began to grow tremendously. When Pet Sounds was released on disc in 1990, the music press lauded it as an event, and even the cartoon strip Doonesbury paid homage. It also turned out that the Beach Boy sessions for Pet Sounds and SMiLE had been well documented. When the Beach Boys released a 30th anniversary box set in 1993 they included as a bonus sound from the recording of "Good Vibrations," which highlighted the great musical backgrounds for the record and the hours of work that went into them.
Fans were fascinated and eventually the Beach Boys released full four CDs of the recording of Pet Sounds—they would much later find a way to release large portions of the SMiLE recording.
What's more, as the prime era of Top 40 music began to fade into the past, a funny thing happened. The music didn't go away. People seemed more passionate than ever about how the music came to be with music documentaries ranging from Dylan to Zeppelin to yes, the Beach Boys becoming more and more common. And it turned out that there was more than enough footage from the Wilson/Wrecking Crew sessions to make up quite a bit of fascinating documentary—with Wilson playing the dual role of crazed producer and eccentric genius.
Wilson's recording sessions with the Crew were further immortalized in parody in the movie Walk Hard: the Dewey Cox Story and in drama in Grace of My Heart, the latter with characters clearly patterned on Wilson and Carole King. And as public interest in music's past intensified, Denny Tedesco, son of Wrecking Crew guitarist Tommy Tedesco, perhaps noticed the proliferation and success of such documentaries as Standing in the Shadows of Motown, Muscle Schoals and 20 feet from Stardom and with the help of numerous online backers brought the documentary The WreckingCrew to life.
As an intense long-time Beach Boys fan and semi-professional drummer, Hal Blaine has been in my sights for quite a while. It's heartening to see his life and career lauded by people like Ringo Starr, Ronnie Spector, Steve Lukather, Nancy Sinatra, and of course, Brian Wilson. But considering the inventory of superb songs featuring the world's most recorded drummer, it's unlikely that his star will dim anytime soon.