I Want To See The Bright Lights Tonight
Still One Of The Greatest Albums Ever From Richard and Linda Thompson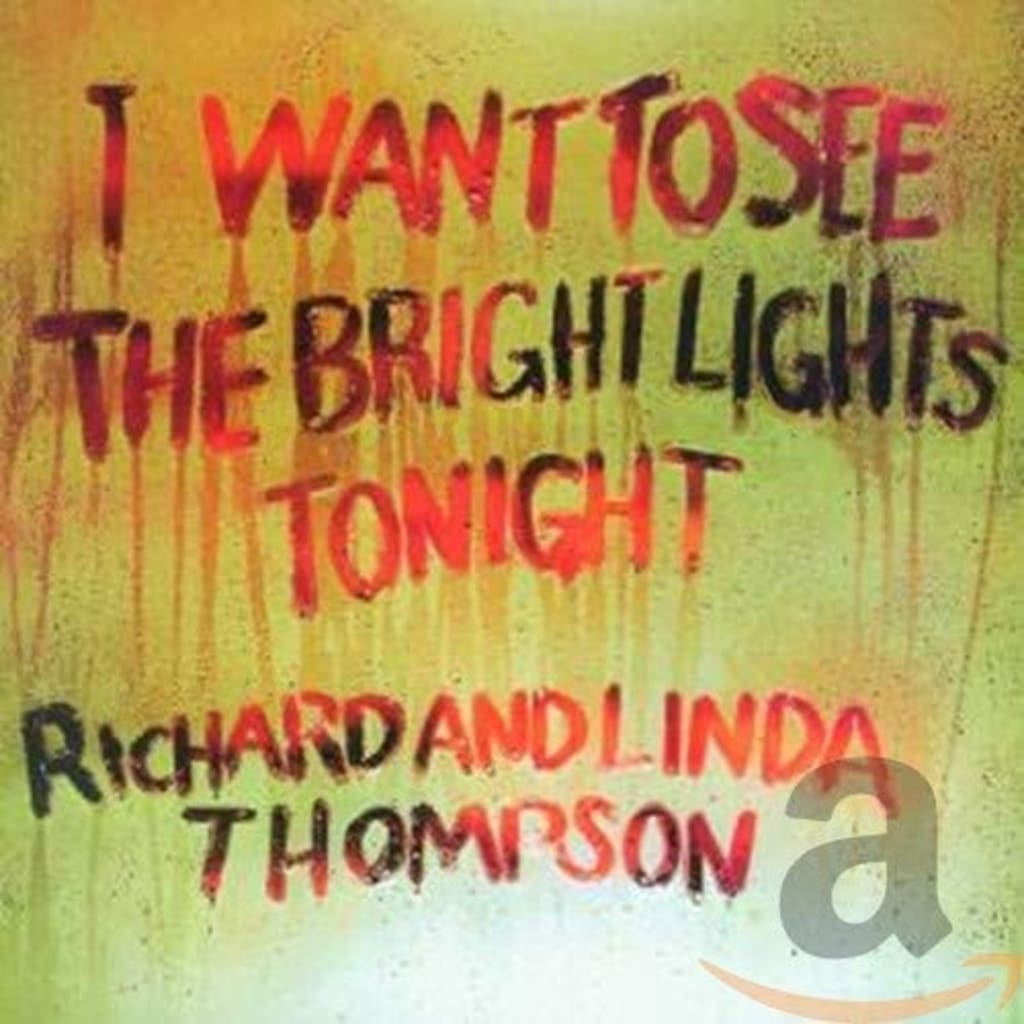 I Want to See The Bright Lights Tonight
Introduction
The is the second album released by Richard Thompson, and his first to include his then-wife, Linda Thompson, the pair being credited as Richard and Linda Thompson.
It was released by Island Records in the UK in 1974. Although the album was never commercially successful and was critically ignored upon its release (and not released outside of the UK until by Hannibal Records in 1983), it is now considered by several critics to be a masterpiece and one of the finest releases by the two singers, whether working singly or together.
I was listening to "Action Packed" a Richard Thompson collection and thought maybe I would do a Richard Thompson playlist which then turned me towards this album which from the first note I heard I was hooked by.
It was a favourite of John Peel's and that is where I first heard the songs and then had to get myself a copy and played and loved every song.
Richard and Linda touch so many emotions on this album: Love, Fear, Loss, Hope, Fun and I could probably go on forever finding more emotions in there.
I knew of Richard Thompson from his amazing work with Fairport Convention and various related bands, but this album was something else.
I have been really tempted to talk about the songs in this introduction, but I will just go through the album song by song, and while the penultimate song on the vinyl side one, the title track may be my favourite, you will not want to skip any of these songs and every one to me is very special so I hope you give them some of your time.
1 When I Get To The Border
A wonderful song about moving on with lots of sadness and regret but it is always good to shed the bad things and places in life and this is a definitely more than hopeful song.
2 The Calvary Cross
This is beautifully dark and was featured in the 2020 film, "The Night House", essentially three incredibly dark chords and haunting backing vocals.
3 Withered And Died
A beautifully sad song. This is a live version with Linda taking us through the lines, and almost brings tears to my eyes every time I hear as it makes me think of friends that I have lost.
4 I Want To See The Bright Lights Tonight
This encapsulates the album, and the live version is brilliant but I love the album version with the brass band which I think is more sorrowful but has a warmth to it as well. The first verse is for us all:
I'm so tired of working every day

Now the weekend's come

I'm gonna throw my troubles away

If you've got the cab fare, mister, you'll do all right

I want to see the bright lights tonight
5 Down Where The Drunkards Roll
After the night out on the drink this is where you might end up, another beautiful slice of darkness that closed the first side of the original album.
6 We Sing Hallelujah
The music, especially the title and chorus is actually uplifting, but there is a lot of darkness flowing through this wonderful song.
7 Has He Got A Friend For Me?
A beautifully sad song about being the one that no one wants. It's absolutely gorgeous and you just want to give her a loving cuddle.
8 The Little Beggar Girl
This is very upbeat and the beggar girl knows how to stand up for herself, another great song, have you got the album yet, you should have.
9 The End Of The Rainbow
This is another descent into darkness, the subject is a babe in a crib with no future but despair and pain, possibly the darkest song on the album, but you really need to hear these words.
10 The Great Valerio
The song that closes the album, about a tightrope walker and still dark, you are wondering if he will fall. The crowd are uncertain, but this closes an incredible album, every song fits in perfectly.
Conclusion
This is one of my favourite albums ever and I hope my words have made you want to investigate it a little further.
Reader insights
Be the first to share your insights about this piece.
Add your insights