Halsey: "Manic" album review - Blending all the colours of the rainbow
Music review for singer-songwriter Halsey's 2020 album, 'Manic'.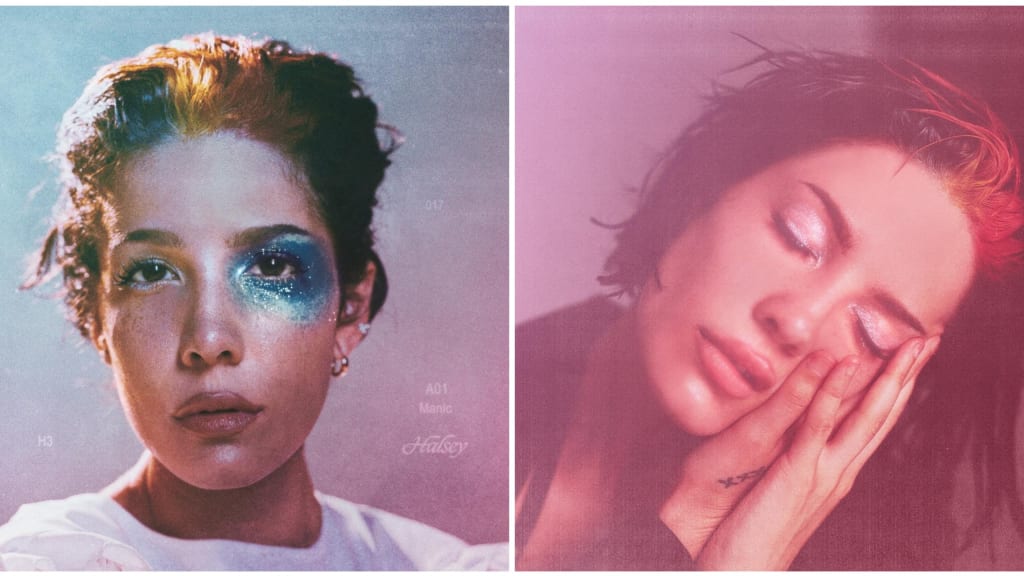 ALBUM COVER COURTESY OF CAPITOL RECORDS. PHOTO (RIGHT): AIDAN CULLEN (PUBLISHED IN TEEN VOGUE)
Manic is the raw slam-poetry, indie cross alternative record fans have been waiting for since the singer's sophomore album Hopeless Fountain Kingdom was released in 2017.
A serene melodrama of realism, Halsey speaks of Manic with Apple Music's Zane Lowe to be filled with "personal experiences with mania" rather than its public perception.
The American-songstress' debut album Badlands takes on an indie-pop sound before moving into the genre of synthetic-pop with Hopeless Fountain Kingdom. Whilst retaining the authentic viewpoint her previous two albums shared, Halsey takes Manic in an entirely new direction with blends of all genres including country ("You Should Be Sad"), alternative indie ("Clementine"), trap and metal ("Nightmare"), and confessional pop ("929").
"Ashley", the first track on the record, is described by Halsey as being "a reintroduction of my personal self" and a "small voice" narrative that hints at the vulnerability of the singer's first album. In many ways, the song is addressed from Halsey to Ashley, saying "standing now, in the mirror that I built myself."
The 25-year old has spoken publicly of her struggles with Bipolar Disorder in the past. She tells Alex Morris of Rolling Stone that she's "been committed twice" since becoming Halsey and is "not ashamed of talking about it now."
Claiming the album was written while experiencing a manic state, the singer recounts her difficulty of writing in such a headspace. "Why can't I write about [mania]? I've experienced this my whole life."
"Still Learning" sees Halsey's struggle with mental health continued difficulties with a dysphoric self-image ("I should be living the dream/but I go home and I've got no self-esteem").
The album provides testimony to the singer's strong feminist ideals. "Nightmare" and "Alanis' Interlude" lyrically express sexual and professional empowerment with "come on little lady, give us a smile/no, I ain't got nothing to smile about" and "your pussy is a wonderland."
In her interview with Rolling Stone's Alex Morris, the singer laughs, "I want to turn on the radio and hear a young woman and be like, 'Fuck no!'".
Halsey speaks of Manic with Lowe as being a "reconnaissance of years of things I never got to work through", referring to the emotional turbulence the record puts forth.
"Without Me" is the lead single from Manic. The artist tells People magazine that the song is "a reflection of a combination of relationships" and is "a reminder you deserve more."
Manic breaks genre boundaries the same way Halsey breaks records. Using emotional torment as ammunition, the singer devises the character of "Ashley" as being imperfect and flawed, naturally human.
"3am" takes on a rock sound which accentuates the comfort and safety of human connection through technology ("I need it digital cause baby when it's physical/I end up alone").
The record is sonically electrifying with its haunted power chords and distinct R&B vibes, but the singer's choice to slow down the arrangements allows the album to take a breath. "Finally/Beautiful Stranger" is a mid-tempo song is about falling in love with new people and not being afraid of your feelings.
Halsey mixes up styles with three collaborative interludes. These serve to break the album into sections with new arrangements that explore the technical foundation of the singer's vehement lyricism.
"Alanis' Interlude" features the melodious vocals of Alanis Morissette in the chorus. "SUGA's Interlude" features Korean boy-band BTS' vocals rapping over a slow, atmospheric ballad. Dominic's Interlude" features the vocals of Dominic Fike and takes on a new approach to psychedelic rock through its harmonious reference to The Beach Boys.
Halsey makes reference to a number of her favourite films. "Ashley" ends with Kate Winslet's iconic speech from Eternal Sunshine of the Spotless Mind. "I'm just a fucked-up girl looking for my own peace of mind. Don't assign me yours." The artist even goes as far as writing a title track named after Winslet's iconic character of "Clementine."
A reference of Jennifer's Body is featured at the beginning of "Killing Boys" with Megan Fox and Amanda Seyfried's film exchange: "Boys are just placeholders, they come and they go."
The closure of "3am" sees a snippet of the voicemail John Mayer left to the singer's personal phone, saying "your best song is the song that's currently on the radio. How many people can say that? That their best song was the one that's currently about to be a massive hit. It's already a massive hit."
The closing track "929" is arguably the most provocative song on the album. Reflecting on the past twenty-five years of her life, Halsey recounts fragmented observations about poverty, role-models, growing up, being a woman in the music industry, romantic relationships, loss and an estranged relationship with her father.
As Halsey explains in a Twitter post, each song on the album has "its own identity."
With Manic, it seems the American songstress is no longer working within the boundaries of a celebrity idiom and is seductively honest to fans and herself.