God Bless the Go-Go's
Fabulous fivesome's fourth studio album reissued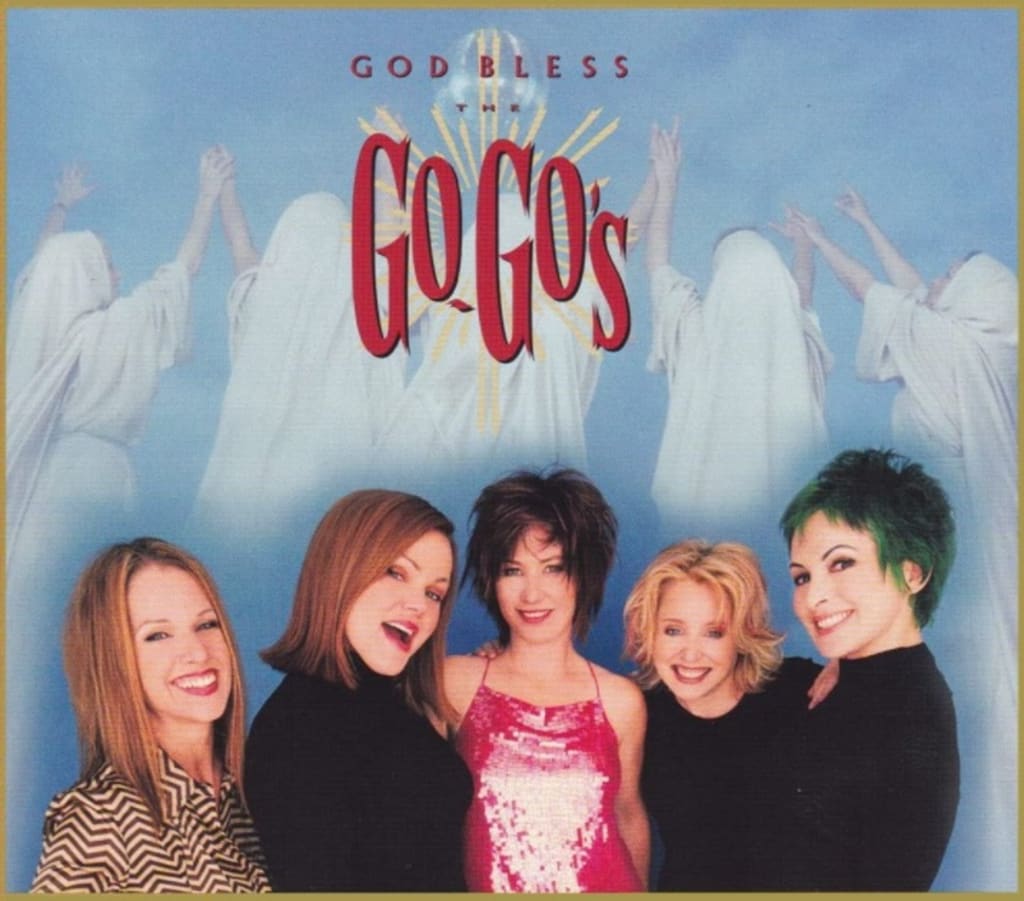 It's funny how a change of season and the annuity of weather can bring a beloved, tucked away memory rushing back like it just happened yesterday. In the renewed feeling of springtime in 1984, the Go-Go's released the third and final album of the band's '80s heyday, which ultimately became Belinda Carlisle and company's last for over a decade and a half. Now, some 37-years later, the trailblazing ladies have not only been selected for induction into the Rock and Roll Hall of Fame, but also see the reissue of the totally awesome, but criminally overlooked God Bless the Go-Go's.
Ironically rereleased two days after the RRHOF induction announcement, the band's fourth studio album finally makes its vinyl LP debut, in addition to a deluxe edition CD with new artwork and the inclusion of two exceptional bonus tracks: "King of Confusion" and "I Think I Need Sleep." Both were previously only available abroad, despite being superior to some of the fourth album's proper tracks (specifically "Throw Me a Curve" and "Kissing Asphalt").
Although seventeen years separate the Go-Gos' third and fourth releases, God Bless the Go-Go's remarkably picks up right where Talk Show left off in 1984. In fact, the piano intro of "Talking Myself Down" subtly but undoubtedly recalls echoes of previous hit "Head Over Heels." Just as the ladies' 1980's output demonstrated growth and proficiency with each release, God Bless the Go-Go's not only continued that trend, but also became a worthy and vital entry into the band's musical legacy.
God Bless was produced by production partners Paul Q. Kolderie and Sean Slade, best known for their work with Pixies and Radiohead, except for the album's glaring misstep (the sappy "Here You Are," which sounds like a Belinda Carlisle solo album outtake that has no business being included on a Go-Go's record), which was helmed by Rick Neigher. Moreover, substituting the aforementioned sub-par tracks with the two bonus tracks would've made God Bless an unyieldingly powerful and perfectly flowing 12-track album, an oversight which can happily be corrected with current technology.
Kicking things off is the vivacious "La La Land," which heralds a 17-year return and concurrently sounds as if it could've been recorded yesterday.
"Come on everybody, do you want something real? / Can't seem to get ahead, but it's no big deal / Floating like a feather in the wide-open space / Landing in a perfect, happy place / Hello world, we're here again / Living life in la la land," sings an ardent Carlisle.
Armed with high caliber standout tracks such as the should've been smash "Apology," the aggrieved "Automatic Rainy Day" and the unapologetic "Unforgiven" (featuring Billie Joe Armstrong), it's hard to fathom why God Bless initially slipped through the cracks. While the poignant melancholy of "Daisy Chain" tugs at the heartstrings, the raucous crunchiness of "Stuck in My Car" and "Sonic Superslide" prove the Go-Go's never lost the beat. Perhaps now God Bless will finally receive its long overdue appreciation beyond the Go-Go's hard-core fans who've loved it for many years.
It's always been mystifying why sales inexplicably declined with Go-Go's releases after the historic debut Beauty and the Beat, while every subsequent album released by the band proved consistently stronger and better than what came before it. Since hindsight often sheds new light upon the past, perhaps the group's newly acquired membership into the male-dominated Rock and Roll Hall of Fame will make now the perfect time to re-assess the Go-Go's significant and important body of work, especially God Bless the Go-Go's. Congratulations Belinda Carlisle, Charlotte Caffey, Gina Schock, Kathy Valentine and Jane Wiedlin for finally receiving the overdue recognition that's so well deserved. Thank heavens the god (or goddess?) of rock bestowed the blessing of the Go-Go's upon us.
About the Creator
I'm a music journalist, blogger and crate digger. I began writing about music during college and again as a freelancer. Links to my published pieces can be found on my music blog at: popmartzoo.com and/or follow me on Twitter:@popmartzoo
Reader insights
Be the first to share your insights about this piece.
Add your insights