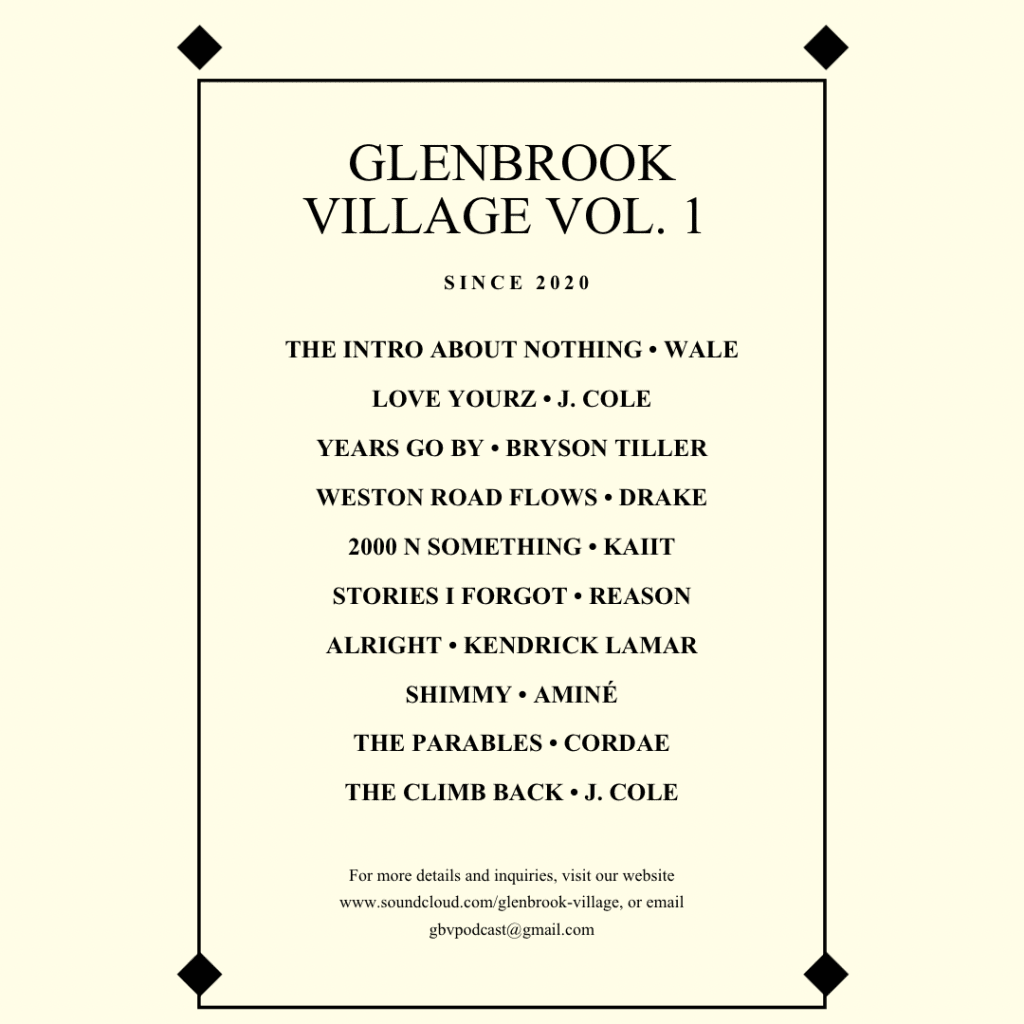 Towards the end of 2020 my friends and I started a podcast. As many group projects go it has been challenging, but we have still been able to piece together 11 episodes. The podcast is called The Glenbrook Village Podcast and is available on Spotify & Apple Podcasts . We discuss everything and anything on the podcast, no topic is off limits. Throughout our first couple of episodes we have discussed the pandemic, the election, the great reset, football, music, basketball and many more.
Besides talking with my friends on these topics, I also enjoy writing about them as well. My New Years resolution was to write more, and what better way than joining the vocal community and sharing our stories.
I name each episode after a song, and after each 10th episode I decided to make them into a playlist & mix for people to enjoy. I spend the majority of my free time listening to music, it is really when I'm the most free. Sharing music is something I really enjoy, and appreciate when others share their music with me as well. When I pick out the songs, I pick songs from artists & albums that speak a lot to me.
The tracklist is as followed :
The Intro About Nothing - Wale:
This is the intro track to "The Album About Nothing" which is in my opinion Wale's best album to date. The album has an amazing concept where Wale integrates Seinfeld on each of the songs, which plays into the show being about nothing. This introduction track is one of my favorites from the album. The energy it brings really sets the tone for the entire album.
Love Yourz - J. Cole:
Love Yourz is the final track from 2014 Forest Hills Drive, which is my favorite Hip-Hop album. Cole does a great job on this album being completely vulnerable and really gives you a glimpse into his life, and the lessons he has learned along the way. Love Yourz is my favorite song in the world. The message behind it is something I believe we all need to be reminded of. It basically tells you to appreciate everything you have in life, and not to be concerned with what others are doing around you.
Years go By - Bryson Tiller:
This is the intro track from the "Anniversary" album from Bryson Tiller. This album serves as a follow up to "Trapsoul" and does not disappoint. I love the vibe that you get from this song.
Weston Road Flows - Drake:
This song comes from "Views". When Drake released this album there was a lot of criticism that came from it, but the longer it's been out the better this album has gotten. Weston Road Flows is a standout from this album and might be the best song from Views.
2000 n Something - Kaiit
This is a single from a little known artist. If you're into neo-soul, this is a song you'll enjoy. Kaiit has a very unique voice and I love listening to this song when I feel like putting myself in a relaxed mood.
Stories I Forgot - Reason
Reason is an artist that is a part of TDE, which has such artists as Kendrick Lamar and SZA. Reason in my opinion is an underrated rapper. This comes from his "New Beginnings" album and it is definitely worth listening to.
Alright - Kendrick Lamar
This song comes from "To Pimp a Butterfly" which is one of the best albums to come from the 2010's. Alright is a standout track from the album and is one of my favorites.
Shimmy - Aminé
This song comes from Aminé's new album "Limbo". This song is amazing, sampling "Shimmy Shimmy Ya" by ODB in the hook. The entire Limbo album is definitely a must listen
The Parables - Cordae
Cordae is a new artist who made his debut in 2019. This single really shows how good he is as a lyricist. In time Cordae will cement himself as one of the best rappers in the game, his album "The Lost Boy" is a must listen.
The Climb Back - J. Cole
This song came as a part of a two pack "Lewis Street" released by J. Cole in 2020. This song shows how much Cole has grown and really cements himself as one of the best rappers alive.
I will be sharing the link to the playlist and hopefully you all enjoy. If you hear a song you like, I suggest listening to the albums the songs came from.
Knox