Elvis Costello's Classic 'My Aim Is True' 
Elvis Costello said writing about music is like dancing about architecture. I still marvel at that.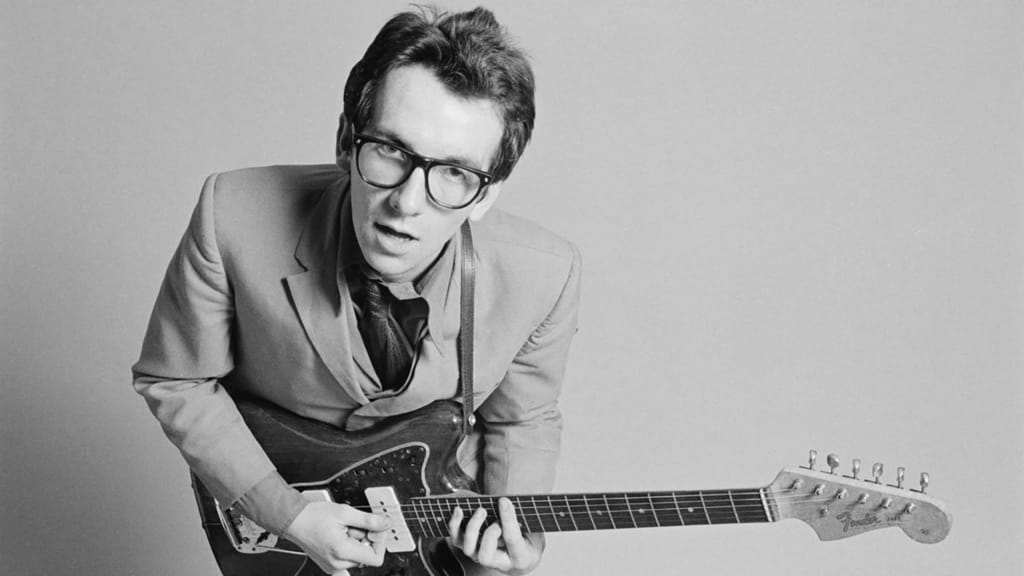 For a while, at the beginning of his journey especially, some thought he was another Elvis Presley rip-off. That was, of course, before they heard him. He had his name long before the King died. Elvis Costello initially broke out in England, and remained a mystery in America for the first few years of his success.
Elvis Costello's My Aim Is True is a masterpiece. But to look at him, one could hardly believe that he is one of godfathers of contemporary music. This scrawny, nerdy, Buddy Holly-type guy was one of the people who wrote the the book on the late 20th century transition from independent artist to pop culture phenomenon. There are no greatest hits of the decade albums that don't include Elvis Costello. Born out of the generation that spawned John Lennon, David Bowie, and The Who.
"And I don't feel any form of music is beyond me in the sense of that I don't understand it or I don't have some love for some part of it." - Elvis Costello
The Best of The First 10 Years is a great way to introduce yourself to the legend. The comparisons that are more obvious are the Bruce Springsteen cum Graham Parker cum Southside Johnny cum Van Morrison mold. The songs, the mood, the emotion, all come from the lowest common denominator that binds this group–blues-based rock and roll. The thing is that when looking back on Elvis Costello's prolific career, he straddled both sides of the Atlantic.
The Criminal's guitarist and ex-New York Doll, Sylvain Sylvain once explained the importance of music that's geared to the younger generations who'll go home and figure out what they've heard on their guitars. Each young generation that comes up listening to the iconic music of the 20th century feels obliged to evolve it and pass it on to the next generation. Costello's web site is one of the coolest on line presences I have seen for a musician. Doesn't surprise me.
Kids are the future of music. Costello's songs are so prolific, kids will be singing his tunes 50 years from now. No different than The Beatles. Ironically, I didn't really come to understand how great he was till my late 20s, maybe 1996. Rick and I attended a private movie premier where Costello was giving an intimate performance backed only, I think, by Steve Nieve on the piano. Changed my whole perspective on him as an artist. I misunderstood him when I was in college in the late 1980s. Must have spent the next month absorbing all things Elvis Costello, which in those days meant going to a place called Sam Goody in NYC. You could sit in a booth, put on giant headphones and dial up a song to listen to before you bought the record or CD.
My favorite song on My Aim Is True is "Pay It Back." When I first heard it, I read somewhere to compare it to Van Morrison LP cause the similarity of "Pay It Back"to Morrison's "Joyous Soul". But, if anything, Elvis' song is an improvement; it's lighter, bouncier and more fun to listen to. Follow ups for me would be "Blame It On Cain," a social statement/protest song, and "Alison," the title cut.
Three decades since his debut album, My Aim Is True, Elvis revamped some of the lyrics for Sesame Street. I found this out playing YouTube videos with my granddaughter. His duet with Elmo was awesome. "The Angels Wanna Wear My Red Shoes" is altered a bit for Elvis' furry red friend. On Sesame Street, Costello wants to count to 10 but unfortunately The Monster Went and Ate [His] Red 2. Elmo mimics Costello's style, clothing, spectacles and signature fedora. Tomorrow's kids will be singing music legend Elvis Costello's tunes for a long time.
About the Creator
New Yorker in his forties. His counsel is sought by many, offered to few. Traveled the world in search of answers, but found more questions.
Reader insights
Be the first to share your insights about this piece.
Add your insights