Don't Look Away from Trevor Rabin's 'Can't Look Away'
An Album Now 30 Years Old!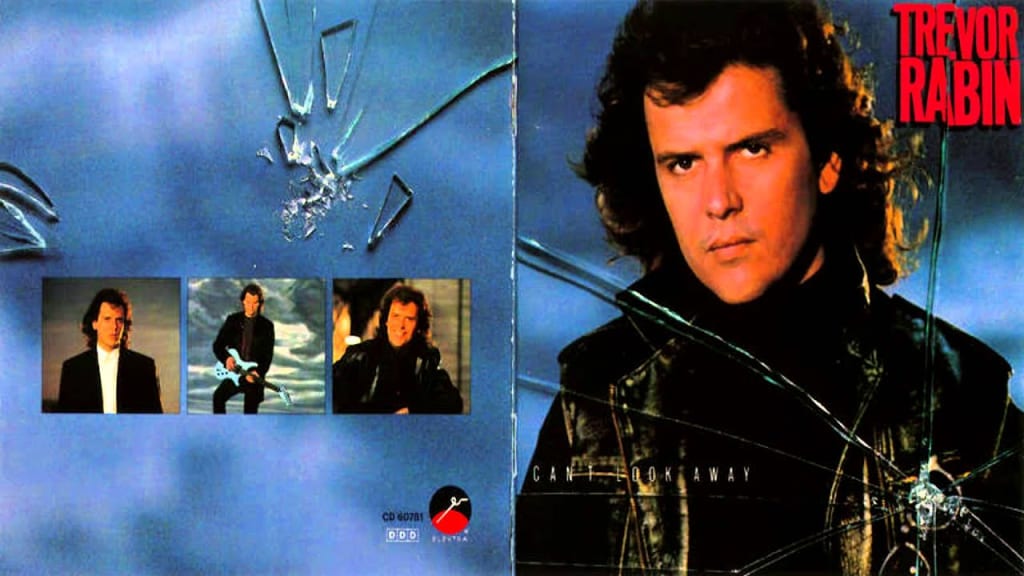 Can't Look Away album by Elektra Records.
When it comes to the rock music scene, Trevor Rabin is perhaps best known for his work as a guitarist within the band Yes. The progressive rock band became more of a pop rock band in the 1980s when he joined. But Rabin was still capable of being heavy when he needed to be. Following Yes' Big Generator tour, Rabin took some time to work on his fourth solo album, Can't Look Away, which was released July 10, 1989.
This is a blend of such genres as pop rock, hard rock, and arena rock. Singing on lead vocals, Rabin's instrumental duties on this album include guitar, guitar synthesizer, keyboard, and bass. Rabin is also supported by various musicians, including Yes drummer Alan White and then-future Anderson Rabin Wakeman drummer Lou Molino III. Rabin co-produced the album with Bob Ezrin. The songs have recurring concepts regarding relationships. While I'm uncertain about what personal experiences may have inspired Rabin and whether the songs have recurring characters, it feels like a cohesive album overall with really good production value.
1. "I Can't Look Away"
The opening track is well-placed, almost certain to sell listeners on why they should listen to the album. It could happen, but it's difficult for me to imagine one dismissing and looking away from this album while listening to "I Can't Look Away." Music comes crashing in right away, showcasing Rabin's guitar work and setting the tone for the album. After a rocking opening, the soundscape has a chance to breathe as Rabin's vocals come in. He describes a burning city and a dark sky that he cannot ignore.
This is actually a protest song regarding apartheid in his home of South Africa. As I listen, I wonder whether Rabin had the temptation to rhyme the word "apartheid" with the lines "Yet I'm frozen in mid-stride, / By this yearning deep inside." His words on the subject matter are sincere. While I am used to hearing of angels singing, the lyrics offer something less familiar in the form of, "Then I heard the angels scream." It seems that the fires and dark skies have affected the heavens. The title of the song is sung at a high pitch toward the end before the music continues on into a fade-out of uncertainty.
2. "Something to Hold Onto"
My earliest memory of anything related to this album was a snippet of the music video for "Something to Hold Onto," which was included on the YesYears rockumentary. It's a bit odd and ends with Rabin having elongated arms. As for the song itself, it's a rocking tune with notes that sound reminiscent of Yes' "Love Will Find a Way." Rabin rhymes "anger" with "danger" even though each "g" makes a different type of sound. The line, "And how you open your disguise," presents the beginning of a running theme that appears on a couple other tracks. And, of course, we get this theme of people holding onto each other.
3. "Sorrow (Your Heart)"
"Sorrow" can catch one off-guard. The title suggests a melancholic tune, but the music is very upbeat, beginning with the repeated, "Ooh Mama, ooh mama." During the chorus' proclamation "Your heart will bring, / Your heart will bring you sorrow," it feels like a stark contrast. I actually used to mishear the former line as "Your heart will break." I would be curious to see if anyone could make some sort of melancholic cover of this song. I enjoy this as it is, but I cannot help but wonder. Toward the end, there is a shift that makes the music and vocals sound more electric and accelerated, as Rabin repeats, "But the light shined down on me, / But the light shined down on you."
4. "Cover Up"
The chorus of "Cover Up" includes the words "The more you learn, the more you hide." These words actually appear in the song "The More We Live - Let Go" (albeit with the two sentence fragments in separate places within the song), which was written by Billy Sherwood and Yes bassist Chris Squire around this time and ended up on Yes' 1991 Union album. Squire is not in the credits for "Cover Up," but I cannot help whether he may have somehow influenced Rabin's writing of this song.
"Cover Up" also brings the theme of disguises to mind once again. I'm not 100% sure what the story within the song is, but it sounds like a search for someone. The lyrics seem to be from the point of view of someone with authoritative power.
5. "Promises"
The synth sounds at the beginning of "Promises" remind me of "Lector's Cell" from the Manhunter soundtrack, which I really like. There also might be some baby noises within the intro. Rabin gives a request that might resonate with people: "Don't give me promises when all you do is lie, / No promises when all I do is cry." Lies and broken promises can lead to some of the worst feelings every experienced. And again, this mention of lies feeds into that theme of having a disguise. This track seems to have been the closing to side A back in the day, and it's a strong closer.
6. "Etoile Noir"
"Etoile Noir" is an instrumental track with synth sounds from the beginning of "Promises." It is only one minute long, and I question whether more could have been added to it. But perhaps it is simply meant as an interlude. The synth sounds at the end echo the beginning of "Promises." If I didn't know any better, I might have guessed that this was meant as an epilogue to "Promises" at the end of side A, but of course this song is the beginning of side B. However, the line of thinking works for CD releases.
7. "Eyes of Love"
Something about "Eyes of Love" reminds me of the soundtrack to the 1989 film Say Anything, but only when the song doesn't feel aggressive. This song asks the questions: "Are you waiting for your freedom / Or a love you just don't know?" This acknowledges the uncertainty experienced by those looking for love and companionship. I used to think that Rabin was singing "Open wide" at the end, referring to the eyes of love. But he's actually singing "Open my." This could still refer to eyes. The ending feels a bit clunky as it fades and fizzles out.
8. "I Didn't Think It Would Last"
"I Didn't Think It Would Last" sounds somewhat arena rock, and a bit in the vein of Yes' "Rhythm of Love." It tells of a woman named Eva who asks for a place to stay. She tells a man that she can stay forever, but the man says, unexpectedly, "Stay, then go away." Yes fans might also be reminded of the song "Changes" as Rabin sings, "I lost myself in changes, / I stepped into her silhouette." I admire how Rabin found another phrase to convey the feeling of having being in one's shadow. Apparently, Eva has a huge effect, convincing the man to take the blue train with her. The man and Eva are also referred to as Romeo and Juliet in the song.
9. "Hold on to Me"
"Hold on to Me" continues the theme of holding on that was present in track two. The chorus contains the words, "Hold on to love, hold on to me." Apparently, Rabin was on the same wave length as Yes vocalist Jon Anderson, who recorded the song "Hold on to Love" for his 1988 album In the City of Angels before leaving Yes to form Anderson Bruford Wakeman Howe. And despite this and Yes having done Rabin's song "Hold On" for their 1983 album 90125, ABWH would go on to record a different song called "Holding On," which would end up on Union when they merged with Yes. Clearly, the Yes men had a lot to say about holding on. The song on this album is a bit slow and not as impressive as others, but it's decent.

10. "Sludge"
"Sludge" is another instrumental. Its sound is in the vein of "I Didn't Think It Would Last." Trevor shreds his guitar at an impressive pace on this track. Nearly two minutes in, it takes a bit of a discordant detour. But it finishes just fine. Another interlude before the last track containing vocals.
11. "I Miss You Now"
Almost the whole first minute of "I Miss You Now" is instrumental. The song seems to tell of two lovers drifting apart, as evidenced by the words, "Now oceans part our contact." This wording might have two meanings. It could literally refer to the two people being in different places separated by an ocean. The words "Early mornings in blue water" certainly bring oceans to mind. But the "oceans" could also refer to tears. After all, Rabin includes the verses, "Misty eyes of memory, / Pictures make no substitute." And we get another mention of disguises: "I wanna be kept in mind by you, with no disguise / I need you in my eyes." I feel that the recurring themes pertaining to romantic feelings and separation are summed up pretty well in this track. After a more recent listen, this song stands out as the one I appreciate more.
12. "The Cape"
"The Cape" is an instrumental with a cinematic-sounding quality, hinting at what was to come in Rabin's film scores years later. When I listen to this, my mindscape is filled by an ocean with a sailboat, and an airplane up above. Having wondered why this is, I believe it's due to the title. I normally associate capes with superheroes, but in this case I was thinking of how the word could refer to headlands, which are along the coasts and point toward the seas. Perhaps part of me also hopes for some sort of resolution, imagining travels that could make long distance relationships work. Then again, I don't know a whole lot about whatever characters may be present within the songs. I really cannot say what the best options for them would be.
Conclusion
Though it may sound a bit dated at times, Can't Look Away showcases Trevor Rabin's skills as a producer and multi-instrumentalist. In a way, it set the stage for the 1994 Yes album Talk, where he had a very hands-on role. And it was a crucial step in his journey as a rock musician and composer. If you have the time, give Can't Look Away a listen, and see if it is your jam.