'Anderson Bruford Wakeman Howe' Album Review
Released 30 Years Ago!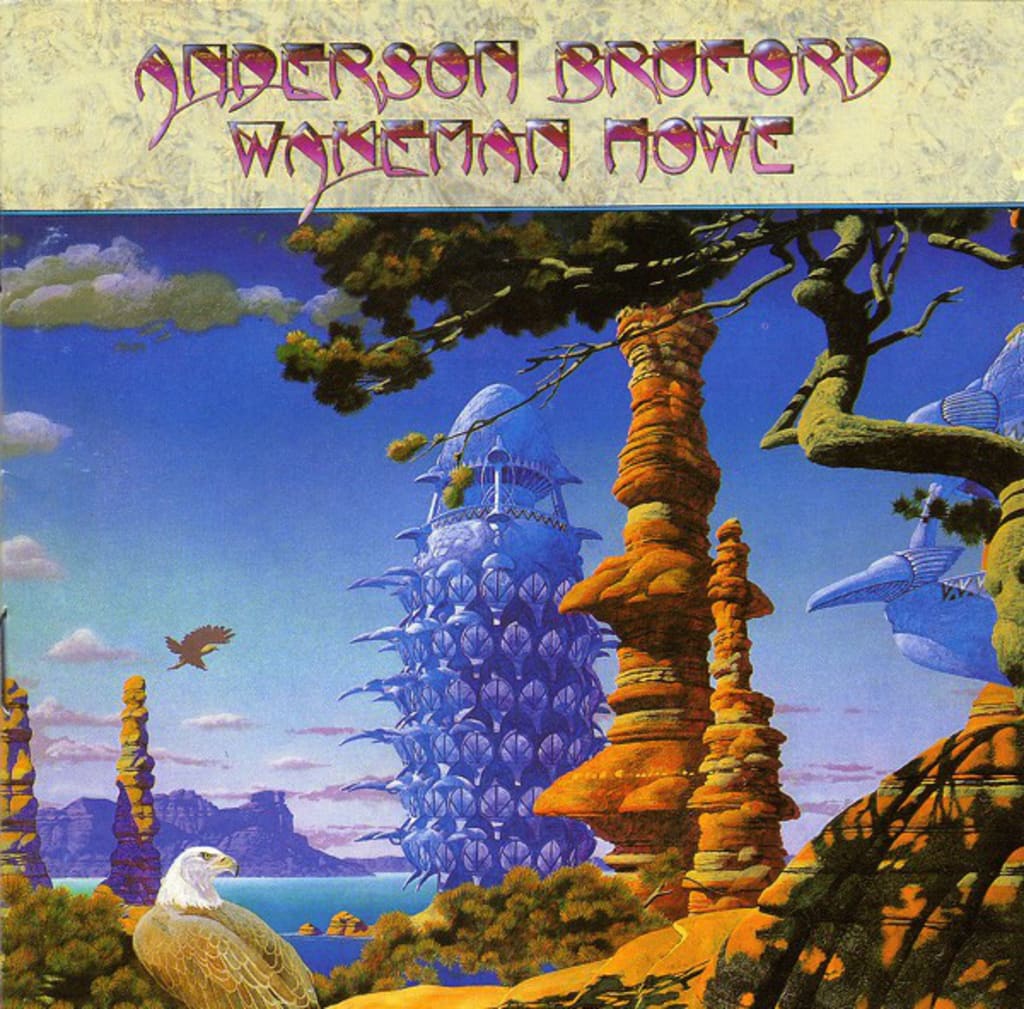 Album cover art by Roger Dean.
Those familiar with the progressive rock band Yes know of the many twists and turns throughout that band's history. One such turn involved lead singer Jon Anderson bringing together Yes alumni to record an album together while Yes was still somewhat active. This new band included drummer Bill Bruford, keyboardist Rick Wakeman, and guitarist Steve Howe. Under the name Anderson Bruford Wakeman Howe, they recorded a 59-minute album, which was released 30 years ago. Additional musicians included bassist and Chapman stick player Tony Levin (who had worked with Bruford in King Crimson), keyboardist Matt Clifford, and rhythm guitarist Milton McDonald.
Some might describe this album as a return to the classic Yes style of the 1970s in some respects, not quite like the pop rock style that the band embraced in the 1980s. Of course, ABWH's self-titled album, released by Arista Records in 1989, was not a Yes album, despite some fans considering it one. Members have even said that they wanted to distinguish themselves from Yes. But it has, over the years, been included in Yes discography lists on the In a Word: Yes boxset, The Ultimate Yes: 35th Anniversary Collection, and even the YesWorld website. When ABWH tried recording a second album, the band ended up merging with the Yes that still included bassist Chris Squire, guitarist Trevor Rabin, drummer Alan White, and keyboardist Tony Kaye. The result was a Yes album called Union, which included a lot of session musicians and mixed results in the eyes of many fans. There were session musicians on ABWH's first album, but not to the extent of Union.
There is a lot more that I could say about the history of ABWH (and Yes, for that matter), but I want to just focus on the album itself. While I do agree that it does sound like Yes (which of to be expected given who the members are), or even a Jon Anderson solo album with substantial work from guest musicians, I do feel that this album and the band behind it could have stood well on its own. And anyway, it is strange to say that something is "like Yes" when Yes has gone through many permutations over the years. So to me, this album sounds like it could have or could not have been Yes, if that makes any sense. All that aside, I would like to review this album track by track.
1. "Themes"
My first time hearing this song was from watching the ABWH concert film An Evening of Yes Music Plus, where the keys in the intro sound more interesting and a bit spacey. Nevertheless, I still think of that nighttime moon that made it into the video during the intro. Indeed, the first section, "Sound," has a very nighttime feel to it. But in the next section, "Second Attention," the drums kick in as if to awaken the listener. Anderson sings the command, "Be gone you ever piercing power play machine / Cutting our musical solidarity." It can be difficult to interpret lyrics to many songs that Anderson sings, but this sounds like a call for musical unity after something has tried to disrupt it. Corrupt commercialism, perhaps? Who can say? In any case, over the course of the song, it is clear that these musicians are back together "with a vengeance," as Anderson sings it. I am actually amused hearing Anderson sing "I could never ever play or sing it," seeing as how I have seen and heard him play and sing many a good song. There is something empowering about the words, "I don't believe in devils / I don't believe in demons / I only believe in you." And then Howe has some really great guitar licks, complemented by Wakeman's flamboyant keys, as we go into the instrumental section "Soul Warrior," which ends the song pretty well.
2. "Fist of Fire"
"Fist of Fire" is the only song that ABWH have never performed live, which is a shame because it is such a powerful song that demands stage presence. There is a feeling of strength in the music, especially in the fiery keys. Interestingly, I think it works better in the alternate version included on In a Word: Yes, where Howe's guitar is not buried in the mix. That would be my preferred version. I am inclined to believe that this song is about becoming an angel, with lyrics such as "Carry forth as a guardian to Kingdom Come," "Show your wings / Surely you can fly," and "This is how the angels sing." And with such words as "Not afraid" and "Through the darkest age / With a fist of fire," one can come out of this song feeling strong enough to take the world by a storm.
3. "Brother of Mine"
"Brother of Mine" is a 10 minute track divided into three sections. I prefer how Bruford's drums sound in the intro to the live version, but the album version is still good. The first section, "The Big Dream," brings a desert setting to mind through its words. The listener is reminded that nothing can come between brothers, a message that keeps on getting repeated in the next section, titled "Nothing Can Come Between Us," of course. It climaxes into cathartic moment, one of those moments that reminds people of how love can conquer all. As this section ends, we hear a triumphant guitar. And then we go into "Long Lost Brother of Mine," which was actually co-written by keyboardist Geoff Downes (The Buggles, Yes, Asia) at some point prior to the making of the album. The words of the section title are repeated over and over toward the end, reinforcing the message of unity.
4. "Birthright"
"Birthright" was co-written by singer Max Bacon, with whom Howe worked in the band GTR. Apparently, what they had written together for this song was done when they were trying to form Nerotrend after GTR. Howe's compilation of demos titled Homebrew includes the track "Red and White," with him singing to the tune. The song "Birthright" itself is a commentary on the British nuclear tests at Maralinga. Some Aborigine peoples were not warned in time when these took place. The song does have a "Why did this happen?" sort of feel to it, illustrating the event with such lyrics as "They were blasted by the silver cloud / They were blasted to the wall alive. The song's pace increases as there is a call for change: "We can break the ties / Of recent changes..."We are them and they are we." After singing "This place is theirs by their birthright" one last time, Anderson says some words that I cannot understand, other than perhaps "mamacita mama." I am not sure whether he is singing something coherent or whether this was just a bit of spice to add to the end of the song.
5. "The Meeting"
"The Meeting" is very much an Anderson and Wakeman piece. Anderson had actually recorded a demo in 1986 titled "The Meaning of Your Love." It is clear that Wakeman added a much-needed pensive tone to the song. It is a very romantic sounding song that may make a listener want to experience a dream that would "raise its head in majesty" and lead to the meeting of their loved one.
6. "Quartet"
The romantic vibe continues into "Quartet," which, as the title implies, is divided into four sections. The first section, "I Wanna Learn," is based off of Howe demos later released on Homebrew and Homebrew 2 as "More About You" and "The Go Between" respectively. There is a very dreamy quality to this section. We then transition into the next section, "She Gives Me Love," which includes lyrical references to Yes songs "The Revealing Science of God," "Long Distance Runaround," "South Side of the Sky," "The Gates of Delirium," "Awaken," and "Roundabout." (Is that all of them?) Perhaps these might distract listeners and take them out of the song, but I can also see them as fun Easter eggs. I actually learned in a radio interview that Anderson considers the "She" in this song to be music. So it is as though music gives love. The third section, "Who Was the First," continues to give a vibe of romantic love, even if music is the subject. These first three sections feel very consistent together, but then the final section, "I'm Alive," feels like a deviation in tone. It mentions internal struggles that may resonate with people: "Someone broke into your life / How we hurt and never show it." And then we are assured that we do not have to be alone: "We experience, we hold together / Lost in one embrace." It feels as though it could apply to universal love, not just romantic love, with such words as "I believe that all the fear you've had / Can gently fly away." There is actually a longer version of "I'm Alive" in the form of a single, with a fuller backdrop of instrumentation adding a triumphant feel to the experience of overcoming fears and embracing love. I am very fond of an edit by a YouTube user who merged the two versions together (included below).
7. "Teakbois"
"Teakbois" sounds like it has some Caribbean influences, which may be fitting given that some of this album was recorded in Montserrat. It has a very vacation party type of vibe. The name Bobby Dread pops up in this song, and I believe that this is a nickname of sorts for Anderson, who is credited with the name in the Yes documentary Access All Areas that was filmed during the 90125 tour in 1984. The song may feel a bit out there, but it is harmless fun.
8. "Order of the Universe"
"Order of the Universe" is another song divided into four parts. First, we get "Order Theme," with the keys standing out a lot to me. It ends with a nice blend of voices repeating "The order of the universe." The drums stand out more when it gets into the "Rock Gives Courage" section. With its more rocky sound, it lives up to the section title. The song gets a bit poppier during the "It's So Hard to Grow" section. In another context, the words "You can't imagine it, how hard it is to grow" might have resonated with me more. But here they just sound like words that are just there to play off of upbeat sound. The song is still fun regardless. It ends with an eccentric instrumental section titled "The Universe," which echoes the "Order Theme" before getting quieter and playing softer jingling sounds that transition into the final track.
9. "Let's Pretend"
"Let's Pretend" is a short, soft song. To be honest, this is my least favorite track on the album. It is not as strong of a soft finish as "Holy Lamb" on Yes's Big Generator, which came out a couple of years before this. But I am fond of the message: "Let's get our hearts together / And as before, and like before / We'll do again." The song is actually a reworking of a Jon & Vangelis demo from 1986. (Another Jon & Vangelis song from that time period was "Distant Thunder," which ABWH re-recorded. This was included as a hidden track on the 2010 Gonzo Multimedia reissue of the album, and the song was reworked as "Children of Light" on Yes's Keys to Ascension 2.)
Bonus: "Vultures in the City"
I feel that I would be remiss if I did not mention the single "Vultures in the City." Though it appeared on a "Brother of Mine" single rather than on the initial album release, it is well-made enough to have been included on the album if more space were allowed at the time. I would have probably included it between "Brother of Mine" and "Birthright." It feels very much in the vein of the latter as it touches upon "manmade prisons" and how we need to stop to think about others. The closing line is also certain to resonate with some: "Trust is such a sacred word to me."
Conclusion
So for a few of these songs, it seems that there are versions that I prefer over the album versions. But the songs altogether make up an excellent album that still holds up pretty well. Even though we only got one full studio album from ABWH, it is better than having none. And regardless of whether or not one considers it to be a Yes album (either back then or retroactively), there is no denying that it is a significant part of Yes history.