'One More Moment' by Affirm — A Firm Grasp on Musical Exploration
A Series of Impressive Moments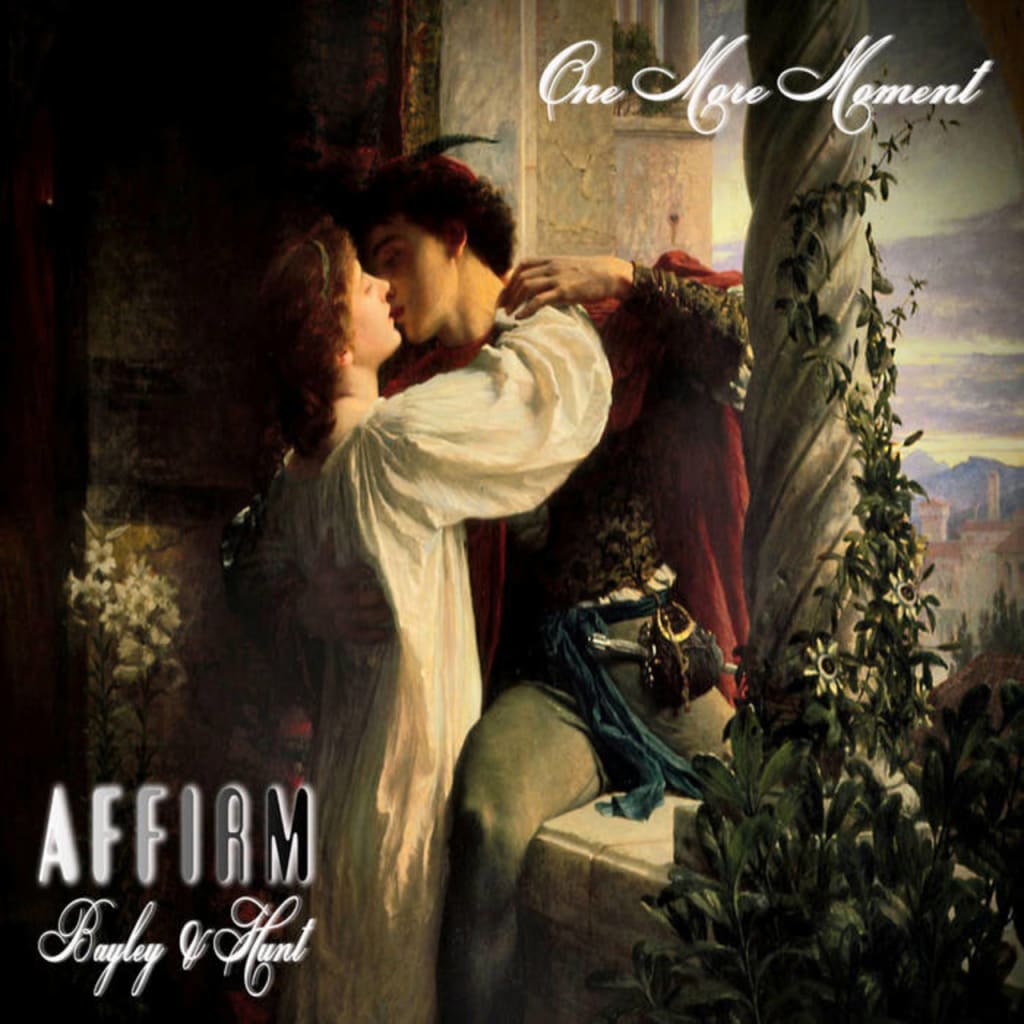 Affirm: One More Moment album cover, featuring the painting Romeo & Juliet by Frank Diksee (1853 - 1928)
Those familiar with the more minute details of the progressive rock band Yes are sure to be aware of pre-Yes band Mabel Greer's Toyshop. Originally active 1966 to 1968, the band was revived in 2014 and put out the album New Way of Life the following year. By the time of follow-up album The Secret (2017), Max Hunt from Yes tribute band Fragile joined the group.
Hunt continued working with founding Mabel Greer's Toyshop member Clive Bayley, who guested on Fragile's first album Golden Fragments, released in 2020. That same year, the two of them released Whispers. Now, more recently, they have released One More Moment. This prog rock album is under the band name Affirm, a cheeky acknowledgement of the Yes connection. The two of them each did their share of bass, guitar, keyboard, and vocal work, with Bayley doing lead vocals and Hunt contributing drums, percussion, and sampling. The album is described thusly:
"Whilst ´One More Moment´ is deeply rooted in the psychedelic & progressive rock of the 60s & 70s, it also strongly embraces elements of contemporary rock/pop, world, and film music. Clive and Max have built on the experience gained producing Whispers to create a powerful new album with deeply romantic, emotional, and metaphysical themes, powerful orchestration, world music rhythms and the odd surprise."
Bayley and Hunt were gracious enough to join my dad Dan Shinder and myself on our podcast/vlog Yesshift to talk about One More Moment recently. You can check out the episode and links below. What follows afterward is my written out overall impression of the album. So if you can spare a moment, read on about One More Moment.
1. "Overflowing"
The opening track begins with comforting chatter. Then it dives triumphantly into an epic instrumental intro, as if people are marching into a battle worth fighting, braving the storm. When the music quiets down a bit, we hear about how lonely the start of a day can be, which is a contrast to how some are so used to seeing the dawn as a new beginning. The following verses certainly caught my attention:
A half cracked smile comes over my face

One foot in the past, one step in outer space

Perhaps it´s not so bad, that I had this love

Although the aftermath is sad
There is a nice little bit of flute playing from Rita Fabrizio, as well, adding another layer. The repeating of the words "hold on" might feel repetitive to some, but I suppose it hammers home the desperation in everything going on. When hearing the majesty of the keys, I cannot help but imagine that I am within a cathedral. The final notes are followed by more chatting and nature sounds.
2. "Cry Cry"
The beginning of this next song reminds me of how the pedal steel guitar is utilized at the beginning of "Soon." Oddly, though, for a deeper cut, the first thing that came to mind was "Sensitive Chaos" from Steve Howe's solo album Turbulence. There is also a bit that reminds me of the Asia song "Cutting It Fine." However, make no mistake; this song is not a pastiche, and very much has its own identity. Also of note is that Peter Tesarek plays lead guitar here.
"Cry Cry" begins with an appropriate melancholic feel. Nearly a minute in, the drums give the signal for the singing to come in. The lyrics convey how one's sadness can feel like there's some sort of medieval battle within. My ears are drawn to the words, "Cry, cry out of love / Be drawn to the light." As the track progresses, it seems to be about a search for a friend. Further sounds make me think of horse hooves.
3. "Who Am I?"
"Who Am I?" begins with a grandiose feeling that brings Peter Gabriel solo works to mind. The production has a similar feel. This sound at the beginning and the end feels like walking through a door into the mind, to really question one's own identity. This metaphysical feel is augmented by such words as, "Stepping out of my created world / I find a place where visions and dreams are there to behold."
4. "Where Are You Now?"
And again, we have a track where the title is a question. The previous question looked inward, whereas this one now looks outward, making for a nice progression. It has a very nighttime noir feel to it, which is fitting given that it involves searching for one's love. I quite enjoy the presence of the line, "A melody that begins and ends in tears."
5. "Flower of Love"
On "Flower of Love," Clive's daughter, blues singer Annouchka Bayley, recites the poem. The cadence of her reading, accompanied by the grandness of the music in the backdrop, makes this track feel like it could be part of an epic fantasy film. This is very much a culmination of all the exploration of metaphysical themes up to this point. The flower is used as a metaphor for the end and new beginnings of life and love.
6. "Rainy Days in California"
The tone shifts, not feeling so heavy in "Rainy Days in California." It begins with the sounds of rain, and then is surprisingly upbeat, with Peter Tesarek providing Santana-esque guitar playing. The song is very relaxing, a nice moment to breathe after all the seriousness of what preceded it. There is thunder at the end, but it's somehow comforting.
7. "Surrender"
This is another mellow track. It begins with a nice drumbeat and laid back guitar. The words describe a search for a friend. There is something strangely empowering about the words, "I forgot my fear and bewilderment / As I passed through the gates of hell." I suppose if one's connection to another is strong enough, the goal to find them takes precedence, burying the fears deep down in order to fulfill the mission. As the song progresses, the words express affection, with someone described as the speaker's "Elvin Queen." There's a nice keyboard bit after the mention of mountains.
8. "One Breath" (Love for You)
Continuing the laid back mood is "One Breath." The speaker has a lot of love to give, saying how the choice belongs to the recipient. While on paper, this could sound dramatic, the way it is conveyed with the music feels like there is some optimism, to my ears, anyway.
9. "Images of Your Love"
"Image of Your Love" brings us back to a more symphonic feel at the start, but continues on to feel laid back and comforting. There are various questions listed throughout this one. I feel that this song is sure to tug at some heartstrings. People sometimes find themselves at a point where they wish they could hold on tightly to someone about whom they care very much. But there is also a possibility that must be considered, which is that maybe it is not meant to work out as one imagined, though the fond memories can still remain:
Perhaps it was never meant to be?

But still I hope for you and me

Hold on

Hold on to that sweet memory, a picture of you and me
10. "One More Moment"
Now we finally get to the title track, where Peter Tesarek returns on guitar one more time. This one is off to another symphonic start. It is very much about dealing with the loneliness that distance creates. There is a yearning to be together, and it feels very human. The speaker just wants one more moment with the person they love.
11. "Journey to the Sunshine"
"Journey to the Sunshine" begins with a Boston's "More Than A Feeling" vibe. The keyboards get really proggy as the song progresses. Then it evolves into a jaunty tune that may make one question whether this is the same song, or even the same album. There is also a bit where the keys sound a bit Genesis-esque to me, comparable in mood to "Firth of Fifth." The reprise of the jaunty section after the fadeout is surprising. All in all, the closing track is an appropriate way of coming full circle. The album began with the dreading of a new day dawning, and now it ends with the optimism in waiting for a day to begin anew.
Conclusion
While one might need to be in a certain mood to listen to some of the more serious songs in the first chunk of the album, Affirm's One More Moment is definitely worth the listen. It may remind listeners of music they have enjoyed in the past while it also offers a new journey on which to embark. You can go to Affirm's website or straight to this Bandcamp page.