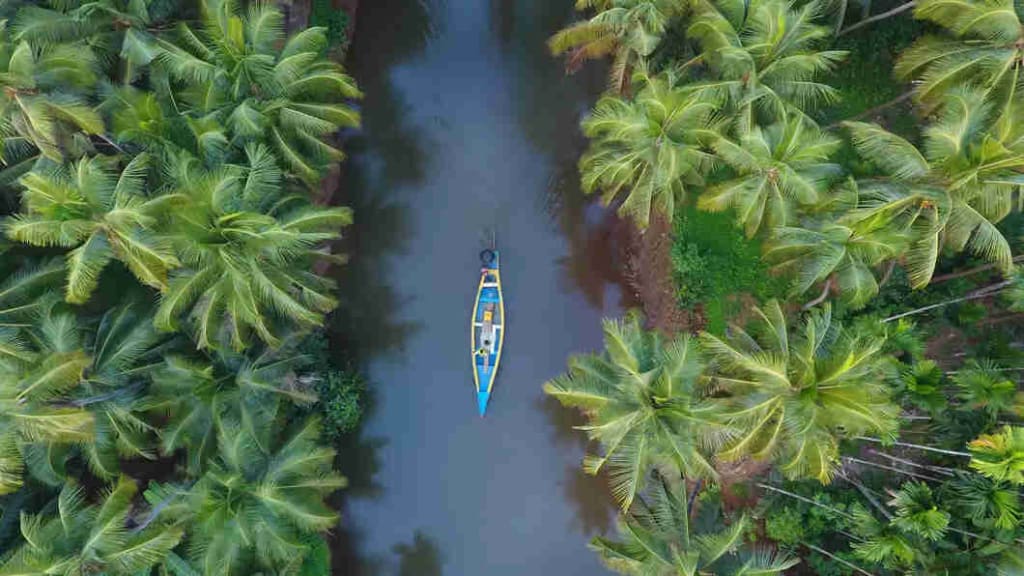 destinations
Kerala, often referred to as "God's Own Country," is a mesmerizing paradise located in the southwestern part of India. With its lush green landscapes, serene backwaters, pristine beaches, and rich cultural heritage, Kerala offers a diverse range of experiences for travelers. If you're planning a trip from Ahmedabad to Kerala, you're in for an unforgettable journey. In this article, we will explore some of Kerala's top tourist destinations and discuss the availability of Kerala tour packages from Ahmedabad.
Munnar: The Tea Gardens Haven
Munnar, situated in the Western Ghats, is renowned for its sprawling tea gardens, misty hills, and cool climate. Visitors can take leisurely walks through the tea plantations, visit the Tea Museum, and enjoy panoramic views from spots like Mattupetty Dam and Anamudi Peak. Munnar's enchanting beauty makes it a must-visit destination for nature lovers and honeymooners.
Alleppey: The Venice of the East
Alleppey, also known as Alappuzha, is famous for its backwaters and houseboat cruises. A trip to Alleppey offers an opportunity to explore the unique ecosystem of Kerala's backwaters, where you can witness serene landscapes, lush paddy fields, and traditional village life. Houseboat stays are the highlight of Alleppey, providing a tranquil and immersive experience.
Kochi: The Historical and Cultural Hub
Kochi, also known as Cochin, is a vibrant city that beautifully blends history and culture. Explore Fort Kochi's colonial architecture, visit the St. Francis Church, Chinese Fishing Nets, and the Mattancherry Palace. Don't forget to savor the delectable seafood cuisine at local restaurants.
Thekkady: Wildlife Enthusiast's Delight
Thekkady is a haven for wildlife enthusiasts, thanks to the Periyar National Park. Here, you can embark on boat safaris in the Periyar Lake, spot elephants, tigers, and a wide variety of bird species in their natural habitat. The lush green forests and spice plantations are also worth exploring.
Kovalam: The Beach Paradise
Kovalam is a picturesque beach town renowned for its crescent-shaped beaches and pristine shores. It's an ideal spot for sunbathing, swimming, and enjoying water sports. The Lighthouse Beach, Hawa Beach, and Samudra Beach are the main attractions.
Kerala Tour Packages from Ahmedabad:
If you're looking to embark on a Kerala adventure from Ahmedabad, several tour operators offer tailored Kerala tour packages to suit your preferences. These packages often include transportation, accommodation, meals, and guided tours. To find the best Kerala tour packages from Ahmedabad, consider reaching out to reputable travel agencies or utilizing online travel platforms that allow you to compare and choose packages that fit your budget and interests.
Conclusion:
Kerala's natural beauty, cultural richness, and diverse landscapes make it a top destination for travelers from all over the world. From the lush tea gardens of Munnar to the tranquil backwaters of Alleppey and the vibrant culture of Kochi, Kerala has something to offer every traveler. If you're planning a visit from Ahmedabad, explore the various Kerala tour packages available to ensure a hassle-free and memorable journey through this enchanting state. Kerala truly lives up to its reputation as "God's Own Country," offering an unforgettable experience that will stay with you forever.
Kerala, located in the southwestern part of India, is a beautiful state known for its lush green landscapes, serene backwaters, picturesque hill stations, and pristine beaches. If you're planning a summer tour to Kerala, here are some popular destinations to consider:
Munnar: Munnar is a famous hill station in Kerala known for its tea plantations, cool climate, and breathtaking landscapes. You can visit tea gardens, go trekking, and enjoy the pleasant weather in Munnar during the summer.
Wayanad: Wayanad is another beautiful hill station in Kerala that offers a respite from the summer heat. You can explore lush forests, waterfalls like Meenmutty and Soochipara, and visit attractions like Edakkal Caves and Banasura Sagar Dam.
Thekkady: Thekkady is famous for Periyar Wildlife Sanctuary, where you can go for a boat ride in Periyar Lake and spot wildlife in their natural habitat. The cool and green surroundings make it a great summer destination.
Alleppey: While Alleppey is a year-round destination, it's especially pleasant in the summer when you can enjoy a houseboat cruise through the backwaters, take in the lush greenery, and relax by the serene waters.
Kumarakom: Another backwater destination, Kumarakom offers a tranquil environment and is known for its bird sanctuary. You can enjoy a houseboat stay, bird watching, and serene walks by the backwaters.
Kovalam: If you prefer a beach destination, Kovalam is a popular choice. With its beautiful beaches, water sports activities, and a pleasant coastal climate, it's a great place to relax during the summer.
Varkala: Varkala is another coastal destination known for its unique cliffside beach. The cool sea breeze and stunning views make it a refreshing place to visit during the summer.
Athirapally: Athirapally is famous for its stunning waterfalls, often referred to as the "Niagara Falls of India." Visiting these waterfalls and enjoying the lush green surroundings is a great summer activity.
Idukki: Idukki is known for its scenic beauty, dense forests, and wildlife sanctuaries. You can explore the Idukki Wildlife Sanctuary and take in the cool mountain air.
Ponmudi: Ponmudi is a lesser-known hill station in Kerala, offering beautiful trekking trails, tea gardens, and cool weather during the summer.
Remember that Kerala experiences heavy rainfall during the monsoon season, so summer is an ideal time to visit if you want to avoid the rains and enjoy pleasant weather. Be sure to plan your trip well in advance and check for any travel restrictions or guidelines in place, especially in light of the ongoing global situation.
Reader insights
Be the first to share your insights about this piece.
Add your insights